This post contains affiliate links, to find out more information, please read my disclaimer policy-https://www.bostongirlbakes.com/disclosure-policy/..
Learn how to start a food blog in just 15 minutes! Before you know it you will be up and running!

*this post contains affiliate links. You can read my full disclosure policy here .
Fact: I've been blogging for over 6 years.
Fact: I didn't always use Bluehost and a wordpress hosted site.
Fact: I wish I had.
Those are all true. Recently I was having lunch with one of my best girlfriends, who said to me "I've been thinking about starting a blog, but wasn't sure how to go about it. Can you tell me how to start one?" No lies, this was her question.
Well basically what she said I didn't write it down. I did however launch into this whole explanation to her that I'm pretty sure resulted in her ordering more wine and her head spinning around (and not from the wine). 
It's been a bit of a time when I wrote an exclusive food blogging related post so I thought it was time and why not start with the basics? Right? 
I had so much information to tell her I thought I was going to explode. I ended up after lunch, writing her a lengthy e-mail about what she needed to do. And one of the first things I recommended to her was to set up her WordPress site through Bluehost. This girl is my best friend, everyone. So let me just say I would not recommend this to her unless I totally believe in it. 
When I first started blogging, I used Blogger- the free blogging platform through Google. It was free, which was what drew me in. But very quickly I began to notice it's limitations.
For example, as a food blogger I wanted to submit my photos and recipes to Foodgawker, which I couldn't do with Blogger because each post did not have it's own separate page link. Ugh so frustrating! And customizing it to my liking, even more limiting.
When I switched to Bluehost  my blog began to take off. No lies. Just look at my traffic from year to the next after switching to Bluehost.
Switching to Bluehost, allowed me to switch easily to WordPress, upload all my old posts, and gave me so much more flexibility in design. And there is that whole tech support thing!
I've called a few times in panic, or used their live chat, to help me figure out a problem. Like when my entire site reverted back to an old theme layout from years ago (from something stupid I did with a plugin come to find out) and they were able to restore it all back easy peasy.
Or perhaps like yesterday (yes literally yesterday!) I had a few ads put on my site and there you go again- BAM! my entire site all messed up- luckily, again Bluehost to the rescue!
Thank goodness. Needless to say, having someone right there able to help you out with the techie stuff is worth it's weight in gold. 

Step 1: Registering Your Blog's Name
Honestly, this might be the hardest part of the whole setting up your blog. You want a blog name that reflects you, your style, and what you plan on your blog being about.
Do you plan on blogging about healthy dinners? Paleo recipes? DIY home decor? Being a stay at home mom?  
If you aren't sure what your blog niche is going to be about quite yet, that's ok too. Start by making a list of all possible choices. Just let the pen fly! Come up with as many variations as you can, because I'll tell what we are going to do with that list next. 
Now, before you go and get your heart set on any of those names. Go ahead and check to see if these names are available out there big wide internet world. This will help narrow down your list. You can check to see if the name is available by visiting Bluehost . Just simply type in your possible names and check for their availability. Like such…
Once you have your narrowed down list it doesn't hurt to recruit family and friends at this point. If you have settled on your name then great skip to step 2! If you are like me, you need opinions from others. Ask your friends, your family members, neighbors! Facebook is also a great place  to ask people for their opinion too! 
Once you have your opinions, and have slept on it- it's time to choose! Choose. Stick with it. Love It. Proceed to Step 2…
Step 2- Buy Your Hosting
Once you have your name picked out, it's time to buy your Bluehost plan. When you get to this point in the process you are going to see a screen like this…
My honest opinion? As a blogger starting out, all you need is the basic plan. I know they say the plus is the most popular but I do think as a blogger it's way more than you need. Unlimited sites? Yea, we don't need that. At least not for now. Of course if you change your mind later, you can always upgrade and just pay the difference. So start with the basic and see what you think.
What Plan Should I Pick?
Running only one site: Pick Basic Plan

Running more than one site: Pick Plus plan

Need SSL and dedicated I.P: Pick Business Pro plan
So that means for as little as $3.95 a month you can get your blog up and running! Woo hoo! (insert happy dance). 
Of course let's break down that price a little bit more. It's $3.95 a month if you sign up in full for 36 months. If that's too much of a commitment especially if you are starting out, then it's $4.95 a month for 24 months, or $5.95 a month for 12 months. 
I started out with the 12 month pricing, since I was nervous about switching over and was still new to blogging back then. Of course if I had signed up and paid the 36 months I would have saved myself a ton of money since I'm still using them years later! So if you know this blogging thing is not just a passing phase (and I hope it's not, stick with it you will love it!) then the 36 month commitment is totally worth it. 
And if you sign up in FULL using my link, then you will also get your domain for FREE. 
Another reason to sign up in full- the price offered ($3.95/month) is their introductory price. After your membership is up for renewal your price will jump to the regular price of $7.95! Yikes! So it's totally worth it to sign up in full for Bluehost and lock in a low price for as long as possible.
Step 3: Connecting Your Domain To Bluehost
Please Note: If you purchase your domain through Bluehost, then you get to skip this step! Yippee!
If you purchased your domain through another server, like Go Daddy, then you will need to connect your domain to Bluehost. Here is Godaddy's support page to help you through this process.
Once you have gone through this process, you can connect the domain in your Bluehosting account. It's super easy, promise!
Step 4: Installing WordPress
Woo hoo! We're almost done!
Login in to Bluehost and the find the Website builders section and click on the WordPress logo. From there, you want to click on the "Install" button in the "do it yourself (free)" section. Click "check domain" button, then "install now". And you're all set!
For a little more step by step instruction follow this..
When you are in your cPanel (you will receive a link to this in your welcome email from Bluehost), find and click on the image that says "One Click Install.".

Then, click on the WordPress icon on the next page located under "Blogs."

Click on the "Start" button. This will begin the installation.

Once in the installation process, you will have to decide which domain you will want to install WordPress on. Click the dropdown menu to the domain you plan on using.

Now, you will see "Advanced Options." This is where you choose your username and password for your WordPress website. You should choose something secure. Don't use "Admin" as your username. For my website, I receive many hackers each and every day and that is the number one username they use to try to hack my website. Instead, create a username that is a combination of different letters, numbers, and anything else you can use. You will want to check "Automatically create a new database for this installation" as well, unless you already have a different database (if you don't know, then you probably do not).

Click "Install Now."

Remember to save your username and password.
After it's all installed, it's always wise to write down your admin URL, username, and password which is found in the "View Credentials" button at the top right. 
From there you can go ahead and log into wordpress with your username and password! 
So what are you waiting for, let's start you for food blog today with bluehost!
Beyond setting up your blog with Bluehost…
When you're ready be sure to check out my Ultimate Resource Guide For Food Bloggers – a page dedicated to all the resources I use to run this food blog. 
Ok this is sort of extra I suppose but I imagine if you have made it this far, then you are serious about wanting to start a food blog. Which  means you have set up your blog with Bluehost, installed Wordperss and now want to make it look fabulous!
When I moved over to WordPress, I used a free theme for awhile, before purchasing my first theme-Elegant Themes. It was fairly affordable and I recommend this theme as a great way to jump in to WordPress.
Currently I am using The Genesis Framework and Foodie Pro Theme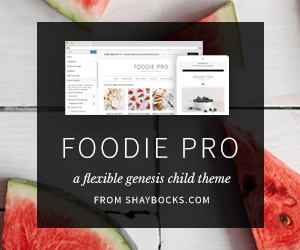 A few plugins I also recommend:
Wordfence– this provides security for your site from being hacked and prevents spam. It's totally free, although you have the option to upgrade if you want. It's the first plugin I recommend for anyone!
Recipe plugin– now as a food blogger, you are going to need a recipe plugin. This one is by far my favorite, because you can make it look super pretty, and it's a breeze for readers to print off the recipe if the so choose. This was another reason I switched to Bluehost as well, because it gave me an option to add recipe plugins, which I thought made my site look more professional. 
Jetpack–  I love this plugin. It's great for checking your site stats, and it has a whole bunch of other features you can also check out, but I mostly use it for that.
Easyazon– If you want to start monetizing your blog, and I think you should! then this plugin is great for you to quickly add Amazon affiliate links within your posts in a snap!
Simply Pinterest– Pinterest drives the majority of traffic to my site so it's important that my content is easily shared on Pinterest. This plugin adds Pinterest buttons on any image. You can customize it so that they are always visible, or visible only when hovered upon. 
Sumome– In addition to Pinterest, I use this plugin to add social media share buttons to all my posts and pages. This is a paid plugin, but I love how visible it is for my readers! I've tried a bunch in the past and they weren't as user friendly s this one is. Totally worth the investment.
Visual Recipe Index–  I love this thing! Having a visual recipe index I think is key for any food blog. We eat with our eyes first as they say. And this thing updates as well, which I used to have to do manually! 
Yoast SEO–  In order to build your traffic you are going to have spend some time dipping your toes into the SEO pool. Luckily, this plugin makes that not such a scary thing. Now with every post I can easily check if my post is SEO friendly or not (they use green, yellow and red stop lights for us tech idiots like me) and easy to add a keyword so you can be more easily found in search engines! 
So what are you waiting for?! Go start your food blog today! I also have for you a checklist to starting your own food blog today that you can download for free right here to help you get started!

Get My Free Food Blogging Checklist!
Create your food blog in just 4 easy steps by following this free checklist!
And don't forget to pin this post for later!