Tiramisu is a perfect show-stopping dessert with a delicious mascarpone cheese mixture, strong espresso, and lady fingers topped with unsweetened cocoa powder. There is no baking involved in this tiramisu recipe!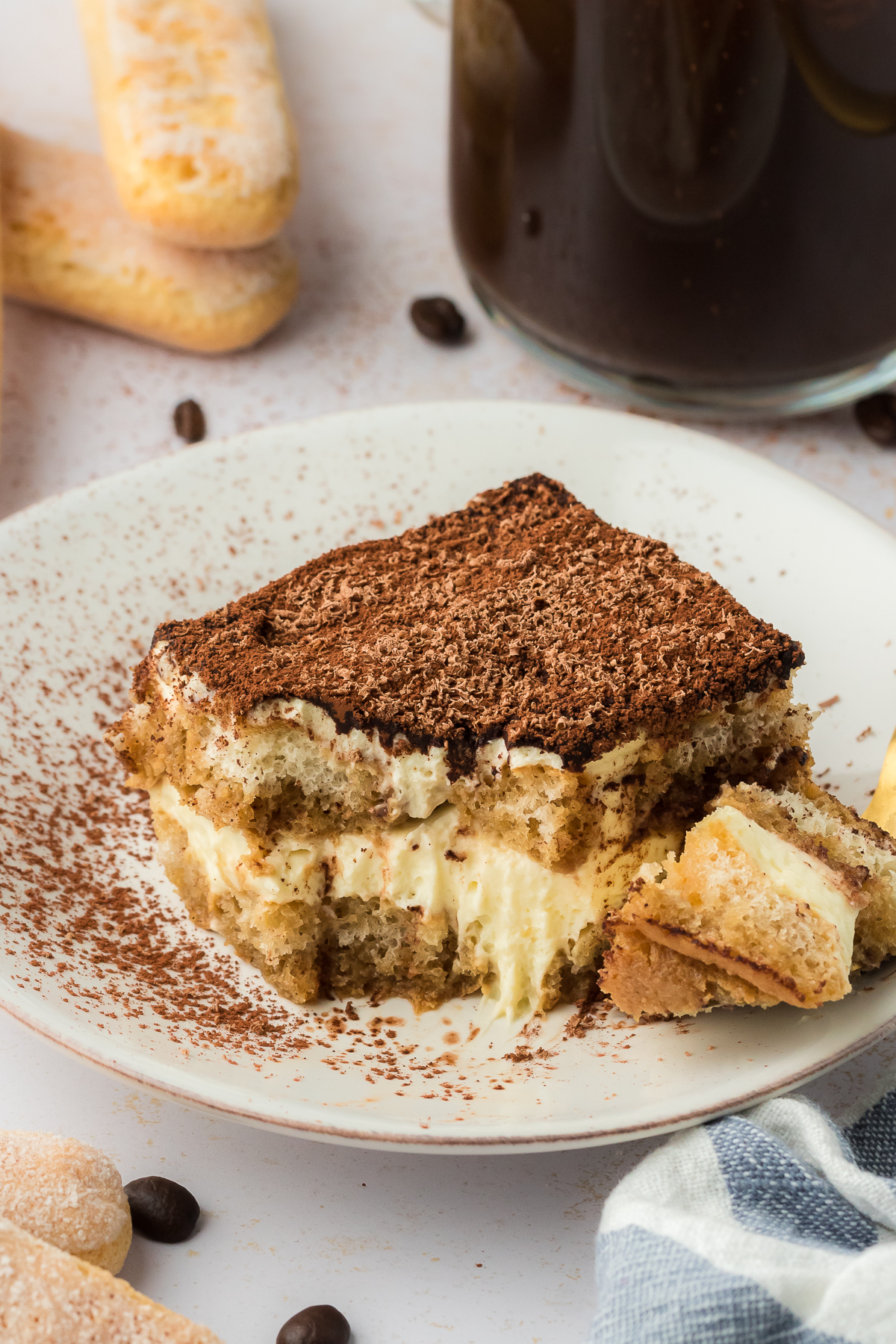 After making homemade lady fingers, I thought why not use them to make tiramisu? I have leftover lady fingers in my fridge and they are dry enough to soak up all the coffee and rum mixture.
That's why I decided to make this tiramisu recipe! I love the balance of richness, sweetness, and bitterness of this no-bake dessert. It seriously might be one of my all time favorite desserts. Like last day on Earth, I'm going to need a big ol' slice.
Who's with me?
See Also:
Make the best Tiramisu by making homemade Lady Fingers! They are simple to make and require only a few ingredients!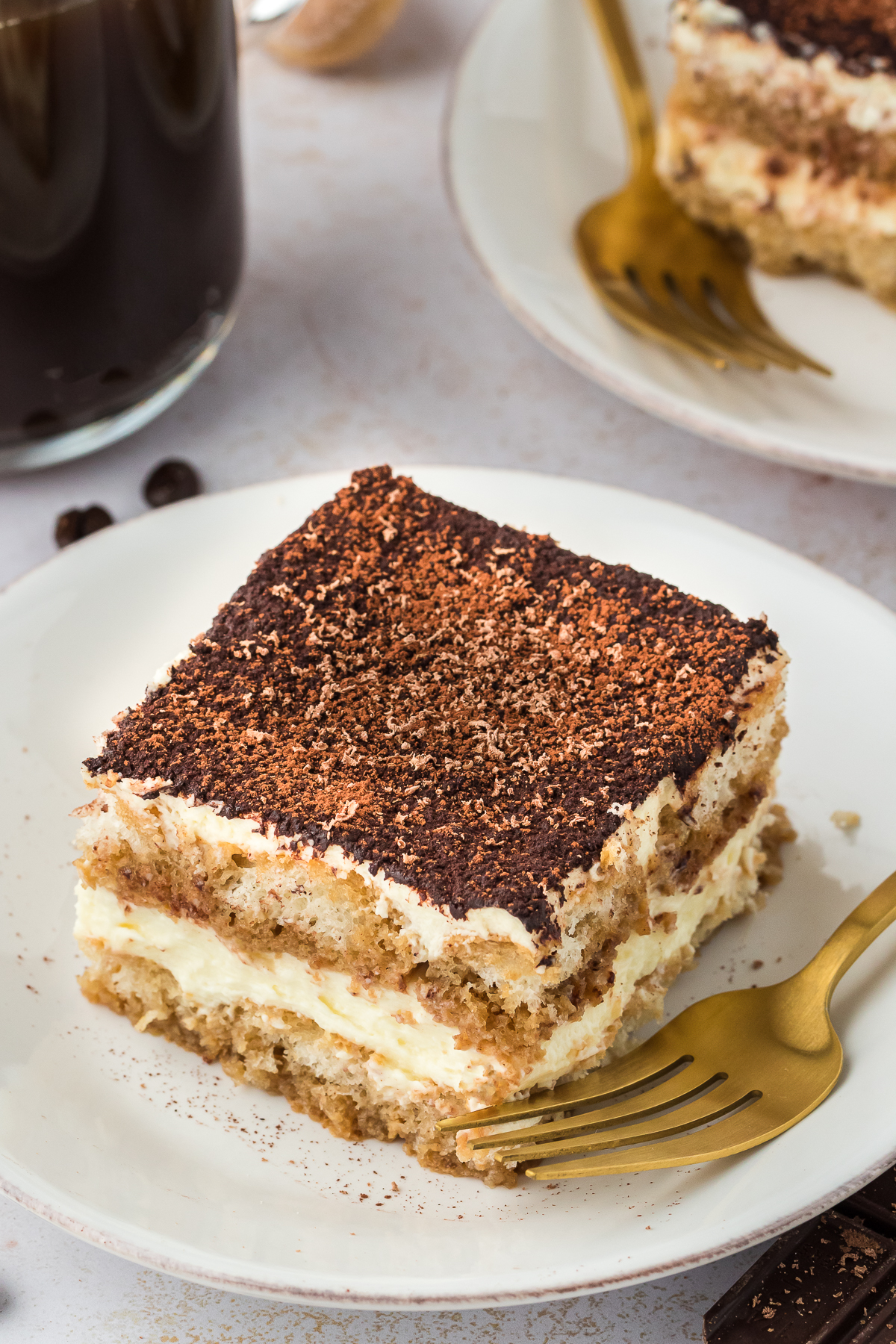 Why You'll Love This Tiramisu
Classic Sweet Treat – Tiramisu is a classic and elegant dessert that originated in Italian regions in the 1800s. This rich and flavorful layered dessert is a great pick-me-up snack that's why it's still adored today.
No Bake Dessert – There is no baking needed to make tiramisu!
Easy To Make – For this classic tiramisu recipe, all you need to do is dip lady fingers in coffee. Then, layer them with a creamy filling. Even your kids can join the fun!
Perfect For Celebrations – Tiramisu is an elegant and classy no-bake dessert you can serve on any occasion, gathering, or potluck.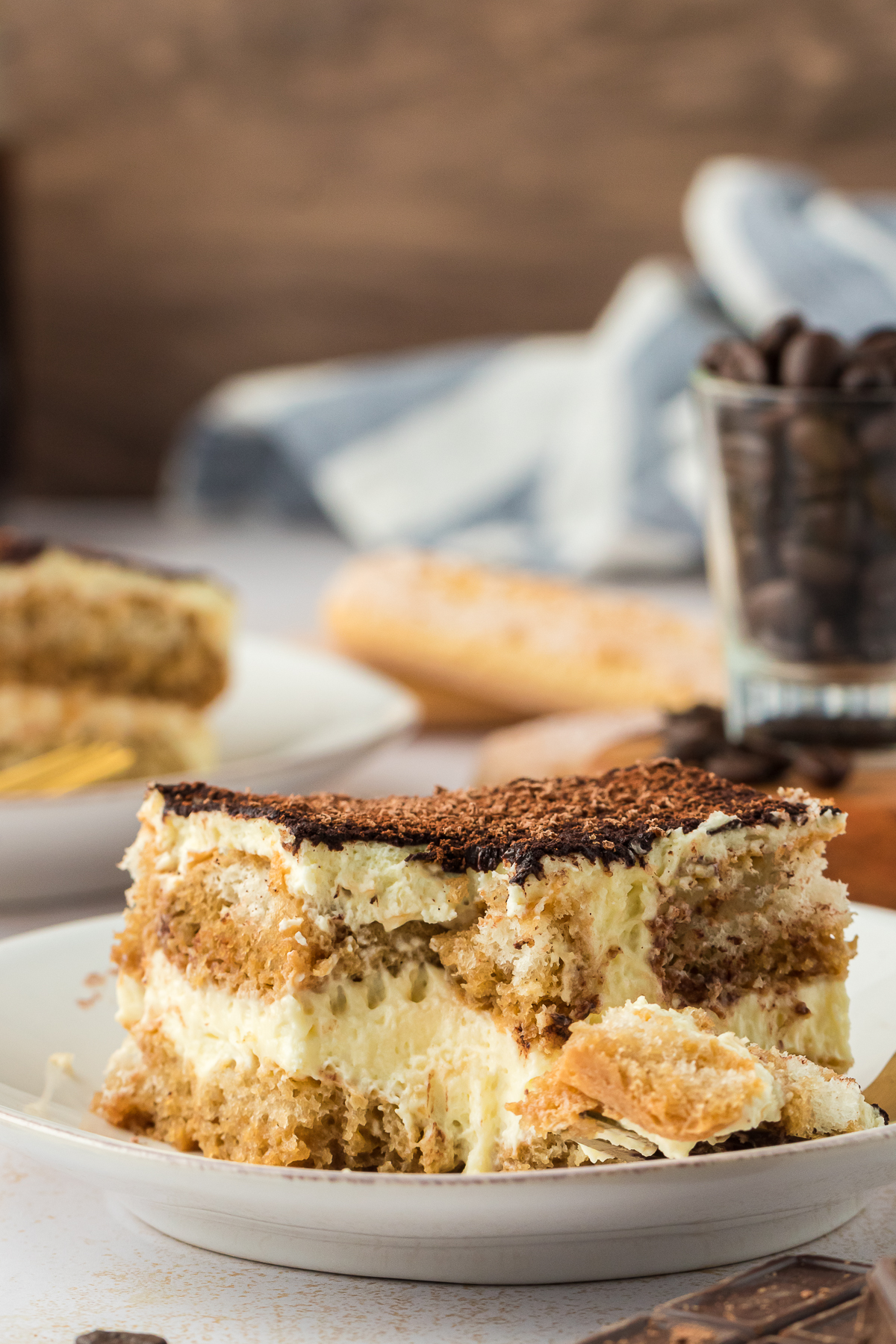 Ingredients Needed
To make tiramisu, you will the following ingredients:
Mascarpone Cheese – It is a type of cream cheese with a rich, smooth, creamy, and thick consistency and is commonly used in making tiramisu. Do not allow the mascarpone cheese to warm to room temperature before using it as it has a tendency to break. You can also use cream cheese but I personally prefer the taste and consistency of mascarpone cheese.
Eggs – Should be at room temperature. Follow this How To Get Room Temperature Eggs Fast. You will need to separate the eggs before starting.
Granulated Sugar
Heavy Cream – I used heavy cream for this delicious recipe but you can also use heavy whipped cream or you can make your own homemade whipped cream.
Lady Fingers – These are small and delicious sponge cakes in the shape of fingers. They are perfect for making tiramisu because they absorb the coffee mixture well. You can also make lady fingers at home. They only need 5 simple ingredients!
Dark Rum – Rum is combined with your espresso to spike it up. If you don't have rum, you can also use amaretto, brandy, marsala wine, coffee liquor, or little Grand Marnier.
Coffee – For a bolder and more prominent coffee flavor, I use strong espresso coffee for this tiramisu recipe. You can also use instant espresso powder.
Vanilla Extract – To flavor your whipped cream. If you run out of vanilla extract, you can make one by following the Homemade Vanilla Extract Recipe.
Cocoa Powder – Use Dutch-process or unsweetened cocoa powder. Natural Cocoa vs Dutch-Process Cocoa Powder.
Salt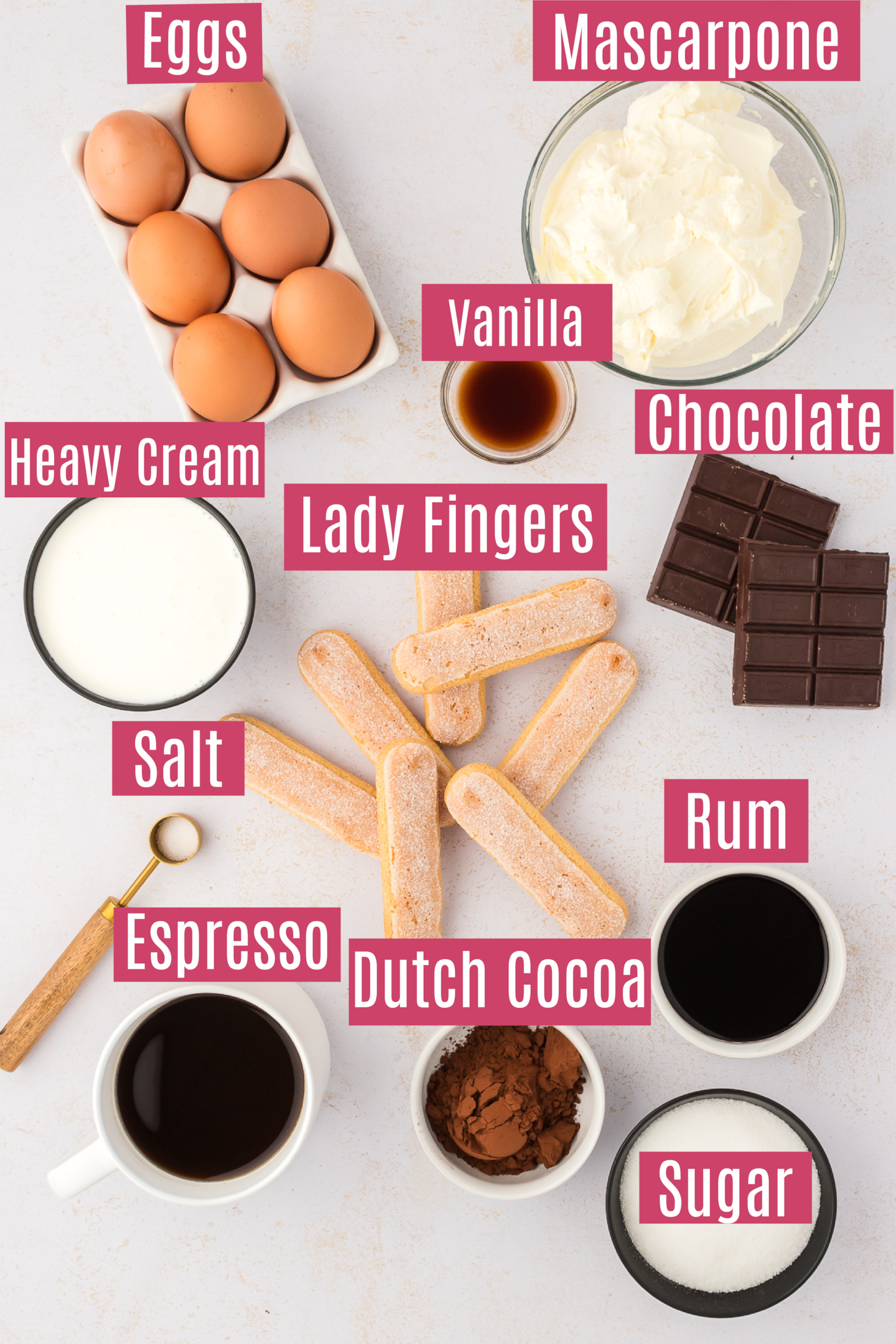 How To Make Tiramisu
Before you start making tiramisu, make sure all your ingredients are at room temperature for easier mixing. This includes your espresso, raw eggs, and mascarpone cheese.
I used a 9 x 13-inch baking dish for this tiramisu recipe. You can also use other sized of baking dish, just make sure it has a minimum of 12-cup capacity.
1. Prepare Coffee Dip
In a shallow bowl, combine coffee and 2 tablespoons of the rum. Whisk together until fully incorporated. Set aside.
If you are using instant espresso powder, dissolve it first before mixing it with dark rum. Ensure it is a strong coffee flavor so that it doesn't get overshadowed by the mascarpone mixture.
2. Double Boil Egg Yolks
Crack your raw eggs and separate egg whites and egg yolks. Save those egg whites! Use them to make the best angel food cake!
To make an egg yolk mixture, you will need a double boiler. If you don't have it, use a heat-proof bowl and place it over a small pot with simmering water. Your pot should be at medium-low heat and the water shouldn't touch the bowl.
Whisk raw egg yolks, salt and sugar for 10 minutes or until foamy and light in the bowl set over simmering water. To make your egg yolks sugar mixture, you need to continuously whisk them together. This extra step of heating the egg yolks makes them safe to eat raw.
Remove from heat and allow to cool while you prepare the mascarpone cheese mixture.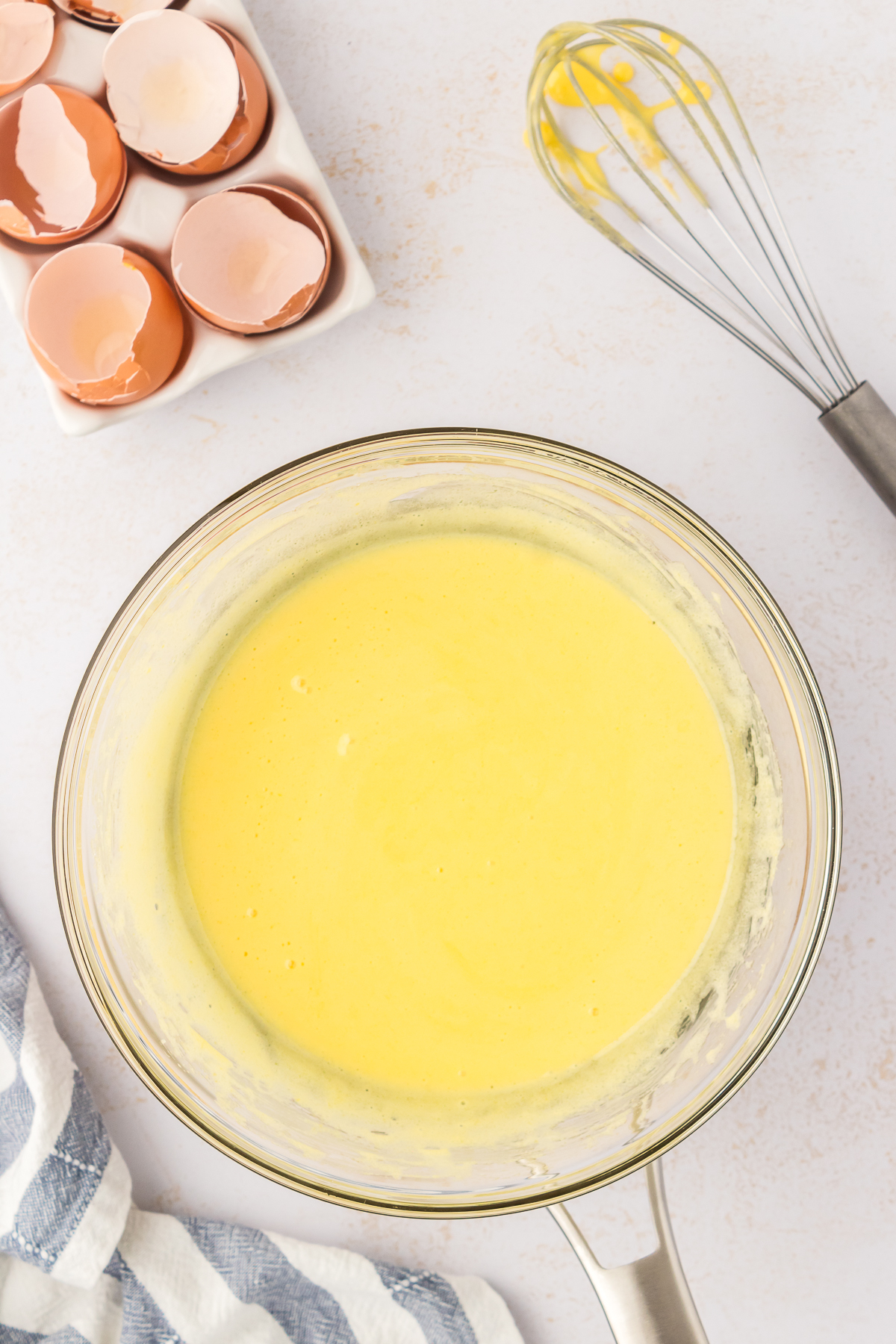 3. Make Mascarpone Cream
In a large mixing bowl, add mascarpone cheese and the remaining rum. Beat using a stand mixer or hand mixer with a whisk or paddle attachment at medium speed until your creamy mascarpone cream is smooth and silky.
Continuously beat in the cooled egg yolk mixture on medium speed until no lumps remain, scraping down the bowl as needed. Transfer mixture to a bowl and set aside.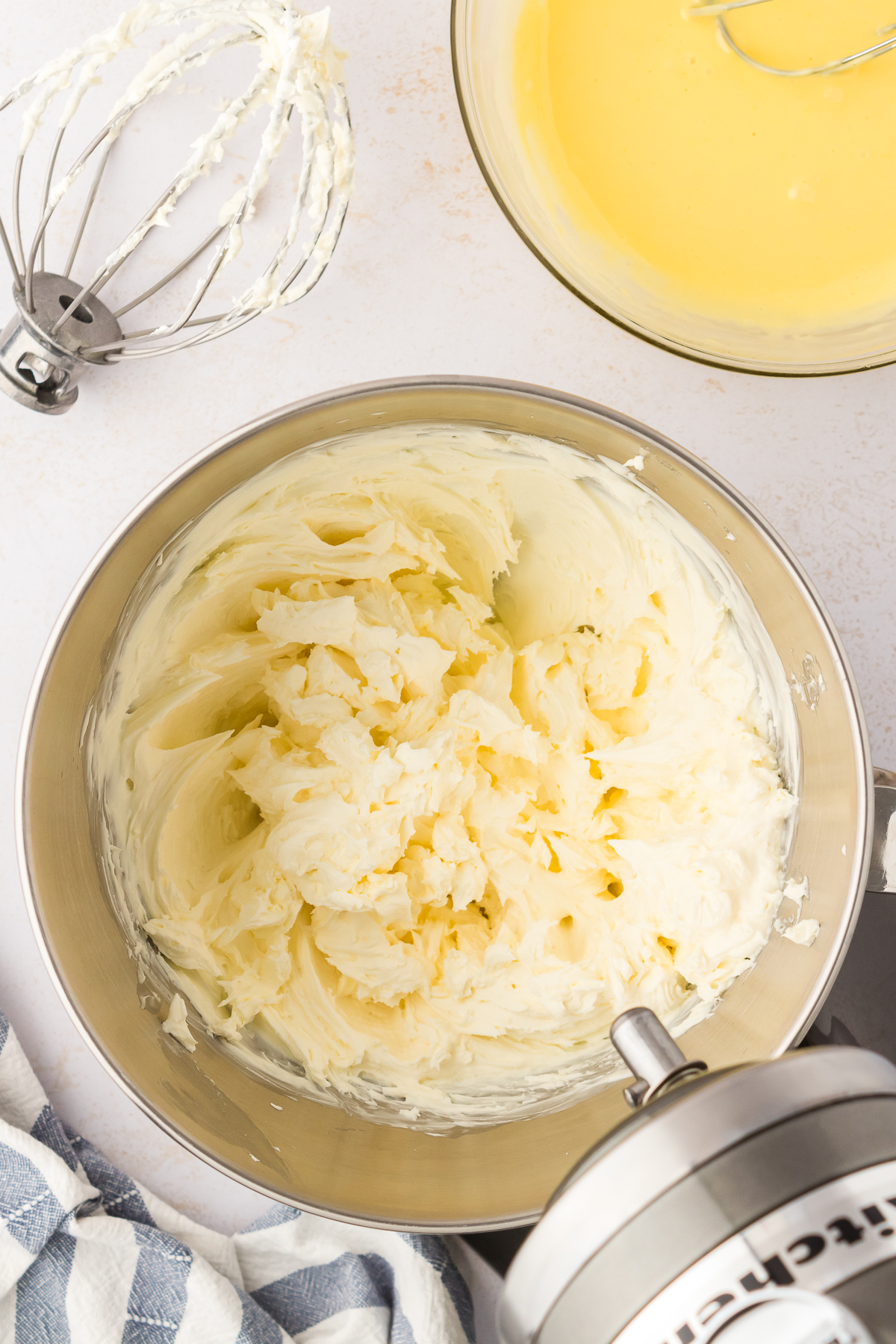 4. Make Whipped Cream
If you are using ready-made whipping cream, skip this step.
Beat heavy cream and vanilla extract together using an electric mixer over medium-high speed. It can take about 3 to 4 minutes. Stop when your whipping cream has medium peaks. Your whipped cream should be between soft and stiff peaks.
Fold whipped cream into your mascarpone mixture. Set aside.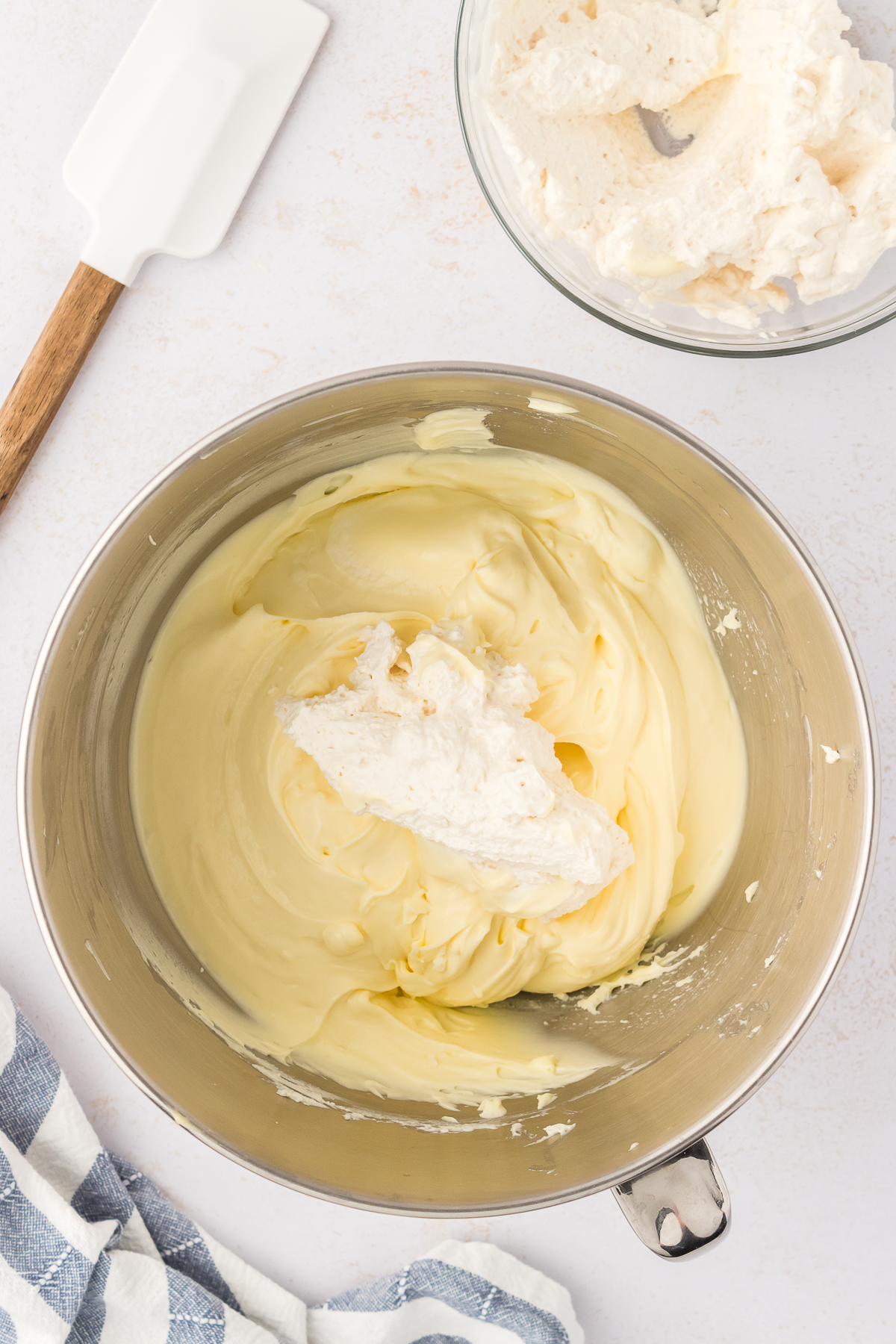 5. Assemble
Quickly dip both sides of your lady fingers into the coffee mixture. Don't oversaturate your ladyfinger cookies or they will turn soggy.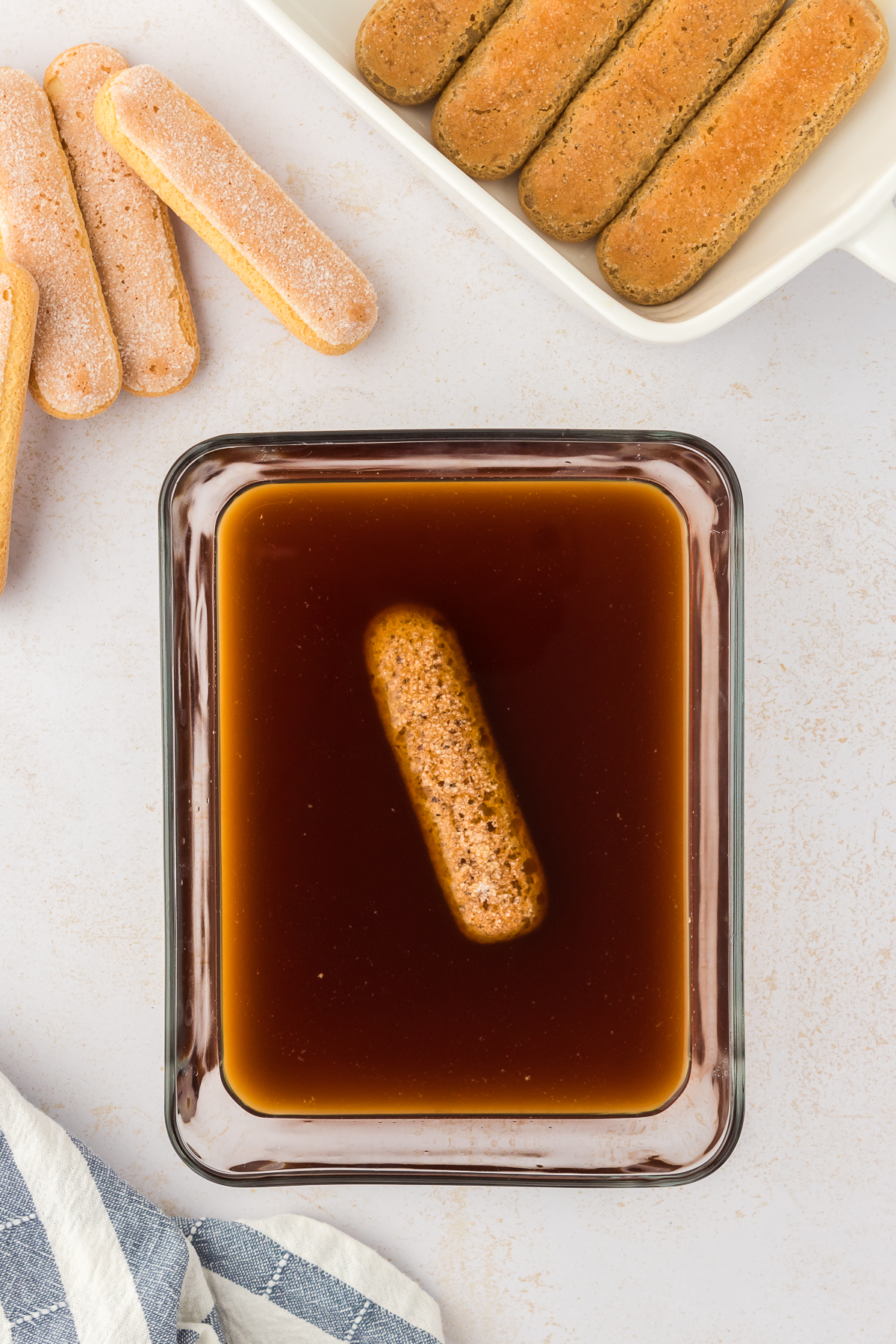 Place coffee soaked lady fingers at the bottom of the baking dish in one layer. Cut some pieces to fill out all the empty spaces.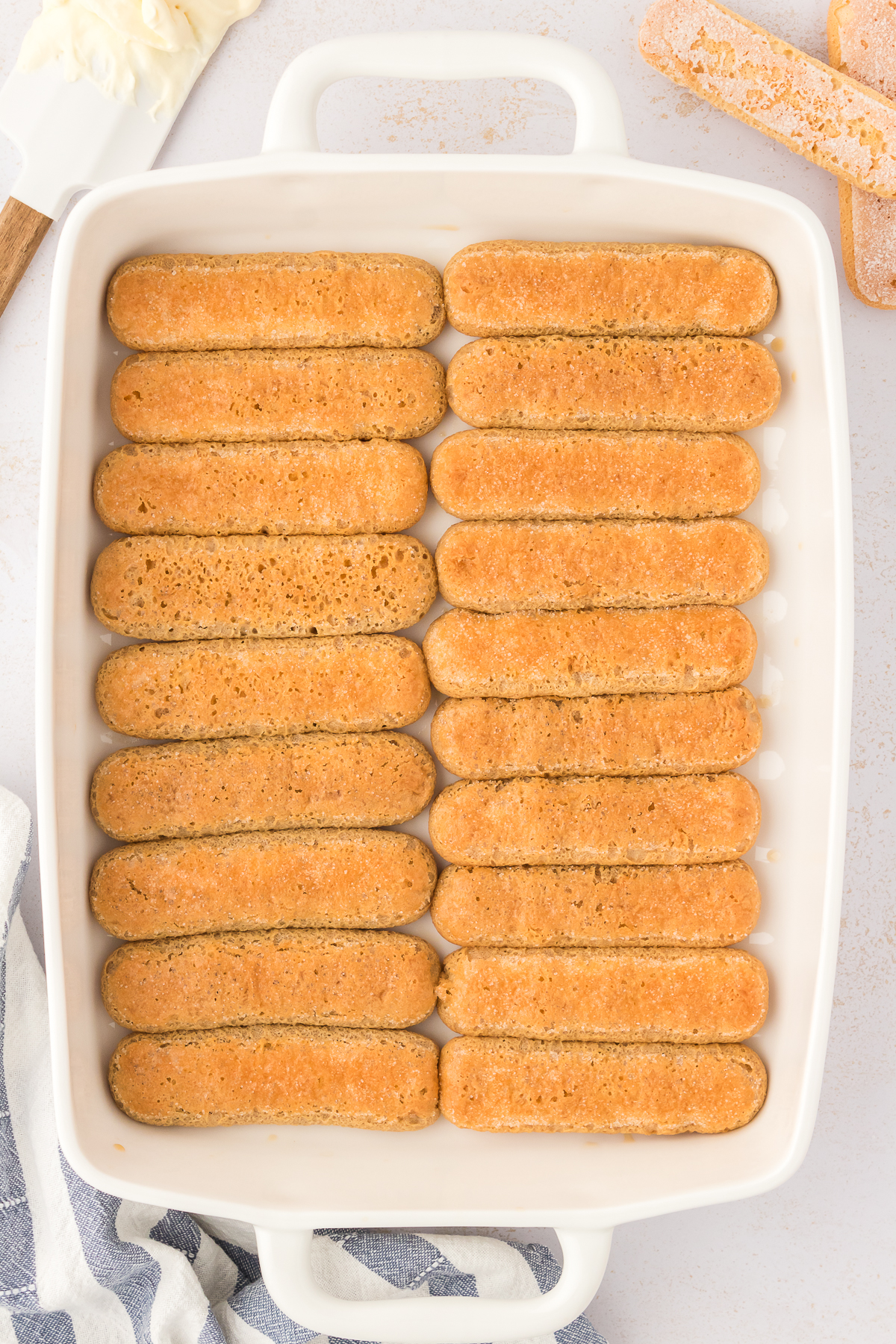 Then, spread half of your mascarpone mixture over. Spread evenly using the back of a spoon or offset spatula. Dust with half of the cocoa.
Soak remaining ladyfingers and arrange them on top of the mascarpone cream layer. Gently press soaked ladyfingers down. Fill up the empty spaces by cutting some ladyfingers soaked in coffee dip mixture.
Pour over remaining mascarpone mixture and spread evenly.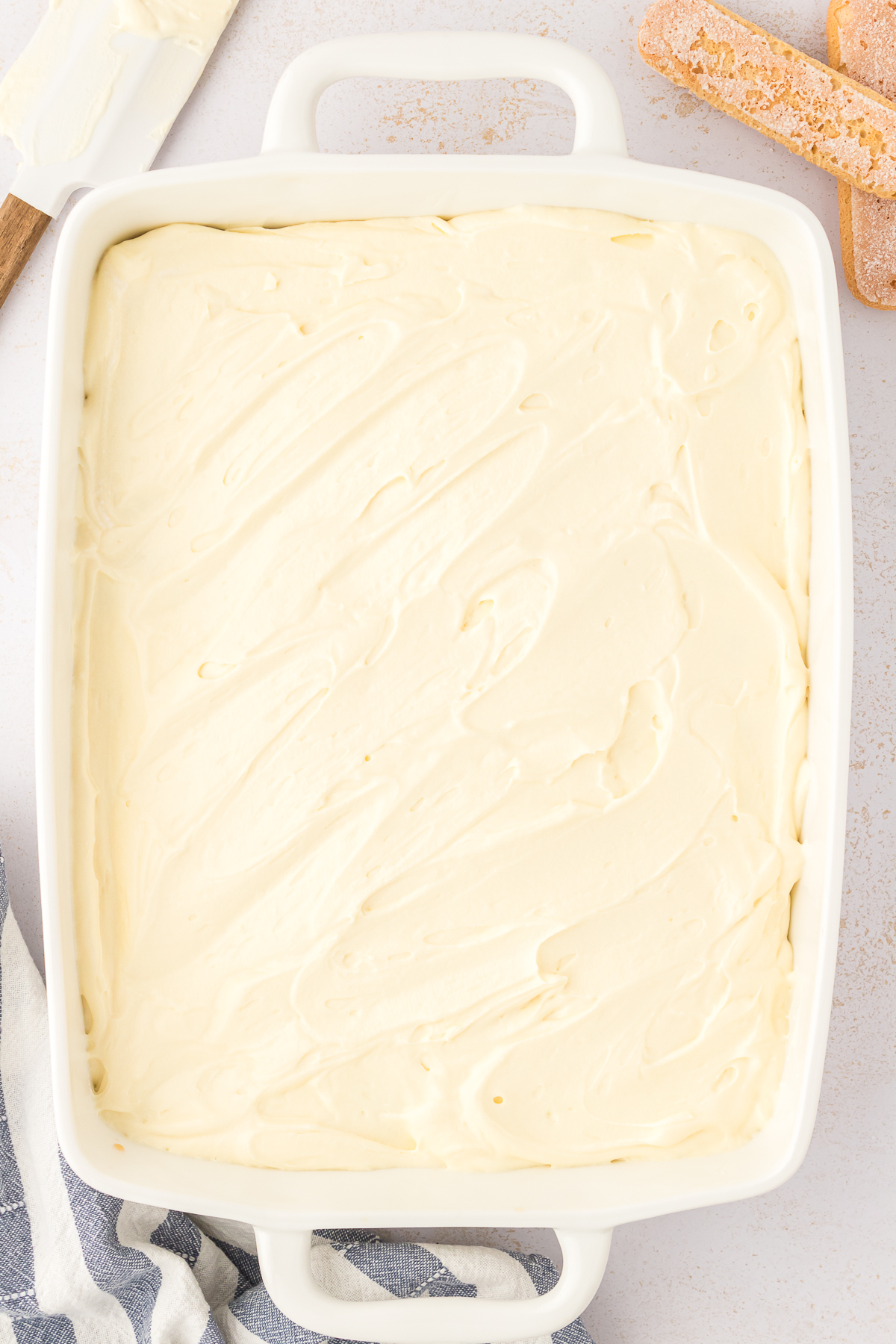 7. Add Cocoa Powder And Chill
Dust with the remaining cocoa powder. Make sure your cover the whole top layer of the tiramisu with cocoa powder.
Clean the sides of your baking dish, cover with aluminum foil or plastic wrap, and place tiramisu in the fridge. Refrigerate overnight or for at least 6 hours and serve.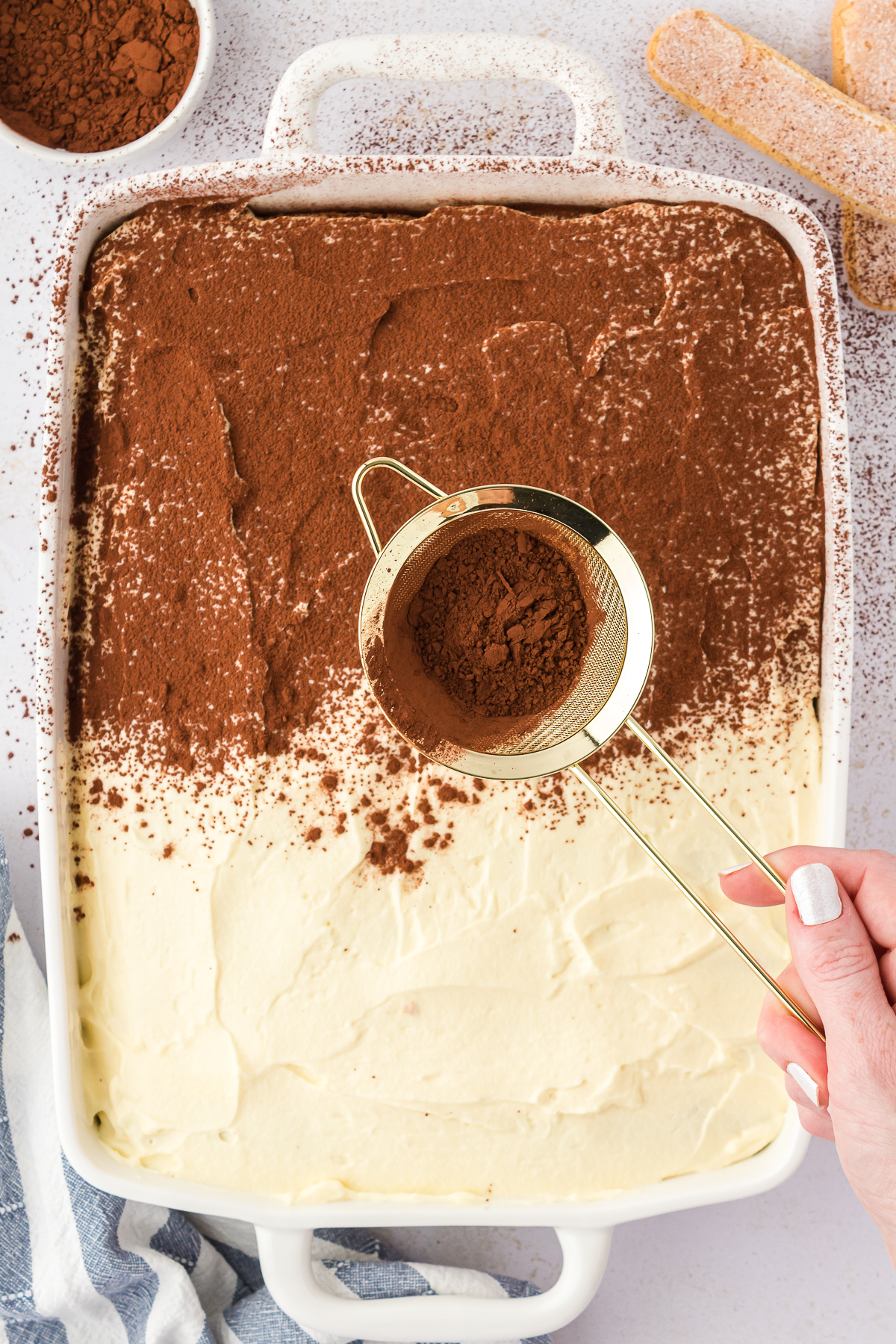 Recipe Tips
Don't oversoak your ladyfingers. Just a quick dip will do! Overly soggy ladyfingers will make your tiramisu too wet and messy.
Try to switch or mix different types of liquor or espresso. You can also use non-coffee liquids like fruit juices or purees for a refreshing summer taste.
Line baking dish with plastic wrap. This will make it easier to remove tiramisu from the baking dish, easier to cut, and better looking.
Be patient when making tiramisu. It might take a while but the fruits of your labor will surely be delicious and enjoyable!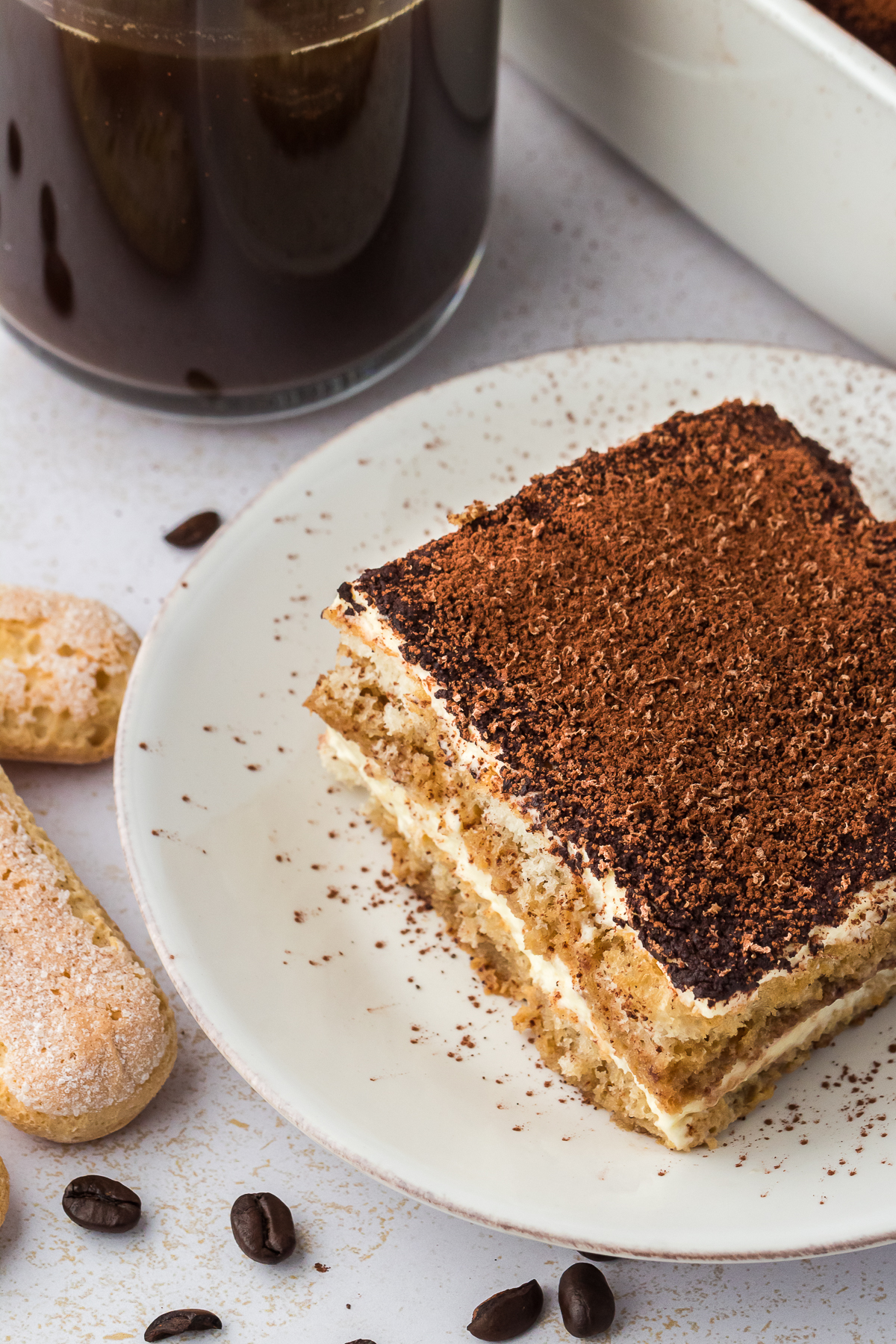 Recipe FAQs
How to store leftover tiramisu?
Store tiramisu by transferring it to an airtight container or wrapping it tightly with plastic wrap. This prevents the smell of other foods from contaminating your tiramisu. Place in the fridge. It can last up to 3 days. Consume as soon as possible or it will turn too soggy.
Can I freeze tiramisu?
Yes, you can freeze tiramisu. Transfer to a freezer-safe airtight container or freezer-safe bag or cover tightly with plastic wrap. Place in the freezer for up to 3 months. To thaw frozen tiramisu, transfer it to the fridge overnight or for 24 hours, depending on the size of the frozen tiramisu.
Can I remove the rum in this tiramisu recipe?
Yes, you can remove the alcohol in this recipe. Just make sure you have enough espresso prepared for soaking your ladyfingers.
How to slice and serve tiramisu?
Cut tiramisu with a sharp knife. Wipe your knife clean after cutting each square.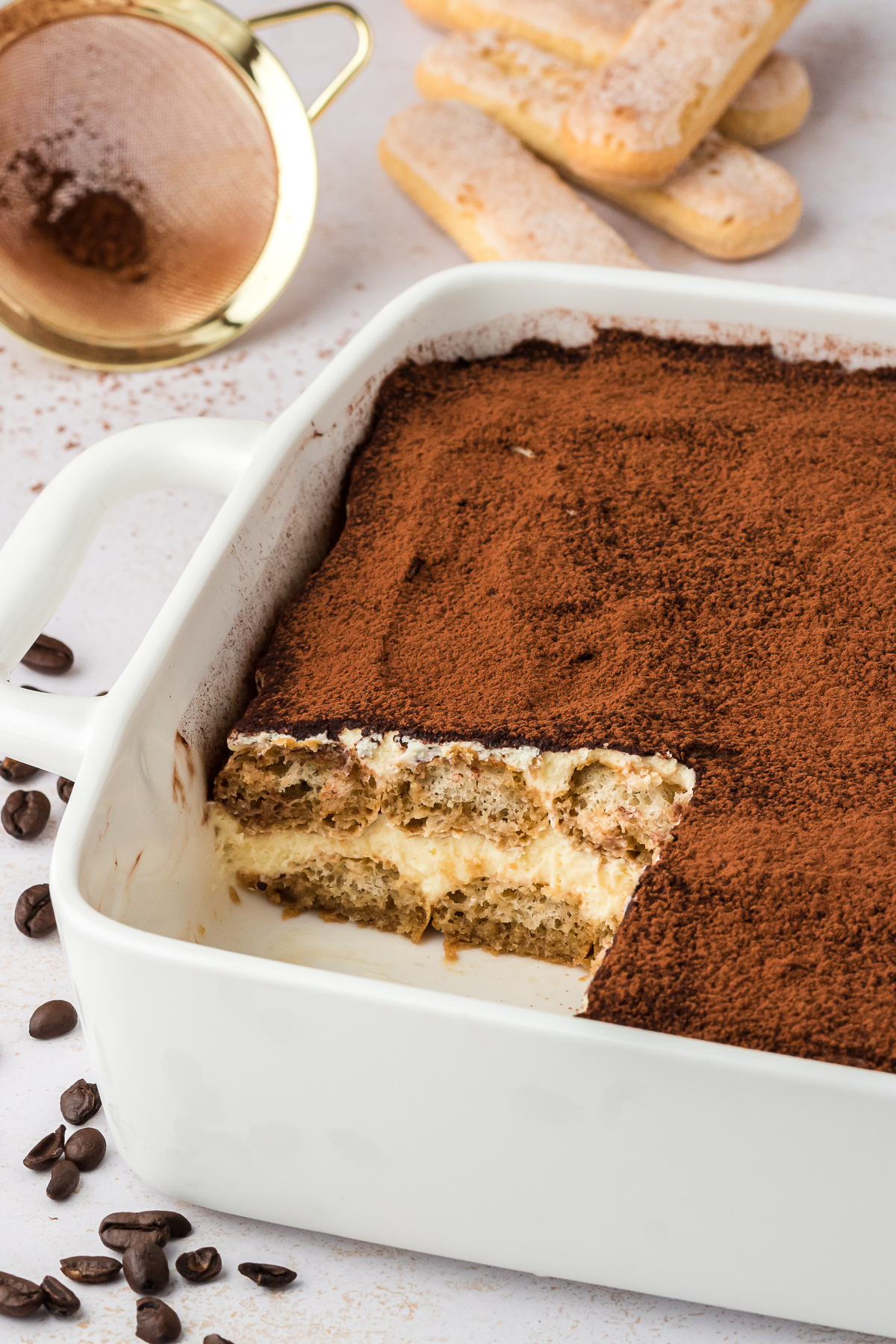 More Recipes To Try
Tiramisu
Tiramisu is a perfect show-stopping dessert with a delicious mascarpone cheese mixture, strong espresso, and lady fingers topped with unsweetened cocoa powder. There is no baking involved in this tiramisu recipe!
Print
Pin
Rate
Ingredients
2

cups

(480 ml)strong brewed coffee or espresso

5

Tablespoons

rum

divided

6

large egg yolks

⅔

cup

(134 g) granulated sugar

¼

teaspoon

salt

1 ½

pounds

mascarpone cheese

3 cups

¾

cup

(180 ml) heavy cream, chilled

1

teaspoon

vanilla extract

14

ounce

ladyfingers

42 to 60 depending on size

3

Tablespoons

Dutch processed cocoa

¼

cup

semisweet chocolate

grated
Instructions
Stir coffee and 2 tablespoons rum together in a bowl and set aside.

In a large bowl set over a pan of simmering water, whisk the egg yolks, salt and sugar continuously together for about 10 minutes. Remove from the heat and set aside to cool.

Using a stand mixer fitted with whisk attachment, whip the mascarpone and remaining 3 tablespoons of rum together until smooth and fluffy. Continuously beat in the cooled egg mixture on medium speed until no lumps remain, scraping down the bowl as needed. Transfer mixture to a bowl and set aside.

In the same stand mixer bowl, or a second large bowl, whip heavy cream and vanilla on medium speed until foamy, about 1 minute. Increase speed to high and whip until stiff peaks form, about 1-3 minutes.

Using a spatula, fold one-third of the whipped cream mixture into the mascarpone mixture to lighten, then gently fold in remaining whipped cream until no white streaks remain. Set mascarpone mixture aside.

Quickly Dip each ladyfinger quickly into the coffee mixture, roll to coat, and transfer to a 9×13 mixture. Arrange soaked cookies in a single layer in a baking dish.

Spread half of the mascarpone mixture over ladyfingers with a spatula and smooth surface. Dust the mascarpone with half of the cocoa.

Repeat with a second layer of ladyfingers and spread the remaining mascarpone mixture over the ladyfingers and dust with remaining cocoa powder. Cover and refrigerate for at least 6 hours up to 24 hours. Garnish with grated chocolate.
Notes
Storage: Store tiramisu by transferring it to an airtight container or wrapping it tightly with plastic wrap. This prevents the smell of other foods from contaminating your tiramisu. Place in the fridge. It can last up to 3 days. Consume as soon as possible or it will turn too soggy.
Freezing: Yes, you can freeze tiramisu. Transfer to a freezer-safe airtight container or freezer-safe bag or cover tightly with plastic wrap. Place in the freezer for up to 3 months. To thaw frozen tiramisu, transfer it to the fridge overnight or for 24 hours, depending on the size of the frozen tiramisu.
Coffee: You can use coffee, espresso, or even try cold brew! Just bring it to room temperature. For a stronger coffee flavor, add 1 tablespoon espresso powder to the coffee mixture. Make sure the coffee isn't hot, or it will make the ladyfingers mushy.
Alcohol: You can use light or dark rum, or another alcohol of your choice such as brandy, whiskey, marsala wine, frangelico, Kahlua, or omit completely.
Mascarpone: Do not allow the mascarpone cheese to warm to room temperature before using it as it has a tendency to break. If you can't find mascarpone, you can use cream cheese instead (it won't have quite the same taste, but will work).
Ladyfingers: You want to use hard not soft ladyfingers.
Cocoa: I prefer Dutch cocoa because it isn't as acidic as natural cocoa powder
Nutrition
Calories:
401
kcal
|
Carbohydrates:
27
g
|
Protein:
8
g
|
Fat:
29
g
|
Saturated Fat:
17
g
|
Polyunsaturated Fat:
1
g
|
Monounsaturated Fat:
3
g
|
Trans Fat:
0.002
g
|
Cholesterol:
186
mg
|
Sodium:
110
mg
|
Potassium:
126
mg
|
Fiber:
1
g
|
Sugar:
10
g
|
Vitamin A:
996
IU
|
Vitamin C:
0.1
mg
|
Calcium:
92
mg
|
Iron:
2
mg