This chocolate Rice Krispie treat recipe is a quick and easy no bake dessert or snack you can make with your kids! It is made with simple ingredients you can find in your regular grocery stores or pantry. If you love Rice Krispie cereals, you will certainly love these decadent and chocolatey Rice Krispie treats!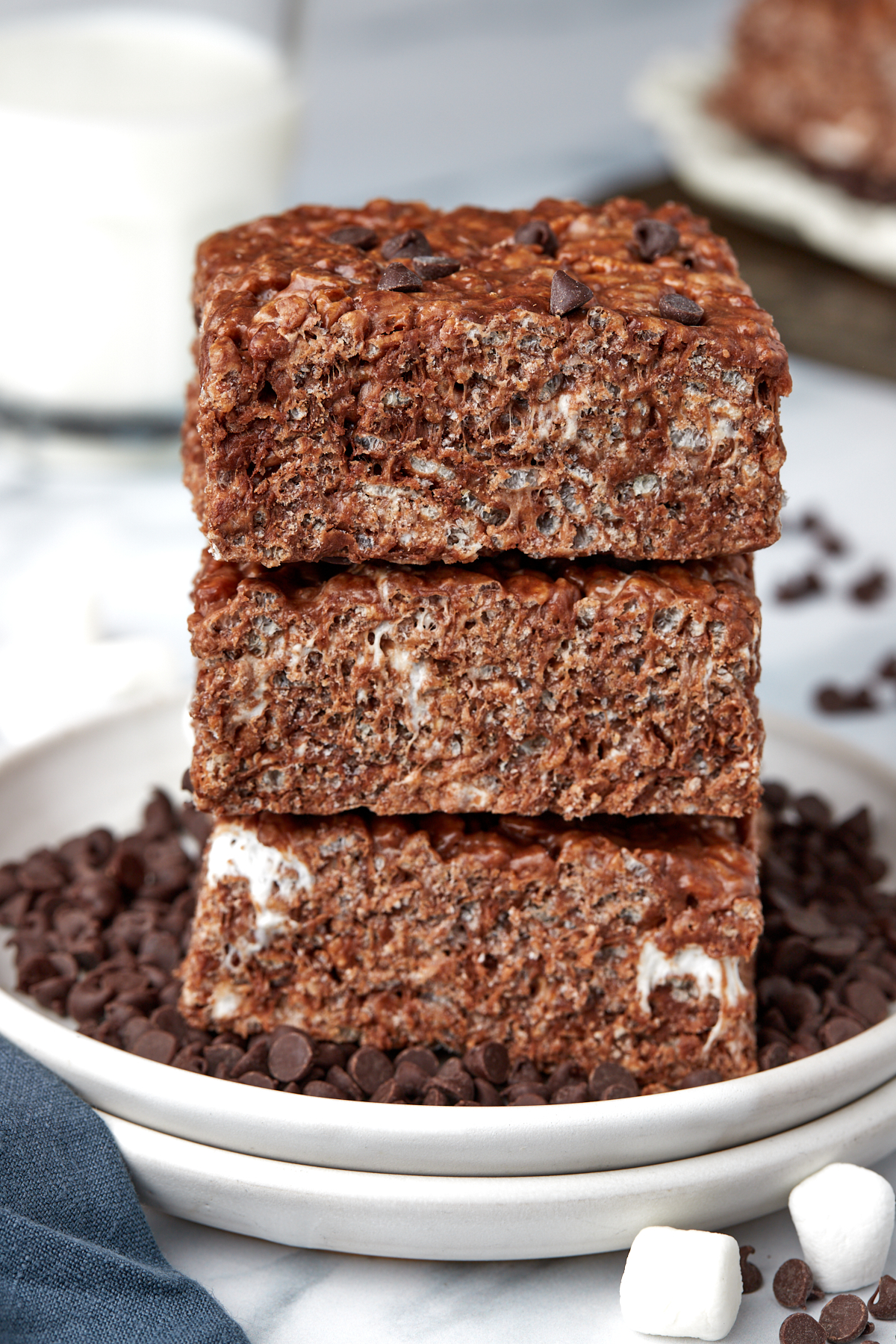 In our household, cereals like Chocolate Rice Krispie cereals are a staple. We always have cereals in our pantry. They are convenient, especially if we need a quick breakfast or snack. But because we love cereals too much, we tend to buy too many cereals every time we do our grocery shopping. This became a problem because nobody wants to waste food, especially me!
So, I looked for ways to use Chocolate Rice Krispie cereals to avoid waste. This chocolate Rice Krispie treats recipe is the result!
With this quick and simple chocolate Rice Krispie treat recipe, you will avoid waste and have delicious snacks your whole family will enjoy! Everyone in your family will love rice Krispie treats!
See Also: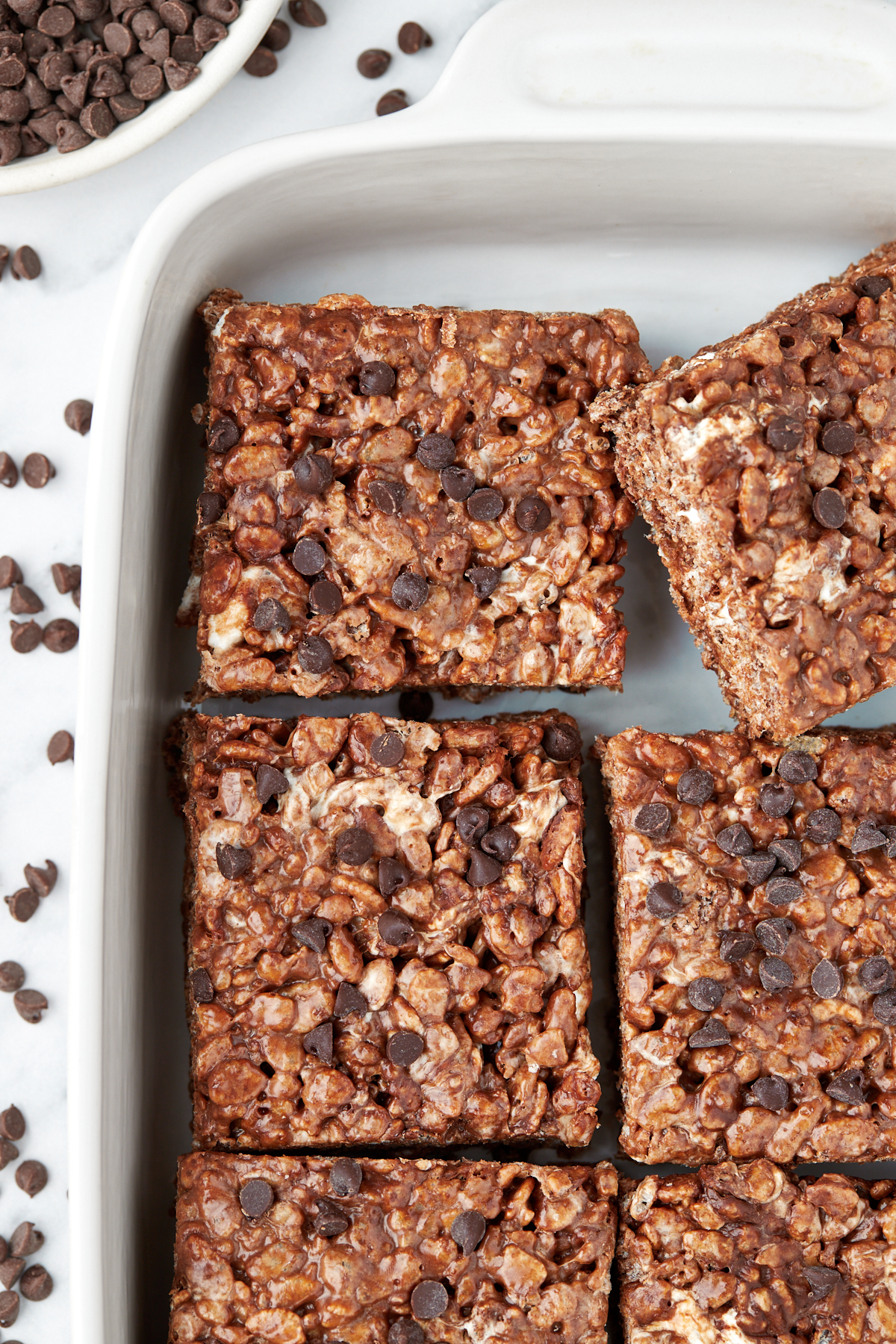 Why You'll Love This Chocolate Rice Krispie Treats
No Baking Needed – To make this chocolate Rice Krispie treats, there is no baking involved. I made these treats on my stovetop.
Simple And Quick To Make – This recipe is very easy to follow. Also, in just 20 minutes, you have a delicious sweet snack. You can make their chocolate Rice Krispie treats with your kids.
Rich And Chewy – Every cocoa Rice Krispies squares are chocolatey and chewy perfect for kids of all ages and kids at heart.
Ingredients Needed
Here are the ingredients you will need to make these delicious chocolate Rice Krispie treats:
Chocolate Rice Krispies Cereals – This will be the base for this Krispies recipe. If you can't find cocoa rice krispie cereal, you could using cocoa pebbles instead.
Butter – I used unsalted butter for this recipe, but you can also use salted butter and then just omit the added salt.
Salt– I like to add a little salt. The additional saltiness balances the sweetness of the marshmallow and Rice Krispies cereal and the richness of chocolate chips and cocoa powder.
Vanilla extract – This just adds extra flavor and makes for the best rice krispies treats! Don't skip it.
Marshmallows – You can use either regular or mini marshmallows. Mini marshmallows melt quicker than regular marshmallows.
Chocolate Chips – I used semi-sweet chocolate chips for this chocolate Rice Krispie treat recipe. The marshmallows and Rice Krispie cereals are already sweet. That's why I used semi-sweet chocolate chips instead. But you can also use dark chocolate chips or milk chocolate chips.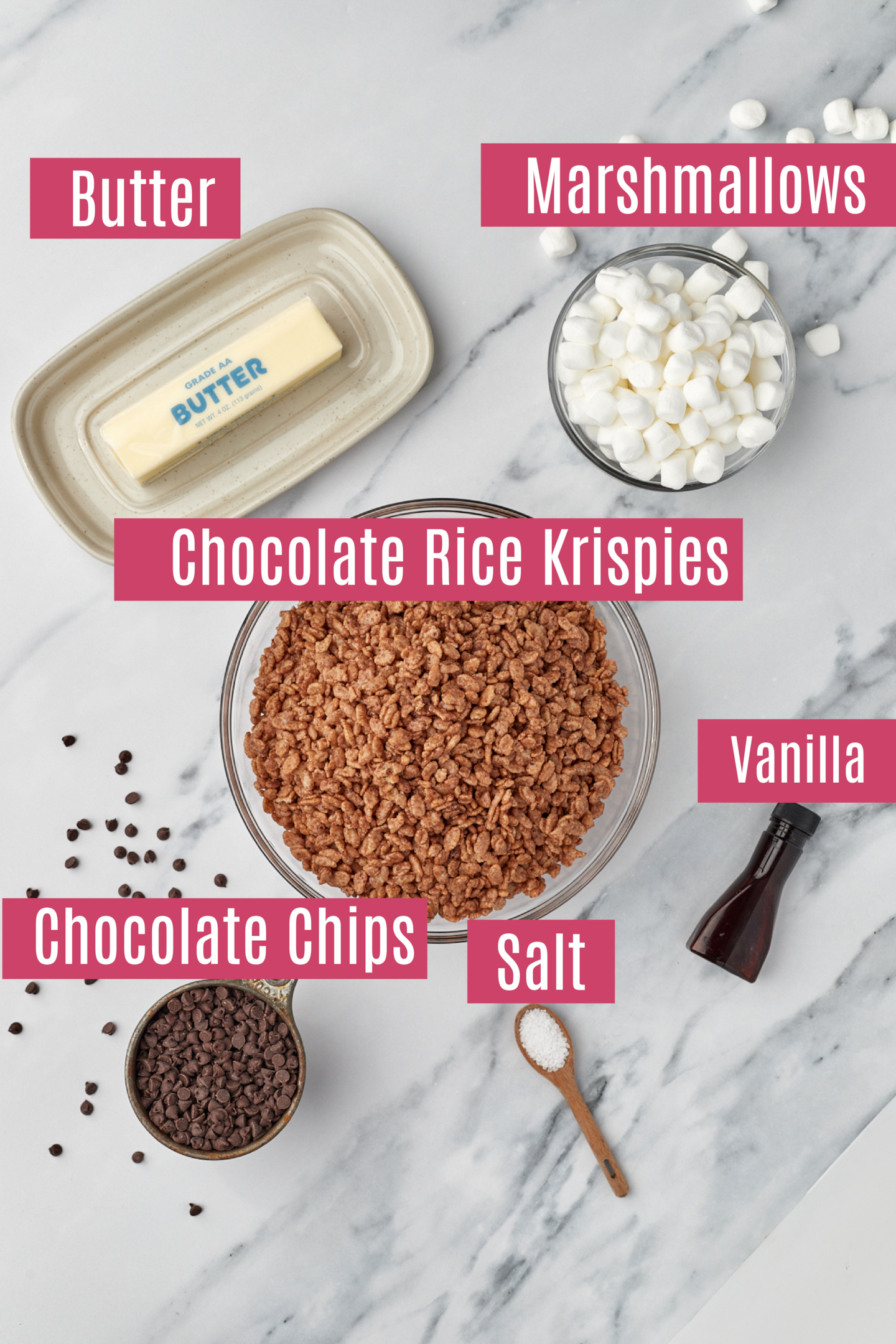 How To Make Chocolate Rice Krispie Treats
For this chocolate Rice Krispie treats recipe, you will need the following tools and equipment:
9×13-inch square baking dish
Nonstick cooking spray
Aluminum foil (or parchment paper)
Here's how to make chocolate Rice Krispie treats:
1. Prepare Your Baking Pan
With aluminum foil, line your baking dish. Spray it with non-stick cooking spray for good measure. The marshmallow mixture is very sticky. It is best to add a layer of cooking spray to make sure it doesn't stick and is easy to remove after chilling.
You can also use butter if you don't have cooking spray.
2. Make The Mixture
In a large saucepan, melt your butter over medium-low heat.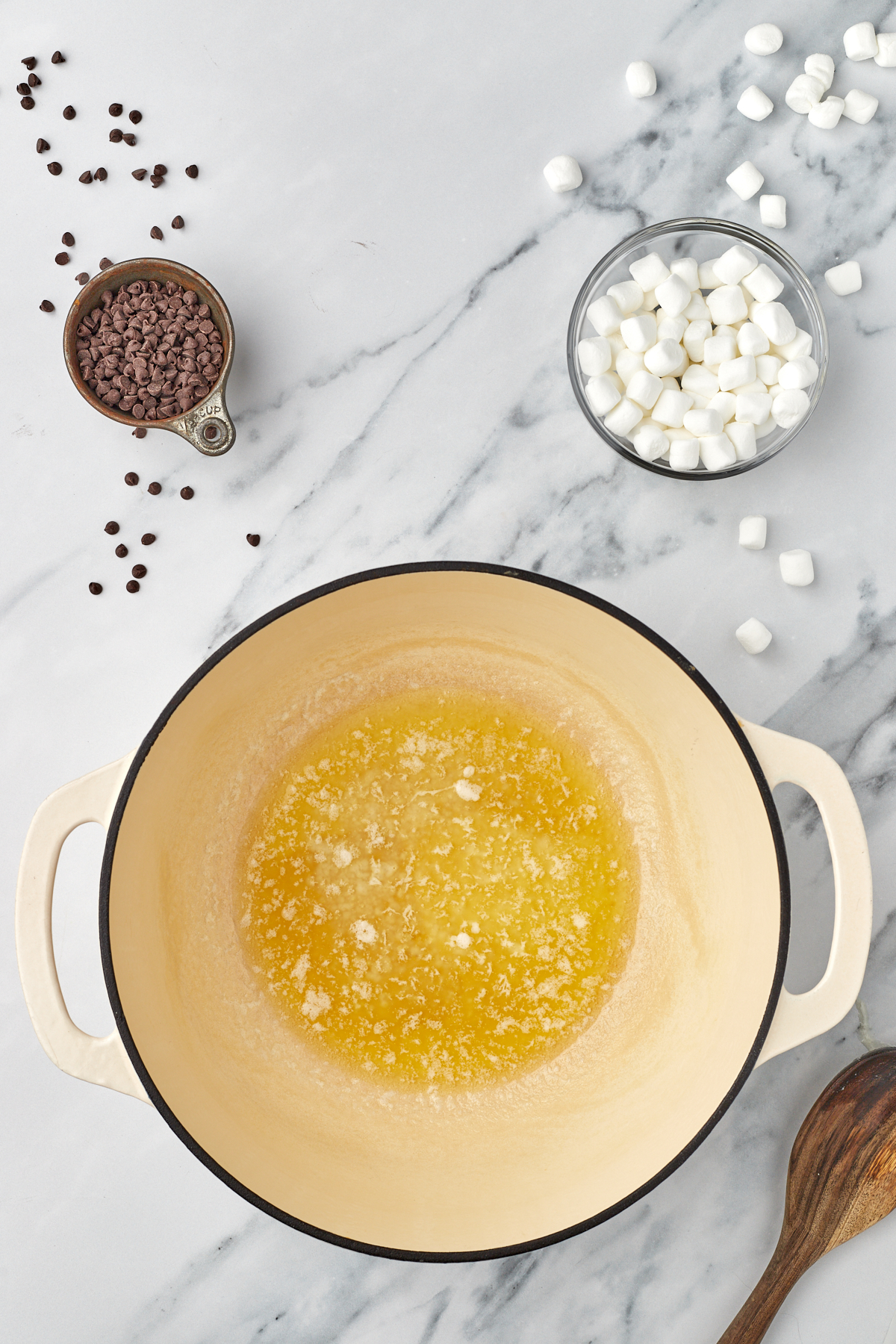 Reserve 2 cups of the miniature marshmallows and stir in the rest of the marshmallows into the butter and stir them until they melt. Make sure to stir well to avoid burning and sticking.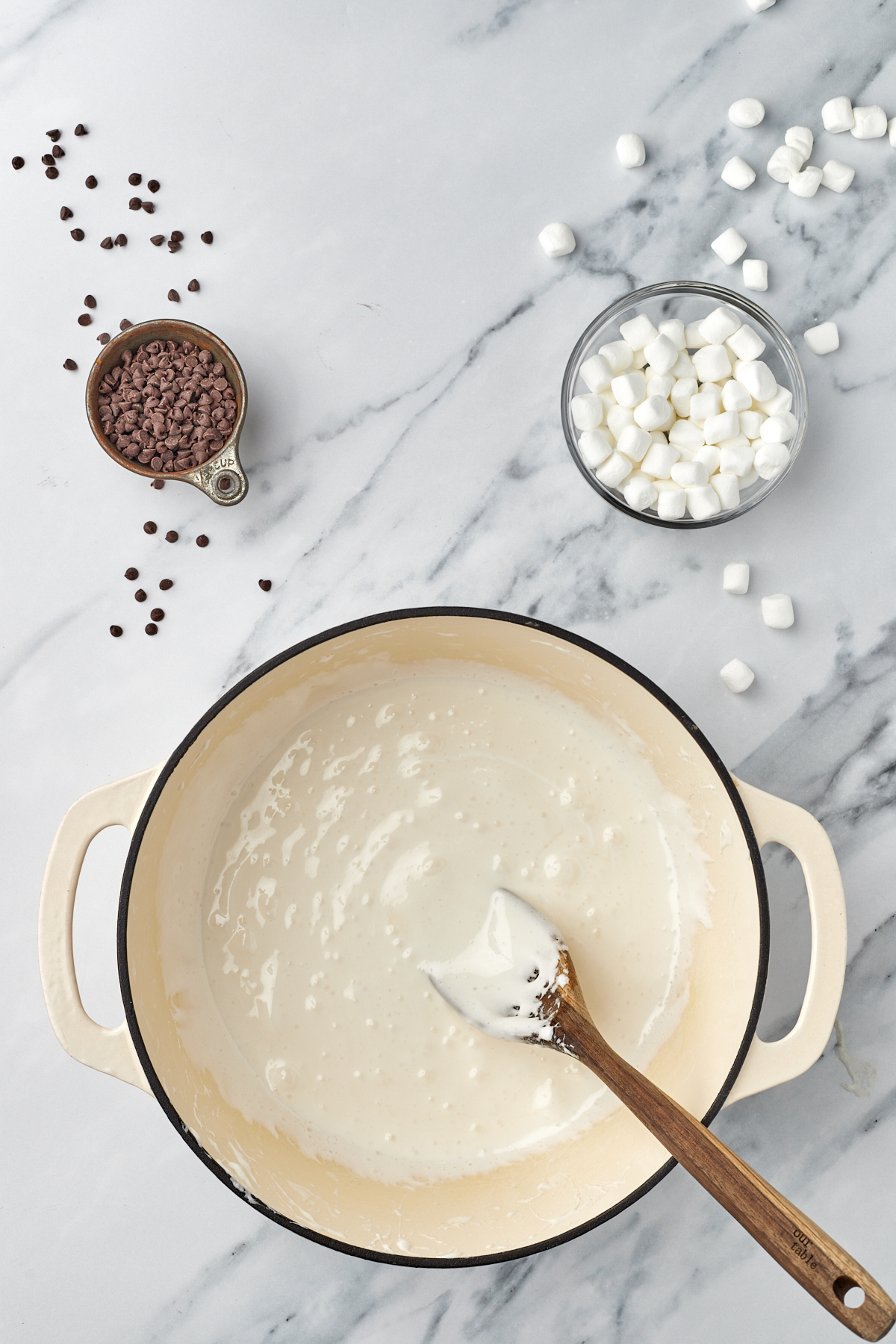 Remove from the heat and stir in the vanilla extract and salt.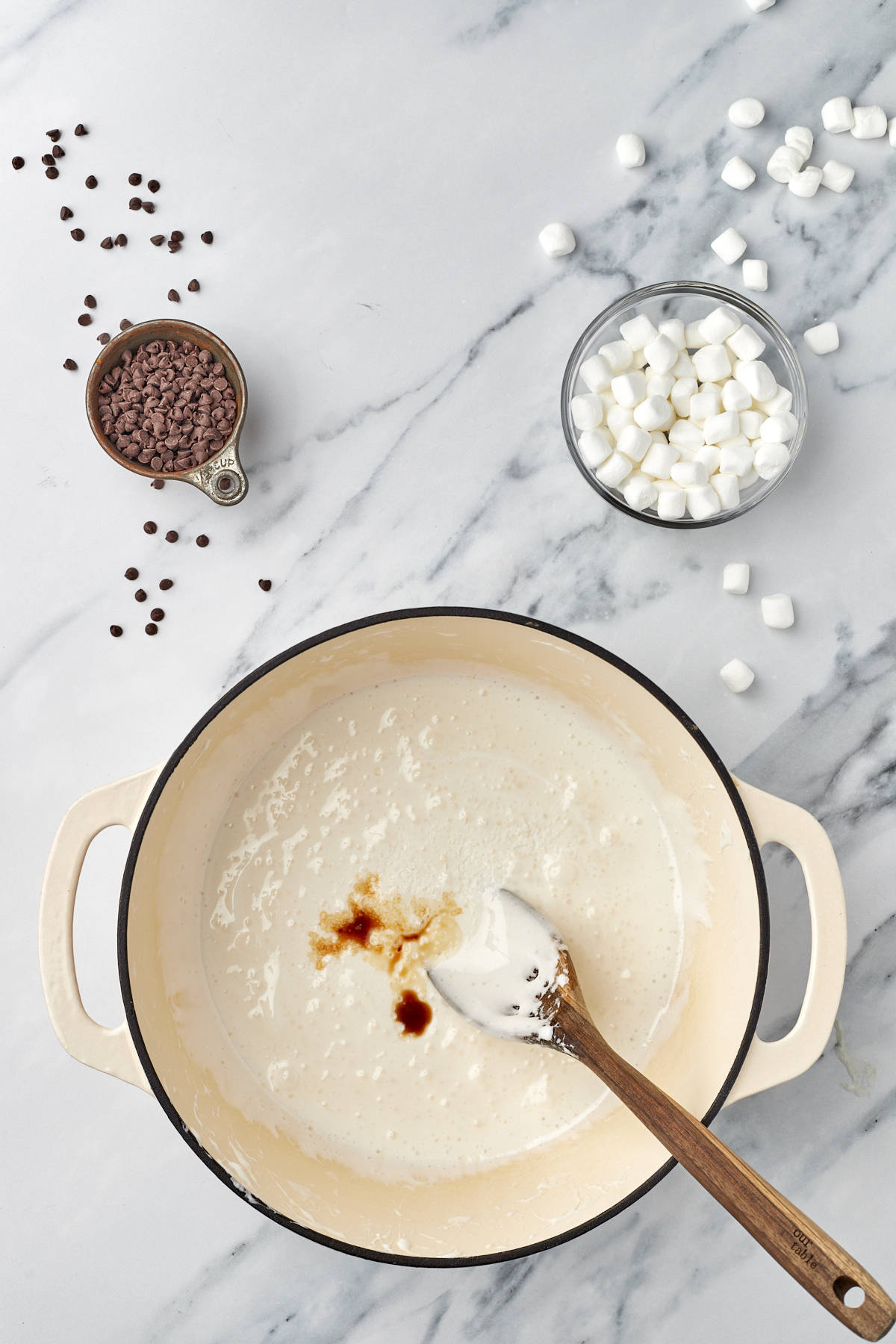 Add semi-sweet mini chocolate chips, and the rest of the marshmallows, to your melted butter and melted marshmallows.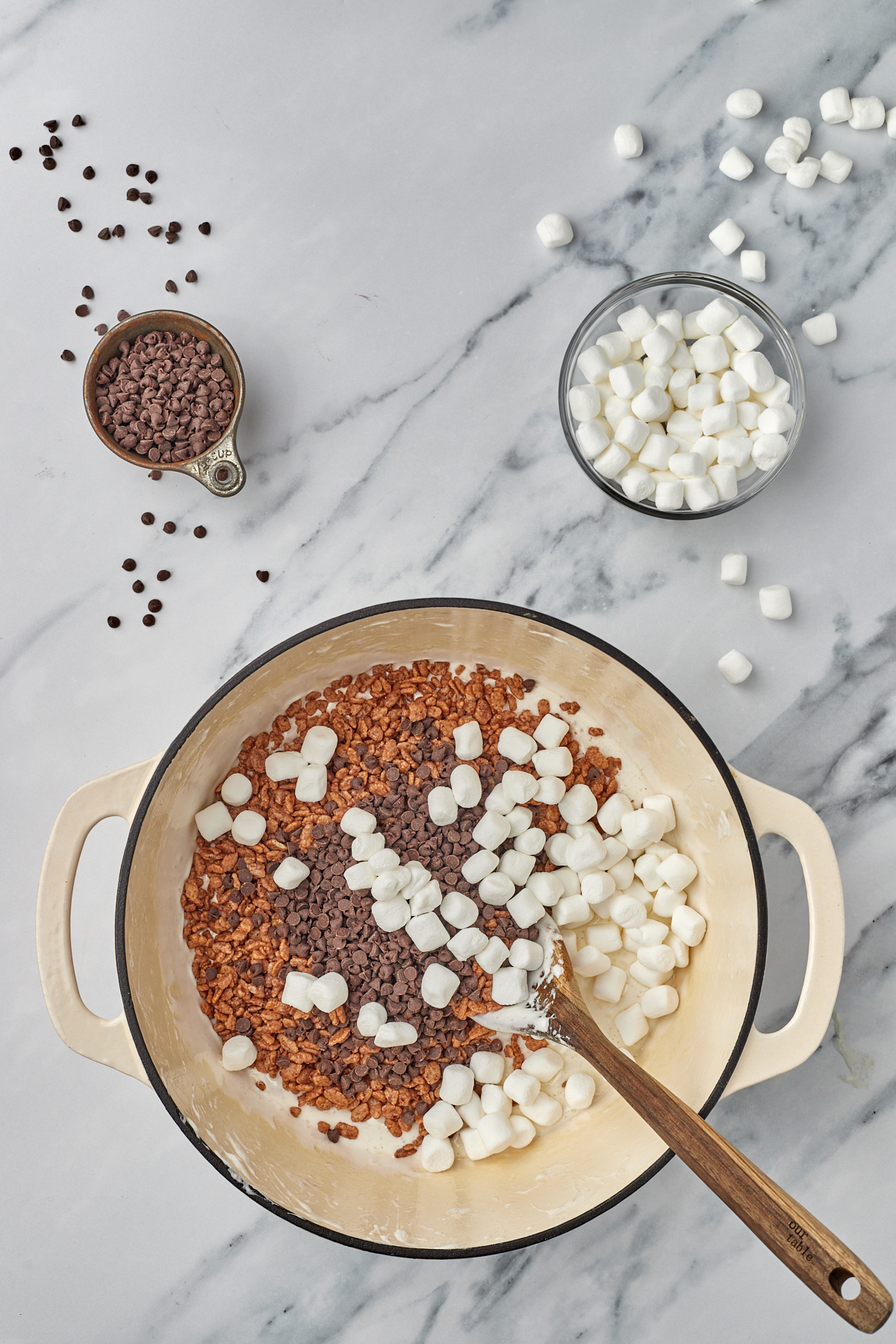 Stir and combine together until smooth.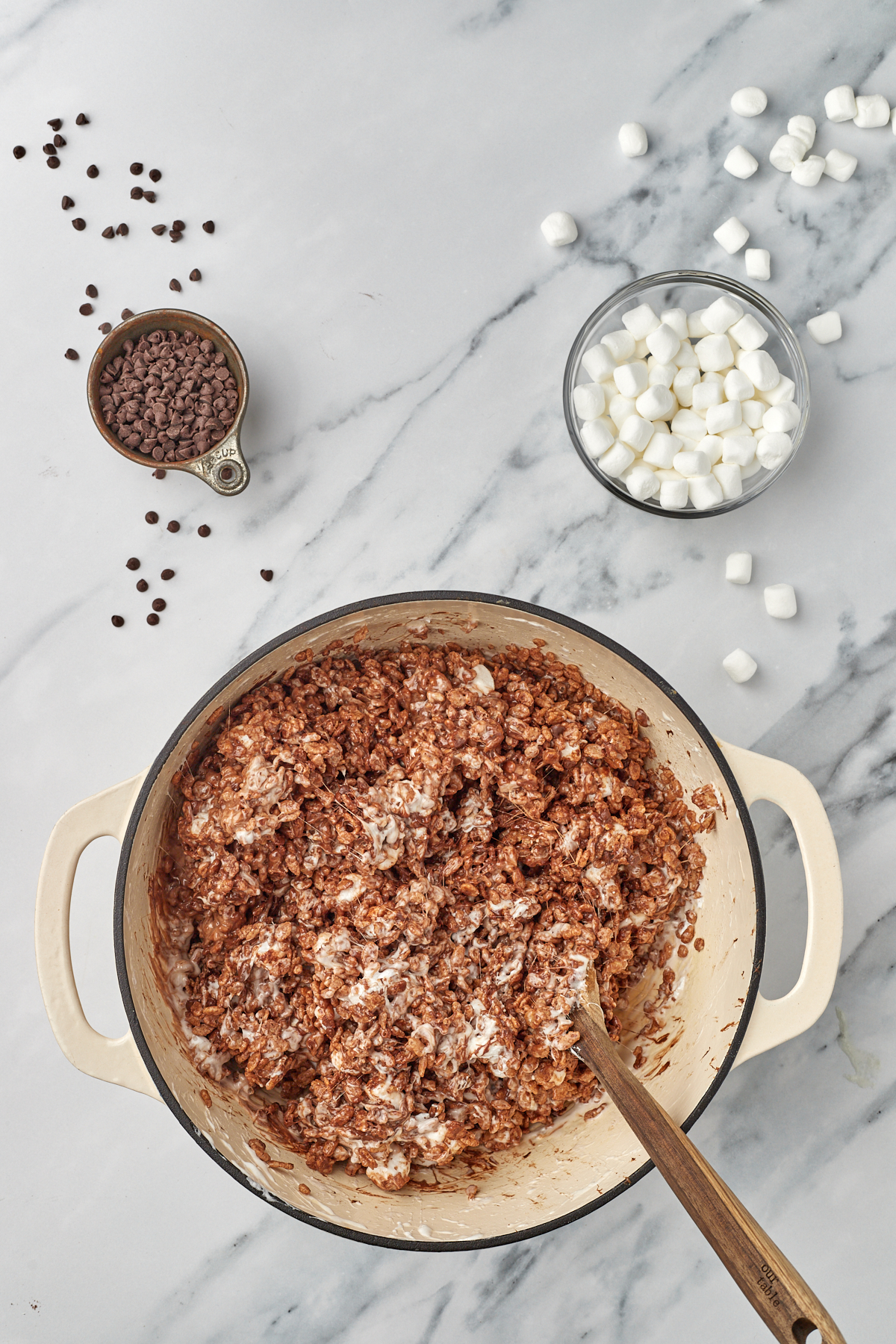 Scrape the mixture and transfer it to the prepared baking pan. With a clean and flat spatula, press the cocoa Krispies mixture into the baking pan. Or you can also use greased plastic wrap and press the cocoa mixture into the pan.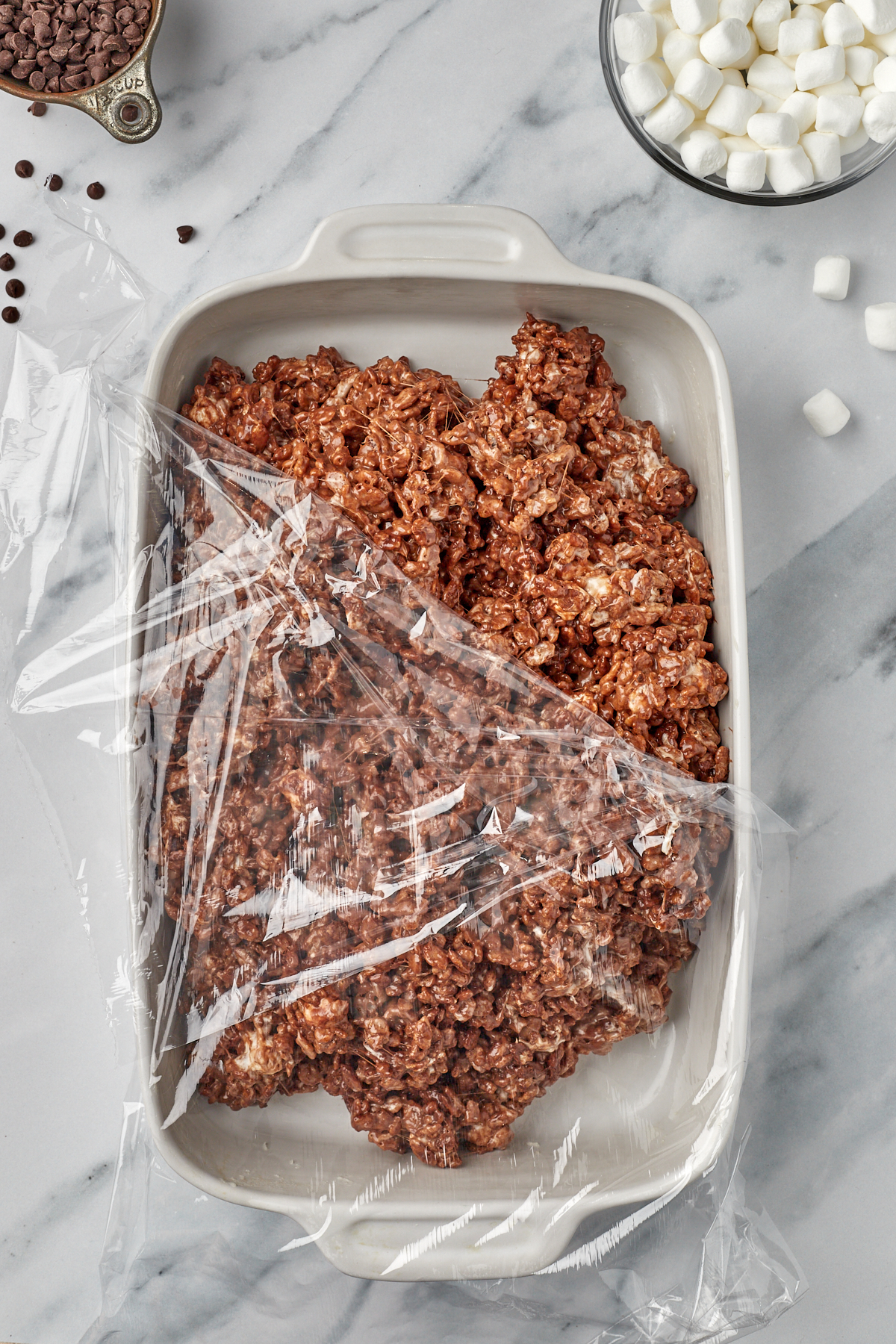 5. Cool And Serve
Let your chocolate Rice Krispie treats cool and set at room temperature for about 2 hours. Cut into squares and serve.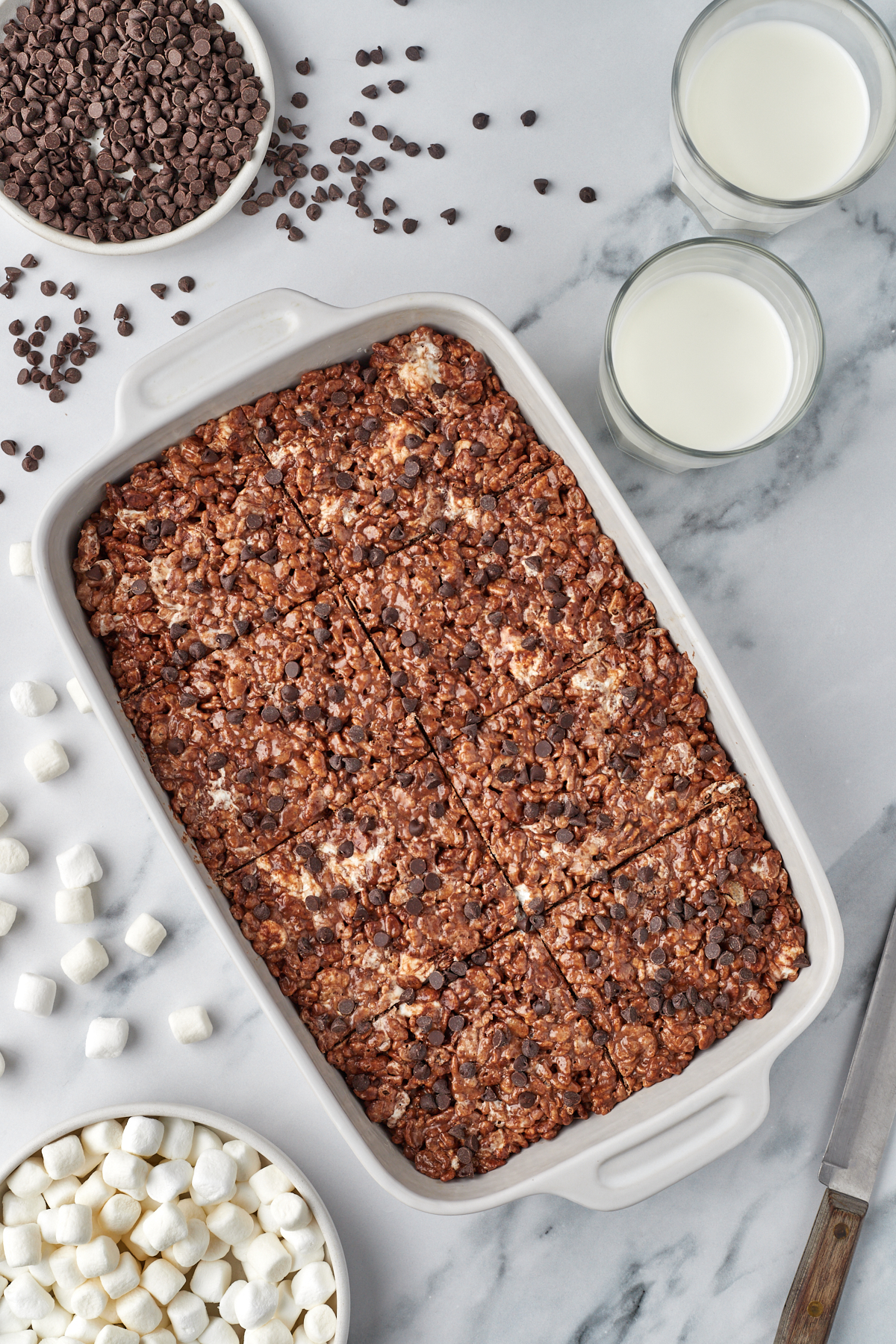 Recipe Tips
When preparing and lining your baking dish, let a few inches of aluminum foil or parchment paper hang at the sides of the dish. This will make it easier to remove the chocolate Rice Krispie treats. All you need to do is lift the chocolate cereal treats up and you can cut them into squares.
If you have other types of rice cereal in your pantry, you can add them to your Rice Krispie treats.
To make it fancy, drizzle melted chocolate at the top, add colorful sprinkles, sprinkle flaked salt, or mix in more mini chocolate chips for a better chocolate flavor.
You can use marshmallow fluff or fresh marshmallows instead of store-bought marshmallows if you have leftovers from making one.
This rice cereal Krispie treats recipe is versatile. You can incorporate your favorite flavors like peanut butter to make peanut butter Rice Krispies, fruits, nuts, white chocolate instead of semi-sweet chocolate chips, etc. There are many options to choose from!
When pressing the best chocolate rice Krispie, don't put too much force. Gently press the mixture into the baking dish. This will keep them soft, fluffy, and crispy.
You can use other types of rice cereal to make it gluten-free. Cocoa Krispies and Kellog's Rice Krispies are not gluten-free. These cereals contain malt making Cocoa Krispies not gluten-free. Also, check whether your marshmallows are gluten-free. If anyone in your family have specific allergies or sensitivities, it is important to always check the label.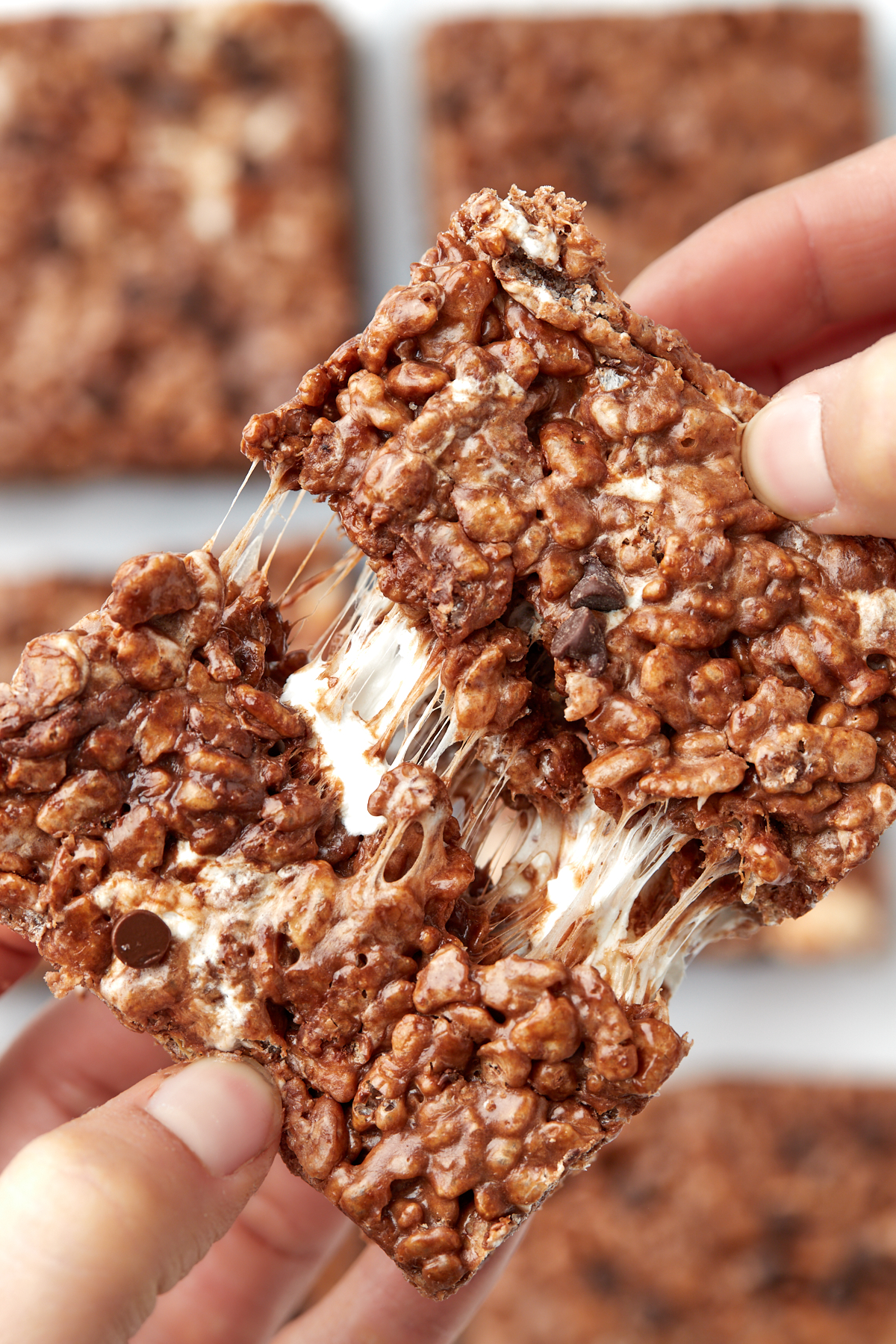 Recipe FAQs
Can I freeze these treats?
Yes, you can freeze rice cereal Krispie treats. However, I recommend against it. The problem is not the freezing but the thawing. When you thaw frozen chocolate rice cereal Krispie treats, they will get soggy. The texture will be totally different. I love my chocolate Rice Krispie treats crispy and chewy. And when thawed, they will lose those amazing textures.
But if you don't have a choice, you can freeze them for up to 3 months. Wrap individual squares with plastic wrap or wax paper and then transfer them to a freezer bag or airtight container. Squeeze out as much air as possible to avoid freezer burn. Place in your freezer. 
How do I store these treats?
Place chocolate Rice Krispie treats in an airtight container or wrap them with plastic wrap. Store at room temperature. It can last up to 1 week at room temperature. I recommend consuming these delicious cereal treats as soon as possible to avoid any changes in texture.
Why are my Rice Krispie treats falling apart?
You might have added too many marshmallows. Marshmallows make these chocolate rice cereal Krispie treats more gooey. However, if you add too many they won't hold together and keep falling apart. I know you love your mini marshmallows but refrain from adding too many. Also, let your chocolate Rice Krispie treats cool and set them before cutting them into squares. 
Why are my chocolate Rice Krispies treats soggy?
You probably used too much salter or unsalted butter for your mixture. The rice cereal is dry and will absorb any liquid it comes in contact with. If you add too much butter, the Rice Krispie cereals will absorb them and turn your treats soft or soggy. Always measure your ingredients before adding them.
Can I use large marshmallows?
Yes you can large marshmallows. Just melt all 20 ounces at once into the melted butter before proceeding with the rest of the recipe.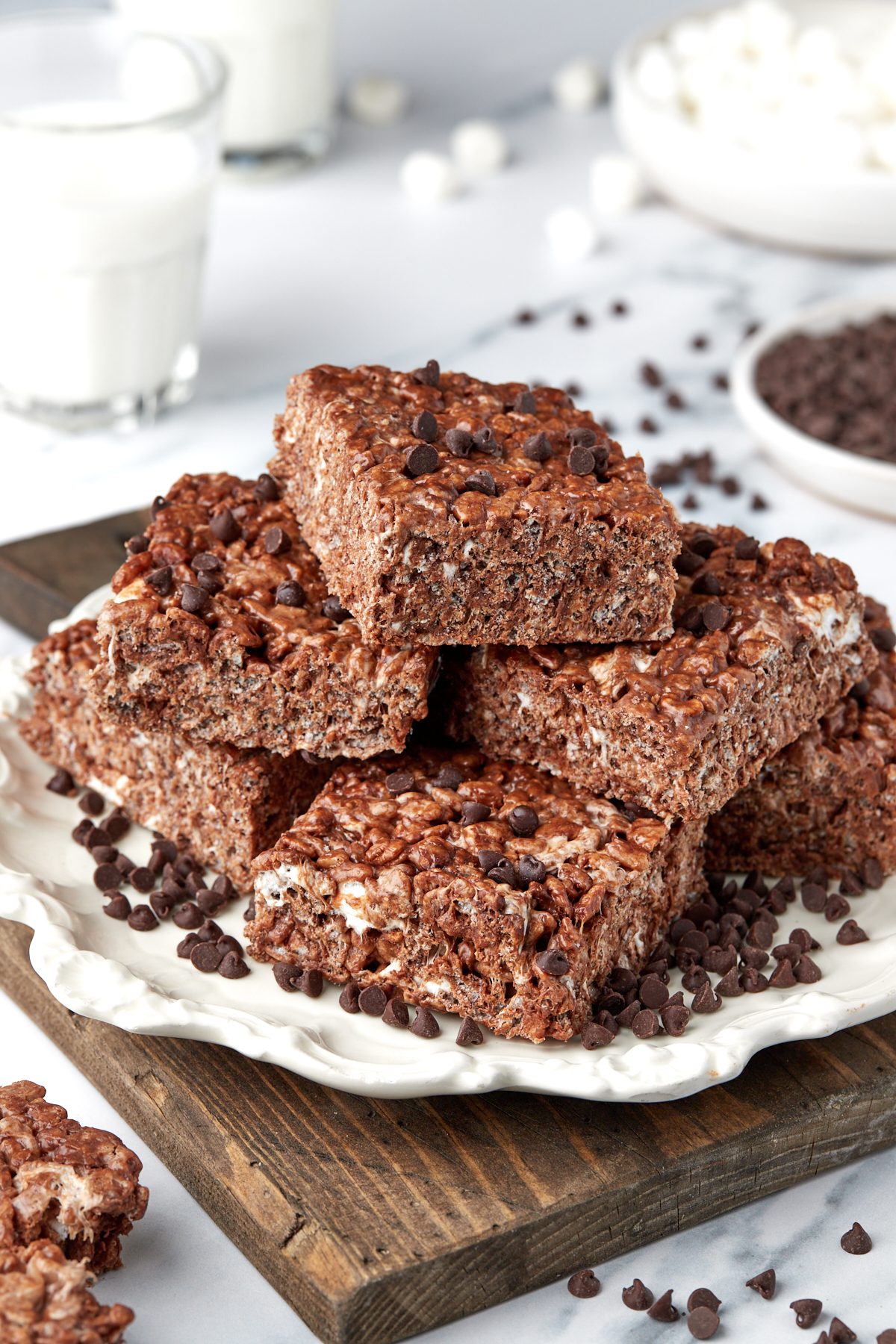 How To Make In The Microwave
Yes, you can melt butter, mini chocolate chips, and mini marshmallows in the microwave. Here's how to make the mixture with a microwave:
In a large bowl, combine butter and marshmallows.
Melt butter and marshmallows on high for 1 minute.
Stir the mixture.
Continue melting in 30 seconds intervals.
Once the mixture is smooth, stir in the rice krispies, mini chocolate chips, vanilla, salt, and remaining marshmallows.
Mix well.
Press into the pan.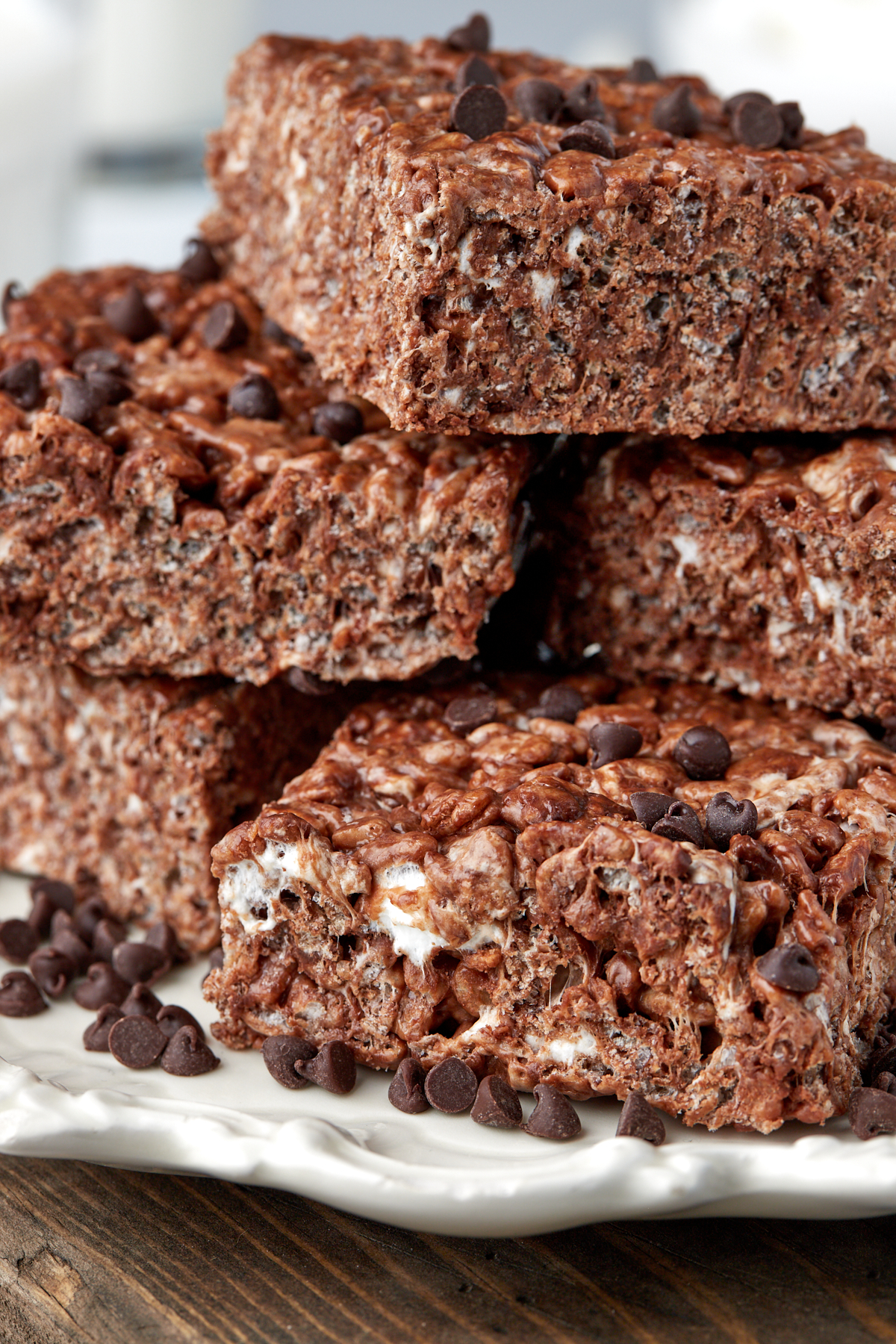 More Recipes To Try
Ingredients
6

Tablespoons

(85 g) unsalted butter

20

ounces

mini marshmallows

divided

½

teaspoon

salt

½

teaspoon

vanilla extract

7

cups

(196 g) cocoa rice krispies

1

cup

(170 g) miniature chocolate chips
Instructions
Prepare pan. Lightly spray x 9×13 pan or line with parchment paper (or tinfoil) for easy removal. Then spray with cooking spray. You can use a smaller pan if you want thicker treats.

Melt butter. In a large, heavy-bottomed pot, over low heat, melt butter until completely melted and smooth.

Melt marshmallows. Set aside 2 cups of the marshmallows. When butter is melted, add the remaining marshmallows. Stir with a rubber spatula or a wooden spoon until melted.

Add vanilla and salt. Remove from heat. Stir in vanilla extract and salt.

Add remaining ingredients. Immediately stir in remaining 2 cups mini marshmallows, cocoa rice krispies and chocolate chips. This can cool and set quickly so be sure to stir in immediately and then spread into your pan.

Press in pan. Spread in pan (I like to use a piece of saran wrap lightly sprayed with cooking spray, a piece of wax paper, the butter wrapper, or you can spray your hand with cooking spray) and press into the pan. Be sure to not press down too hard or it can make them very hard and compact. Let sit for 1 hour to harden. Lift out of the pan and cut into squares and enjoy.
Notes
Storage: I keep them covered at room temperature and they keep for up to 3 days. Do not stir in the fridge or they will dry out.
Freezing: I don't really recommend freezing rice krispie treats as they don't thaw and have the same texture. But if you do want to try freezing be sure to wrap between layers of parchment or wax paper and place in a freezer bag or container and freeze for up to 2 months. Thaw at room temperature before serving.
Butter – I always use unsalted butter but if you use salted butter I would omit the salt.
Marshmallows – I use two bags of mini marshmallows. I reserve 2 cups of marshmallows to stir in at the end. If you only have large marshmallows then just stir in all the marshmallows to melt at the beginning.Or if you want to use marshmallow creme you can use two 7.5 ounce containers.
Vanilla extract – Pure is best, but imitation would work just fine.
Cocoa Rice Krispie cereal – If you can find cocoa rice krispies cereal, you can use cocoa pebbles cereal.
Chocolate chips – If you don't have miniature chocolate chips, try stirring in regular chocolate chips!
Nutrition
Calories:
303
kcal
|
Carbohydrates:
47
g
|
Protein:
5
g
|
Fat:
12
g
|
Saturated Fat:
6
g
|
Trans Fat:
1
g
|
Cholesterol:
13
mg
|
Sodium:
222
mg
|
Potassium:
64
mg
|
Fiber:
1
g
|
Sugar:
27
g
|
Vitamin A:
946
IU
|
Vitamin C:
8
mg
|
Calcium:
7
mg
|
Iron:
4
mg