Serve coffee or tea with freshly baked banana gingerbread made from ripe bananas. This easy quick bread recipe calls for 15 minutes of prep time. No mixer needed!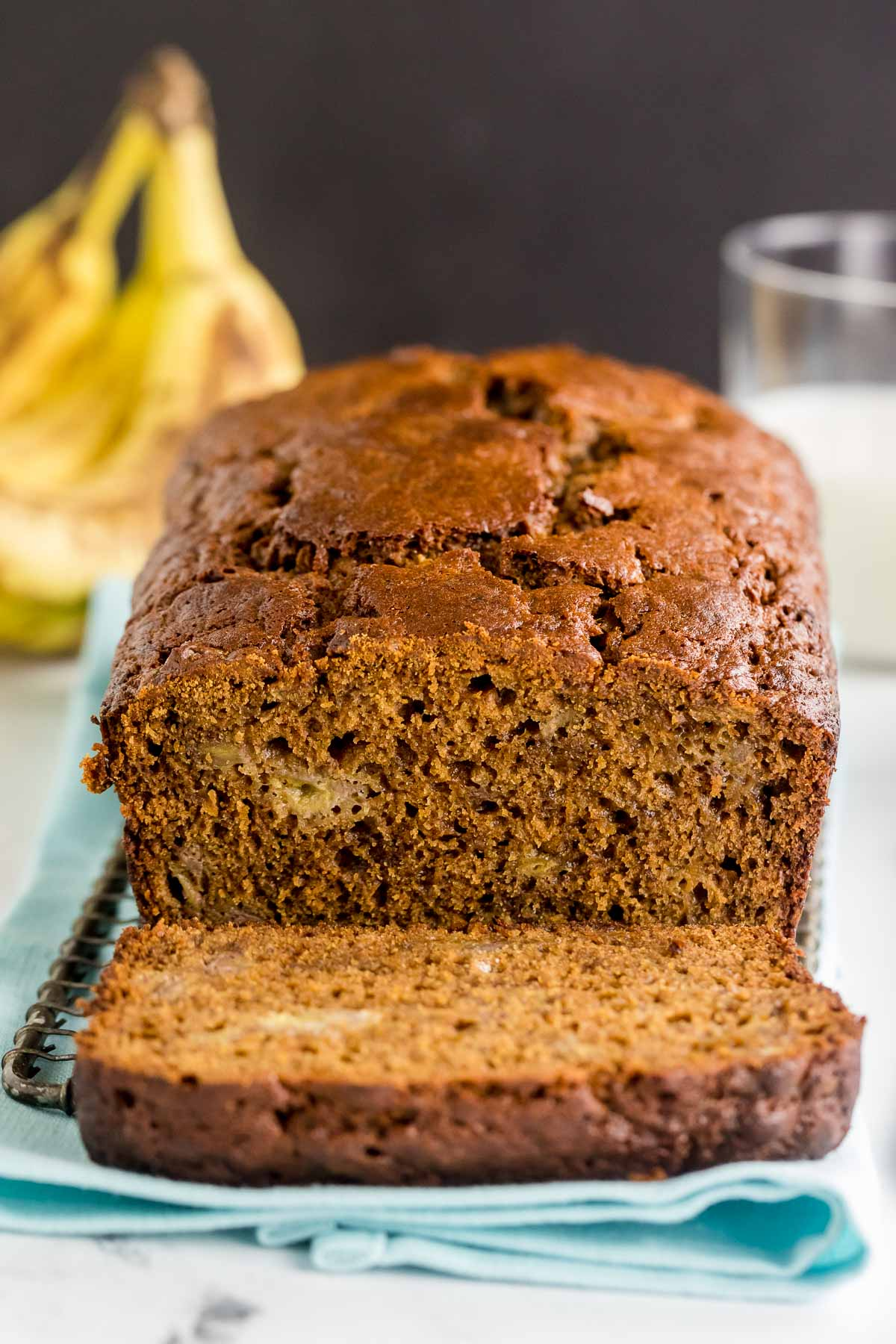 This banana gingerbread recipe will become your favorite because of the quick prep time, easy procedure, and delicious quick bread. It's made from overripe bananas, sour cream, warming spices, brown sugar and molasses without any electric mixer. Prepare it in 15 minutes and enjoy an upgraded version of your regular banana bread!
When I go to grocery stores, I usually stock up on bananas. Bananas are quick and healthy snacks. Perfect last minute snack for when I'm starving!
Usually, I and my family can consume them throughout the week, mostly. There are times when there are leftovers and I end up with very ripe bananas in my hands. Not a lot, just a few pieces of very ripe bananas like one or three. I put them in the freezer or fridge.
I usually turn frozen bananas into banana bread or banana cake. I love banana bread and I think they are convenient. But this time, I am adding a few warming spices, blackstrap molasses, and other ingredients to make it more delightful and delicious.
Sound delicious? Well trust me it tastes delicious! This is the kind of perfect quick bread I would make for Christmas morning or for a lovely afternoon treat for my family to enjoy.
Let's start making ginger banana bread to pair with your coffee or tea!
See Also: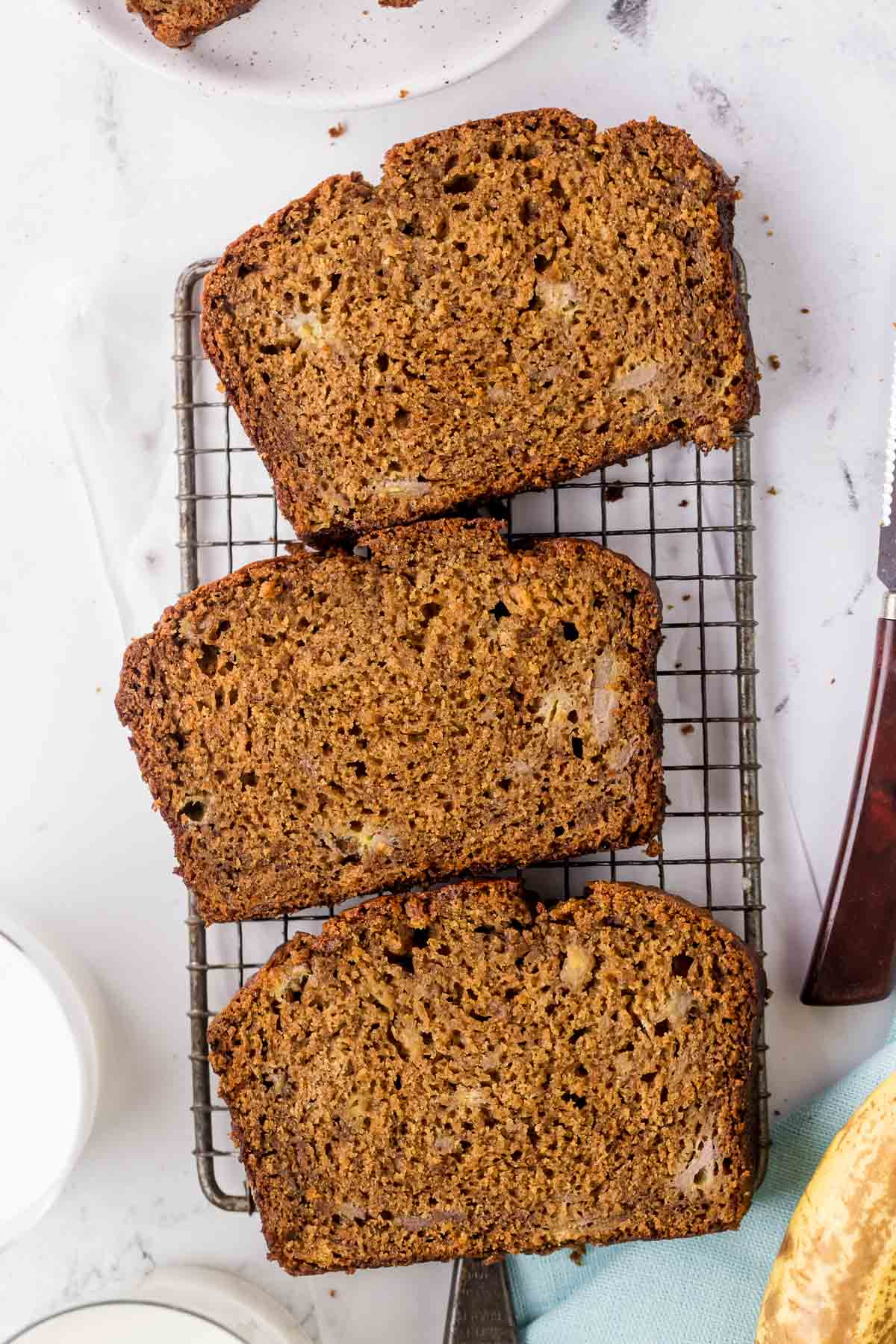 Why You'll Love This Banana Gingerbread
Easy Clean-Up – I only used a whisk, bowls, fork, and spatula for this ginger banana bread recipe. They are easy and quick to clean and wash.
Whip Up In 15 Minutes – The most time-consuming part of making this banana gingerbread is waiting for it to finish baking!
Use Very Ripe Bananas – This is a brilliant way to use bananas.
Make Ahead Snack – Prepare and make this recipe ahead of time or on your day off and enjoy it throughout the week.
Perfect Gift – A delicious banana gingerbread loaf is a nice and personal gift idea for the holiday season.
Ingredients Needed
Here are the ingredients needed for this gingerbread banana bread recipe:
All-Purpose Flour – I used all-purpose flour for this ginger banana bread recipe but you can use whole wheat flour, gluten-free flour, almond flour, oat flour, etc.
Baking Soda – To help the banana gingerbread loaf rise while baking. This recipe doesn't include yeast. To make it rise and fluffy, baking soda or baking powder is necessary. Check Baking Powder vs Baking Soda.
Sour Cream – Adds richness and fat to this banana gingerbread loaf. It also keeps the gingerbread banana bread moist. You can also use Greek yogurt if you run out of sour cream.
Ground Ginger – I used ground ginger but you can also use fresh ginger.
Cinnamon – For warmth and slight sweetness.
Ground Cloves – For the warming flavor.
Light Brown Sugar – To sweeten the gingerbread banana bread. You can also use granulated sugar, dark brown sugar, or coconut sugar.
Vegetable Oil – I used vegetable oil because of its neutral taste but you can also use canola oil. You can also use unsalted butter. Check out the Unsalted Butter vs Salted Butter In Baking. You can replace half of the oil with unsweetened applesauce.
Eggs – Should be at room temperature. Try How To Get Room Temperature Eggs Fast.
Large Bananas – I used very overripe bananas for this banana gingerbread loaf recipe. It's sweet and easy to mash. If your bananas aren't ripe, you can ripen bananas in a hurry this way.
Molasses – Adds richness and nice dark color.
Vanilla Extract – I used pure vanilla extract but imitation or homemade vanilla extract can also be used.
Salt – To balance and bring out the sweetness. Check the Role Of Salt In Baking.
How To Make Banana Gingerbread
1. Preheat And Prepare Loaf Pan
Preheat your oven to 350°F/177°C.
Spray a 9 x 5-inch loaf pan with non-stick cooking spray, grease with butter, or by lining the loaf pan with parchment paper and spray non-stick spray. I prefer lining a loaf pan with parchment paper hanging at the sides. This makes removing the banana gingerbread easier after baking.
2. Mix Dry Ingredients
In a bowl, whisk together ground ginger, ground cinnamon, all-purpose flour, baking soda, and salt. Set aside.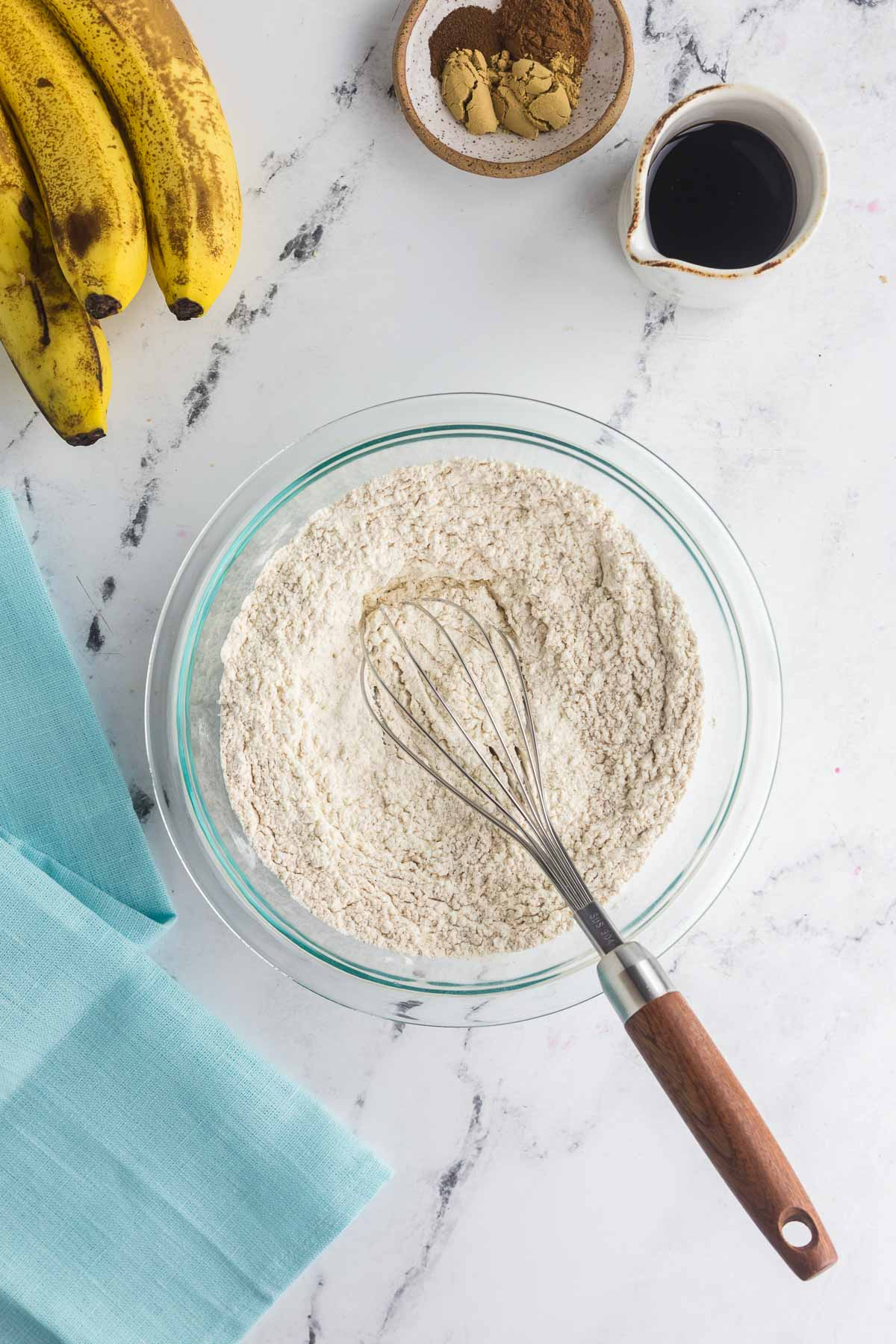 3. Mash Bananas
In a large bowl, mash bananas using a fork. I used very ripe bananas for this recipe. That's why it's easier to mash them and they're packed with banana flavor.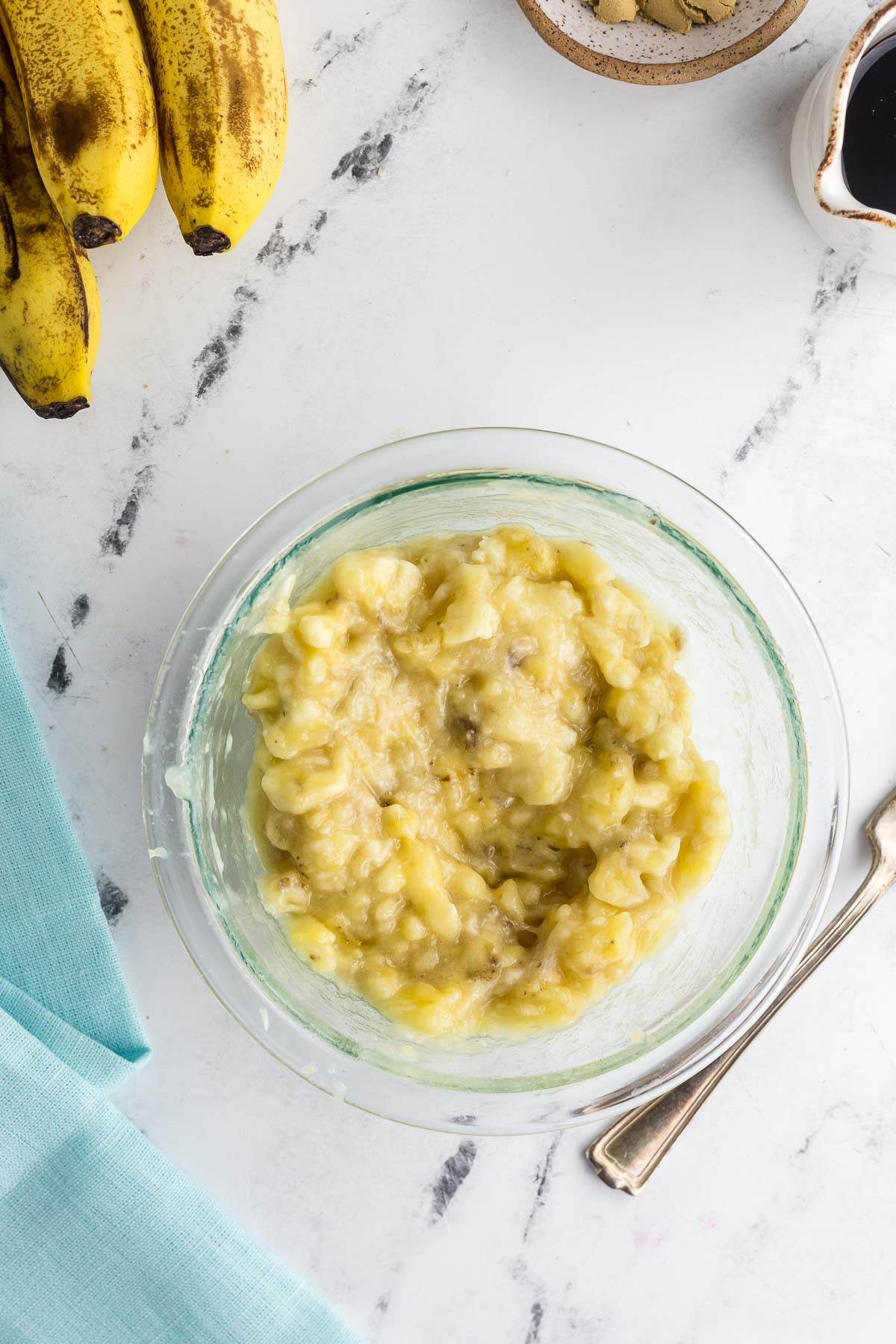 4. Prepare Mashed Banana Mixture
In the same large bowl with mashed bananas, add brown sugar, oil, eggs, vanilla extract, and molasses. Combine together until fully incorporated.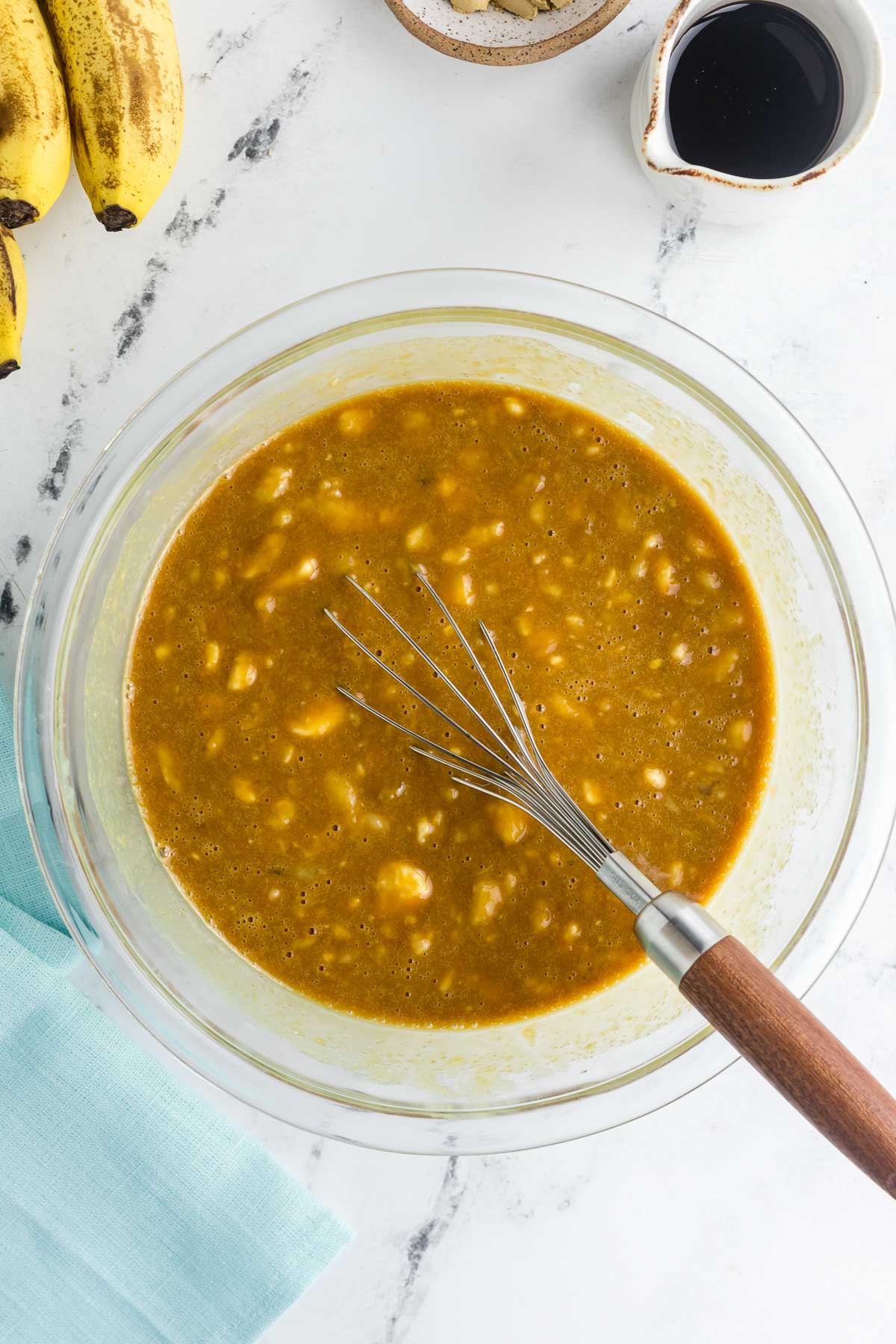 5. Combine Dry And Wet Ingredients
Add your flour mixture to your mashed bananas. Whisk together using a spatula until all ingredients are just combined.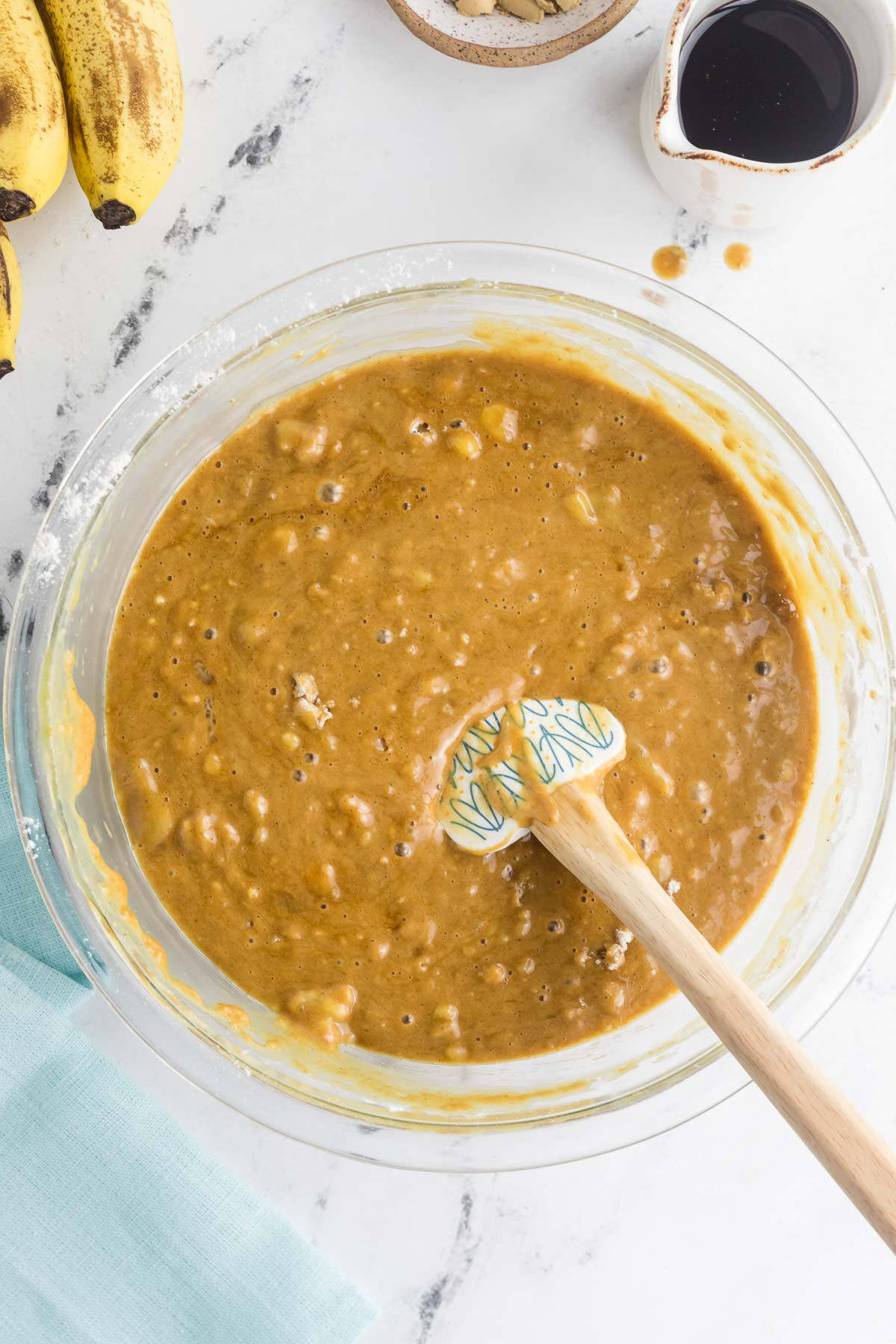 6. Transfer And Bake
Pour banana gingerbread batter into the prepared loaf pan.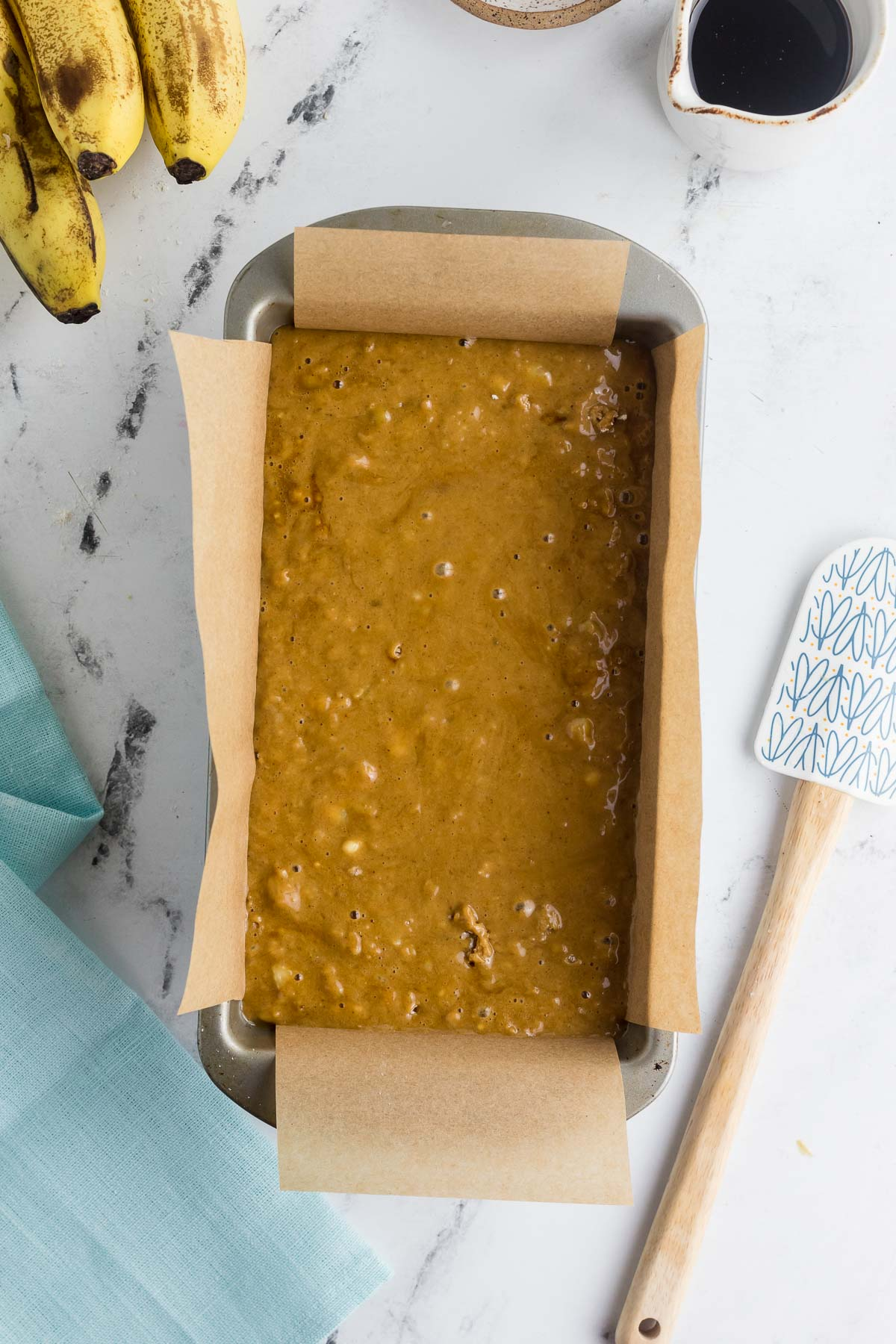 Place the prepared pan in the oven. Bake banana gingerbread for 60 to 65 minutes or until the toothpick inserted or cake tester inserted comes out clean or with a few crumbs. When the toothpick comes out with wet batter, it means your ginger banana bread needs more time in the oven.
7. Serve And Enjoy
When the banana gingerbread is done, remove it from the oven. Place in a wire rack and cool completely. Serve banana gingerbread with coffee or tea and enjoy!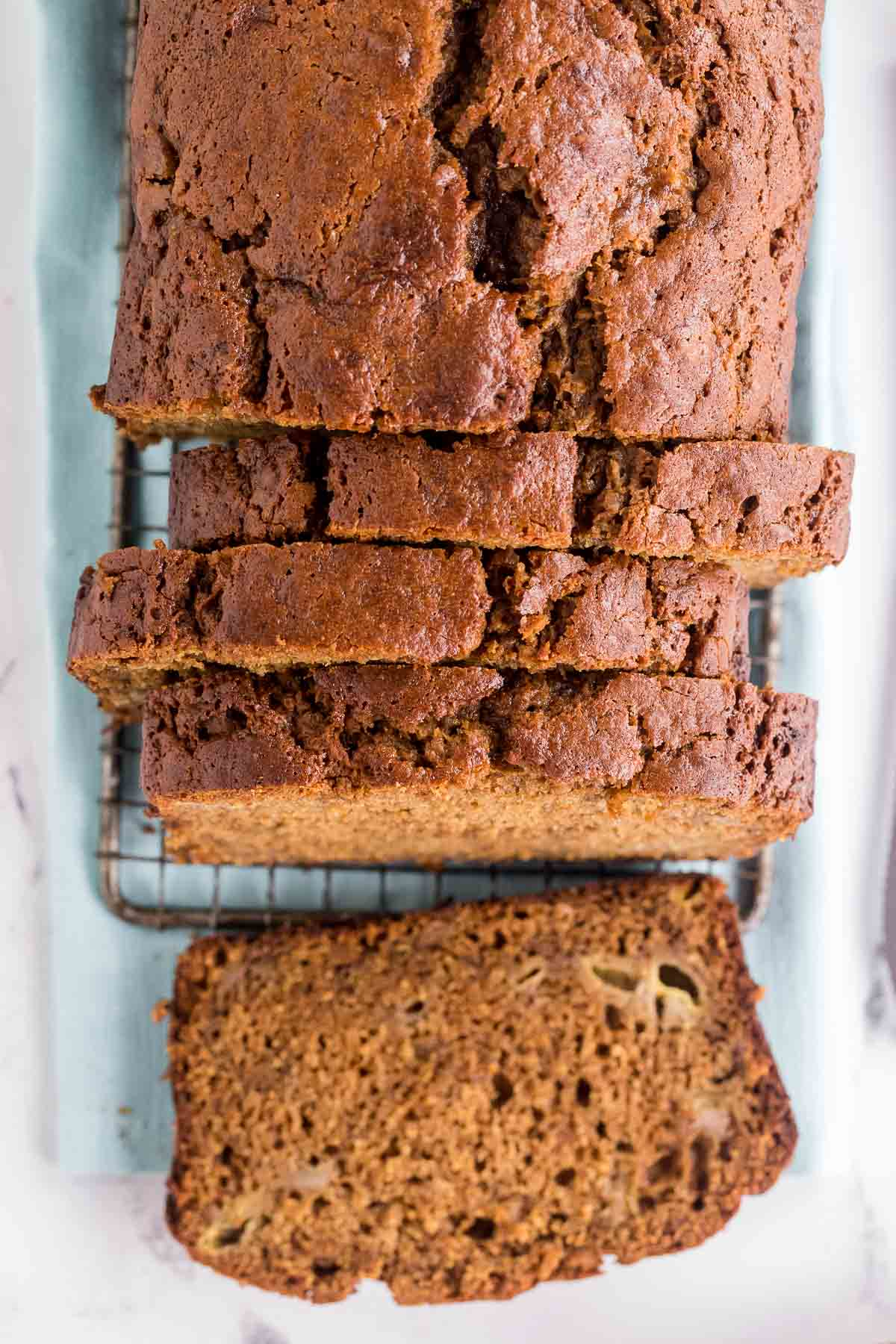 Recipe Add-Ins And Substitutions
Make Glaze – In a bowl whisk together 1 cup powdered sugar and 2-3 tablespoons orange juice until smooth. If it's too thin, add more sugar. If it's too thick, add more orange juice. Drizzle over the banana gingerbread and garnish with orange zest or candied ginger.
Chopped Nuts – Before transferring the batter, fold in chopped pecans, almonds, walnuts, and other nuts. I like to toast the nuts first for best flavor. Transfer to prepared loaf pan and bake.
Toppings – To enhance the banana flavor, before baking top it with sliced banana, or you can make a crumble topping and sprinkle on a streusel.
Fruits And Chocolate Chips – Before baking, fold in dried fruits, like raisins or cranberries, and dark chocolate chips. Transfer to prepared loaf tin and bake.
Other Flour – All-purpose flour can be substituted with whole wheat flour, gluten-free, and other types of flour.
Fresh Ginger – For a more pronounced ginger flavor, replace ground ginger with fresh ginger or crystallized ginger.
Recipe Tips
Measure your ingredients accurately. I used the scoop and level method for measuring the flour. If you scoop directly from the bag or push the flour into the cup you will end up with too much flour. Check it out at How To Measure Ingredients.
Don't overmix the batter. Stirring the banana bread batter too much will make your quick bread tough and chewy. Mixing develops gluten and makes bread dense. When you combined your wet and dry ingredients, mix only until they are just combined.
Use other pans. You can make mini loaves as well in mini bread pans. Bake for about 30 minutes and use the toothpick test to make sure they are done.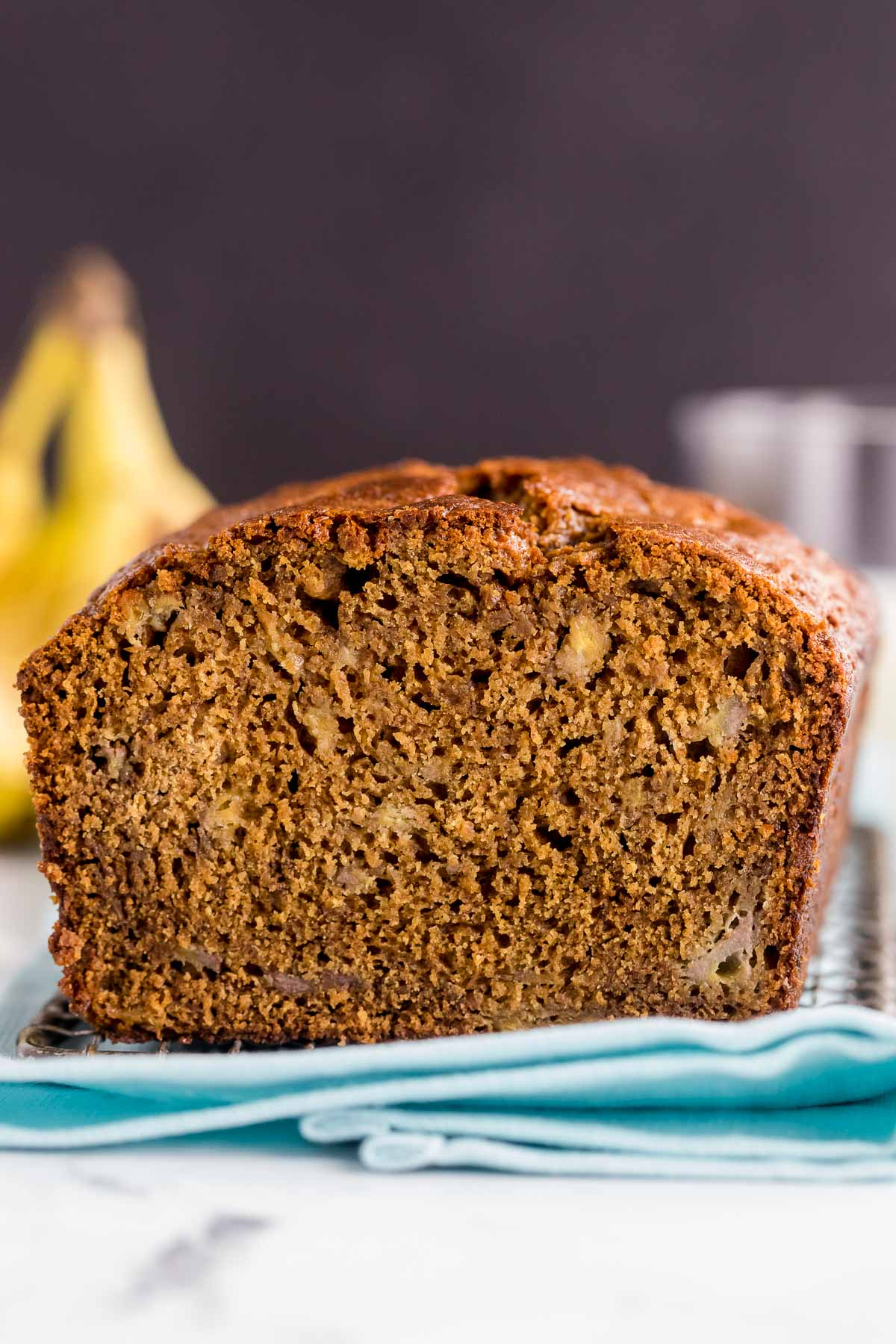 Recipe FAQs
How to store banana gingerbread loaf?
You can store leftover ginger banana bread at room temperature for up to 2 days. Just place it in an airtight container. For longer storage, place ginger banana bread in the refrigerator and store it for up to 1 week. Make sure your banana gingerbread has cool completely before transferring it to an airtight container.
Can I freeze this gingerbread banana bread?
Yes, you can freeze this quick bread for up to 3 months. Wrap the completely cool banana gingerbread with plastic wrap or aluminum foil. Place inside freezer bags or freezer-safe containers. Freeze.
To thaw frozen ginger banana bread, place it at room temperature or directly heat it in the oven or microwave.
Why did my gingerbread banana bread sink in the middle?
It means your banana gingerbread needs more time to bake in the oven. Before removing the banana bread from the oven, check it for doneness. Use the toothpick method. When the toothpick inserted at the center comes out clean or with a few crumbs, your banana gingerbread is done. If there's wet batter sticking to the toothpick, it needs more time in the oven. Remember, ovens run at different temperatures. To check your oven temperature, use an oven thermometer.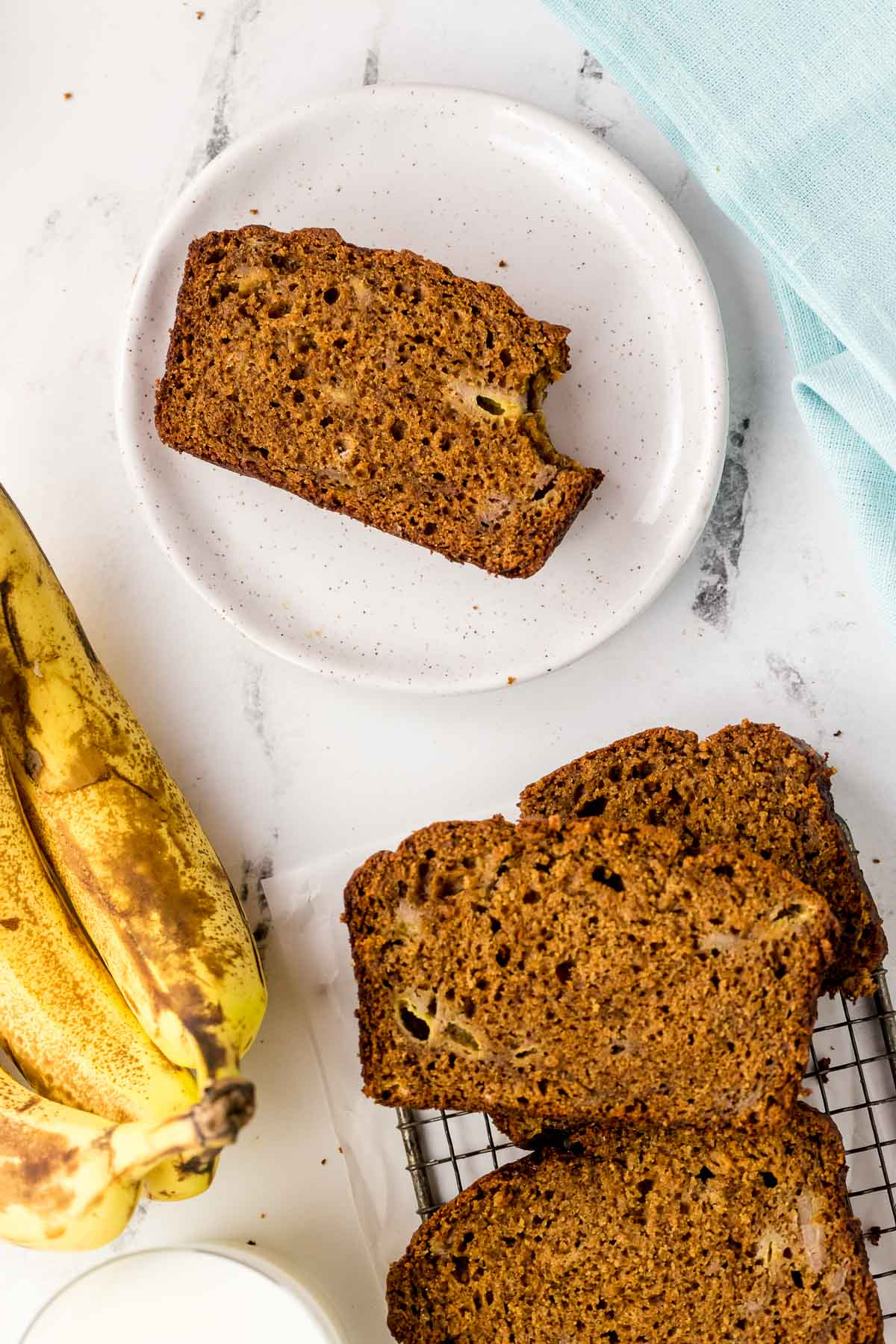 More Recipes To Try
Banana GingerBread
Serve coffee or tea with freshly baked banana gingerbread made from ripe bananas. This easy quick bread recipe calls for 15 minutes of prep time. No mixer needed!
Print
Pin
Rate
Servings:
12
slices (1 9×5 loaf)
Ingredients
2 1/2

cups

(300 g) all purpose flour

*spooned and leveled

1

teaspoon

baking soda

1

teaspoon

salt

11/2

teaspoon

ground ginger

1

teaspoon

ground cinnamon

1/2

teaspoon

ground cloves

1 ½

cups

(340 g) very ripe bananas (about 4 medium)

1

cup

(213 g) packed light brown sugar

(or dark brown sugar)

1/2

cup

(120 mL) vegetable oil

2

large eggs room temperature

½

cup

(113 g) sour cream

1

teaspoon

vanilla extract

1/3

cup

(113 g) molasses
Instructions
Preheat and prepare pan. Preheat oven to 350oF (177°C). Spray a 9×5" loaf pan with non-stick cooking spray or grease with butter and set aside.

Combine dry ingredients. In a mixing bowl, whisk together flour, baking soda, salt, ginger, cinnamon and cloves.

Mash bananas. In a small mixing bowl, mash bananas with a fork. Set aside.

Combine wet ingredients. In the same mixing bowl with the bananas, whisk in the brown sugar, oil, eggs, vanilla extract, sour cream and molasses. Whisk to combine.

Combine wet and dry ingredients. Add the dry ingredients to the wet ingredients and mix together with a spatula until just combined.

Bake. Pour batter into prepared loaf pan and bake for 60-65 minutes until a toothpick inserted in the center of the bread comes out clean. Remove from the oven and allow the bread to cool completely in the pan set on a wire cooling rack. Store the bread, and any leftovers, covered at room temperature for 2 days, or in the refrigerator for up to 1 week.
Notes
Storage: Keep wrapped at room temperature and store for up to 2 days, or in the fridge for up to 1 week.
Freezing: Banana bread will freeze great for up to 3 months. Just wrap it well. Then when ready to enjoy, thaw at room temperature and enjoy.
Sour Cream – This adds fat and richness. You could try swapping out for greek yogurt. 
Oil – I used vegetable oil, but canola oil or other neutral-tasting oil also would work. You could try substituting with melted butter or coconut oil as well, but it might change the moistness and texture slightly. Or use 1/2 unsweetened applesauce.
Use Ripe Bananas. You want to make sure you use very ripe bananas. Bananas that have lots of black specks. The blacker the banana is the sweeter it will be. I actually like to freeze my bananas when they have gotten too ripe to use later for banana bread. If you use frozen bananas, then let the bananas thaw before using them.
Use The Right Pan. I used a 9×5 loaf pan. Be sure it's the right size. And make sure you aren't using a dark loaf pan, which can bake too quickly and burn.
Nutrition
Calories:
325
kcal
|
Carbohydrates:
51
g
|
Protein:
4
g
|
Fat:
12
g
|
Saturated Fat:
2
g
|
Polyunsaturated Fat:
3
g
|
Monounsaturated Fat:
7
g
|
Trans Fat:
0.04
g
|
Cholesterol:
33
mg
|
Sodium:
308
mg
|
Potassium:
292
mg
|
Fiber:
1
g
|
Sugar:
28
g
|
Vitamin A:
112
IU
|
Vitamin C:
2
mg
|
Calcium:
56
mg
|
Iron:
2
mg