If you're lookin for a cute Halloween cupcake idea, look no further! I have over 20 cute Halloween cupcakes to check out and make this holiday.
When it comes to Halloween is there any cuter way to celebrate then decorating some seriously cute cupcakes? Sure you could just celebrate with a big old boring bowl of candy. But I think it's a perfect holiday to bust out those piping bags and pastry tips and have a little spooky fun.
Maybe after decorating cupcakes, watch Hocus Pocus, and then dive into that big bowl of candy. Does anyone else watch that movie practically on repeat in the month of October? Orrrrrr is that just me? Please say it isn't just me.
So to celebrate Halloween this year (besides watching Hocus Pocus for the upteenth time) I bring you a whole lot of wonderfully cute Halloween cupcakes from around the internet!
I smell children… err. I mean cupcakes 😉 (Hocus Pocus fans you get it).
Cute Halloween Cupcakes To Make This Year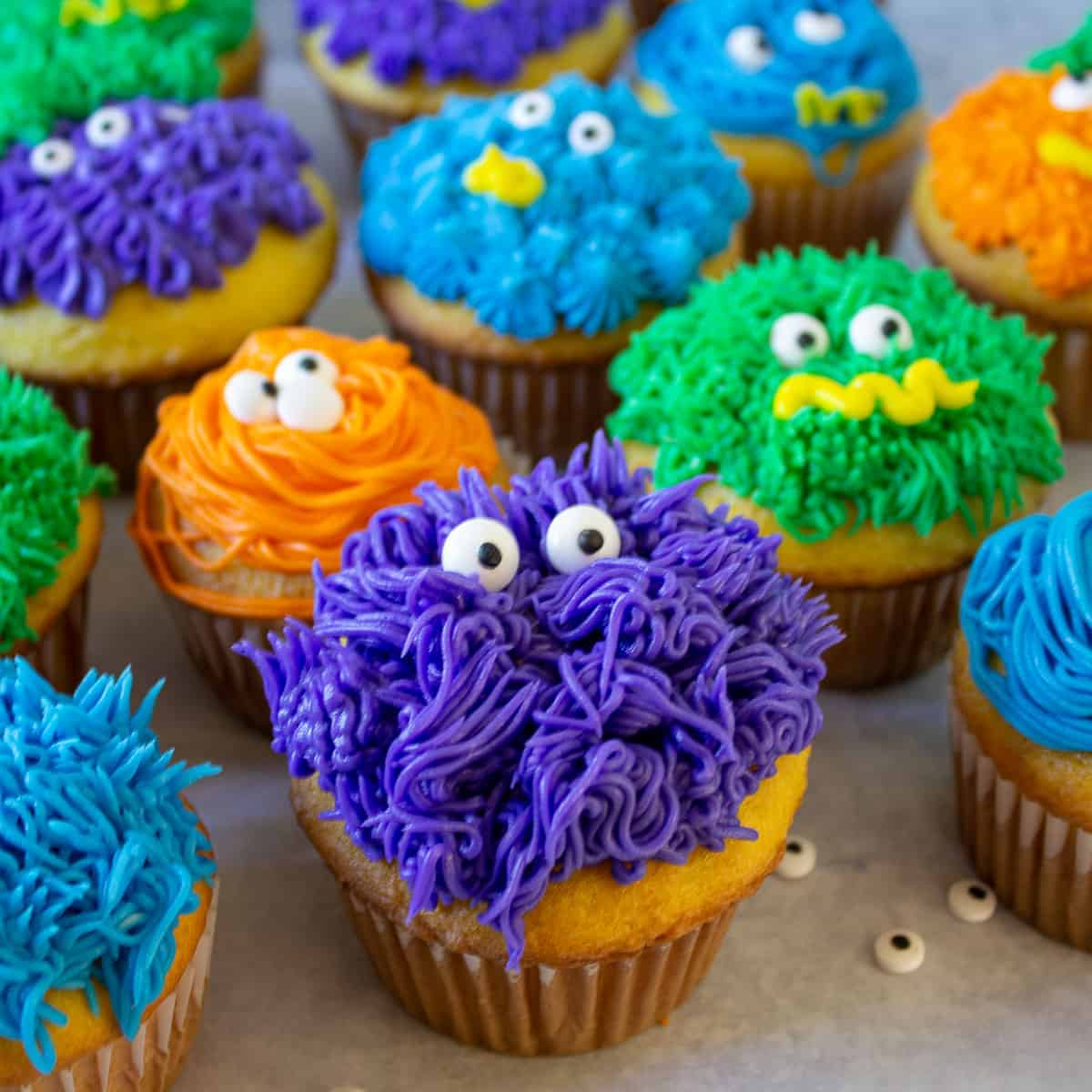 White Chocolate Raspberry Eyeball Cupcakes
Hocus Pocus Book Of Spells Cupcakes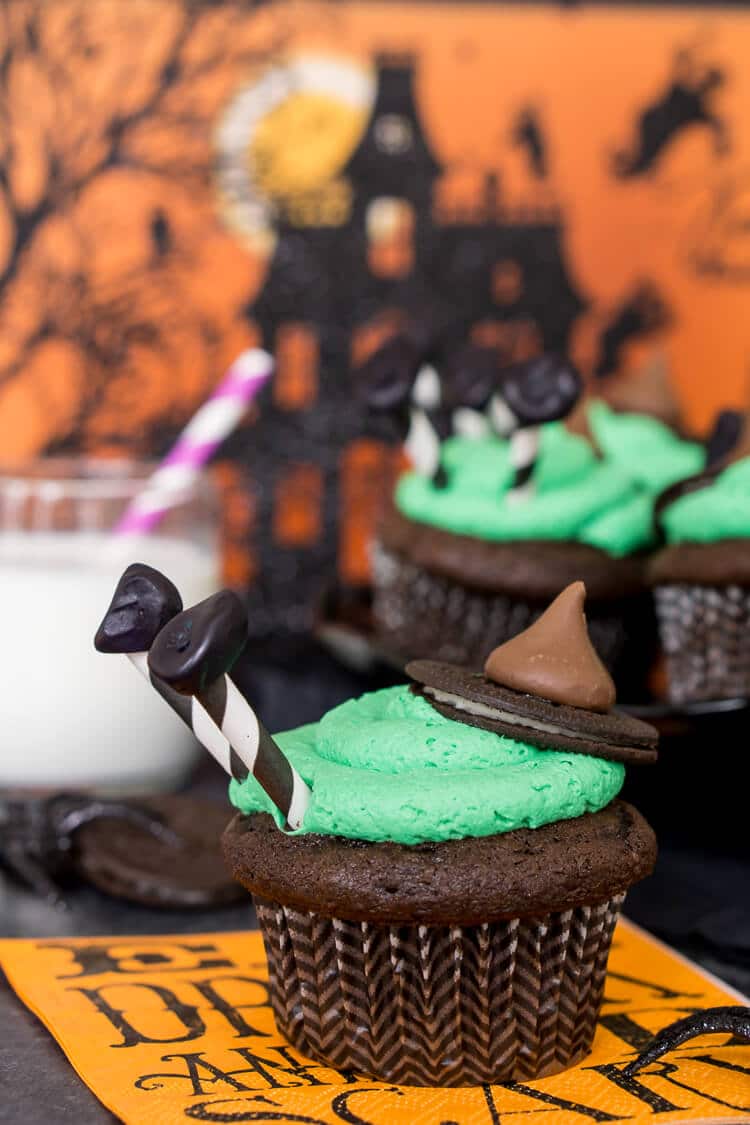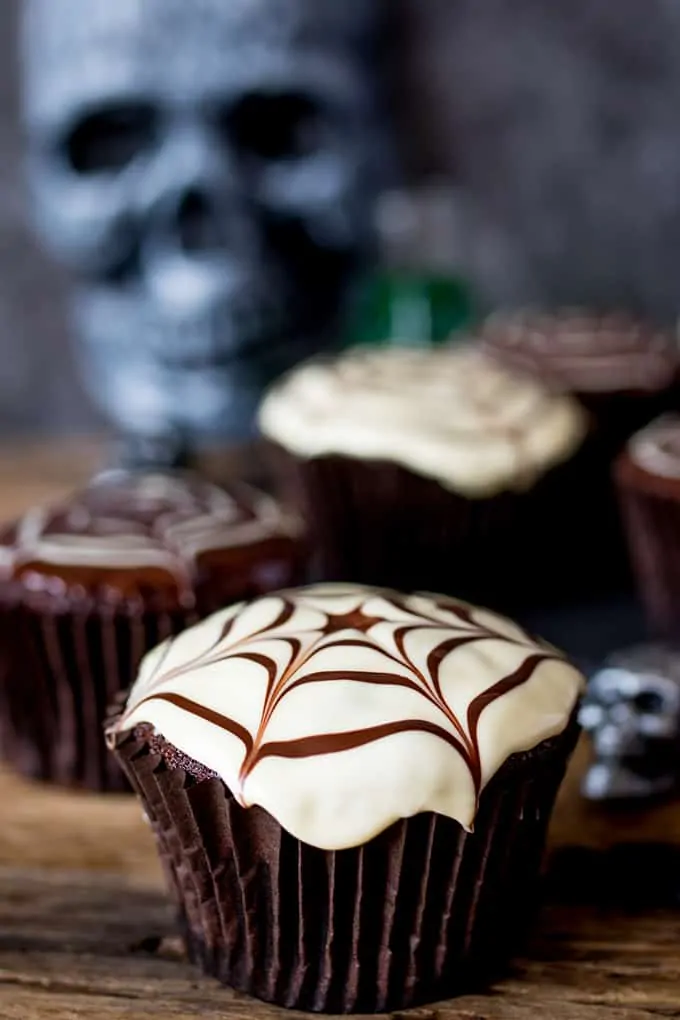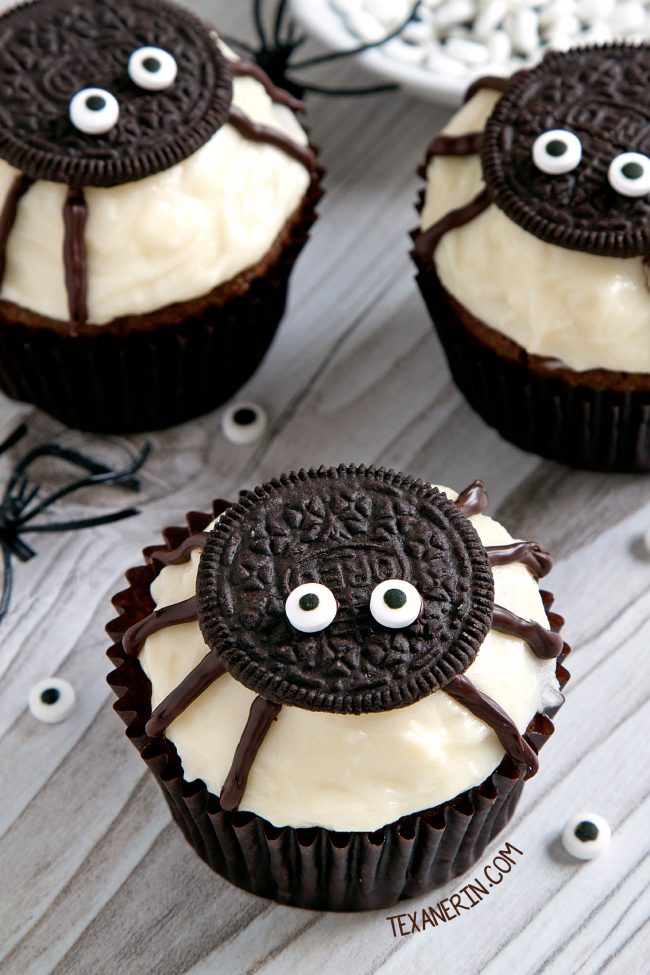 Easy Halloween Graveyard Cupcakes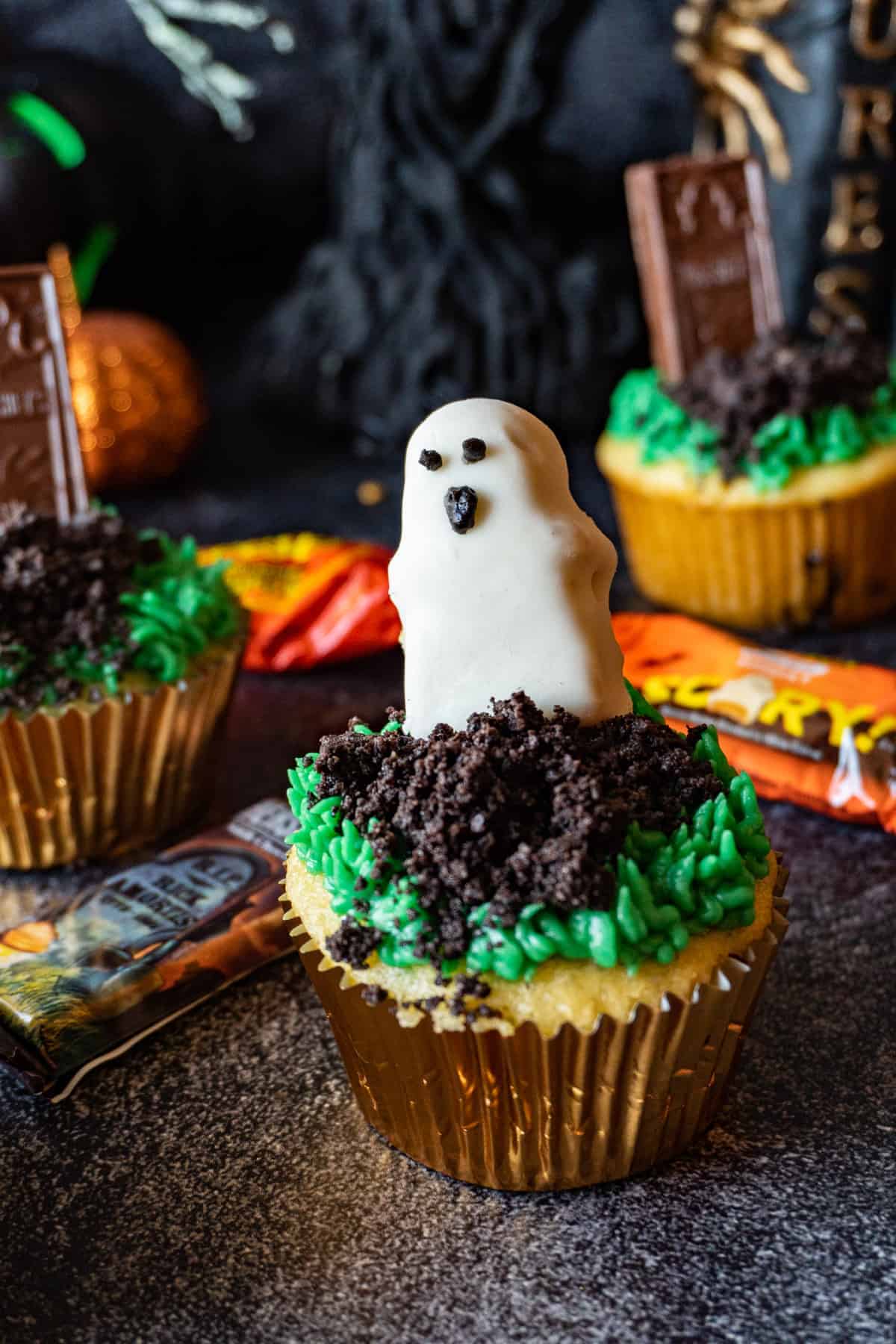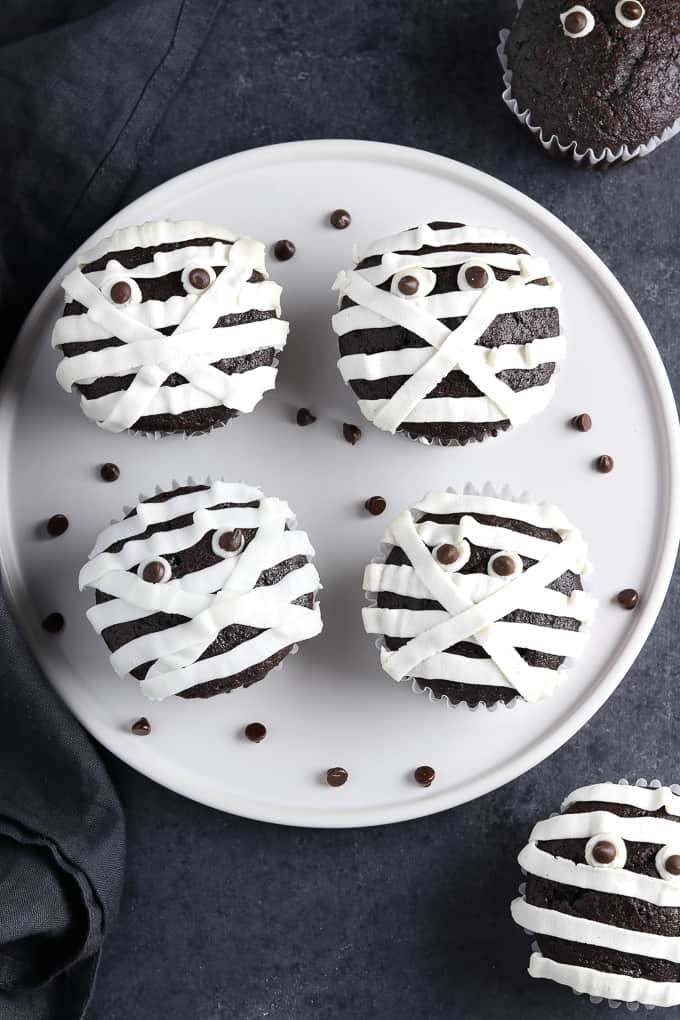 And there you go over 20 cute Halloween cupcake ideas to try out this Halloween! So which are you going to make this year?
Cupcake Tutorials To Check Out
If you're new to making cupcakes and need a little help, here are a few tutorials for you!
Ingredients
For the cupcakes

2

cups

sugar

1-3/4

cups

all-purpose flour

3/4

cup

HERSHEY'S Cocoa

1-1/2

teaspoons

baking powder

1-1/2

teaspoons

baking soda

1

teaspoon

salt

2

eggs

1

cup

milk

1/2

cup

vegetable oil

2

teaspoons

vanilla extract

1

cup

boiling water

1

teaspoon

espresso powder

instant espresso

For the frosting

5

sticks unsalted butter

1 1/2 cups, softened to room temperature

5

cups

confectioners sugar

4

Tablespoons

heavy cream

4

teaspoons

vanilla extract
Additional frosting ingredients
For decorating
Miniature chocolate chips

Regular semi-sweet chocolate chips

White Chocolate Chips

Chocolate Sprinkles

Red Coloring Gel

Edible Marker

Milano Cookies
Instructions
1. Heat oven to 400°F. Prepare two muffin pans with cupcake liners.

2. Stir together sugar, flour, cocoa, baking powder, baking soda and salt in large bowl. Add eggs, milk, oil, vanilla extract beat on medium speed of mixer 2 minutes. In a measuring cup microwave 1 cup of water (or heat on stovetop). Stir in instant espresso. Add boiling water to batter. Stir to combine. (batter will be thin) to the cake batter. Fill each cupcake well about 3/4 cup full of batter.

3. Bake for 5 minutes, then reduce oven heat to 350 for an additional 17 minutes or until wooden pick inserted in center comes out clean, rotating pans halfway through baking. Remove cupcakes from pans and allow to cool on a wire rack. Cool completely. Repeat with the additional cupcake batter (about 6 additional cupcakes)

4. For the frosting combine the butter and powdered sugar and mix on low, then increase the speed for 2-3 minutes until light and fluffy. Add in your vanilla extract, and heavy cream. Beat on medium-high for 8 minutes. For the cupcakes, divide your frosting into 3 bowls. Leave one plain vanilla. To the second bowl, add green food coloring until desired color is reached. To the third bowl, add 1/2 cup cocoa powder. Mix to combine.

5. To decorate the Ghost Cupcake: Use a round tip and pipe a swirl of frosting on top. Use 3 miniature chocolate chips for the eyes and mouth. To decorate the Tombstone cupcake: use a spatula to spread some frosting on top. Dip the top of each cupcake into crushed oreo cookies. Using an edible marker, write RIP onto a Milano cookie and place into the center of each cupcake. For the Frankenstein cupcake: spread some green frosting on top of a cupcake. you want a good tall amount of frosting on these. Then flatten the top and round the edges. Dip the top in chocolate sprinkles. Use a white chocolate chip for the eyes. Draw the eyeballs on with an edible marker. You could also use candy eyes. Place a chocolate sprinkle on for the mouth. Place two chocolate chips on the side for the bolts. And using red gel, draw stitches on next to the one of the bolts. Cover and keep at room temperature for 2-3 days.