This lemon blueberry bread recipe needs no electric mixer. I only used a whisk, spatula, and bowls. With a few simple ingredients, fresh blueberries, lemons, and 15 minutes of prep time, I made a delicious, moist, and flavorful homemade quick bread.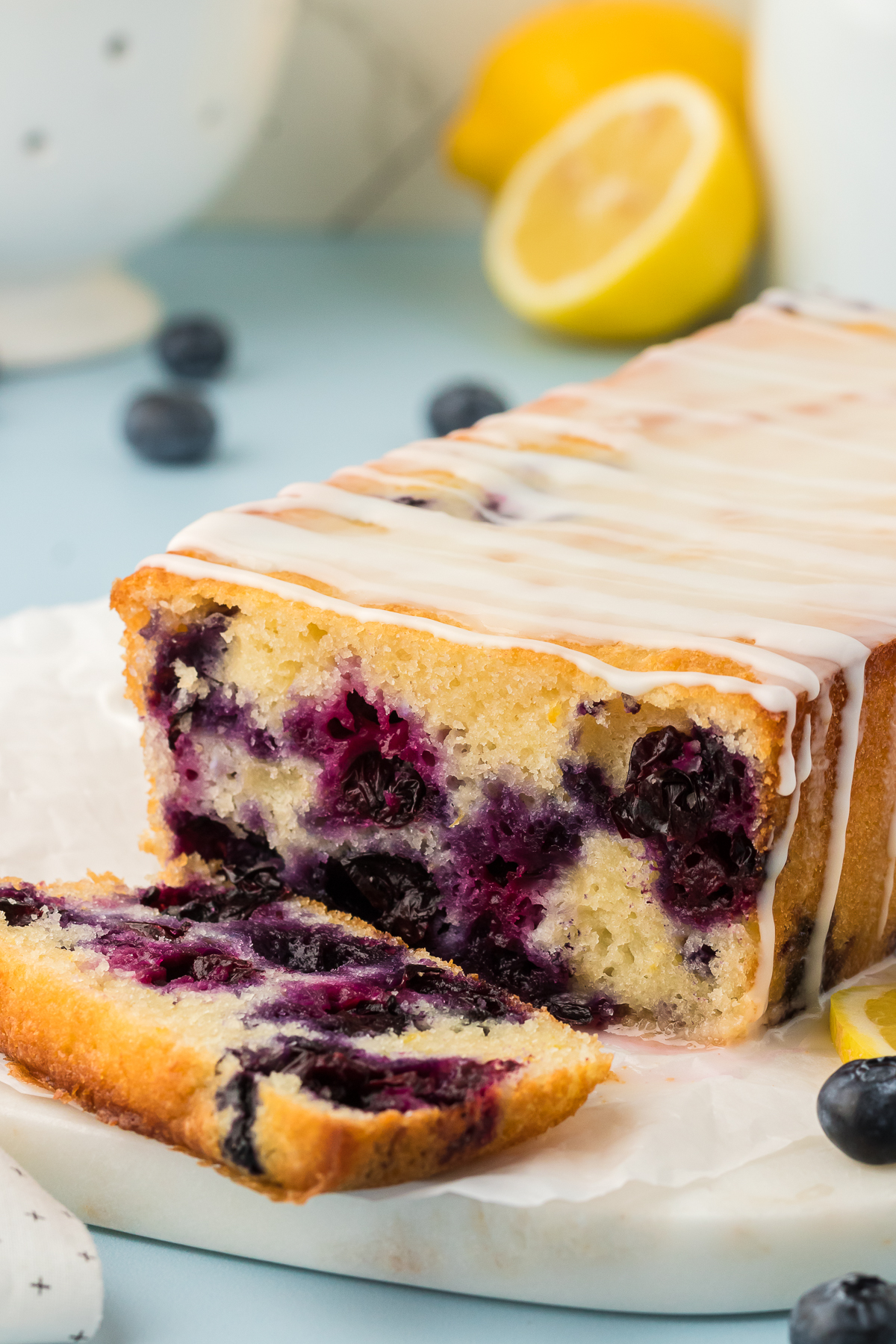 Don't get me wrong I love using lemons when cooking. I used them often when cooking any dish with fish and poultry. Or squeezing a lemon wedge over a big plate of seafood like oysters, crabs, and lobsters.
But when I started baking, I realized lemons are where it's at. Lemons add refreshing, zingy, and bright flavors to baked goods. I used to ignore the lemon desserts as a kid. No thanks, give me chocolate. But now? Oh man, give me all the lemon desserts! Is this a sign I'm maturing or just getting old? Oh well, who cares, pass me another slice of lemon blueberry bread please.
That's why I have plenty of lemon-flavored baked goodies and delicious recipes with lemon flavor such as lemon cookies, sour cream pound cakes, scones, zucchini bread, donuts, lemon bars, and more.
And I am adding a new one, my lemon blueberry bread! This is one of my favorite quick bread recipes so far! I used no electric mixer and only a couple of easy-to-find ingredients. I'm sure you'll love it.
What are we waiting for? Let's stop talking and start baking!
See Also: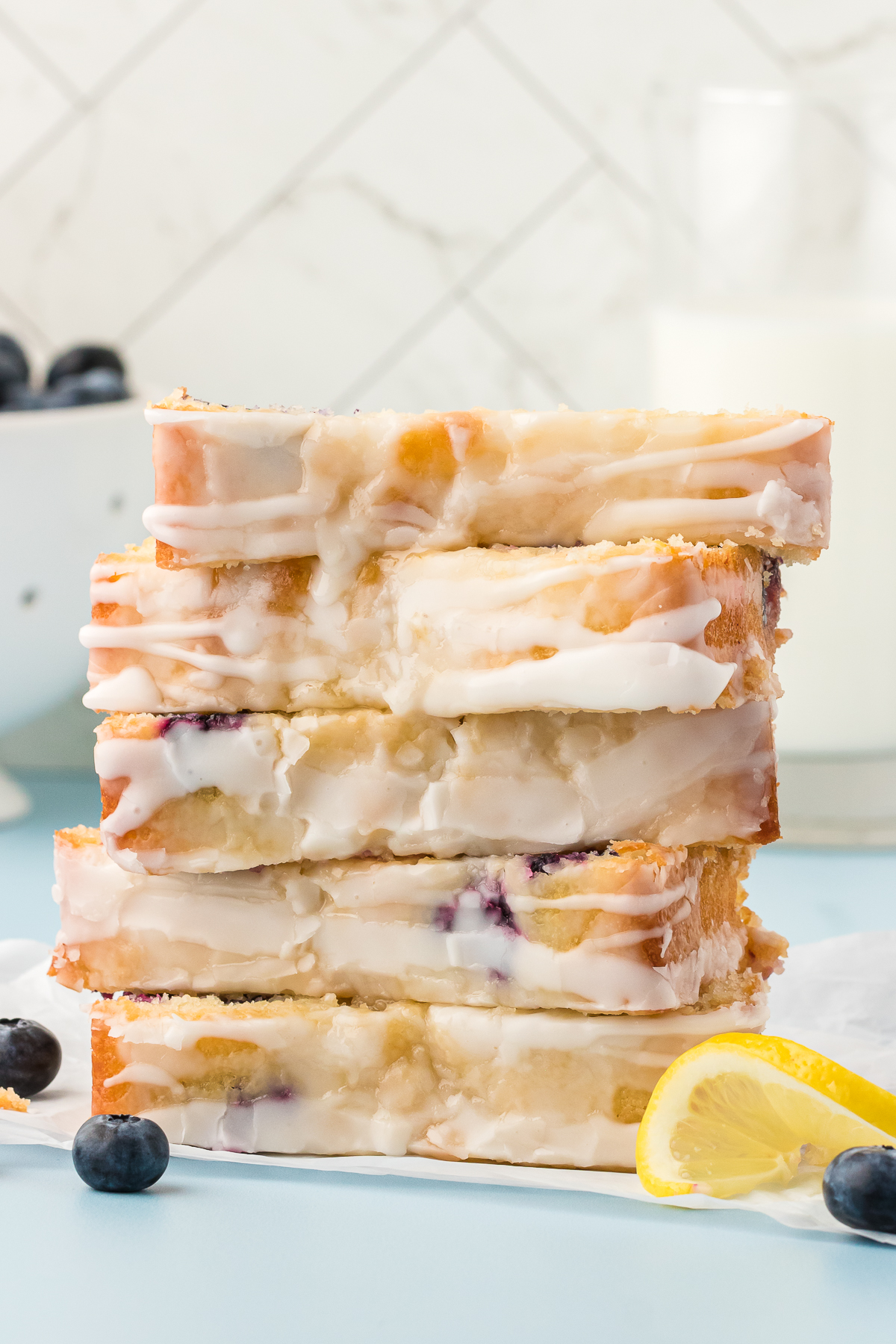 Why You'll Love This Lemon Blueberry Bread
No Resting Time Required – This easy recipe doesn't include yeast. That's why there's no need for resting time to rise. Your lemon blueberry bread will rise as it bakes in the oven.
Prepare In Minutes – For this great recipe, you only need 15 minutes of prep time and you have delicious, freshly baked bread in no time.
No Electric Mixer Needed – I only used my whisk, spatula, and a couple of bowls for this recipe. No need to bring out your stand or hand mixer.
Perfect For Freezing – If you can't finish all of your lemon blueberry bread, freeze them for up to 3 months!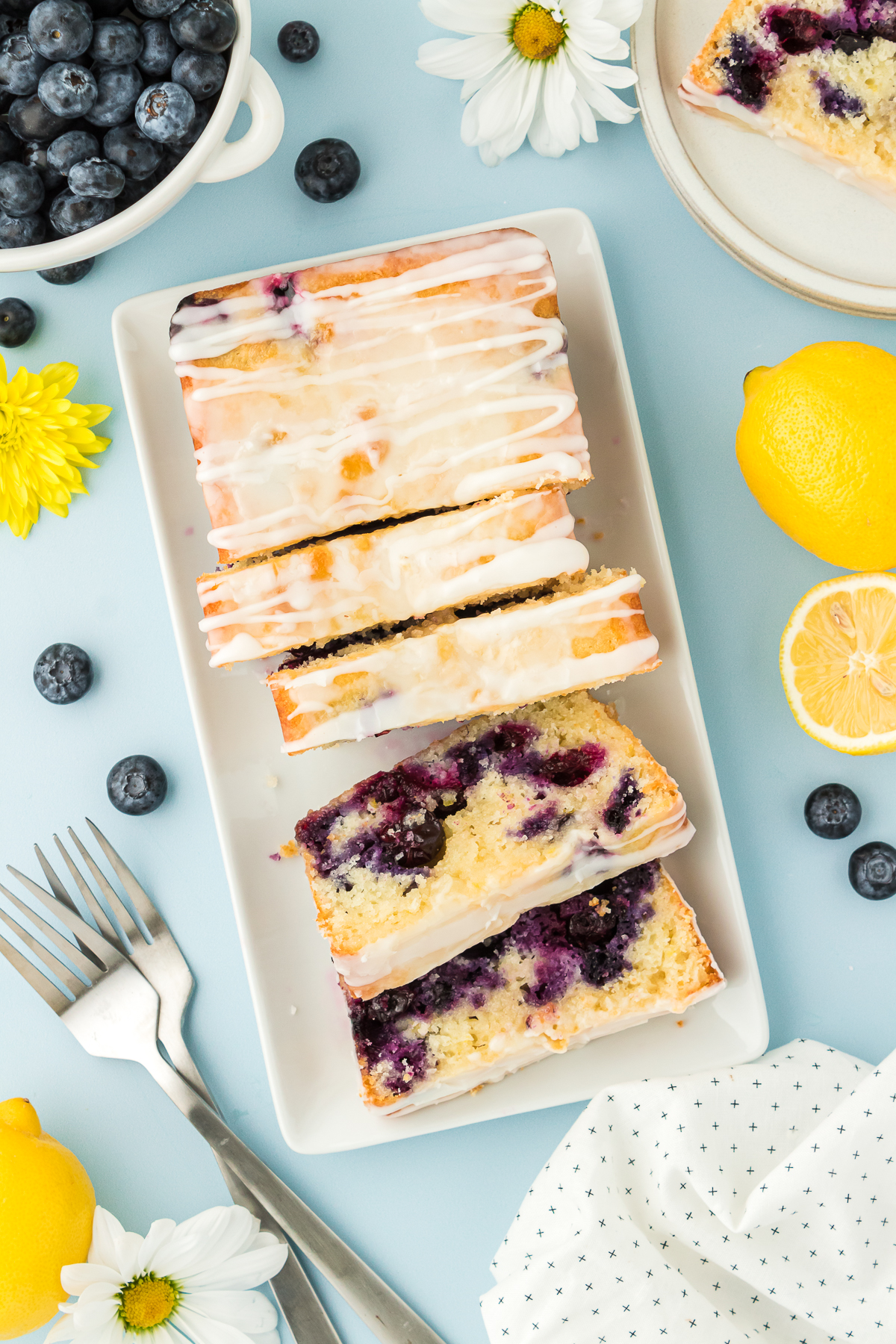 Ingredients Needed
Here are the ingredients you will need for this lemon blueberry bread recipe:
For The Quick Bread
All-Purpose Flour – I used all-purpose flour for this quick bread recipe. But you can also use other flour like wheat or other gluten-free options. If using whole wheat flour, I like to use 50% all-purpose and 50% whole wheat flour.
Baking Powder – This delicious lemon blueberry bread doesn't contain any yeast or self-rising flour. To help it rise and make the bread airy, baking powder is used.
Eggs – Emulsifies the flour mixture. Eggs should be at room temperature before use. Check out How To Get Room Temperature Eggs Fast.
Granulated Sugar – To sweeten the quick bread.
Milk – I used whole milk for this easy bread recipe. It gives richness to the bread. But you can use any milk, both lower-fat milk and non-dairy milk.
Lemon Juice – It adds refreshing and bright flavors of lemon and keeps your bread moist.
Lemon Zest – The fresh grated lemon zest is packed with lemon flavor perfect for this lemon blueberry bread.
Blueberries – You can use frozen blueberries or fresh wild blueberries. It depends on what is available in your area. If you're using frozen blueberries do not thaw but simply fold in gently to the batter.
Neutral-Flavored Oil – I usually use either canola or vegetable oil but you can also use other neutral-flavored oil like safflower or grapeseed oil. You could swap the oil with unsalted butter or melted coconut oil. Just remember, both may impart flavors.
Salt – To enhance the flavor. Check The Role Of Salt In Baking.
For The Lemon Glaze
Lemon Juice – Squeeze fresh lemons to make the glaze. Store-bought lemon juice contains preservatives and additives which can mask the lemon's natural tangy flavors.
Confectioners Sugar – It is the same as powdered sugar and icing sugar.
Vanilla Extract – For added flavor and richness to the lemon blueberry loaf. You can use imitation or homemade vanilla extract.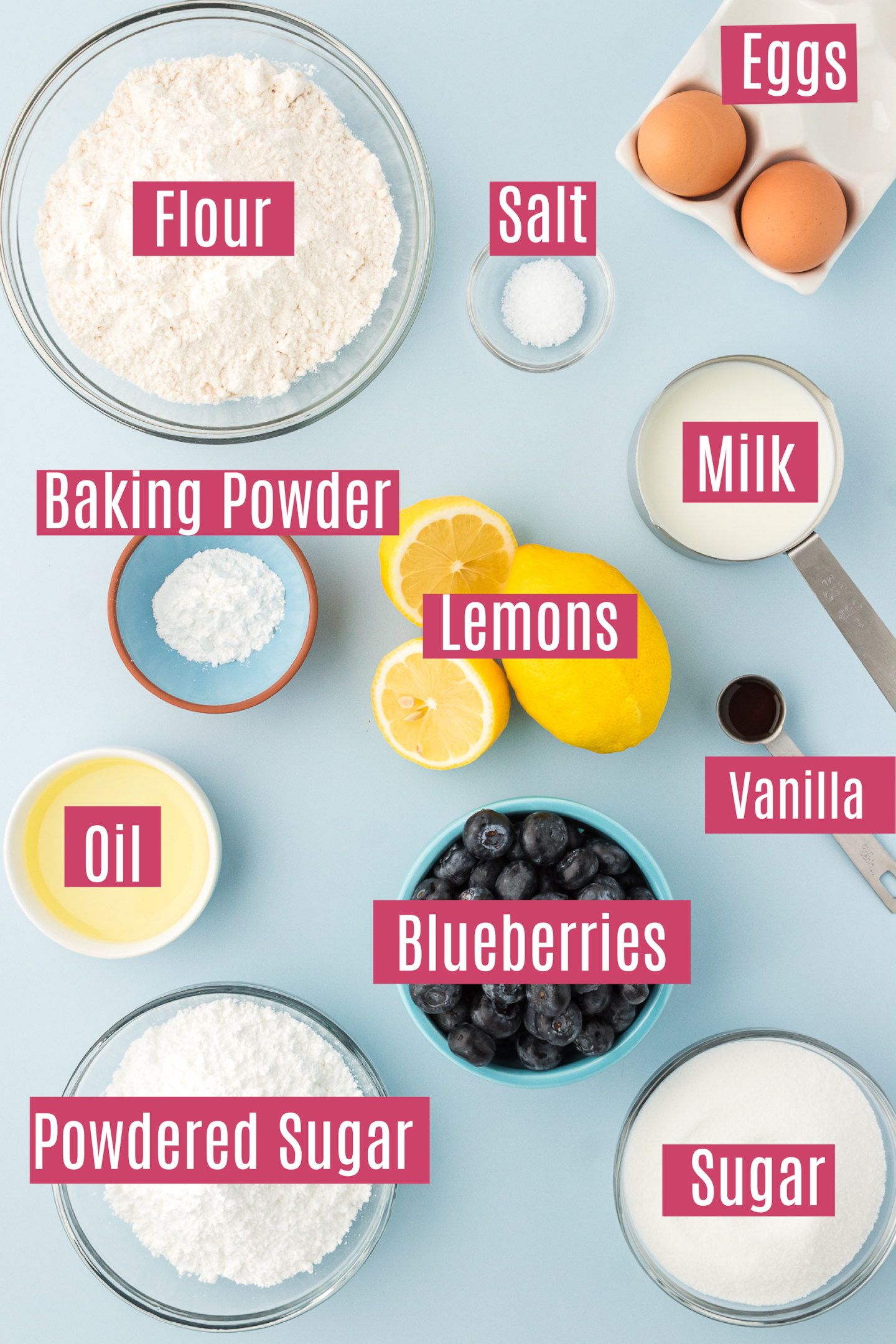 How To Make Lemon Blueberry Bread
1. Preheat Oven And Prepare Pan
Preheat the oven to 350°F/177°C. Move the rack to the middle of the oven.
Spray your 9 x 5-inch loaf pan with non-stick cooking spray. I like to line my loaf pan with parchment paper and lightly grease it with non-stick spray for good measures. Also, let a few inches of parchment paper hang on the sides. This will make it easier to remove the bread easier.
2. Combine Dry Ingredients
In a medium bowl, combine all-purpose flour, baking powder, granulated sugar, and salt. Whisk together and set aside.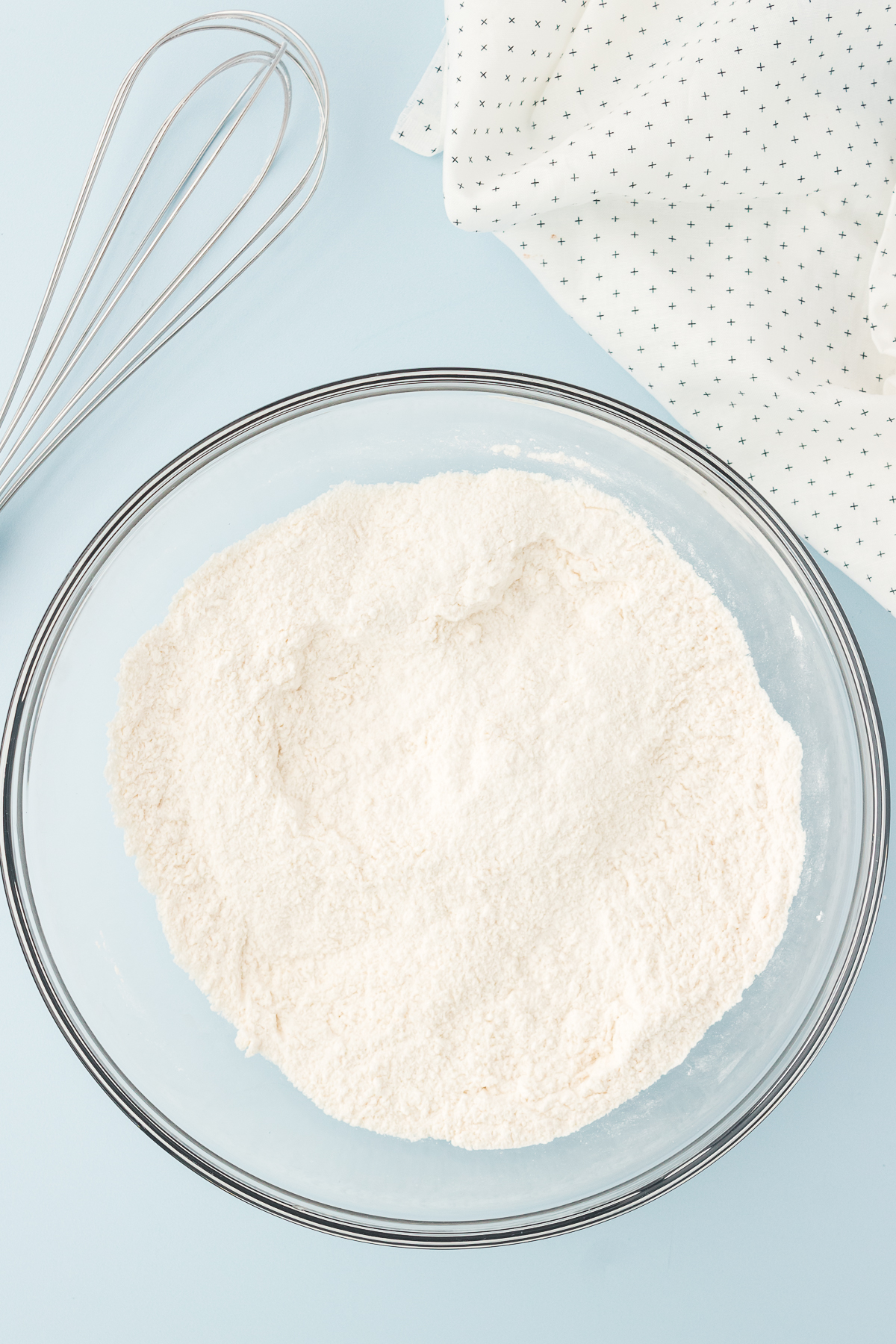 3. Combine Wet Ingredients
In a large bowl, combine eggs, milk, oil, lemon juice, and lemon zest. Whisk together until fully combined.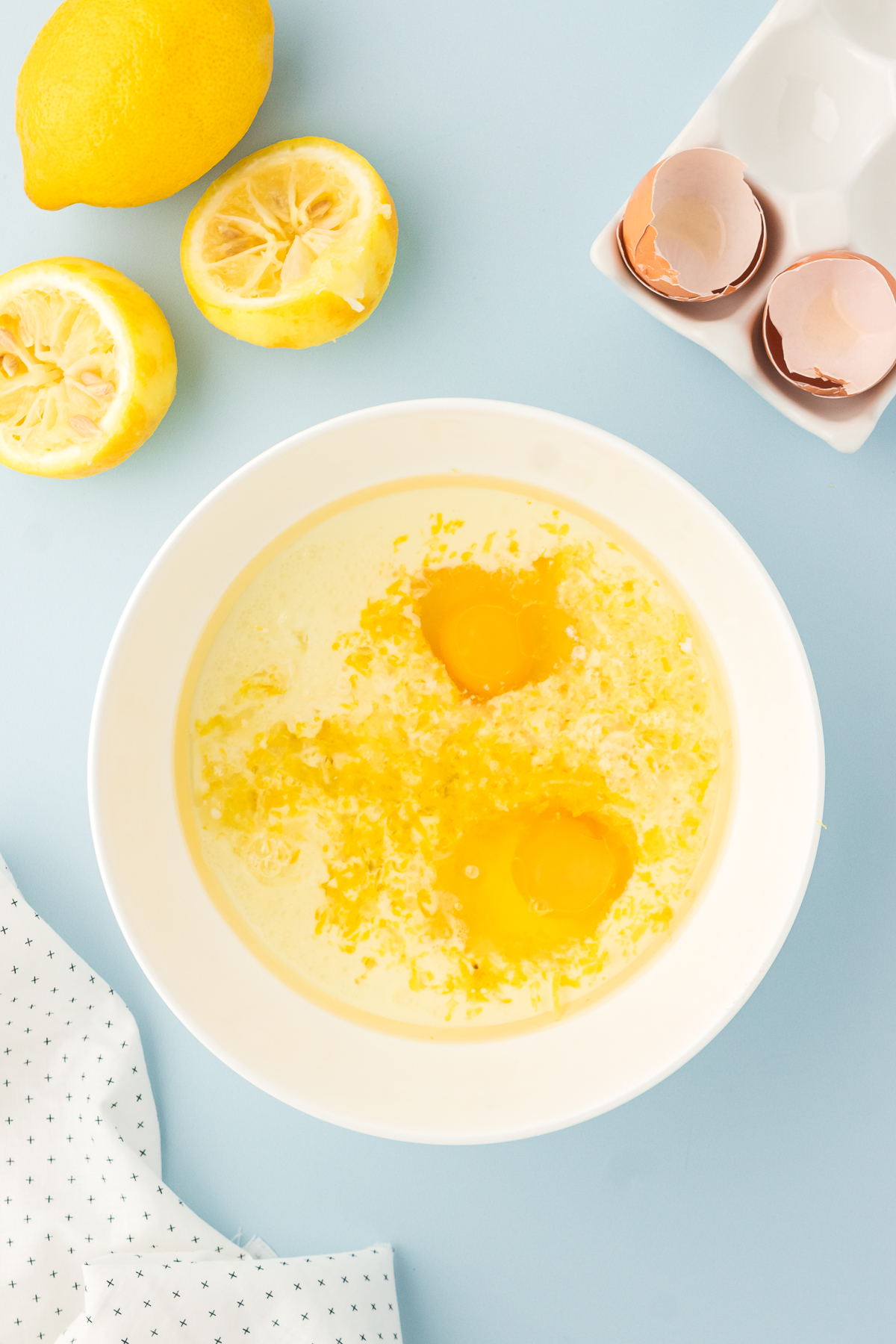 4. Mix Wet And Dry Ingredients
Add dry ingredients to wet ingredients. Using a spatula or wooden spoon, mix the ingredients together until combined. Be careful not to overmix your batter.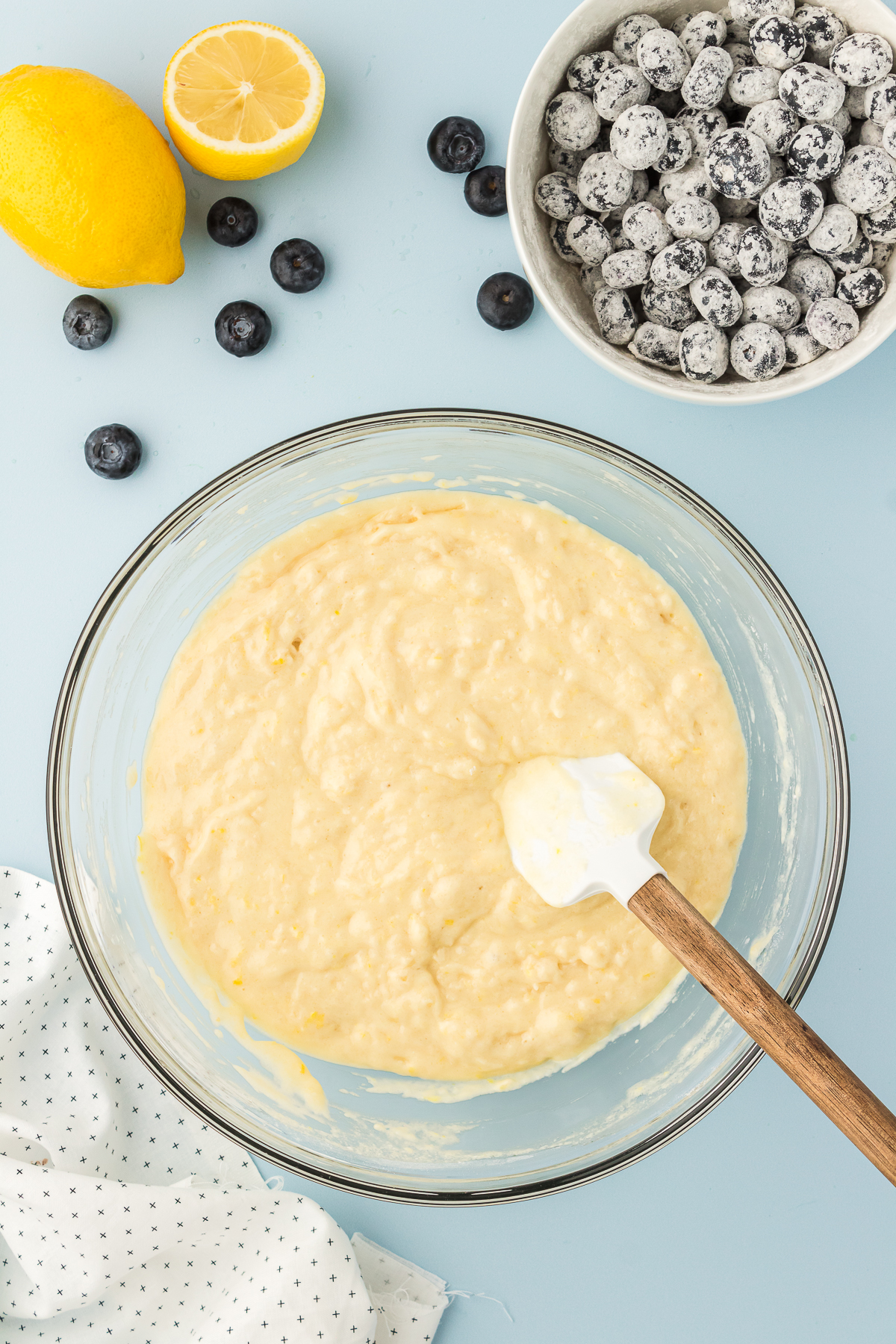 5. Fold In Blueberries
Toss your fresh blueberries in a little flour. This will prevent them from sinking when your bread is baking.
Fold in blueberries to the batter. Don't overmix.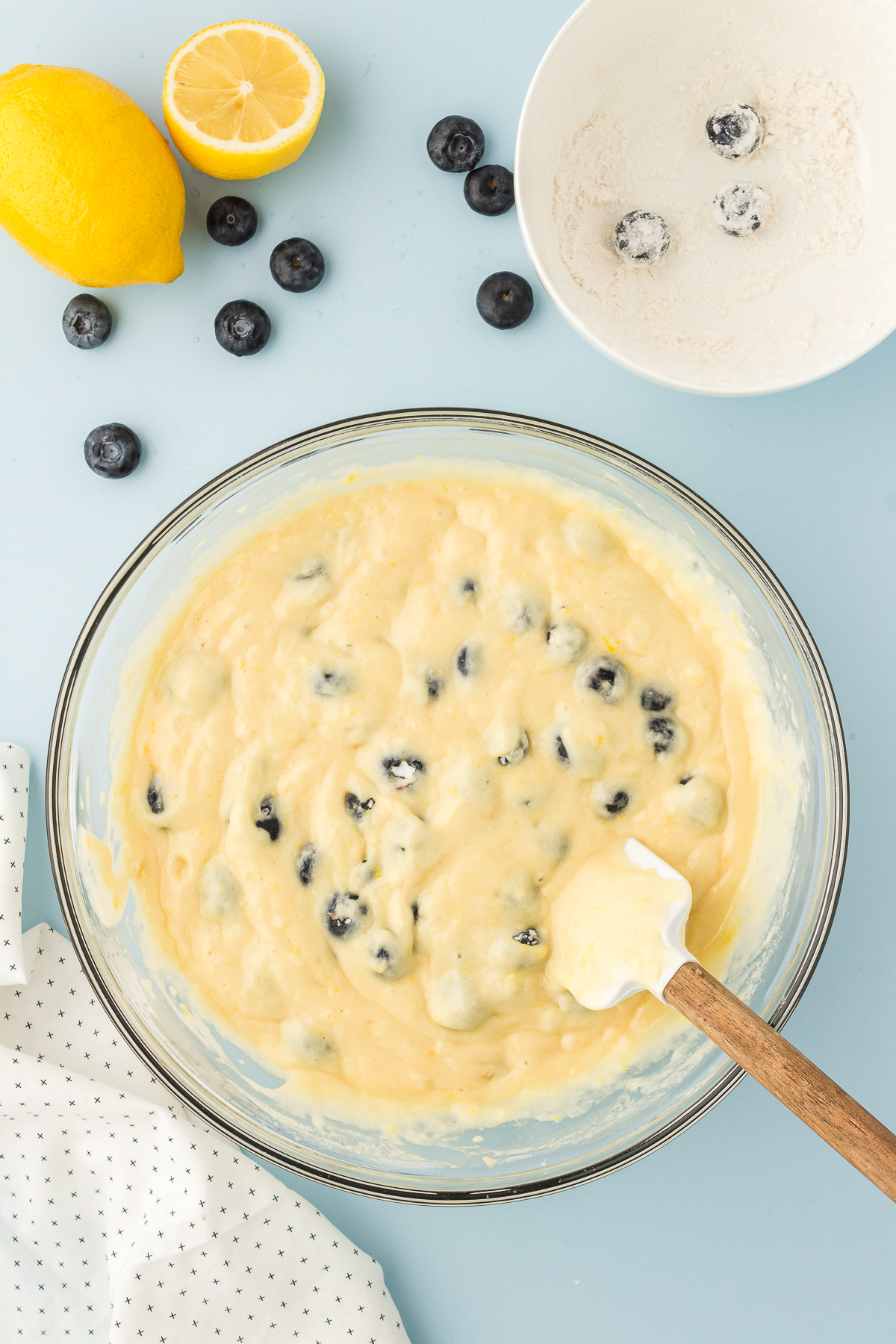 6. Bake
Transfer batter to the prepared pan.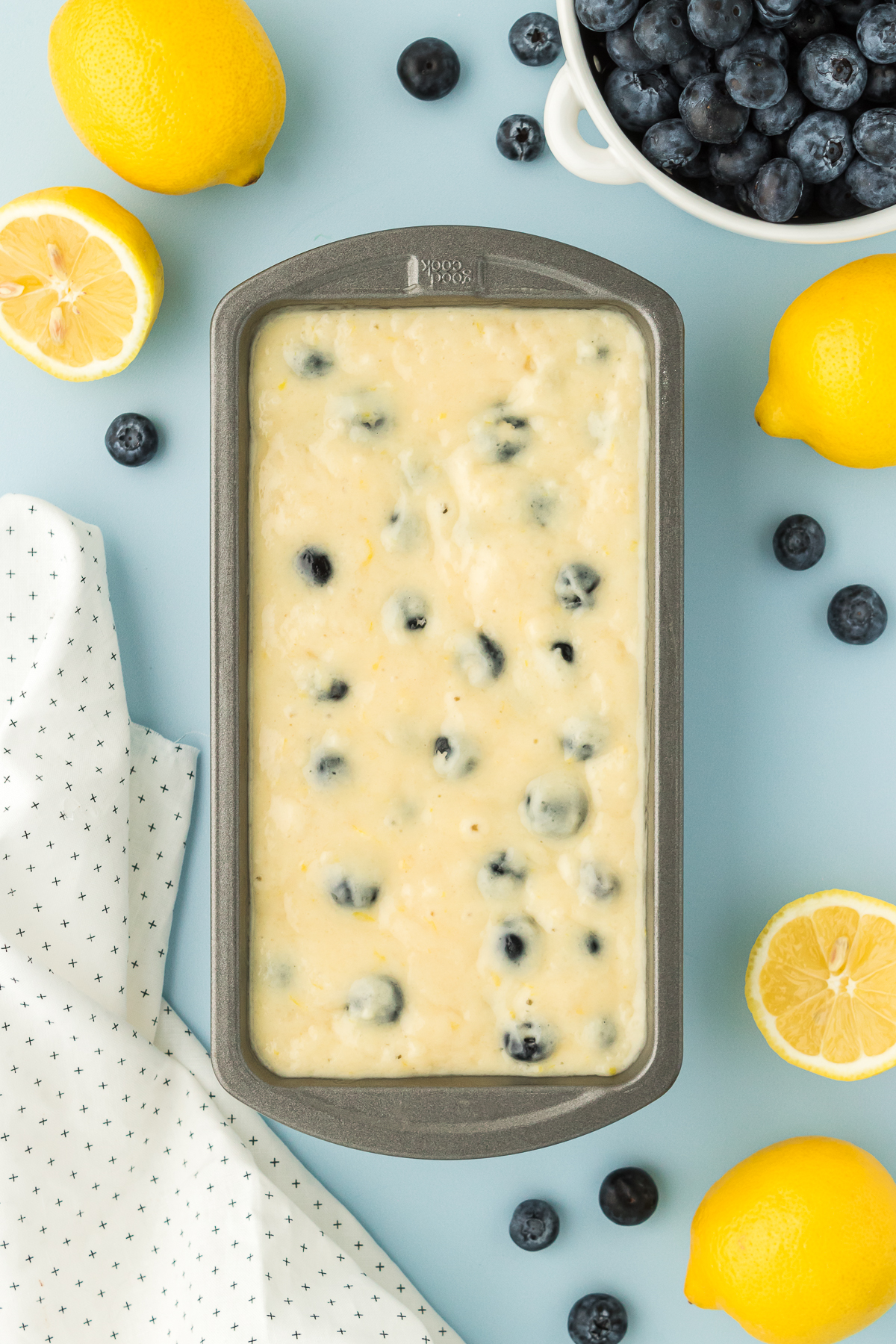 Bake in the preheated oven for 50 to 60 minutes or until a wooden skewer or toothpick inserted in the middle comes out clean or with a few moist crumbs. You can also touch the top. When it springs back when lightly touches, it's cooked.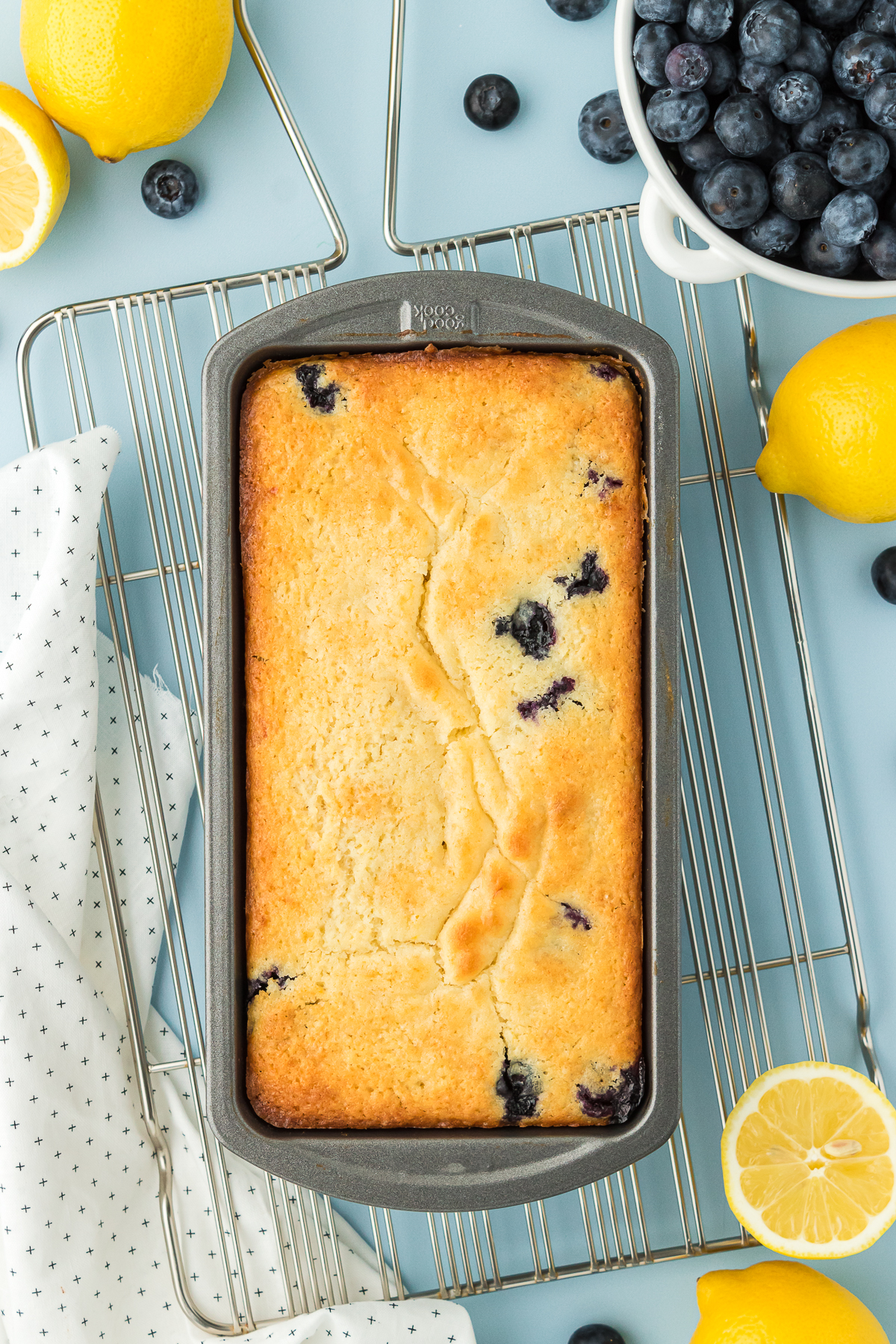 7. Cool Bread
Remove the lemon blueberry bread and place it on a cooling or wire rack. Let the bread cool completely. Don't remove it from the pan.
8. Make The Glaze
In a small bowl, combine lemon juice, vanilla extract, and confectioners sugar. Whisk together until you get a smooth lemon glaze. For a thicker glaze, use less lemon juice.
9. Serve And Enjoy
Once your lemon blueberry bread has cooled down, pour over the lemon glaze and serve.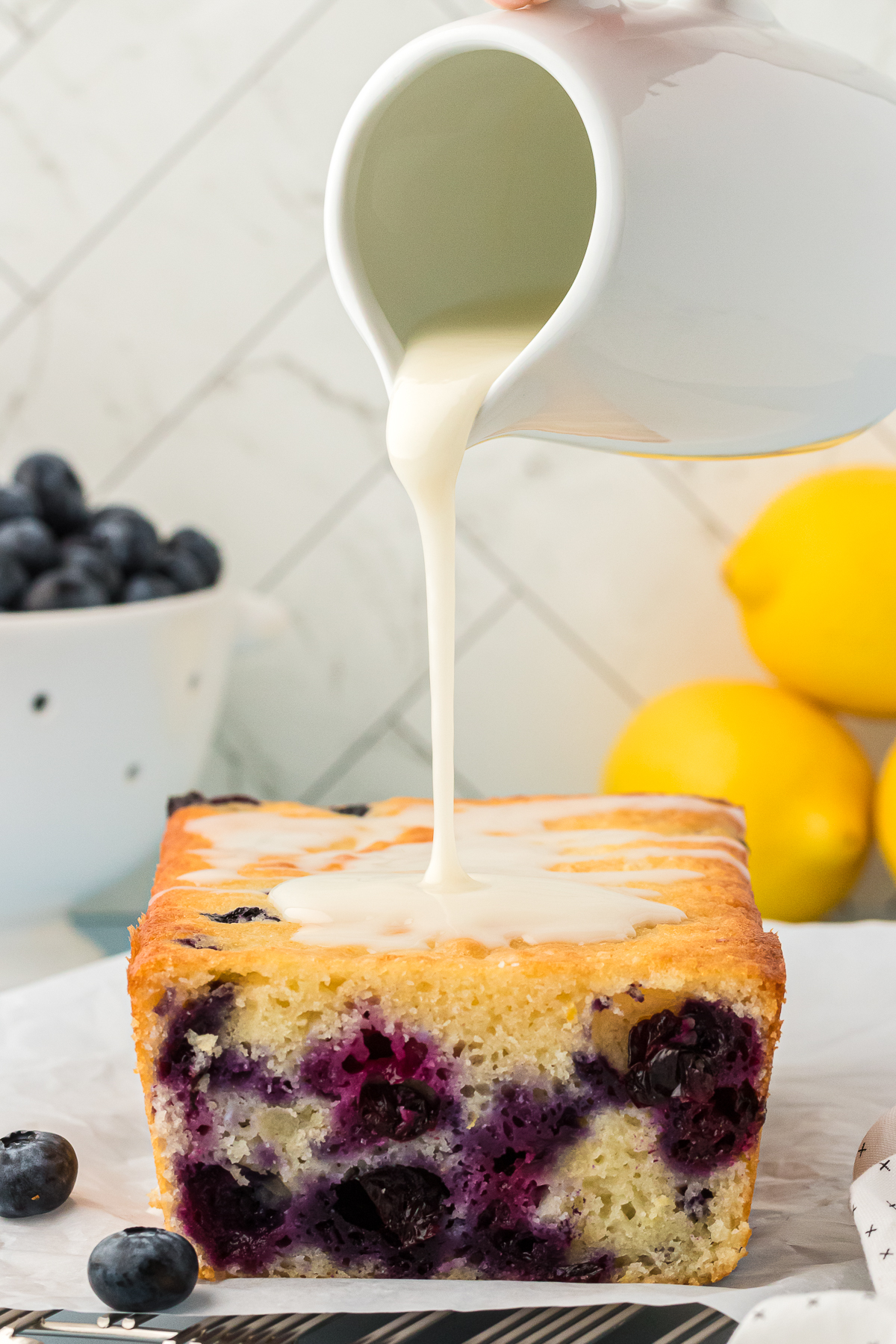 Recipe Tips
Be careful when zesting lemons. Make sure not to include the white part of the lemons. These are very bitter. Zest only the outer layer.
Measure your ingredients accurately. I used the scoop and level method. Check it out at How To Measure Ingredients.
Don't overmix the batter. Stirring the batter too much will make your lemon blueberry bread tough and chewy. Mixing develops gluten and makes bread dense. When you combined your wet and dry ingredients, mix only until they are combined.
Use other pans. You can make lemon blueberry mini loaves as well.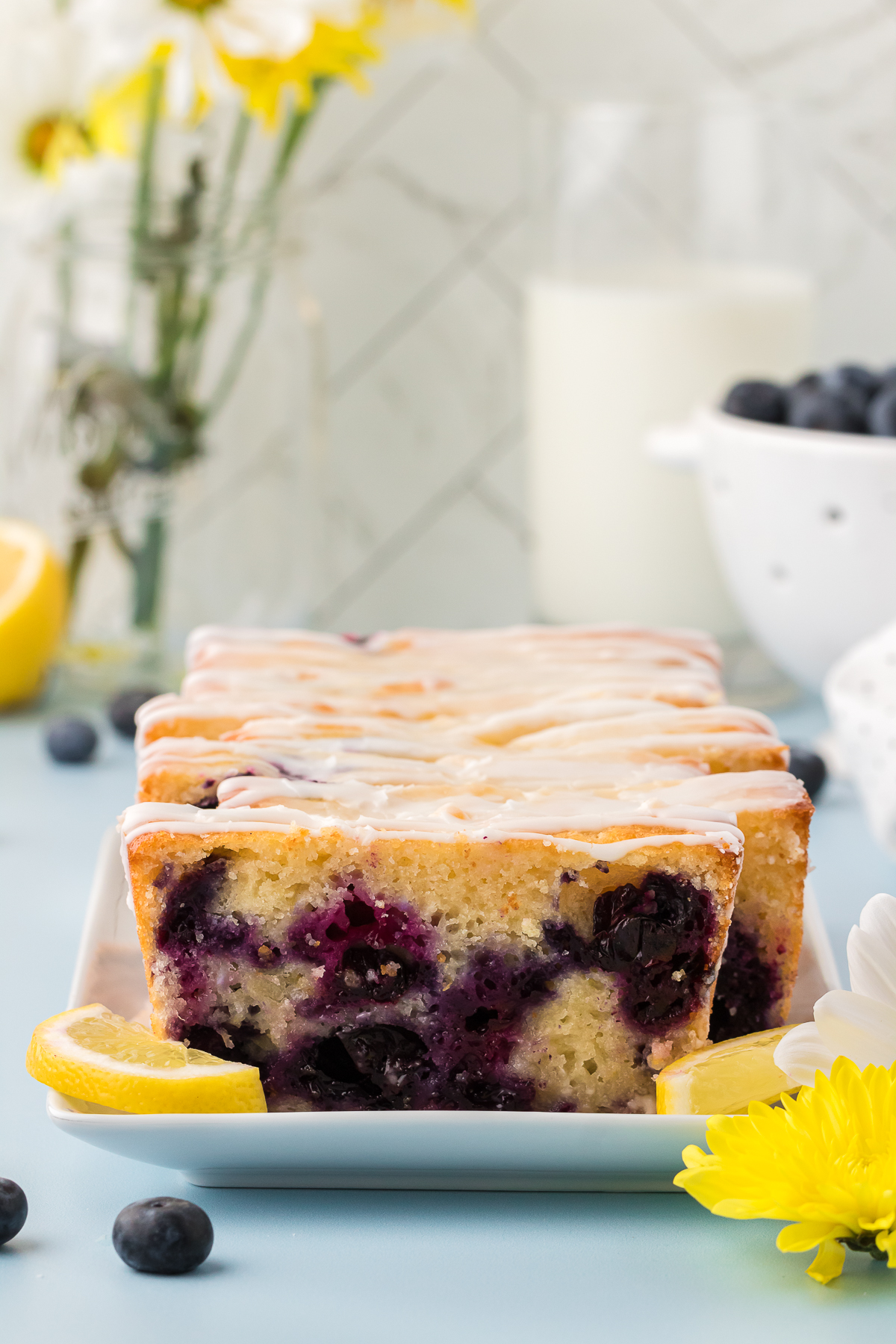 Recipe FAQs
How to store leftover lemon blueberry bread?
Once your lemon blueberry bread cools completely, wrap it with plastic wrap or aluminum foil. Transfer to an airtight container. It can last up to 3 days at room temperature. To extend its shelf life, place it in the fridge.
Can I freeze this quick bread?
Yes, you can freeze this lemon and blueberry bread. Let it cool completely, and wrap with plastic wrap or foil. Transfer to a freezer-safe bag, and freeze for up to 3 months. Thaw frozen bread at room temperature.
Why did my quick bread sink?
This can mean your bread needs more time in the oven. Before removing the bread from the oven, use the toothpick method to check its doneness. If the toothpick comes out clean or with a few crumbs but not wet, your quick bread is done. Remember, ovens run at different temperatures. There are things factors that affect the temperature of the oven. It is best to test your oven temperature using an oven thermometer before baking your quick bread.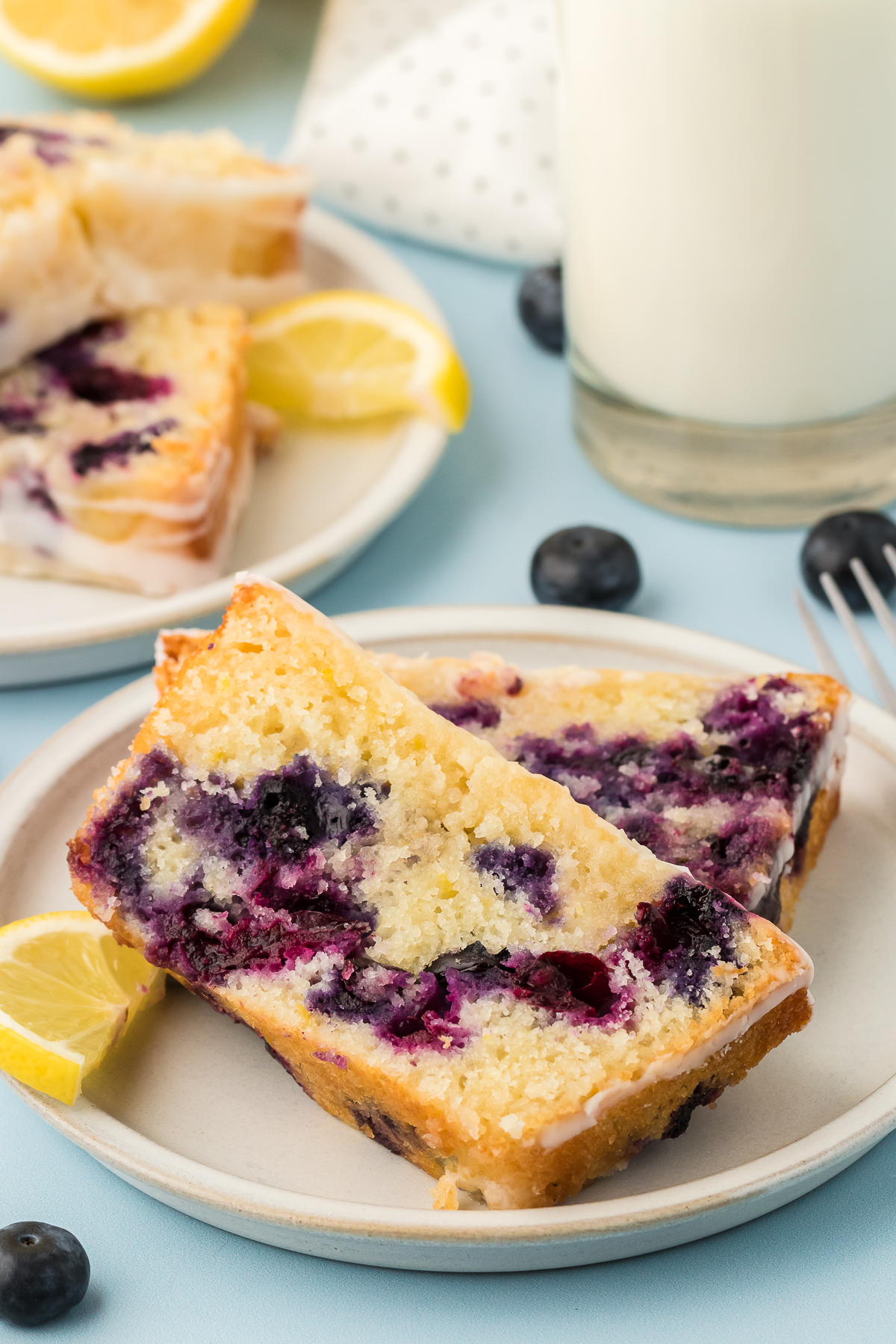 More Recipes To Try
Lemon Blueberry Quick Bread
Bake a delicious quick bread with this easy lemon blueberry bread recipe with refreshing lemon glaze! It only needs a few simple ingredients and no electric mixer.
Print
Pin
Rate
Ingredients
For the bread:
2

cups

(240 g) all-purpose flour

1

cup

(200 g) granulated sugar

1

tablespoon

baking powder

½

teaspoon

salt

2

large eggs

room temperature

⅔

cup

(160 ml) milk

½

cup

(120 ml) neutral-flavored oil (vegetable, canola, grapeseed, or safflower)

¼

cup

(60 ml) lemon juice

2

Tablespoons

lemon zest

1 ½

cups

(210 g) fresh or frozen blueberries

tossed in 1 teaspoon flour
For the glaze:
1

cup

(113 g) confectioners sugar

(powdered sugar)

2-3

tablespoons

lemon juice

½

teaspoon

vanilla extract
Instructions
Preheat and prepare pan. Position a rack in the center of your oven and preheat the oven to 350°F (177°C). Spray a 9"x5" loaf pan with cooking spray, or line with parchment paper and then spray with cooking spray.

Combine dry ingredients. In a mixing bowl, whisk together 2 cups (240 g) all-purpose flour, 1 cup (200 g) granulated sugar, 1 Tablespoon baking powder, and ½ teaspoon salt. Set aside.

Combine wet ingredients. In a second mixing bowl, whisk together 2 large eggs, ⅔ cup (160 ml) milk, ½ cup (120 ml) neutral-flavored oil, ¼ cup lemon juice (60 ml) and 2 Tablespoons lemon zest until combined.

Combine wet and dry ingredients. Add the dry ingredients to the wet ingredients and mix together with a spatula or wooden spoon just until just combined. Fold in blueberries (I toss them in a teaspoon of flour first so they don't sink in the batter when baking. Do not overmix.

Bake. Spoon batter into prepared loaf pan. Bake in a preheated 350℉ (177℃) oven for 50-60 minutes until a toothpick inserted into the middle of bread comes out clean or with a few moist crumbs clinging to it (no wet batter) and top springs back to the touch when lightly touched. Remove from the oven and cool completely in the pan on a wire cooling rack.

Make the glaze. In a small bowl, whisk together the confectioners sugar, lemon juice, and vanilla. Adjust consistency if needed. Drizzle over the cooled bread before serving.
Notes
Storage: Once cooled, wrap tightly in tinfoil or plastic wrap and keep at room temperature for up to 3 days.
Freezing: Cool completely, then wrap in tinfoil or plastic wrap and freeze for up to 3 months. Thaw at room temperature before enjoying.
Blueberries: You can use fresh or frozen blueberries. If using frozen, do not thaw.  Careful when folding in. You may need to add on additional baking time if using frozen. 
Oil – I use either vegetable or canola oil, but any neutral-tasting oil such as grapeseed or safflower will work. You could also swap with melted butter (this could make the bread a tad drier) or melted coconut oil (this may impart flavor depending on which coconut oil is used).
Milk – You can use any milk for this recipe. I prefer baking with whole milk for maximum richness, but you can always use a lower fat milk, or a non-dairy milk.
Nutrition
Calories:
292
kcal
|
Carbohydrates:
47
g
|
Protein:
4
g
|
Fat:
11
g
|
Saturated Fat:
2
g
|
Polyunsaturated Fat:
5
g
|
Monounsaturated Fat:
2
g
|
Trans Fat:
0.1
g
|
Cholesterol:
29
mg
|
Sodium:
114
mg
|
Potassium:
178
mg
|
Fiber:
1
g
|
Sugar:
29
g
|
Vitamin A:
73
IU
|
Vitamin C:
6
mg
|
Calcium:
70
mg
|
Iron:
1
mg