Make delicious and moist pistachio bread from scratch with this simple recipe. It only needs a few ingredients and 15 minutes of prep time. No electric mixer is used to prepare this flavorful pistachio quick bread!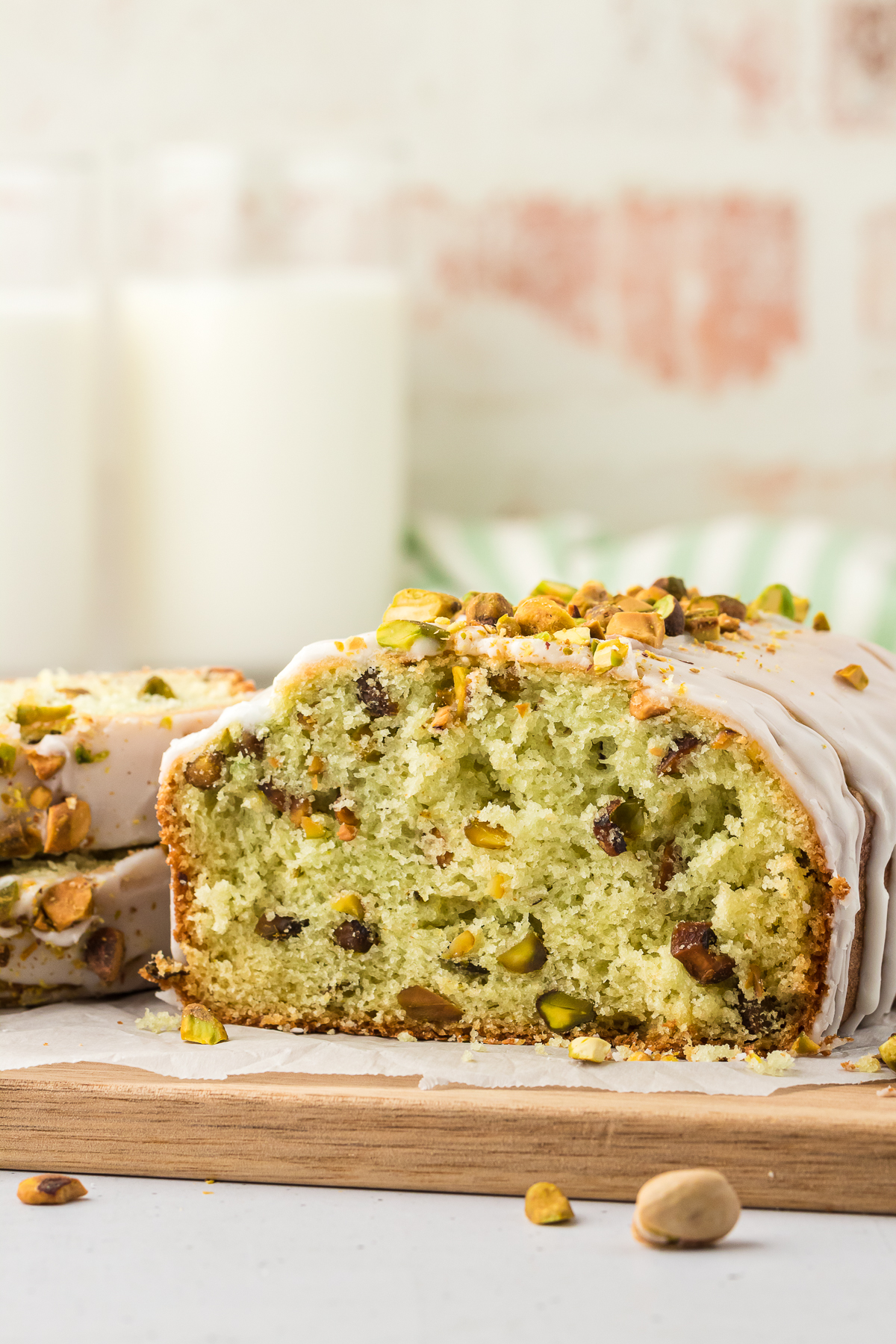 I am always on the lookout for new ingredients I can use and add to my baked goods. This time I am featuring pistachios.
Usually, I bake with almonds or pecans when baking up a quick bread like a banana bread. That's why this time, I thought, why not feature the delicious nutty flavors of pistachios, instead?!
This pistachio bread recipe is made from scratch. There's no instant yellow cake mix or pistachio pudding mix used to flavor it. I used real chopped pistachios! It is healthier, more flavorful, and more satisfying, perfect for pistachio lovers!
See Also: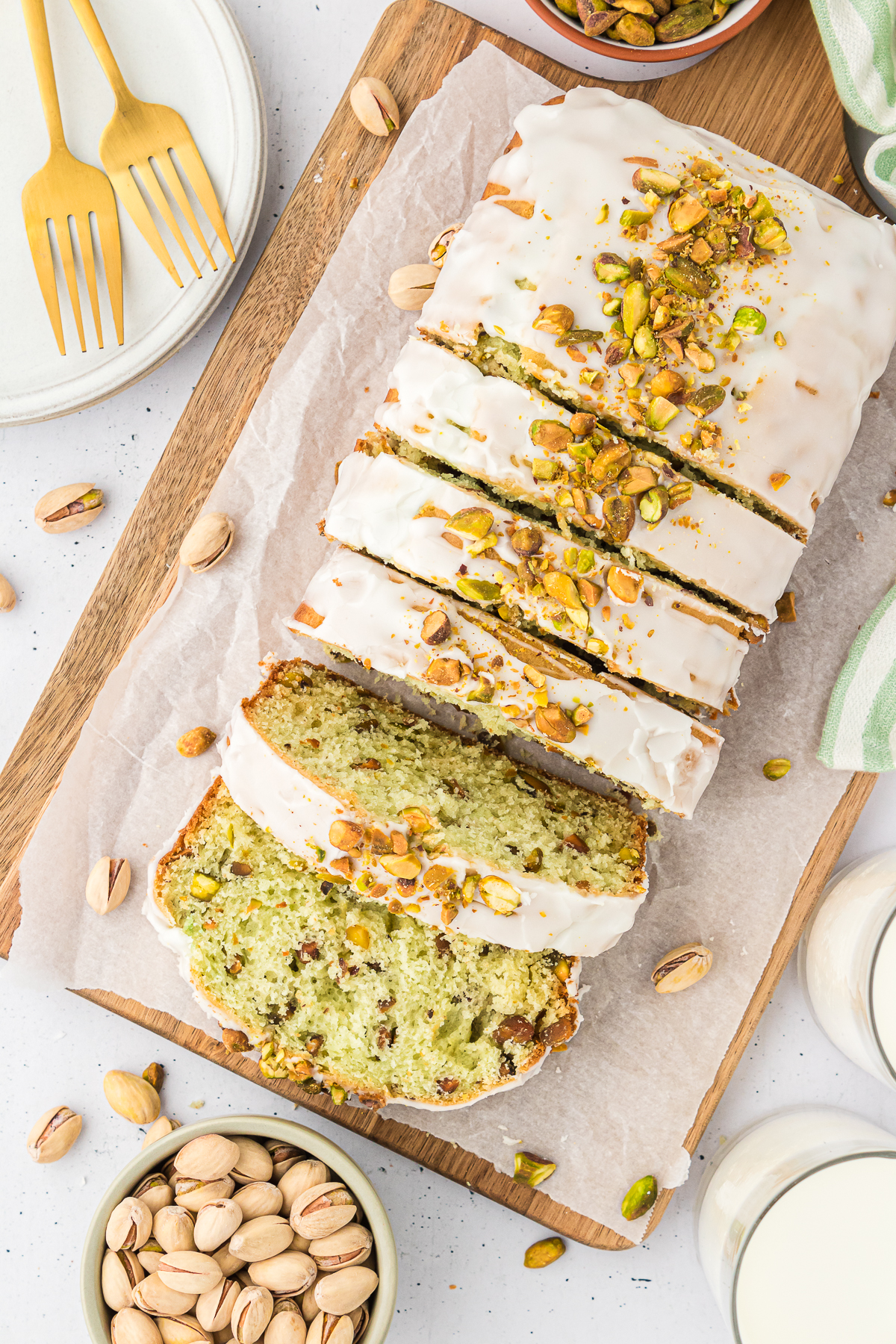 Why You'll Love This Pistachio Bread
Real Pistachio Loaf Bread – This pistachio bread recipe doesn't include any artificial flavorings or cake mix. No white cake mix or instant pistachio pudding mix! It is made from scratch but not time-consuming and very easy to make.
No Electric Mixer Required – I only used a whisk, spatula, and bowls for this recipe. I didn't use an electric mixer.
Freezer-Friendly – Bake pistachio bread using many loaf pans ahead or on your day off. Then, freeze them to last for up to 3 months.
Perfect Gift – Because these pistachio bread are very easy and quick to prepare, you can easily make them in bulk before your party, let them cool, wrap, and give them as a gift.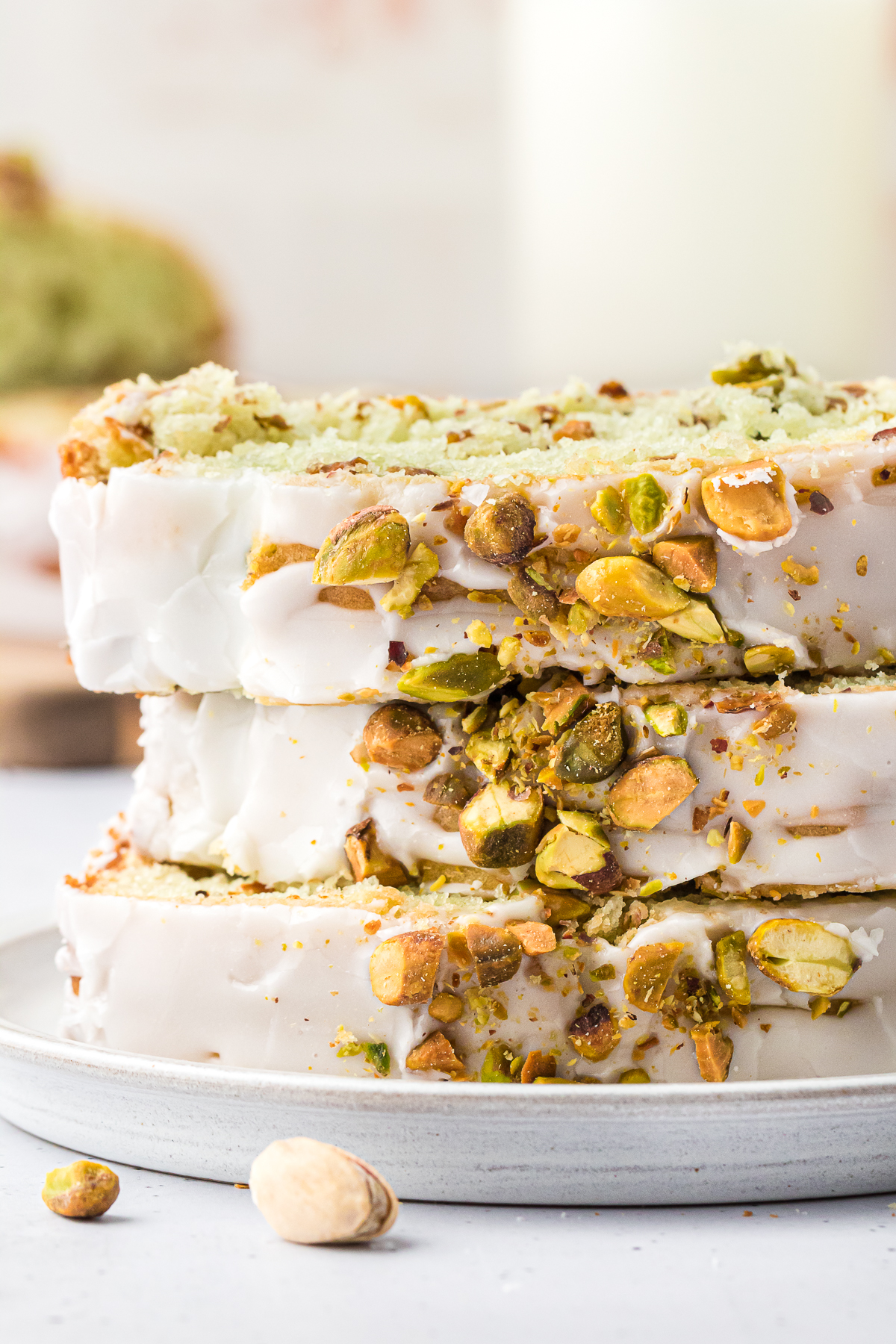 Ingredients Needed
These are the ingredients needed for this pistachio bread recipe:
For The Quick Bread
All-Purpose Flour – I used all-purpose flour for this quick bread recipe.
Baking Powder – There's no yeast in this pistachio bread recipe. To help this bread rise, a combination of baking powder and baking soda is used.
Baking Soda – To help bread rise while baking.
Buttermilk – To activate the baking powder and soda. If you don't have any you can use sour cream or make your own homemade buttermilk.
Egg – Should be at room temperature. Try How To Get Room Temperature Eggs Fast.
Pistachios – I used unsalted, roasted pistachios for this pistachio bread.
Almond Extract – Adds a light almond flavor to this quick pistachio bread. This is what gives the bread true pistachio flavor.
Granulated Sugar – To add sweetness.
Neutral-Flavored Oil – For quick bread recipes, I typically used either canola or vegetable oil but you can also use grapeseed and safflower oil. Check the Ultimate Guide To Baking Quick Bread Recipes.
Salt – To boost and bring out the nutty flavor. Check The Role Of Salt In Baking.
Green Food Coloring – This is optional. But if you plan to give it as a gift, a nice, bright green color will be more festive and attractive.
For The Almond Glaze
Powdered Sugar
Milk – You can use any type of milk like oat milk or whole milk.
Almond Extract
Pistachios – For garnish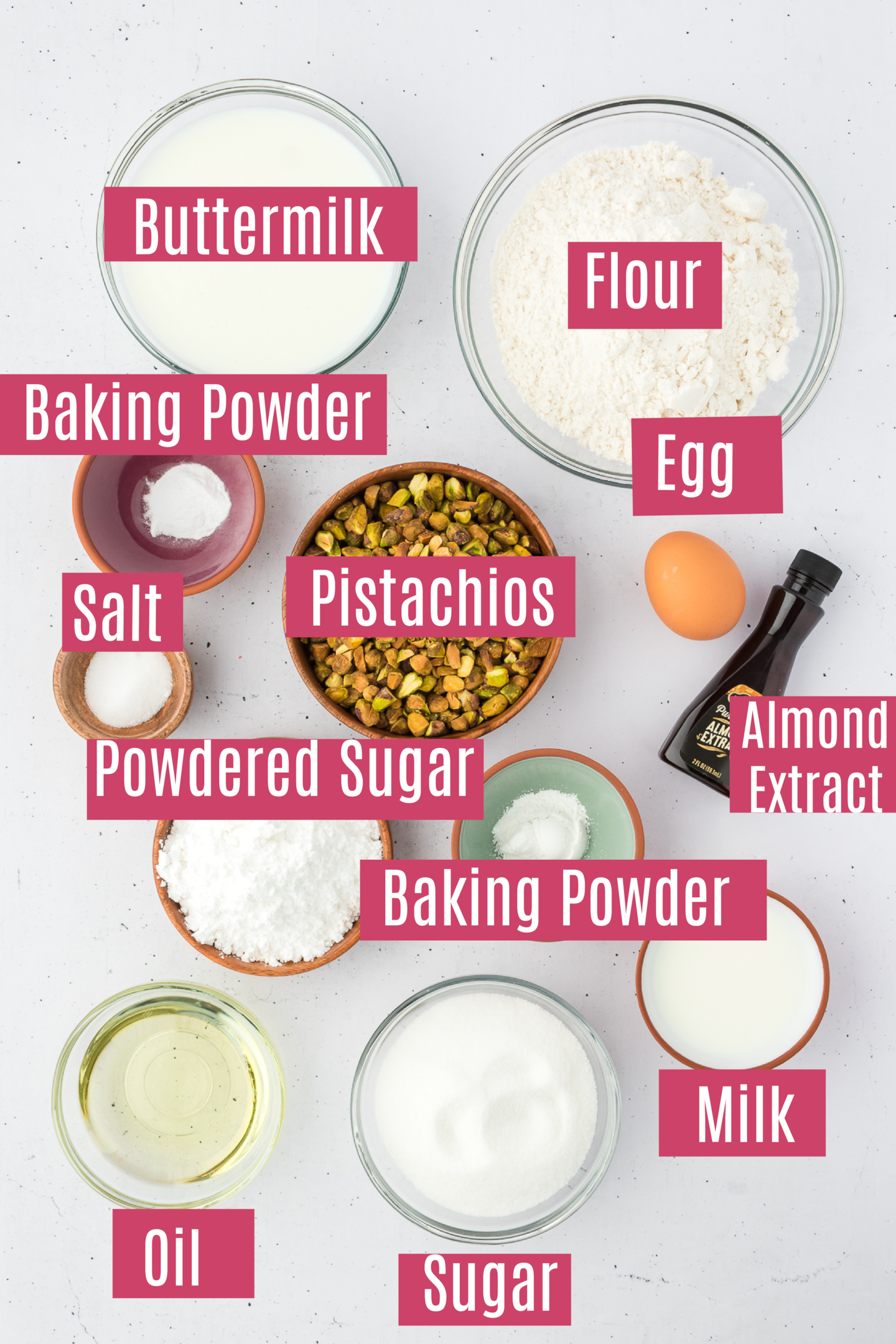 How To Make Pistachio Quick Bread
1. Preheat Oven And Prepare Pan
Move the rack to the center of the oven. Preheat the oven to 350°F/177°C.
Spray a 9 x 5-inch loaf pan with non-stick spray. I like to line my loaf pans with parchment paper and lightly grease it with non-stick spray. Let a few inches of parchment paper hand on the sides of your loaf pans. This makes lifting the pistachio bread easier later.
2. Combine Dry Ingredients
In a medium bowl, combine all-purpose flour, baking powder, baking soda, granulated sugar, and salt. Mix well using a whisk and set aside.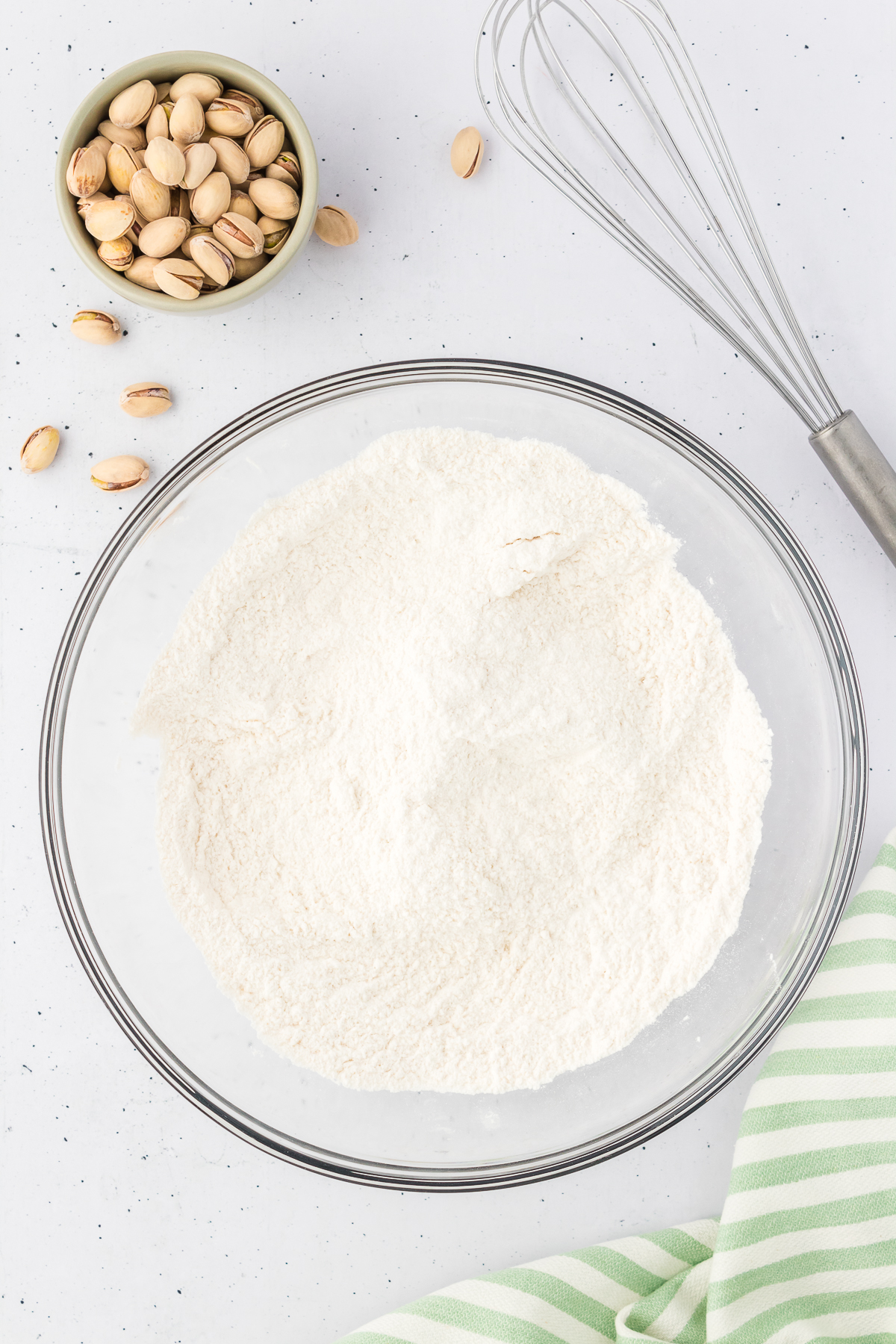 3. Combine Wet Ingredients
In a large mixing bowl, add buttermilk, vegetable oil, egg, and almond extract. Whisk well until combined.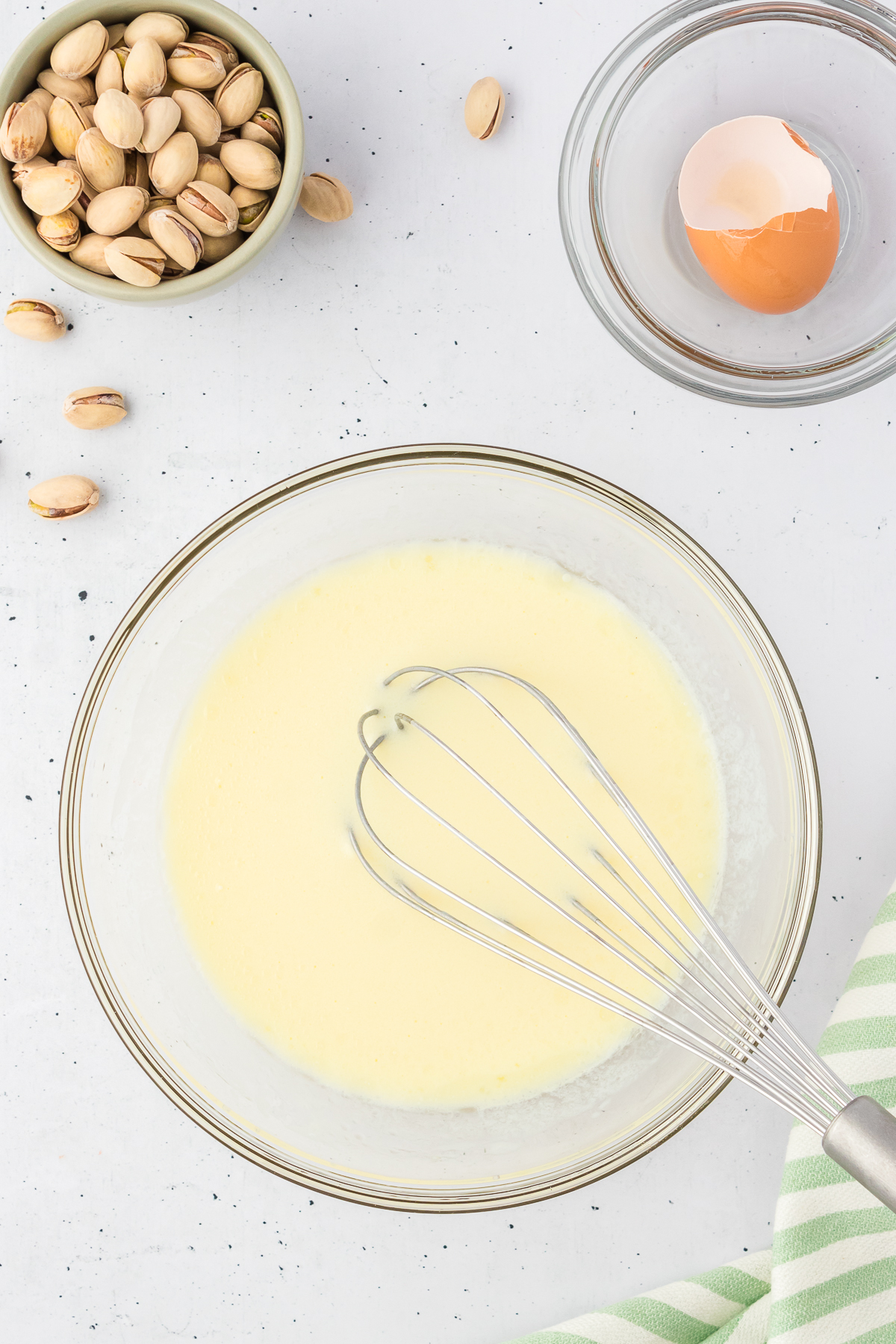 4. Mix Wet And Dry Ingredients
Add dry ingredients to your wet ingredients. Mix using a spatula or wooden spoon until just combined. Don't overmix your batter or your pistachio bread will be tough and chewy.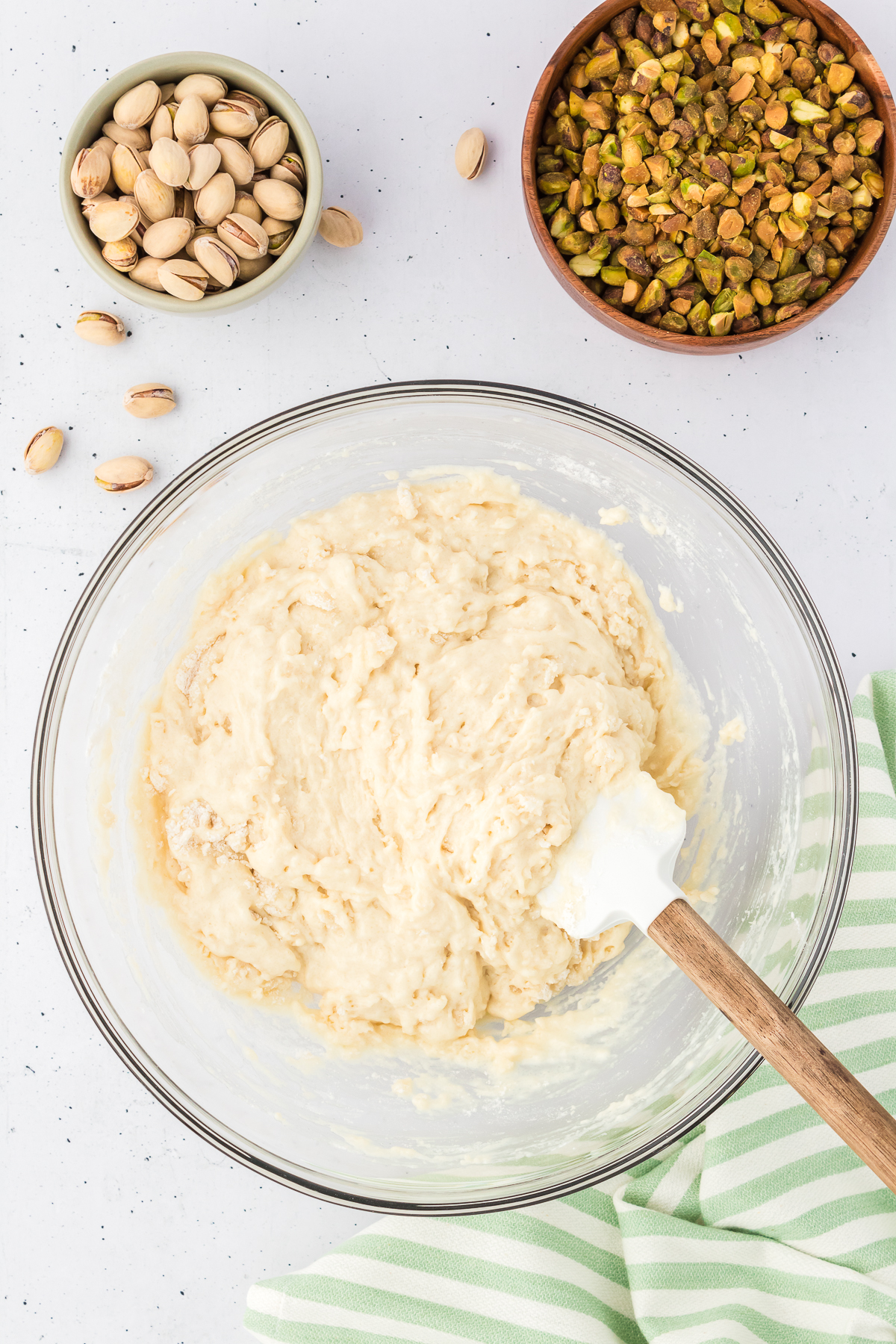 5. Fold In Pistachios
Fold in chopped pistachios to the batter. If you're using green food coloring, add a few drops in this step. The food coloring is optional.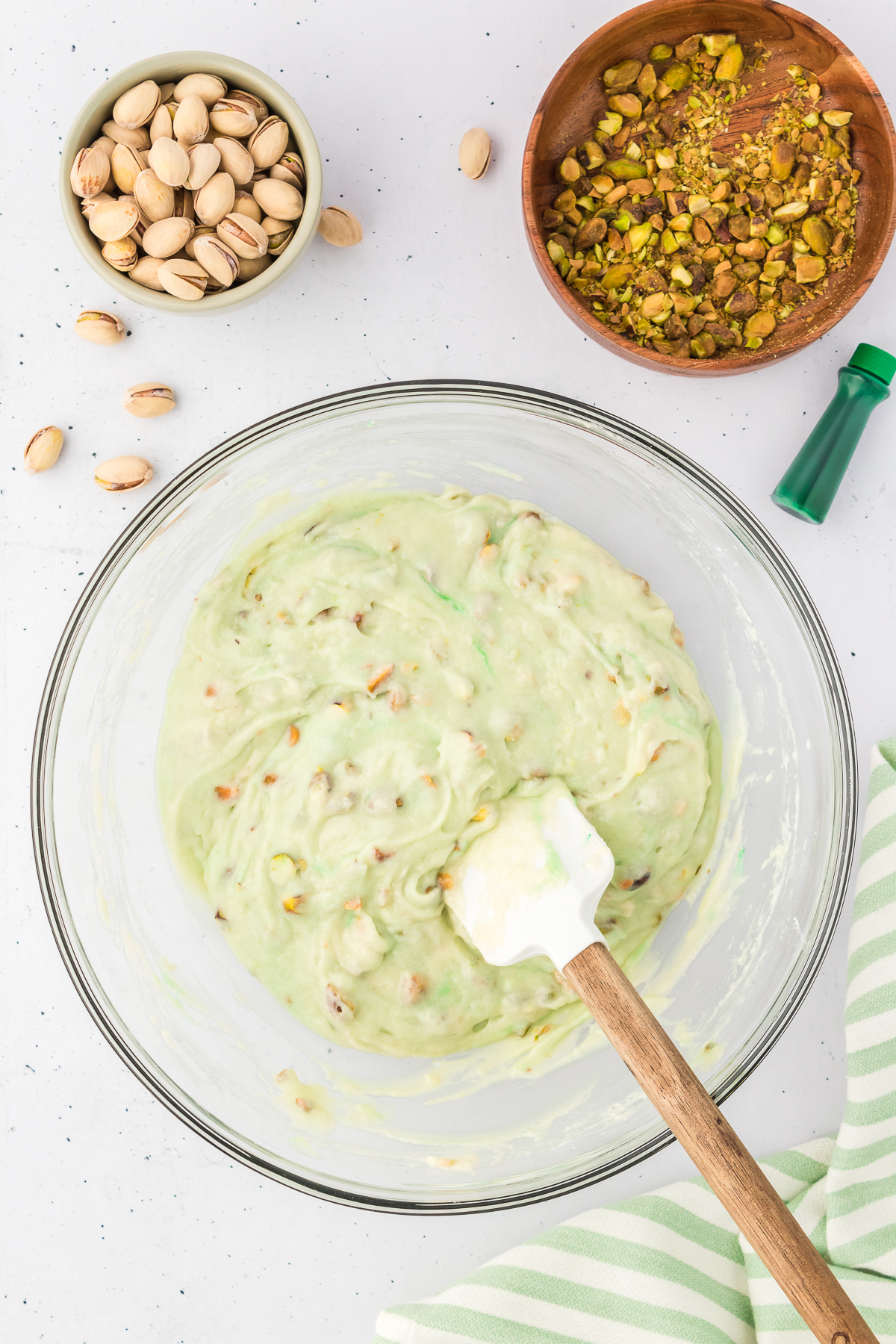 6. Bake
Scoop batter into your prepared pans.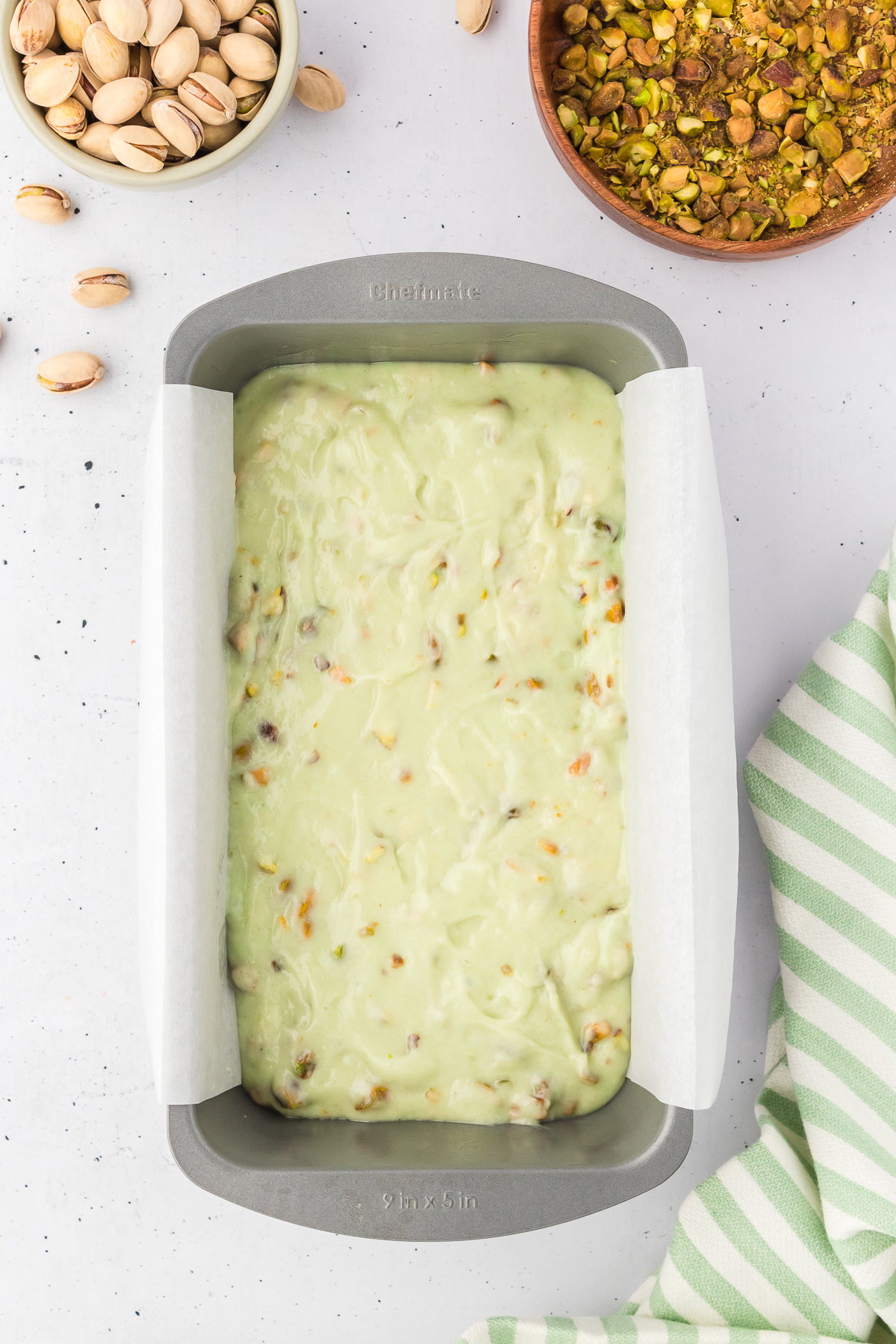 Bake in the preheated oven for 50 to 60 minutes or until the toothpick inserted in the center comes out clean. If the toothpick inserted has a few crumbs and not wet batter, they're good to go. You can lightly press the center, when it springs back, your pistachio bread is cooked.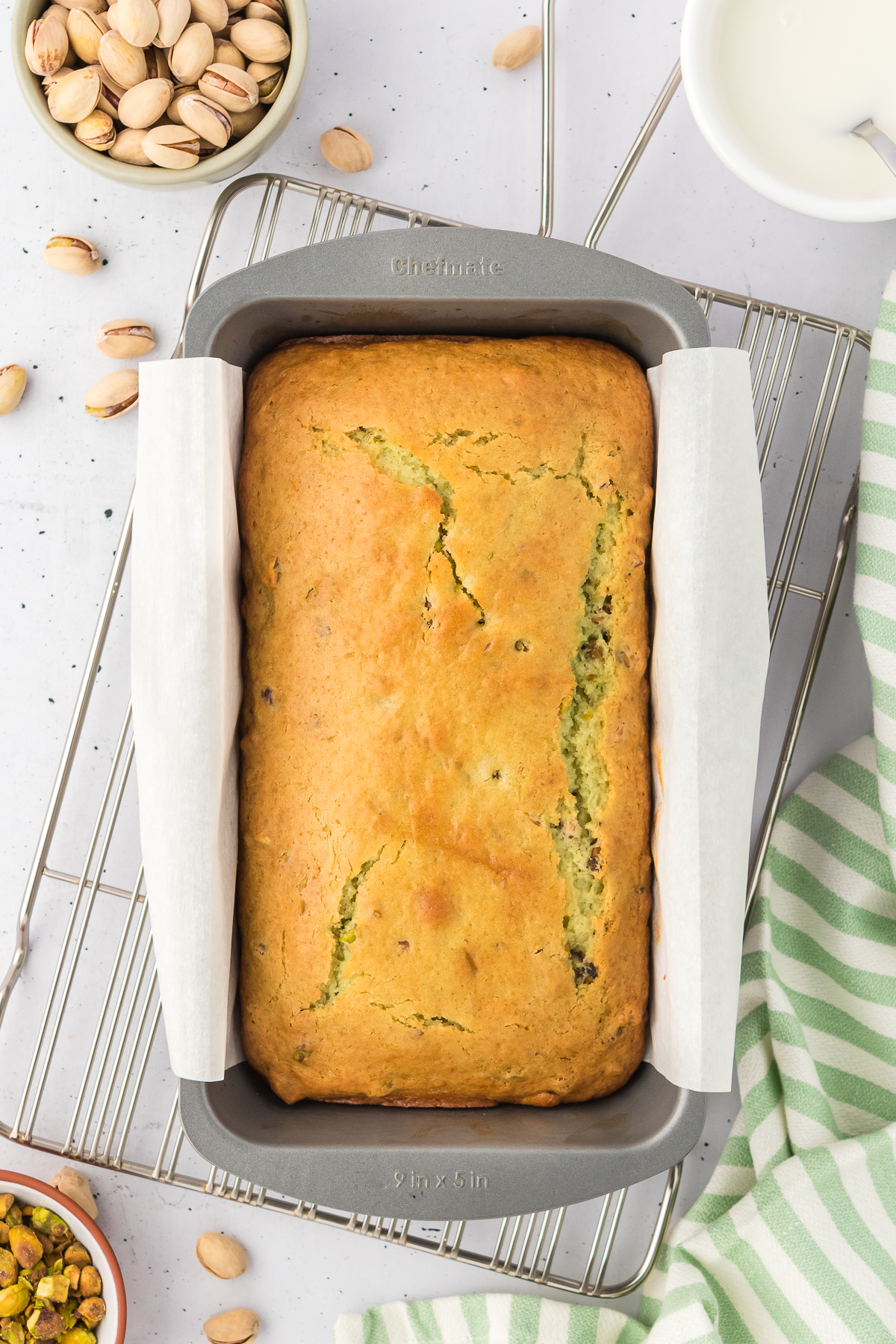 7. Cool Bread
Move your pistachio bread with its loaf pan to a wire rack to cool completely. Don't remove quick bread from their loaf pans.
8. Make The Almond Glaze
In a small bowl, combine powdered sugar, milk, and almond extract. Whisk well until powdered sugar is fully dissolved and you have a thick glaze.
If the glaze is too thin, add more powdered sugar. And if it's too thick, add more milk.
9. Serve And Enjoy
Once the pistachio loaf has fully cooled, drizzle the almond glaze and top with chopped pistachios. Slice and serve.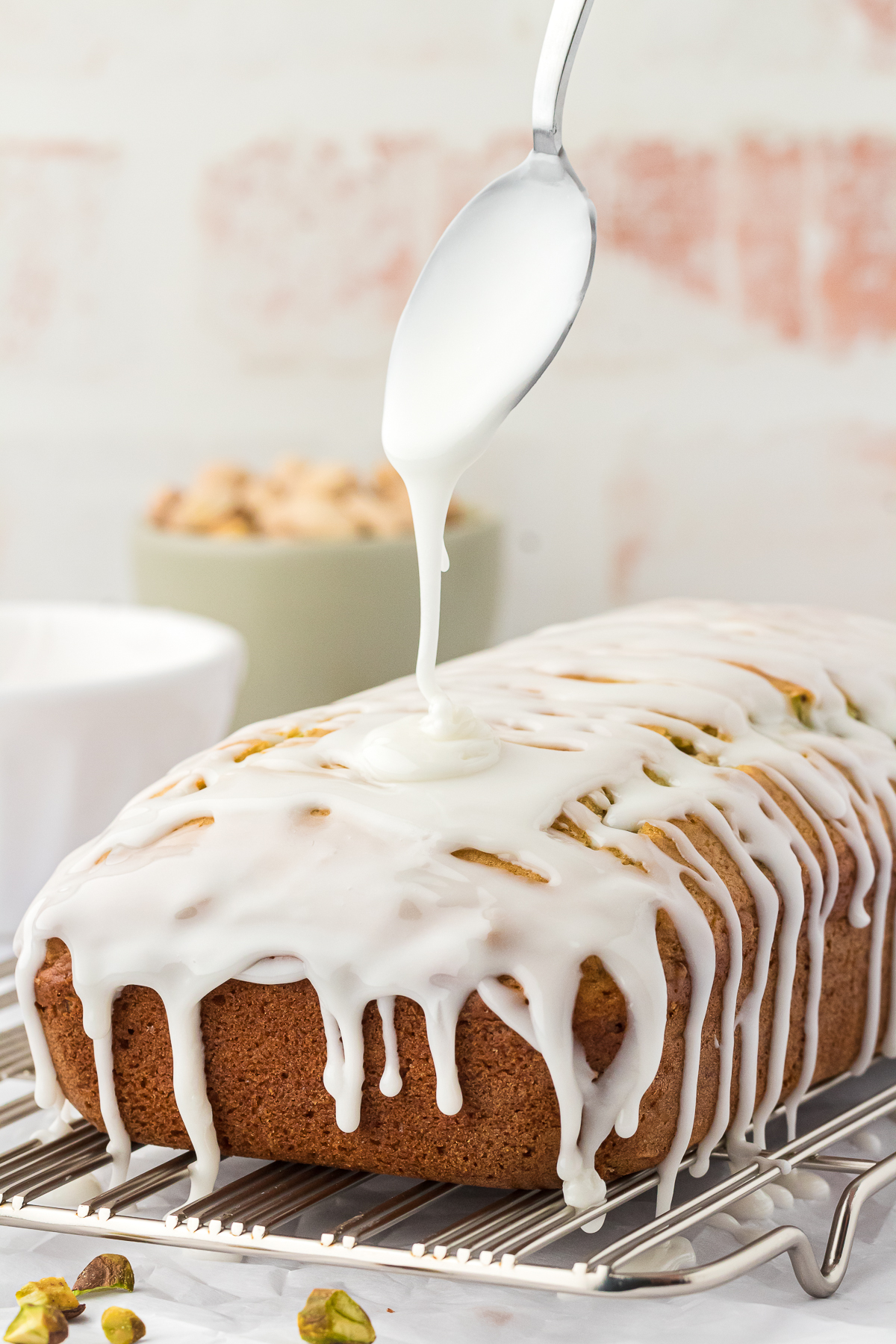 Recipe Variations
Add Spices – Add other spaces like allspice, nutmeg, or cinnamon.
Use Wheat Flour – Replace half of the all-purpose flour with other types of flour with wholewheat flour. You can try and replace with also almond flour, or gluten-free options.
Cinnamon Sugar – Dust your loaf pans with cinnamon sugar for added depth of flavor. Combine cinnamon powder and brown sugar. You can skip the glaze and try this option instead.
Add dried cranberries or raisins– Chewy cranberries or raisins would be a great addition to this bread!
Add chocolate chips – Stir in 1 cup of chocolate chips, either semi-sweet, milk chocolate, or white chocolate, to the batter before baking.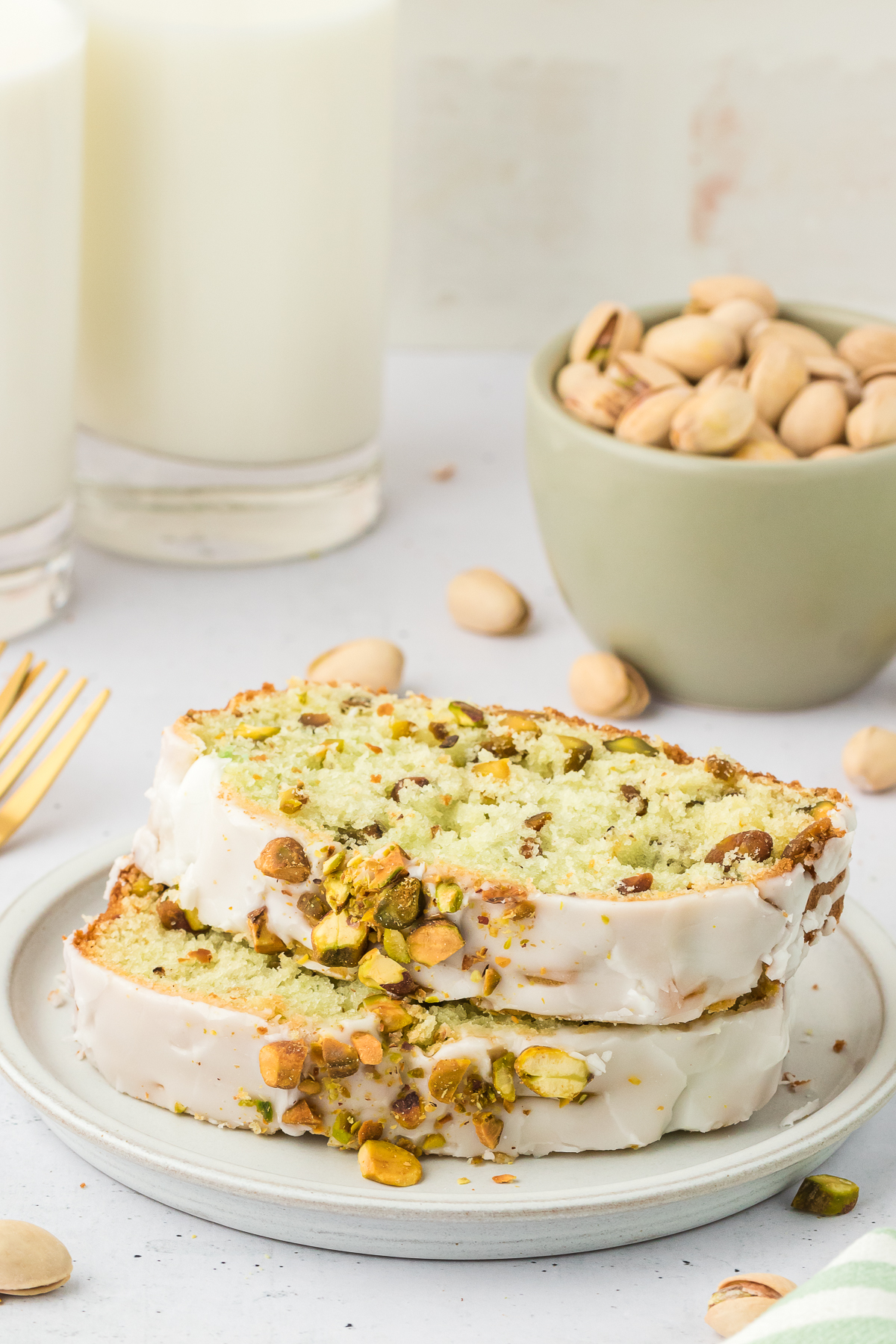 Recipe Tips
Roast your own pistachios. If you can't find roasted pistachios, you can roast them yourself. Spread pistachios on a baking sheet. Roast for 15 minutes at 350°F/177°C. Toss every 5 minutes for even roasting.
Use a food processor or blender to chop pistachios. There's no need to chop your pistachios using a knife and chopping board. This is time-consuming. Use your food processor or blender instead. You can also place the pistachios in a plastic bag and use a mallet to break down the pistachios.
Use mini loaf pans. If you're planning to give these delicious pistachio bread as a gift, you can make mini loaves instead. They're easier to wrap!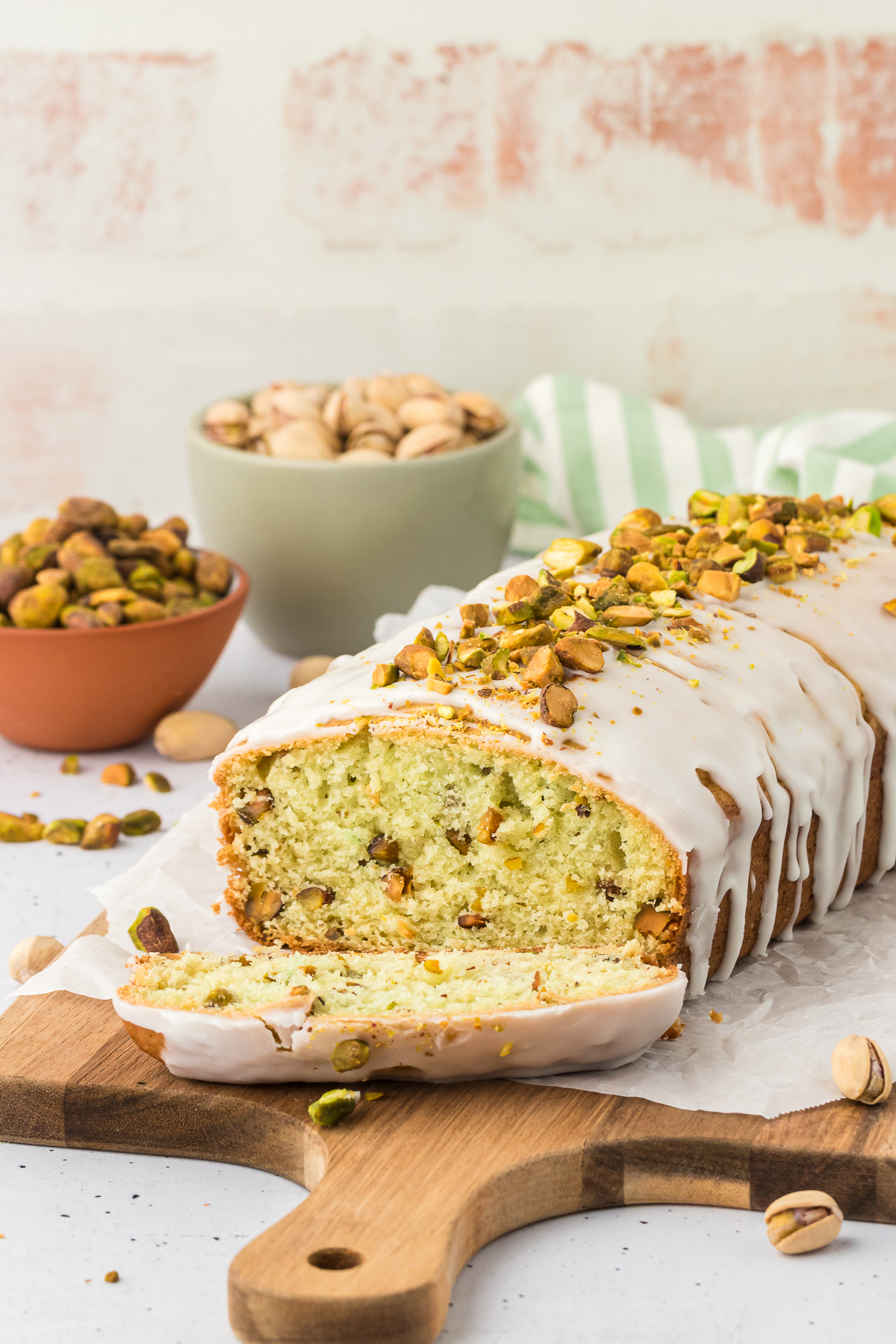 Recipe FAQs
How to store this pistachio bread?
Let pistachio bread cool completely before storing. Wrap them with plastic wrap or aluminum foil. Place inside an airtight container or sealed bag. When stored at room temperature, it can last up to 3 days. For longer storage, place it inside the fridge to last up to a week.
Can I freeze pistachio bread?
Yes, this pistachio moist bread is freezer-friendly. Before freezing, let the bread cool completely. Wrap it with plastic wrap or foil. Place inside a freezer-safe airtight container or bags. Freeze for up to 3 months. To thaw frozen quick bread, place it on the counter at room temperature or put straight a slice straight in your microwave for a few seconds.
Why does my pistachio bread sink?
It probably needs more time in the oven. Remember, ovens run at different temperatures. It is best to check the temperature of your oven before you put your batter inside using an oven thermometer. Also, check the doneness of your pistachio bread before removing it from the oven. Use the traditional toothpick method. If the toothpick inserted at the center comes out clean or with a few crumbs but without any raw batter, your pistachio bread is done baking. Check out my freezer baking guide to learn more on freezing your baked goods!
Can I use other types of nuts?
Yes, you can use other types of nuts such as almonds, cashews, pecans, and walnuts. Just use nuts without any salt or your quick bread will be too salty.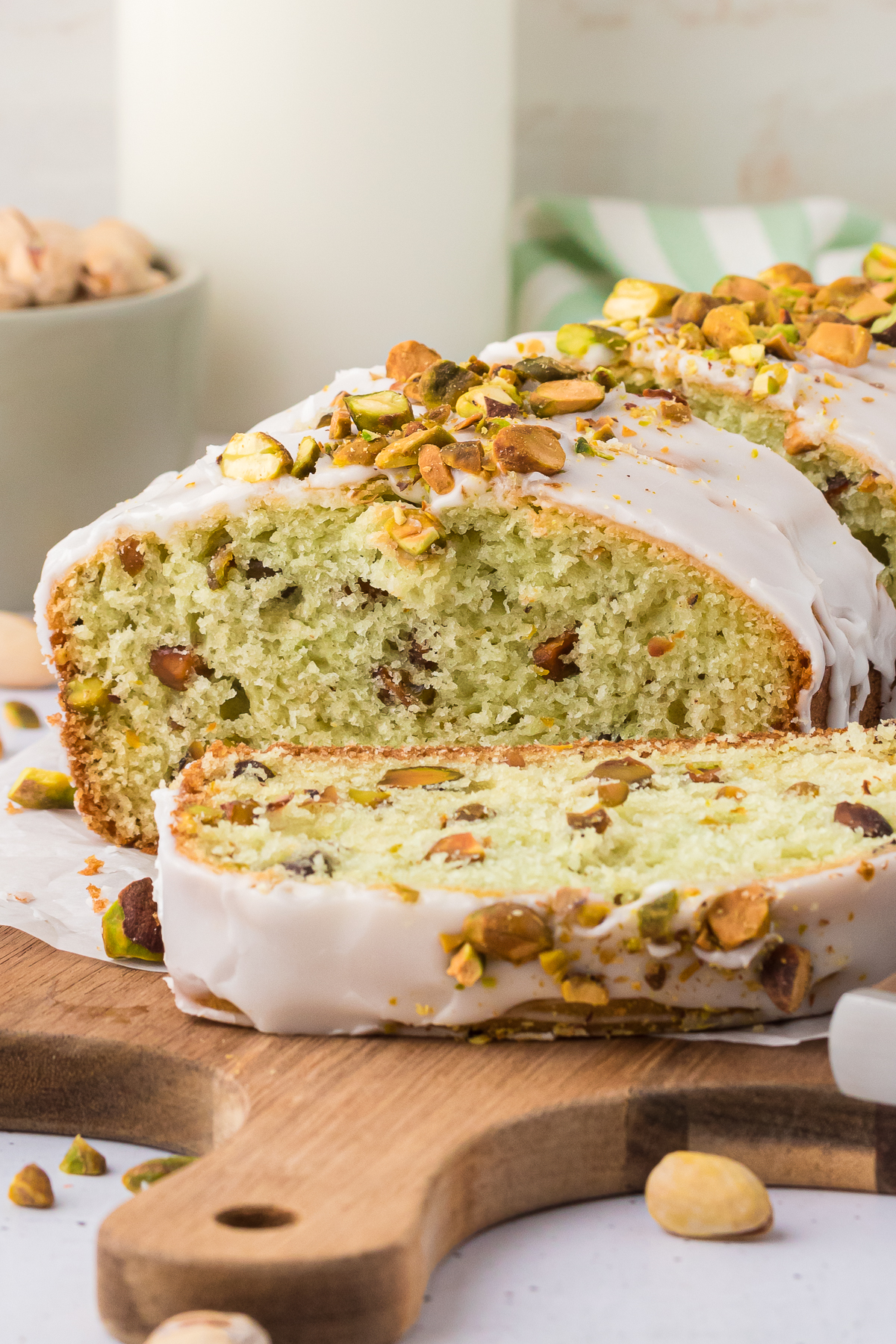 More Recipes To Try
Pistachio Quick Bread
Serve a delicious moist quick bread with the best pistachio bread recipe! It only needs 15 minutes of prep time and simple ingredients. No electric mixer necessary.
Print
Pin
Rate
Ingredients
For the bread:
2

cups

(240 g) all-purpose flour

spooned and leveled

¾

cup

(150 g) granulated sugar

1 ½

teaspoons

baking powder

½

teaspoon

baking soda

½

teaspoon

salt

1

large

egg

room temperature

1

cup

(240 ml) buttermilk

¼

cup

(60 ml) neutral-flavored oil (vegetable, canola, grapeseed, or safflower)

½

teaspoon

almond extract

1

cup

unsalted, roasted pistachios

roughly chopped

2-3

drops of green food coloring

optional
Almond glaze:
1

cup

(113 g) powdered sugar

(confectioners sugar)

2-3

tablespoons

milk

¼

teaspoon

almond extract

1

Tablespoon

chopped pistachios

for garnish
Instructions
Preheat and prepare pan. Position a rack in the center of your oven and preheat the oven to 350°F (177°C). Spray a 9"x5" loaf pan with cooking spray, or line with parchment paper and then spray with cooking spray.

Combine dry ingredients. In a mixing bowl, whisk together all-purpose flour, granulated sugar, baking powder, baking soda and salt. Set aside.

Combine wet ingredients. In a second mixing bowl, whisk together egg ,buttermilk, oil and almond extract.

Combine wet and dry ingredients. Add the dry ingredients to the wet ingredients and mix together with a spatula or wooden spoon just until just combined. Fold in chopped pistachios. Stir in food coloring if using. Do not overmix.

Bake. Spoon batter into prepared loaf pan. Bake in a preheated 350℉ (177℃) oven for 50-60 minutes until a toothpick inserted into the middle of bread comes out clean or with a few moist crumbs clinging to it (no wet batter) and top springs back to the touch when lightly touched. Remove from the oven and cool completely in the pan on a wire cooling rack.

Make glaze. In a small bowl, stir together the powdered sugar, milk, and almond extract. If glaze is too thick, add an additional tablespoon of milk. If glaze is too thin, add additional powdered sugar.
Notes
Storage: Let pistachio bread cool completely before storing. Wrap them with plastic wrap or aluminum foil. Place inside an airtight container or sealed bag. When stored at room temperature, it can last up to 3 days. For longer storage, place it inside the fridge to last up to a week.
Freezing: Yes, this pistachio moist bread is freezer-friendly. Before freezing, let the bread cool completely. Wrap it with plastic wrap or foil. Place inside a freezer-safe airtight container or bags. Freeze for up to 3 months. To thaw frozen quick bread, place it on the counter at room temperature or put straight a slice straight in your microwave for a few seconds
Nutrition
Calories:
286
kcal
|
Carbohydrates:
43
g
|
Protein:
6
g
|
Fat:
11
g
|
Saturated Fat:
2
g
|
Polyunsaturated Fat:
3
g
|
Monounsaturated Fat:
6
g
|
Trans Fat:
0.02
g
|
Cholesterol:
18
mg
|
Sodium:
172
mg
|
Potassium:
222
mg
|
Fiber:
2
g
|
Sugar:
24
g
|
Vitamin A:
105
IU
|
Vitamin C:
1
mg
|
Calcium:
65
mg
|
Iron:
2
mg