When it comes to measuring in baking, certain ingredients need are a bit trickier to measure than others. Shortening is one of them! It's a sticky ingredient and can make it difficult to measure.
The good thing is there are a few easy ways to measure shortening for your recipes.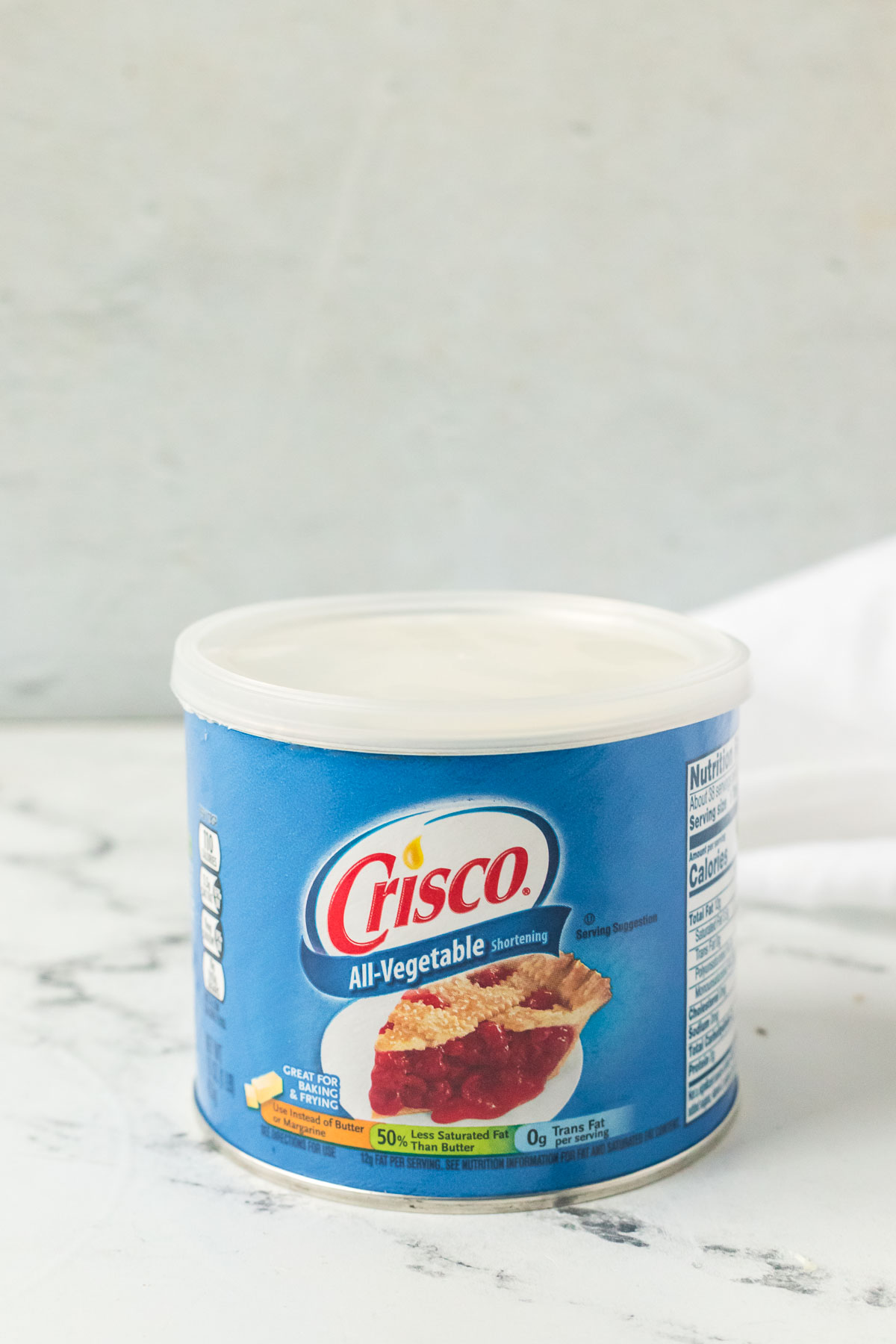 See Also:
Want to know the secret to better baking? It's all in how you measure your flour! Learn the right way to measure your flour and improve your baking today.
If you need softened cream cheese now, check out my five easy ways to soften your cream cheese quickly.
Learn how to separate eggs 6 ways in this baking post! I'll show you the best way to separate the egg whites from the egg yolks to use in your baking.
What is shortening?
Shortening, or vegetable shortening, is an alternative to butter in your baking made from hydrogenated vegetable oil. It's 100% fat, which means it has zero water in it, unlike butter, which has about 20% water. The most common brand you might known shortening as is Crisco.
Unlike butter, it has zero flavor. But it can contribute to creating flaky baked goods, like when used in a pie crust. and make for a tender crumb, like when used in this funfetti sheet cake.
Shortening can be purchased in tubs or in stick form, like butter. Because it has no water, and is all fat, it can be quite greasy and messy to measure.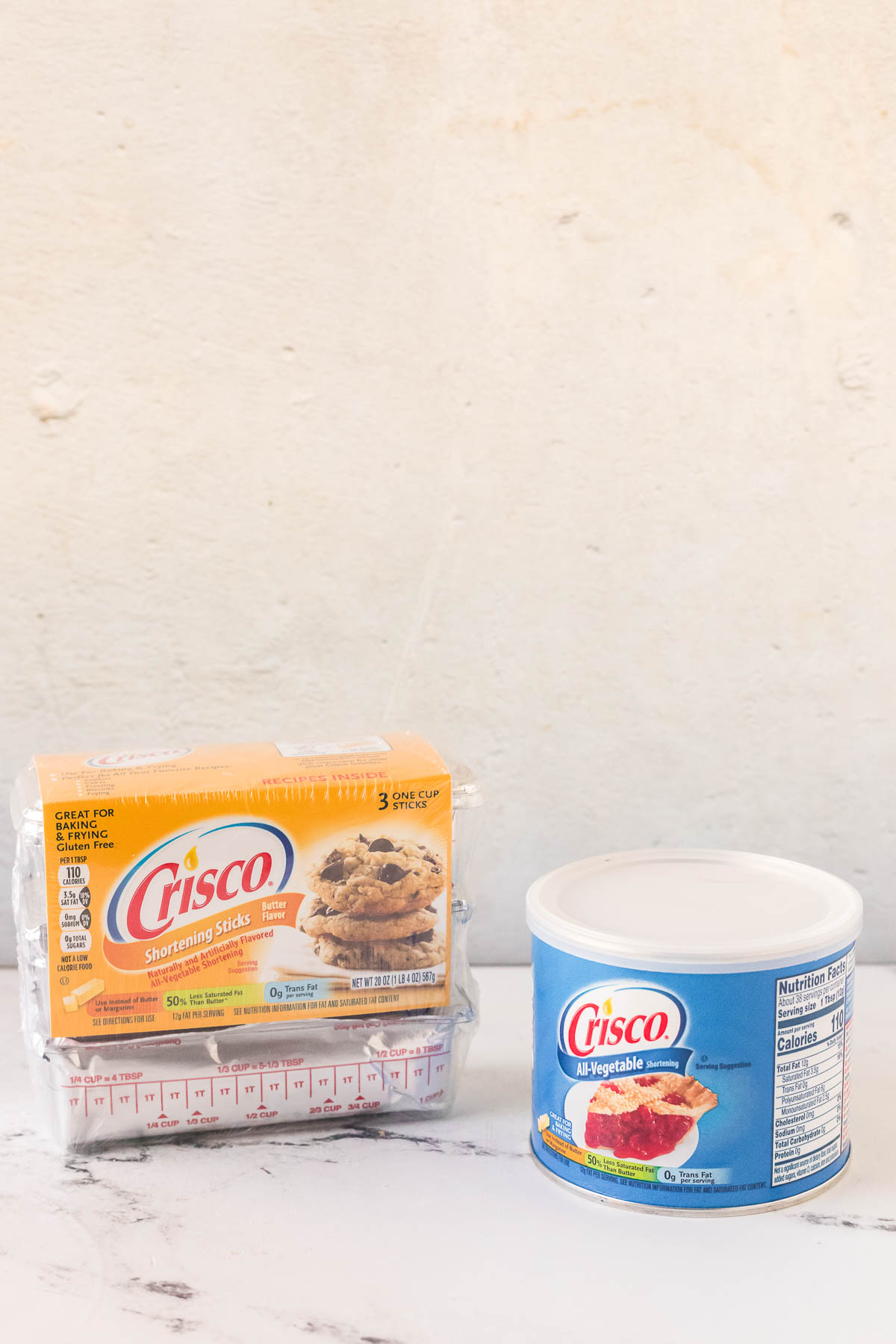 How to measure shortening
There are a four easy ways to measure shortening. You can measure by:
Weighing the shortening using a kitchen scale
Packing it into a dry measuring cup
Using a liquid measuring cup and using the water displacement method
Measuring sticks of shortening like a butter
Let's break each of the methods down…
Using a kitchen scale
The best way to measure any ingredient in baking is by weighing the ingredient and using a kitchen scale. By weighing the shortening, there's no guessing as to whether or not you measured the correct amount. Plus it's super easy measuring shortening this way!
Note: 1 cup shortening = 184 grams
To measure shortening using a kitchen scale:
Place a bowl or plate onto the kitchen scale. You can also simply place a piece of parchment paper or plastic wrap down onto the scale. Zero out the scale so it doesn't include the bowl or plate into the measurement.
Add shortening you need onto the scale.
That's it! How easy was that to measure shortening?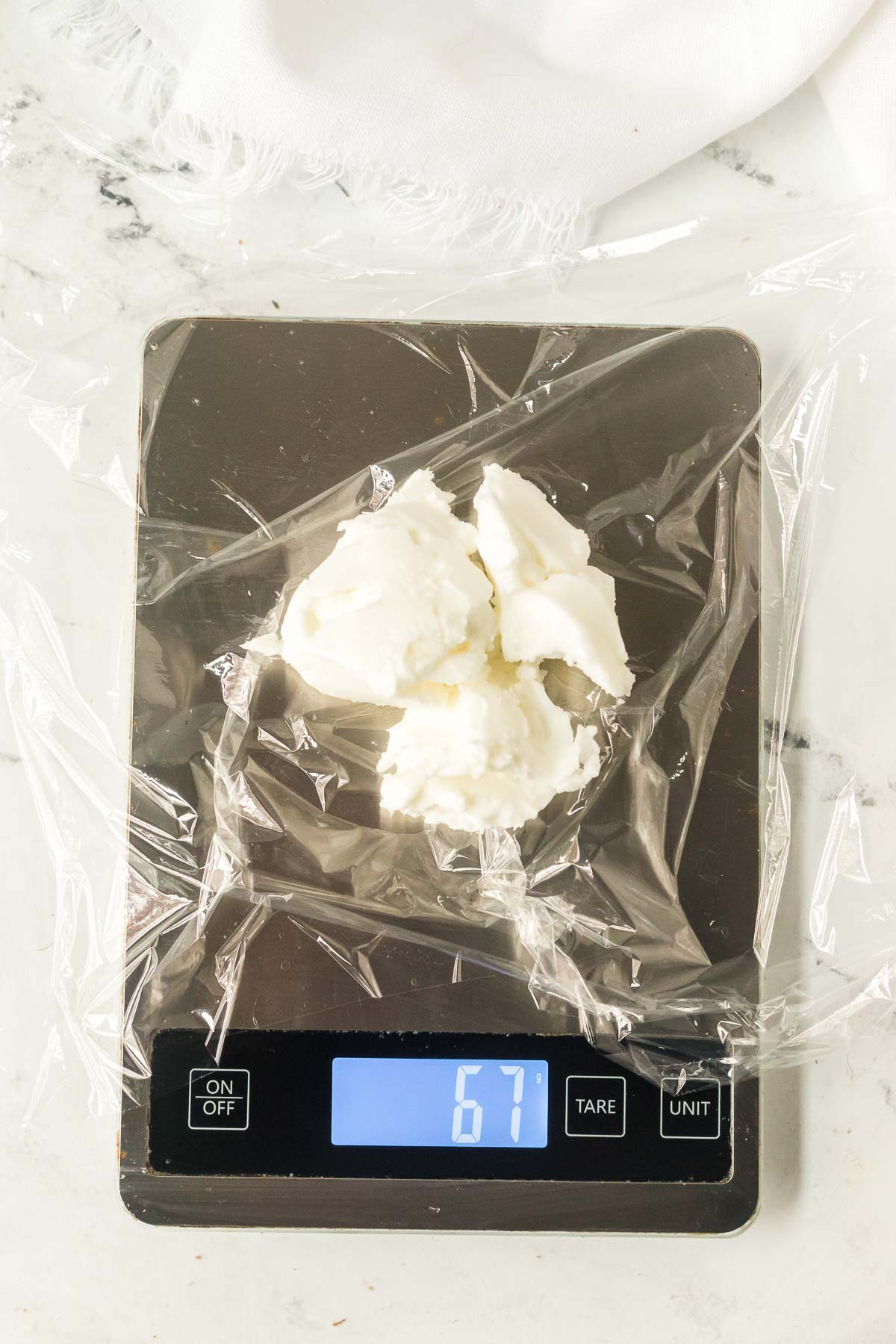 Using a dry measuring cup
If you're measuring by volume, you can easily your dry measuring cups. To make things a little less messy, you can line the measuring cup with plastic wrap. Plastic wrap will make it easy for you to lift the shortening out of the cup, and make for less mess.
Spoon the shortening into the measuring cup.
Use the back of a spoon to press the shortening into the cup to ensure there's no air pockets.
Scrap the top of the cup with flat edge or knife to level off.
You can use a knife to run it around the inside edge of the measuring cup to release the shortening from the cup. Or if you lined it with plastic wrap, simply lift the plastic wrap out of the cup like a little pouch.
If you did NOT line the measuring cup, I always like to give the cup a wipe down with a paper towel before trying to wash it, to make it a bit easier to clean. The shortening can leave behind a greasy residue that's difficult to clean.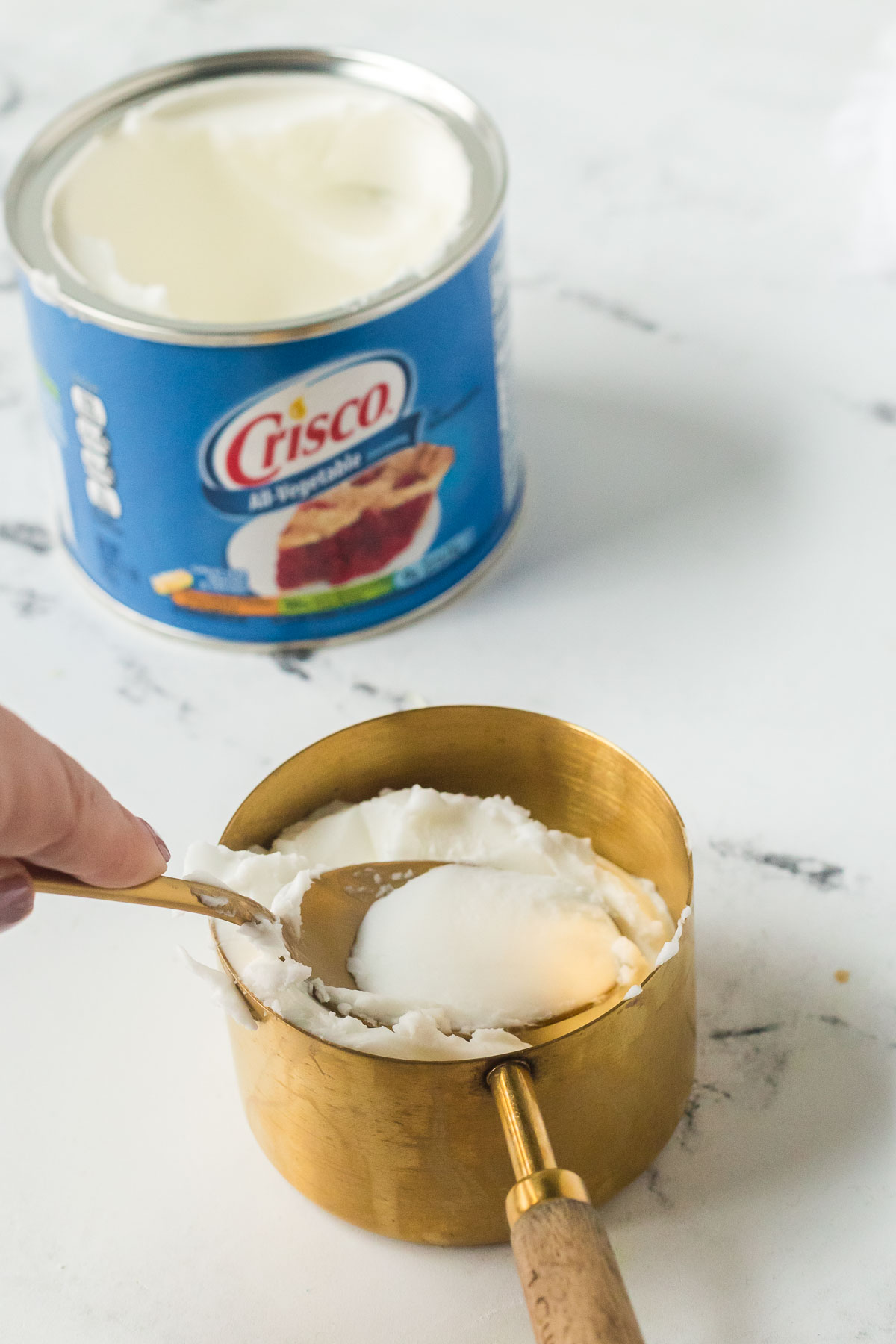 Using a liquid measuring cup (water displacement method)
This is an old school way of measuring shortening before there were kitchen scales to measure, but it's a handy trick to know! As a former science teacher, I think this might be my favorite way to show beginner bakers how to measure shortening.
The idea of the water displacement method is to add shortening into a cup of water, and the amount the water line moves, is equal to the amount of shortening you added to the cup.
The key to this method is to start with more water in the cup than you will need of the shortening.
To measure using the water displacement method:
Add water to the liquid measuring cup. If you are measuring 1/4 cup of shortening, then start with 1/2 cup of water. Be sure to use COLD water, so warm water doesn't melt the shortening.
Drop the shortening by spoonfuls into the measuring cup, until the water line reaches 3/4 cup. The shortening will have displaced the water by 1/4 cup, the amount you need.
Remove the shortening and place onto a plate, piece of plastic wrap, waxed paper, or parchment paper until ready to use. You may need to dab off the extra water with a paper towel after removing from the water.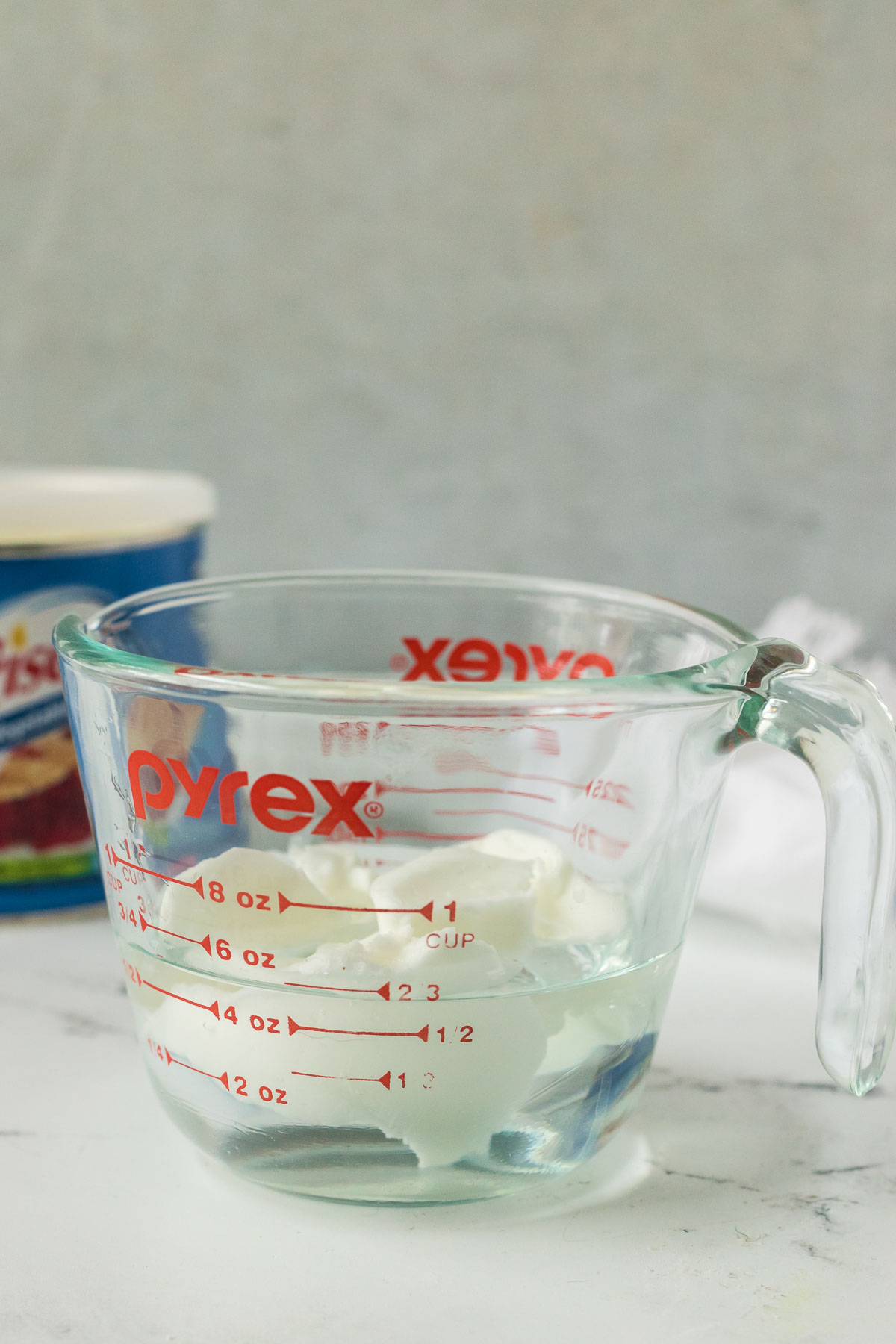 Measuring sticks of shortening
If you have shortening in stick form, then you can simply measure the shortening just like you would with a stick of butter.
Shortening sticks have tablespoon measurements on the side making it super easy to measure!
You just need to cut the amount of tablespoons you need and use in your recipe.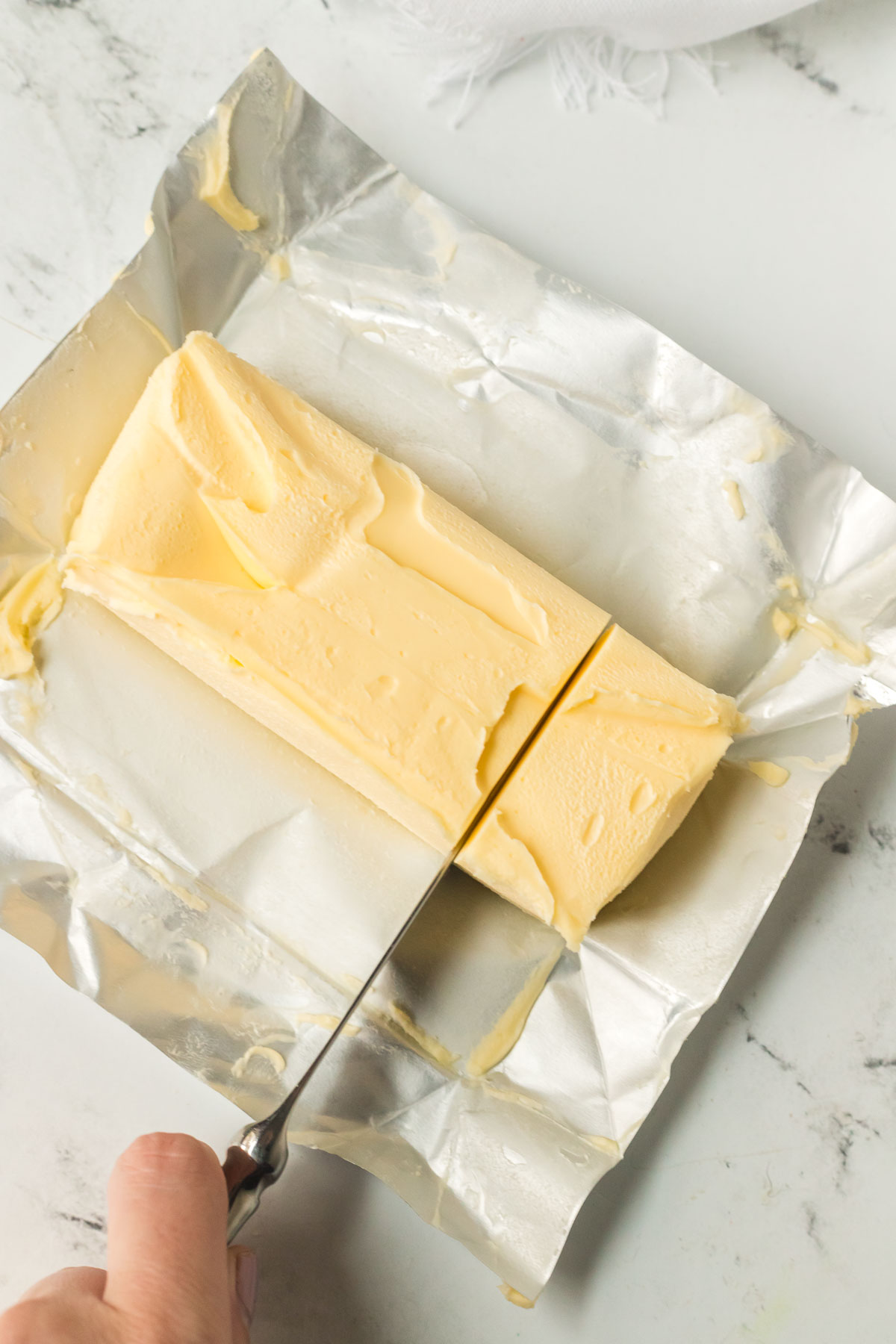 More recipes and tutorials to try
Let's Bake Together!
Subscribe to my newsletter to never miss a new recipe or baking challenge! And if you bake one of my recipes be sure to tag me on Instagram. You can also follow along with me on Facebook and You Tube.