Is Irish soda bread different from quick bread? Learn more about soda bread vs quick bread in this guide with a few tips to help you bake good bread the first time.
If you are new to baking bread, making quick breads is a great way to start. There are a lot of quick bread recipes you can try. But what exactly is a quick bread and soda bread? Learn how to make Irish soda bread and more with this short guide.
Quick bread is perfect for bakers who are new to baking or those who want delicious bread loaves quickly. Irish soda bread doesn't need a lot of ingredients. Also, soda bread dough doesn't need to rest in order to help the bread rise. When you are done mixing, bake them in a preheated oven, and wait. Yes, that will be the hardest part of the recipe!
You will have delicious freshly baked soda bread in a few minutes.
In this guide, I will explain what Irish soda bread is, how to make it, and tips for baking a delicious loaf of bread.
See Also:
What is soda bread?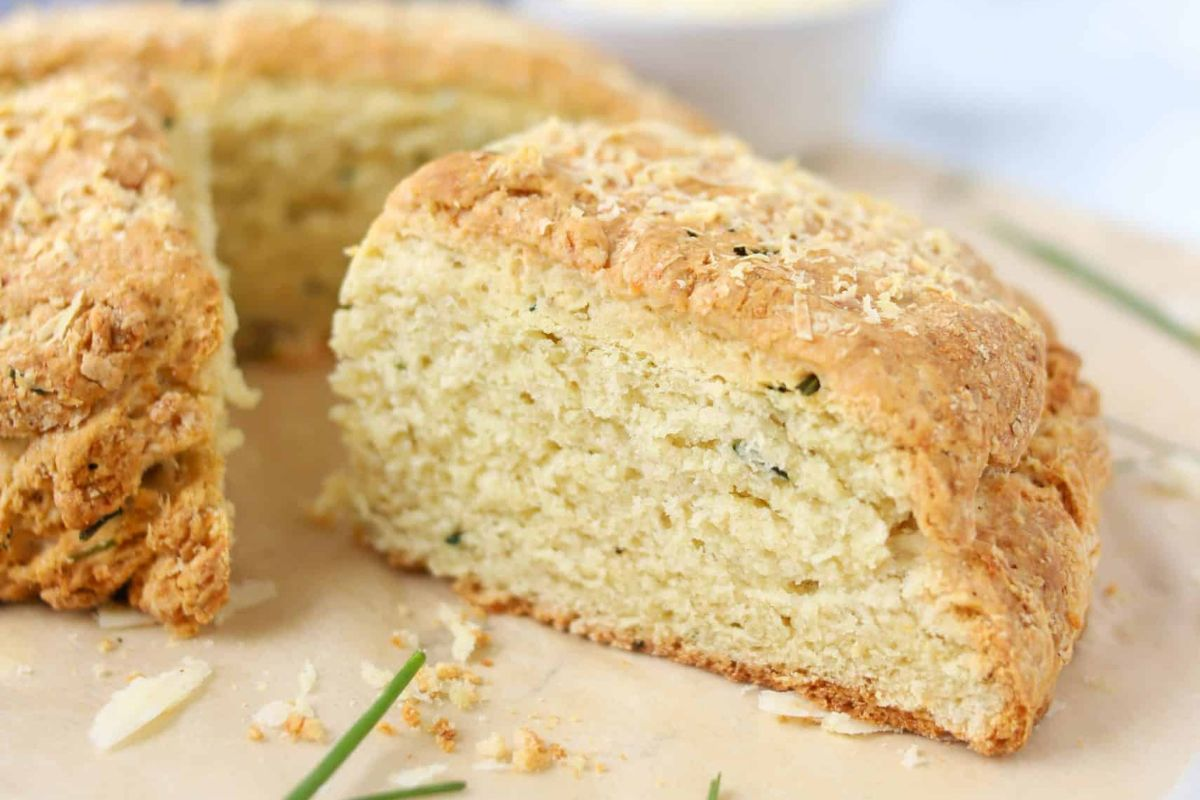 Soda bread is a quick bread with a hard golden brown crust and tight, dense crumb.
Quick bread is convenient and doesn't need rising time due to the absence of yeast. Instead, to rise the quick breads, baking soda and/or baking powder are used. These chemical leavening agents leaven the quick bread dough while baking in the oven.
Some examples of quick breads include banana bread, pumpkin bread, cornbread, biscuits, scones, coffee cakes, and more.
The traditional Irish soda bread recipe requires baking soda. Hence, they are called soda bread. Buttermilk reacts with the baking soda which helps the dough rise while baking in the oven.
Basic ingredients for Irish soda bread
In a traditional Irish soda bread recipe, you will need 4 ingredients: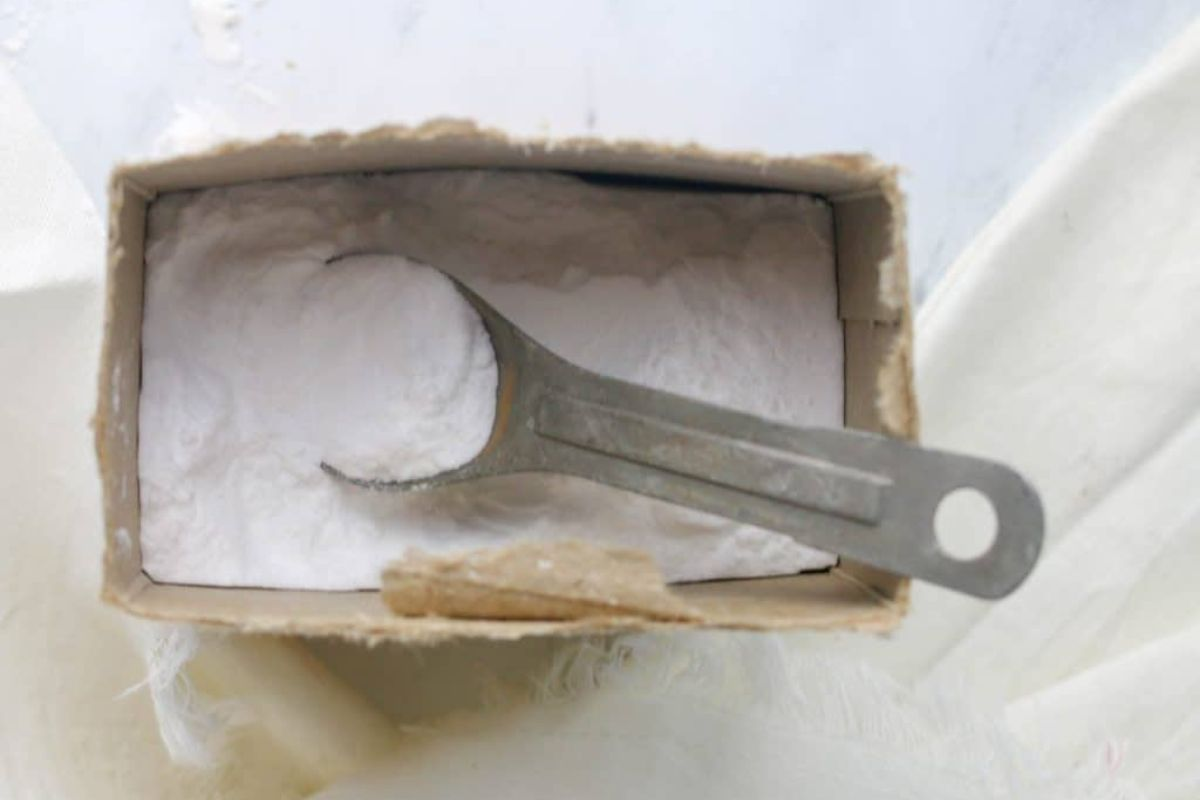 Flour mixture (Pastry flour is traditionally used. You can also use unbleached all-purpose flour.)
Baking soda
Buttermilk or sour milk
Salt
Beyond these four ingredients, some recipes will require a bit more, like my recipe for Irish soda bread which also requires a little bit of sugar, baking powder and butter. I also love to mix in some raisins, but you could also mix in other ingredients like caraway seeds, citrus zest, cheese, herbs – whatever you like!
How to make Irish soda bread
The first thing a traditional soda bread recipe tells you is not to knead the soda bread dough. Kneading bread dough creates gluten which helps the bread rise. It locks in the air in yeasted bread.
However, Irish soda bread doesn't contain any yeast, instead baking soda is used. And when you knead bread, it makes your bread hard and very dense. That is why over-mixing is a huge issue with Irish soda bread.
Because of the no-kneading and resting rule in Irish soda bread, it takes less time and effort to bake. There are many soda bread recipes you can try. You can check out my Irish soda bread, Cheddar Irish Soda Bread or whole wheat soda bread recipes.
Here is how to make my Irish soda bread recipe:
Pre-heat oven to 375oF degrees. Line a cookie sheet with parchment paper or a silicone baking mat. Or you can bake this in a 10- inch cast iron skillet (which will cause the bread to spread less.) Or an 8 or 9 inch cake pan would also work.
In the bowl of your stand mixer with paddle attachment, add the flour, baking powder, baking soda, sugar and salt. Mix on low to combine. Add in the butter and mix to combine. Butter should be in pea-sized amounts and mixture should be crumbly. Add the buttermilk and egg and stir to combine.
Add in the raisins. You may need to stir this in by hand with a spatula. Do not overmix.
Turn the dough onto your cookie sheet and shape into a ball. Pat down slightly into about a 8-9 inch circle. Brush the top with more buttermilk or a sprinkle of sugar (optional). Using a serrated knife, cut an "X" across the top of the bread. Bake for 45 to 50 minutes until golden brown and internal temperature of 190oF. Cool on a cooling rack.
Serve this quick bread with corned beef, salted butter, jam, or cheese.
How to store leftover soda bread
You store this giant scone for up to 3 days at room temperature. You can also freeze Irish soda bread for up to 3 months, as long as you properly store them. Here's how to store the best soda bread:
Let your freshly baked soda bread cool completely.
Transfer the delicious bread to an airtight container or freezer bag.
Squeeze out as much air as possible to prevent freezer burn.
Seal and label the bag. Put the date you start the freezing process.
Place it in the freezer. Thaw at room temperature before serving.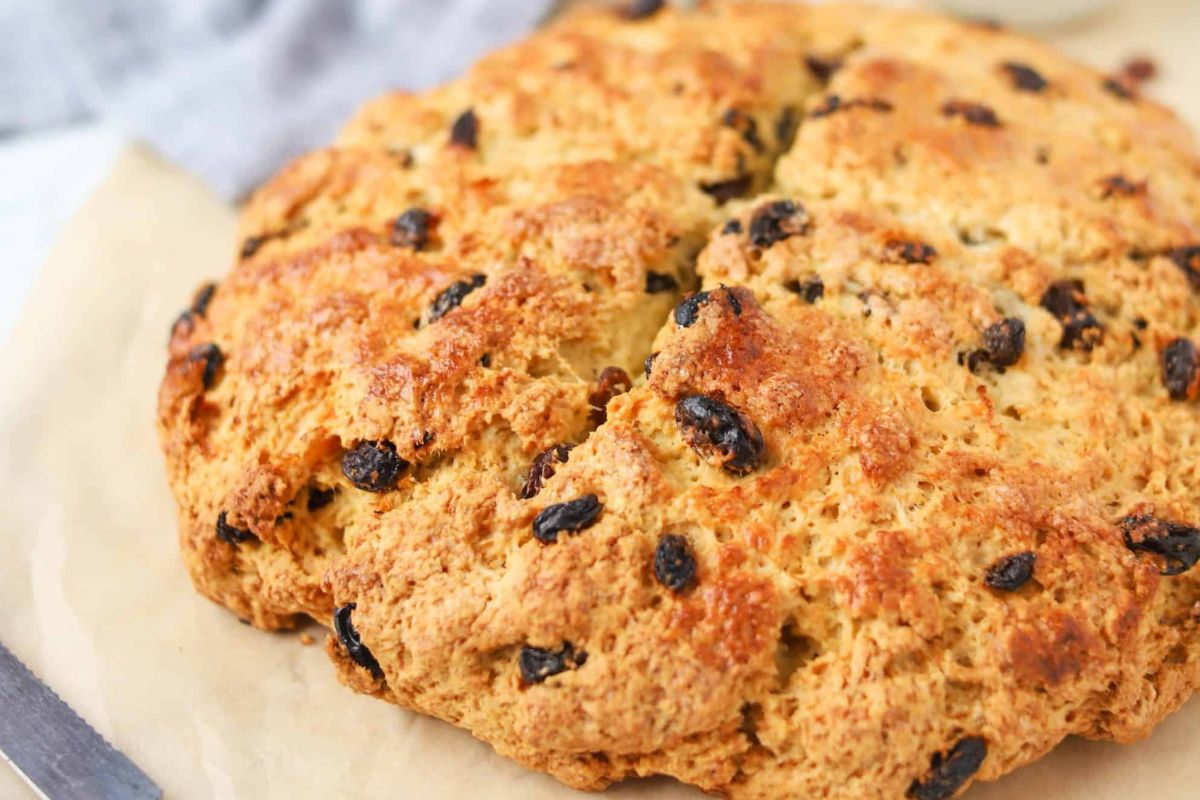 Tips for making Irish soda bread
Baking bread for the first time can be intimidating. Here are a few tips to help you bake the best soda bread on your first try!
Don't over-mix. Overmixing your dough will result in dense and hard soda bread.
No need to be afraid of sticky dough. Lightly floured surface and your hands, knead your sticky dough just enough to press it together.
Keep ingredients chilled. There is no need to bring ingredients like buttermilk at room temperature.
Grease your cast iron pan, skillet, or Dutch oven. The butter and grease on your pan or baking sheet help the soda bread to rise without sticking.
Let your bread cool. After baking the bread, place it on a rack to cool to avoid a soggy and soft bottom.
If you are preparing for St. Patrick's Day, making delicious soda bread will make the celebration extra special and flavorful.
Quick breads are not difficult and intimidating to make. All you need are a few ingredients, a pan, and an oven. You can bake a delicious loaf of quick bread anytime you feel like baking!