If making pie from scratch intimidates you then start with making an apple crostata . A crostata (or galette) is free form pie so no fancy crimping of the edges is needed here. This easy apple crostata made with toasted pecans is so much simpler to throw together than an apple pie and just as delicious. Top with ice-cream and caramel sauce for a real treat.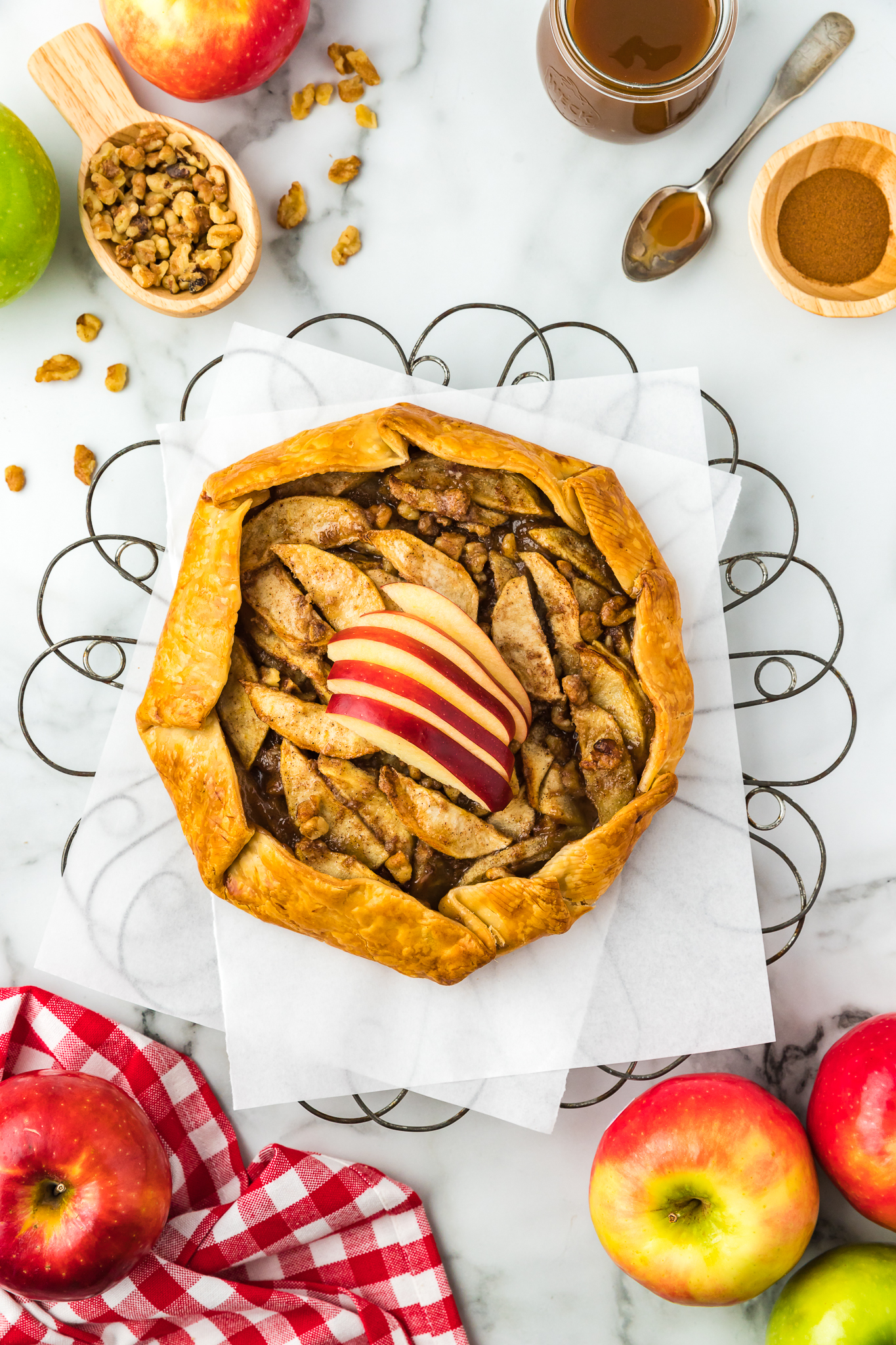 Apple crostata, a rustic tart with fresh sliced apples, cinnamon, nutmeg and with a butter crust
Oh pie. How do I love thee? Let me count the ways…Is there anything that is homier than apple pie? I think not. A couple weeks ago I took a cooking class at Sur La Table where we learned to cook this scrumptious Tuscan dinner complete with this easy apple galette at the end.
If you're new to making pies. Or they have you running scared, than a crostata is a great place to start. It's the like the 5k version of pie marathons. You have to start somewhere right?
This apple crostata, is just as delicious as apple pie, but way easier to make. It's basically an open faced apple pie made with a buttery pie crust, with walnuts, and then topped with caramel sauce and ice cream.
See Also:
Need some help making a pie crust? Check out my pie crust tips to help you master making pie dough at home!
Not sure which pies to refrigerate? Be sure to give this post a read!
Wondering what a pie bird is and if you need one for your next pie? Then give this article a read!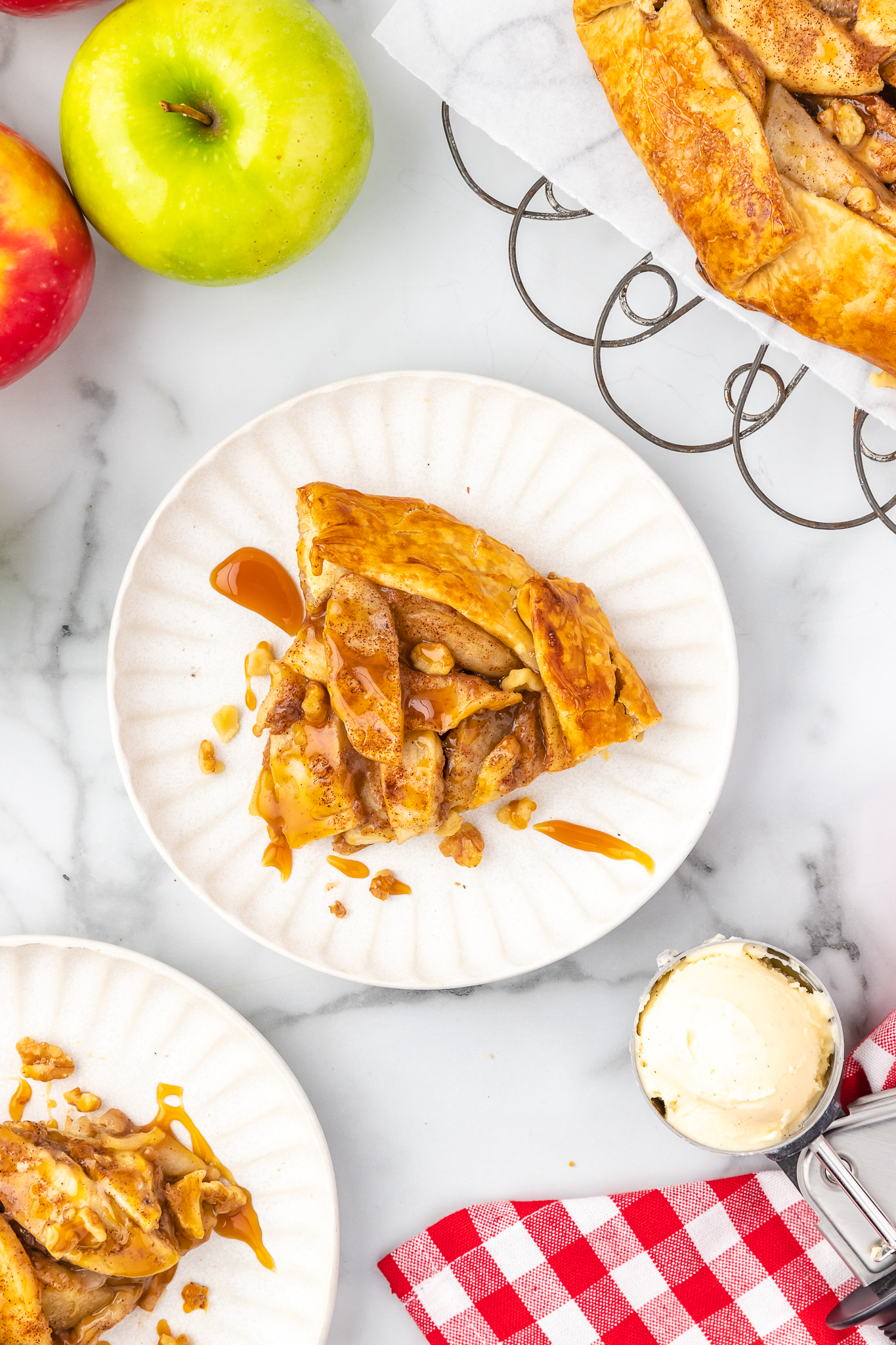 What's the difference between a crostata and galette?
A crostata and galette are basically the same thing. Which is that they are basically a rustic free form pie.
To make a crostata you don't need a pie plate, so on less piece of equipment you need in your kitchen. You just simply fold the dough edges up around the filling.
My Favorite Pie Making Tools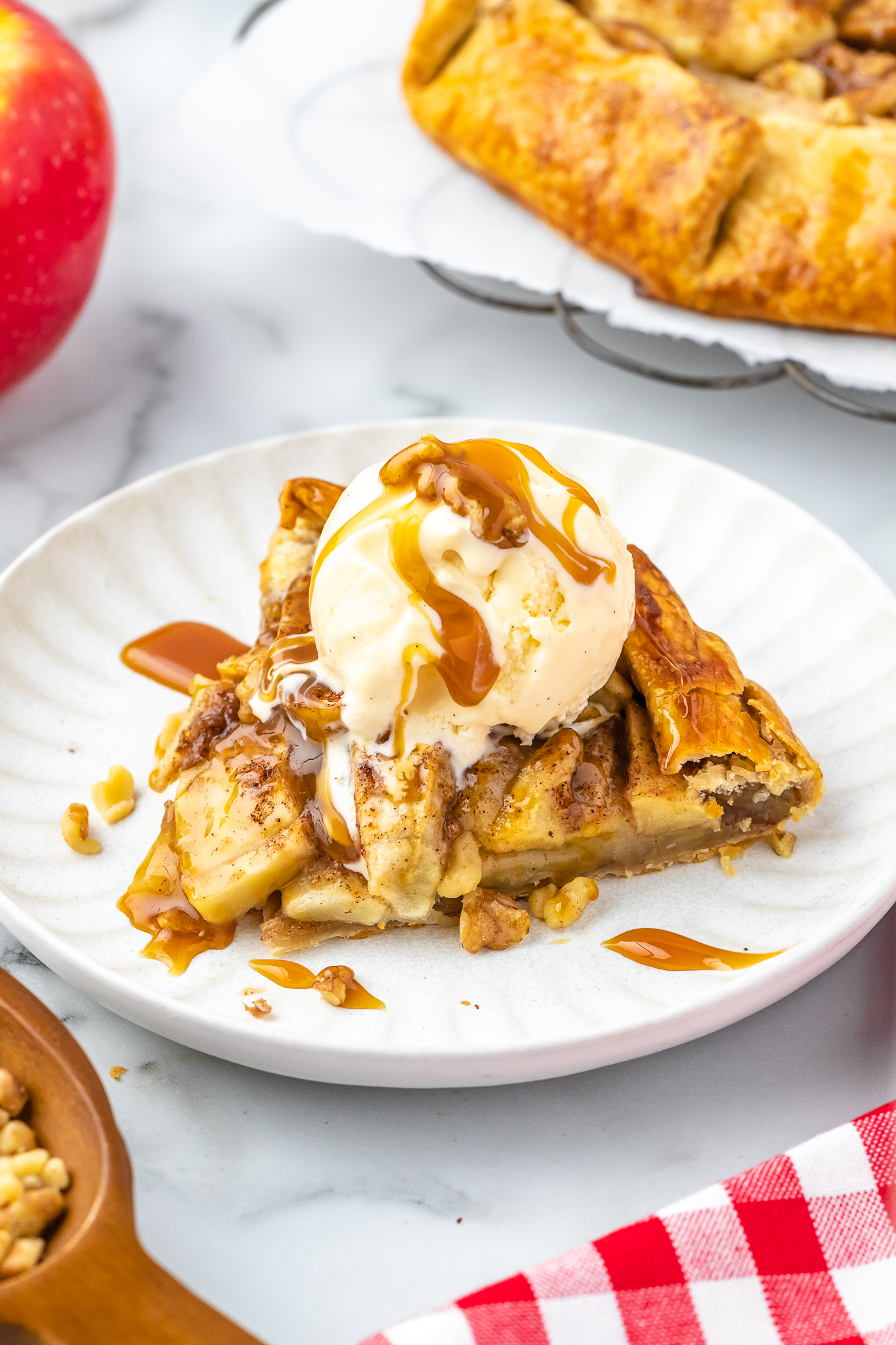 Apple Crostata is An Easy Christmas Recipe
Way easier than apple pie! – I love apple pie around the holidays, but a crostata is much simpler and faster to make since it requires only one crust.
Only need a few apples – Unlike a pie, an apple crostata only requirs a few apples that you need to peel and slice.
Fast to prep – You'll be amazed at how quick this crostata comes together!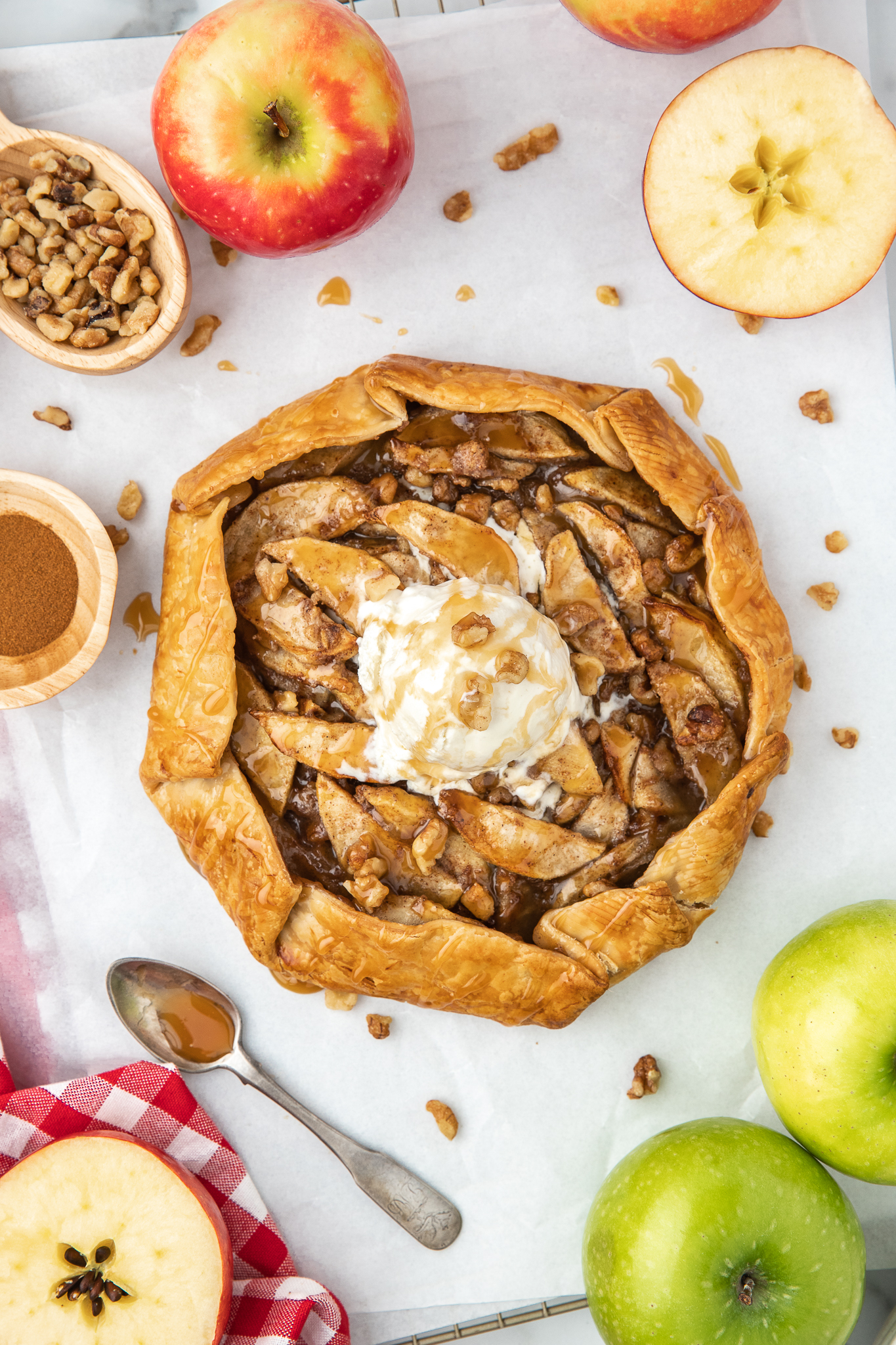 Ingredients – what you need
Apples – You will only need a few apples for the filling. I prefer to peel the apples for the best texture. I like to use either Granny smith apples, or Honeycrisp apples. You want to thinly slice them for the apple crostata.
Granulated sugar
Light brown sugar
All-purpose flour
Spices – I used a combination of ground cinnamon, ground nutmeg, ground allspice, and ground cloves.
Salt
Walnuts – I love stirring in some chopped walnuts into the apple filling, but you can swap out and use pecans instead. Or omit altogether if need be.
Make the pie crust
Now you could make an apple crostata even easier by buying store bought pie crust. But I beg you to try it one time on your own to see just how easy it is. Making pie dough requires just a few pieces of equipment – flour, salt, some sort of fat (butter, shortening, or a combination of both), water, and a little bit of sugar.
You can make the pie dough in your food processor or in a mixing bowl with a pastry cutter. Here is a full step by step tutorial on making pie dough.
Combine the flour sugar and salt. In a food processor combine the flour, sugar and salt and pulse to combine.
Add the butter. Scatter the butter over the top. You want to make sure it's cubed and COLD.
Pulse. Pulse until the butter and fat are pea-sized.
Add water. Sprinkle in the ice water with the food processor running and stop until the mixture comes together and is crumbly. You want to then dump the contents onto plastic wrap and wrap up into a disc and refrigerate for at least 30 minutes.
Make the apple filling
For the apple filling, you want toss your apple slices with the sugar, flour, spices, and walnuts (if using).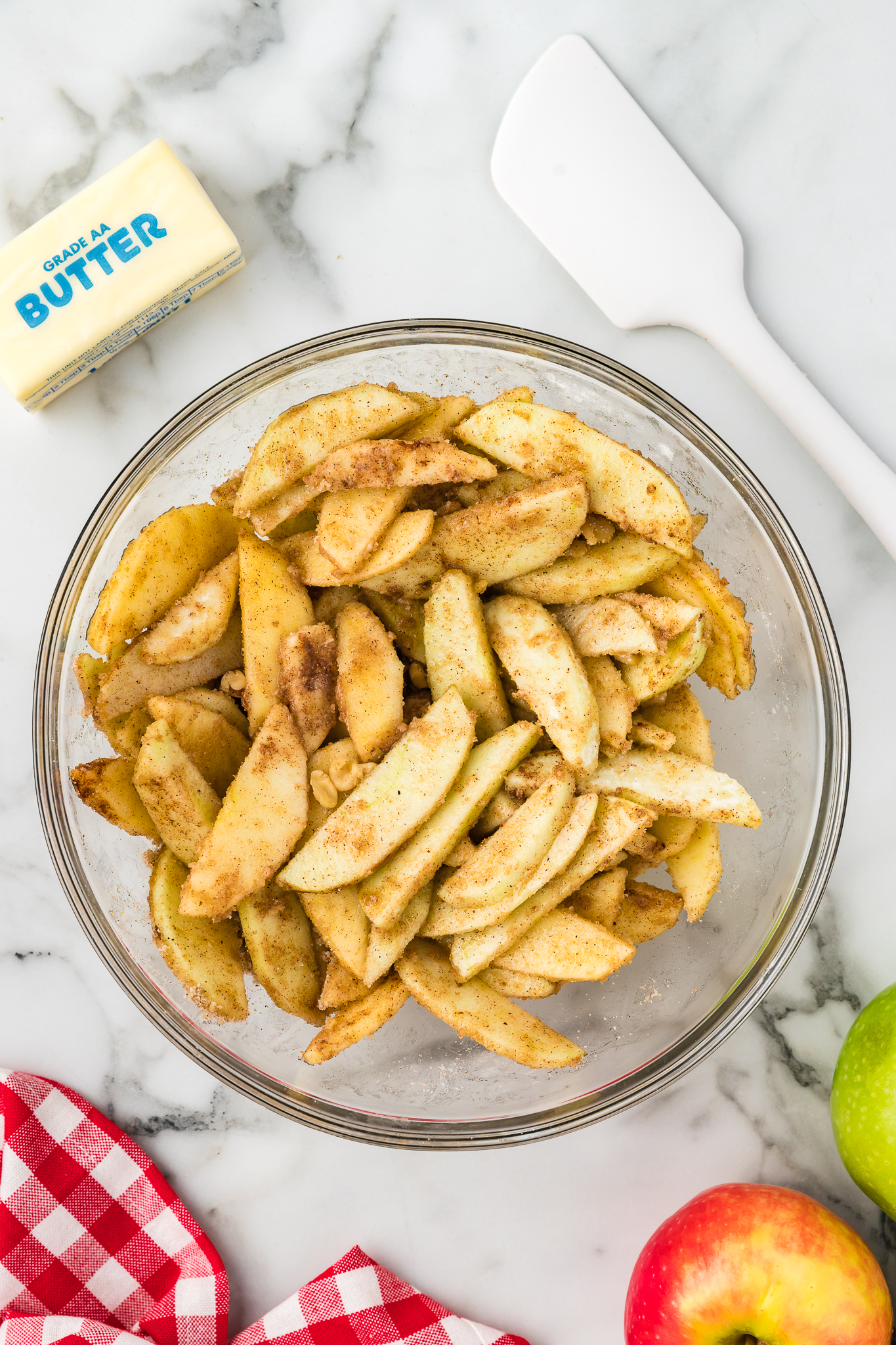 Once you have the apple mixture made, you want to roll out your pie dough onto a lightly floured work surface.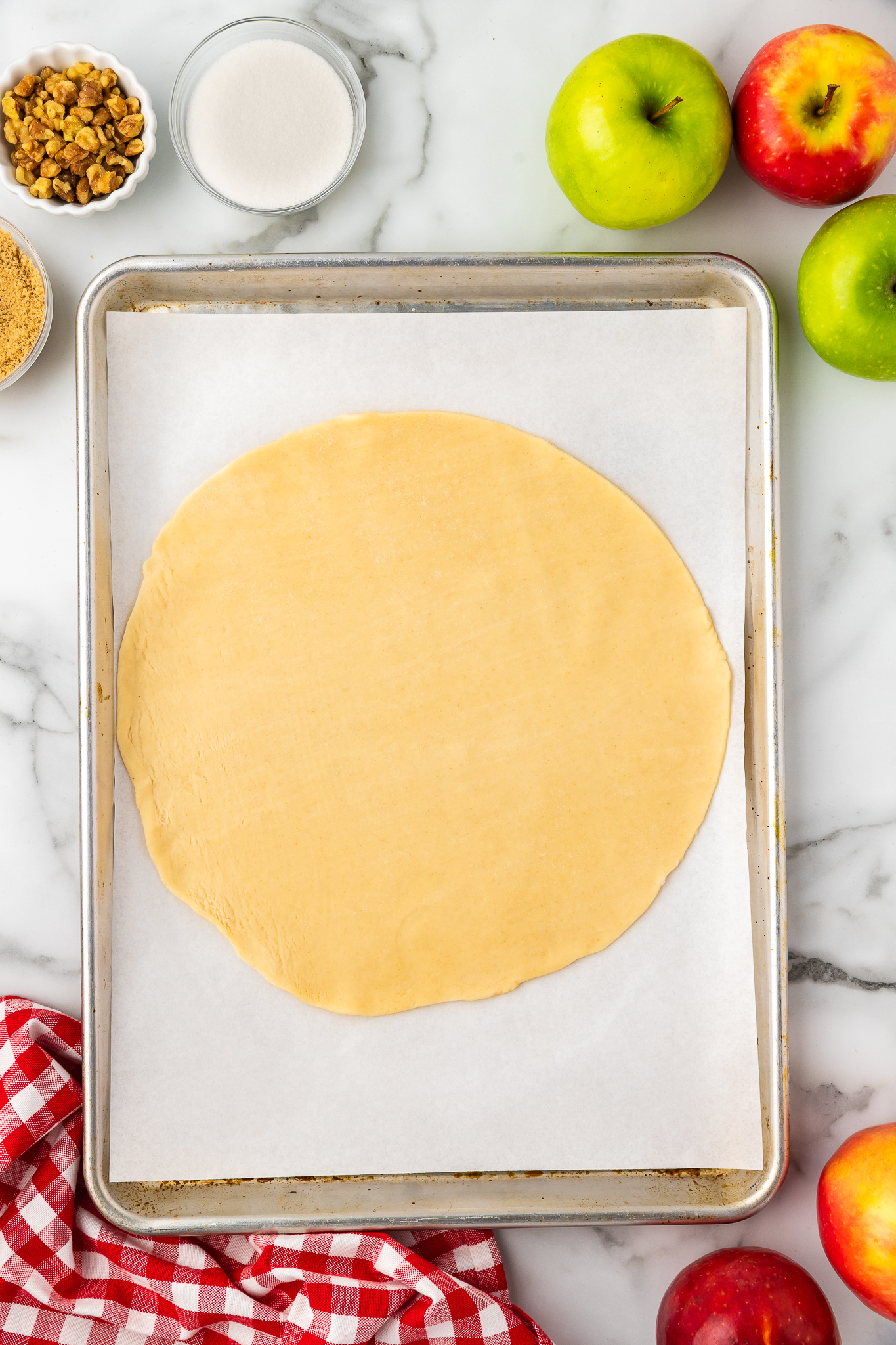 I transfer the dough to a lined baking sheet at this point before I add the apple mixture. To transfer the pie crust, roll dough around a rolling pin, or fold it into quarters.
Then mound the apples in the center, leaving a border to fold up the crust around.
Shape the apple crostata
And then fold the crust over the filling. I simply overlap the dough. Then dot the top with butter.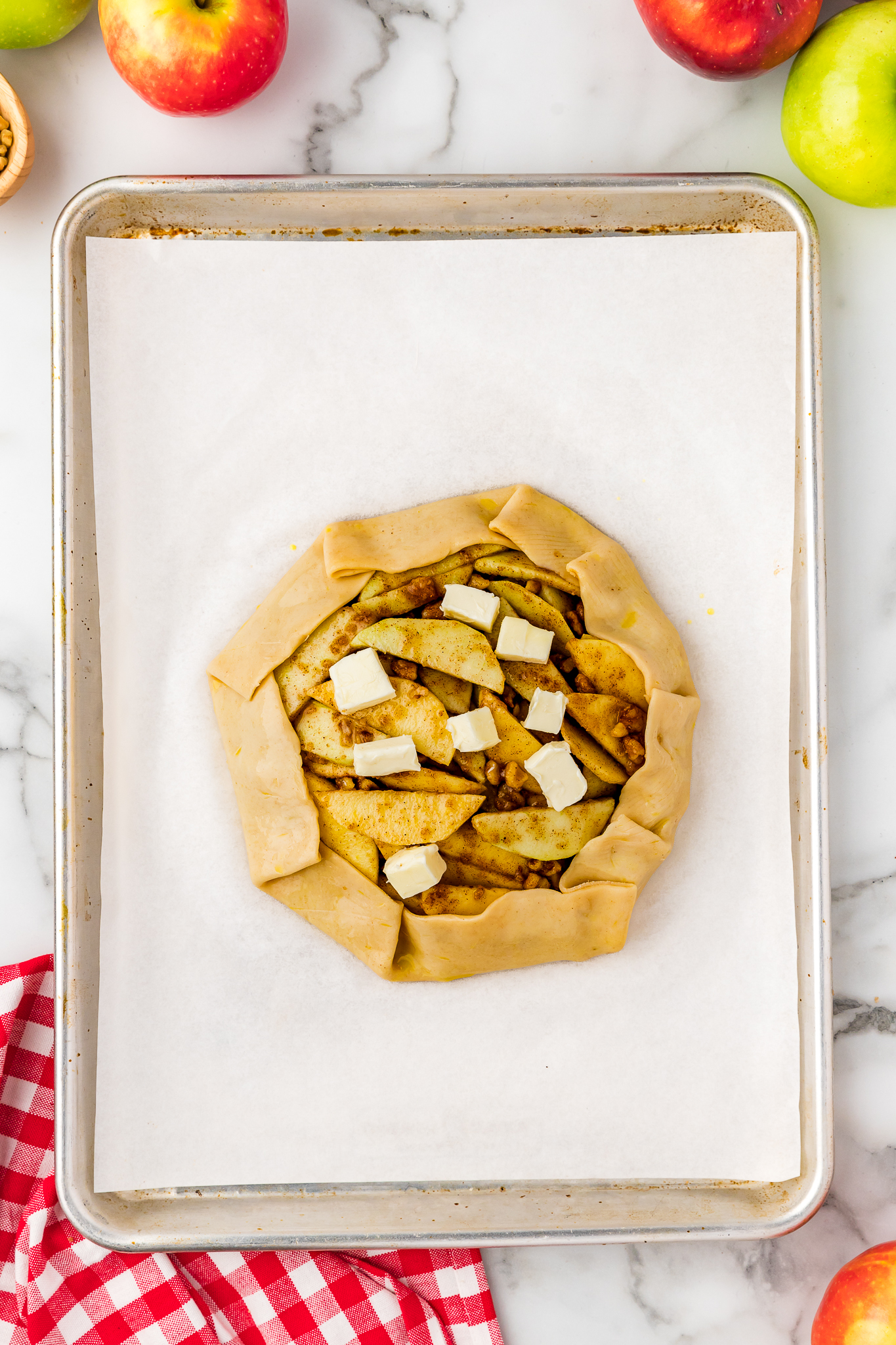 Make sure to egg wash the top of the crust before baking. The egg wash helps to brown the crust as its baking. I use a pastry brush to brush the egg wash on lightly onto the crust.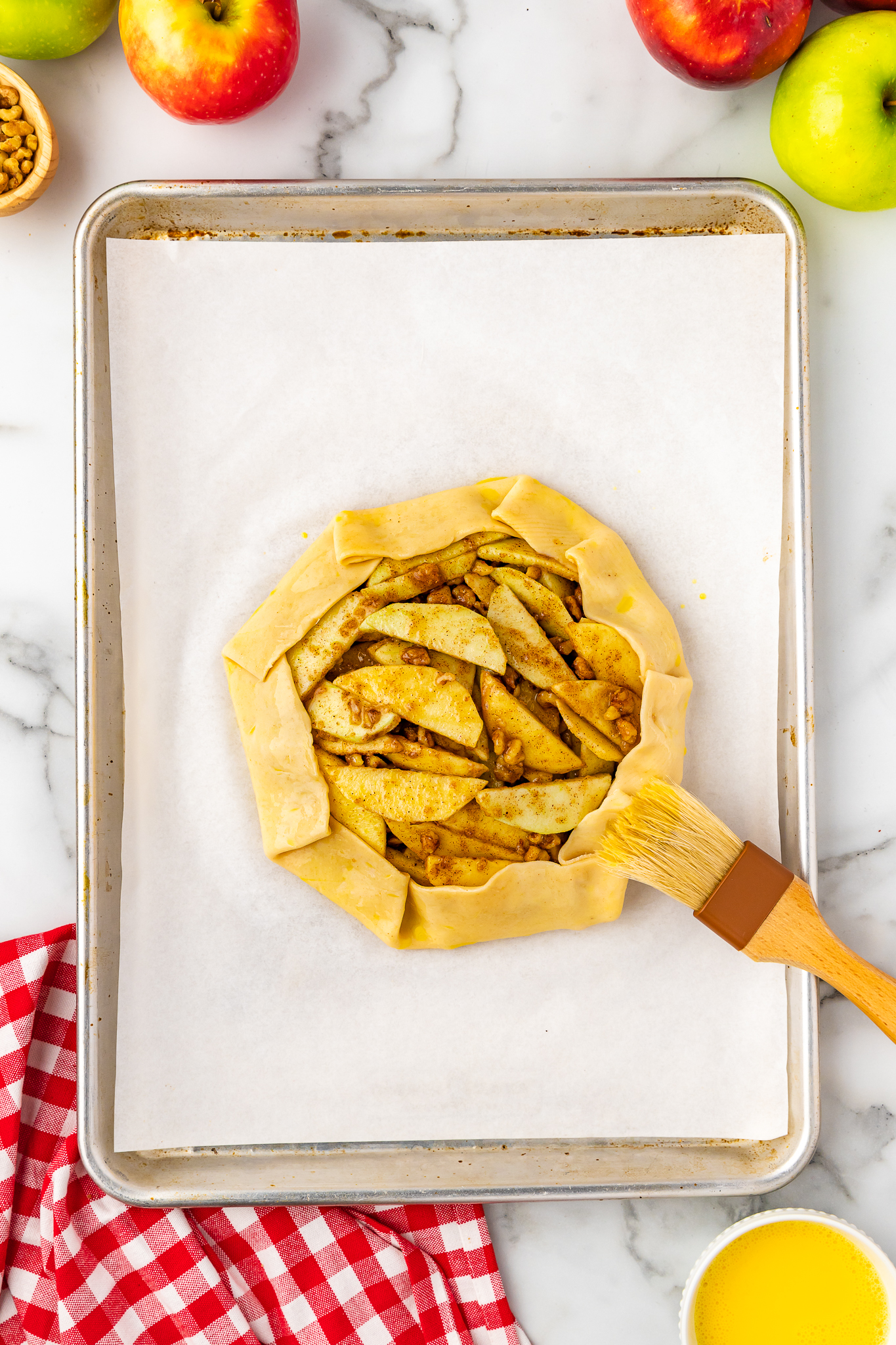 Top tips for amazing apple crostata
Start with cold ingredients. Cold water, cold butter, some even say cold flour. Cold ingredients will result in a flaky pie crust. Cold ingredients will inhibit the formation of gluten. Gluten = tough (or chewiness). You want the butter solid until it hits the oven where it will melt, and the water create steam pushing apart the layers of flour.
Handle the dough as little as possible. Again, we are aiming for tender flaky crust. So the less we handle the dough the better. This will keep the butter solid and not melt into the flour.
Let the dough rest. Again, you want your dough cold and handled as little as possible. This will help firm up the butter.
Serving suggestions
This apple crostata is wonderful on its own, but let's be honest it's much better when served with things! Like:
Vanilla ice cream
Fresh whipped cream
Caramel sauce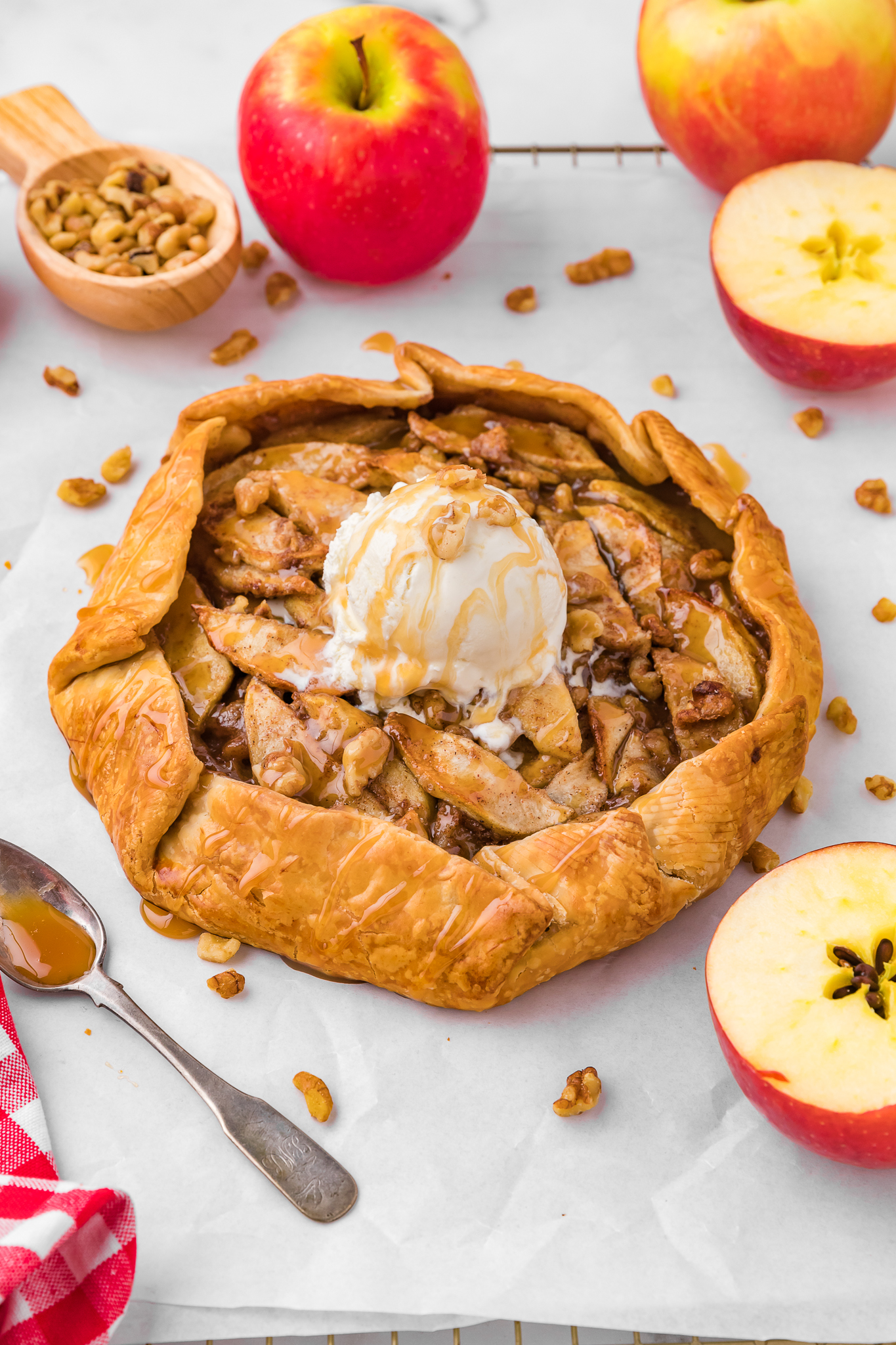 Recipe FAQs
Can you freeze an apple crostata?
Yes you can freeze this baked or unbaked for up to 3 months. Just place this dessert on a cookie sheet on parchment paper, then freeze until solid. You can then wrap in plastic wrap and  place in a zip-loc bag! You can then let the baked dessert thaw overnight, and re-heat in the oven until warm again! If baking from frozen, no need to thaw. Just bake frozen and add a few extra minutes of baking time!
Can I make this apple crostata ahead of time?
You can make the both the pie crust and filling up to 3 days ahead of time. Simply keep separate and then assemble and bake as directed.
What apples should I use?
You can really use any variety but my favorites are: Granny Smith, Cortland, and Honeycrisp. Check out my article – Which Apples Are Best For Baking?
How do I store this apple crostata?
I like the crostata cool completely and then keep wrapped in plastic wrap or aluminum foil at room temperature for up to 2 days.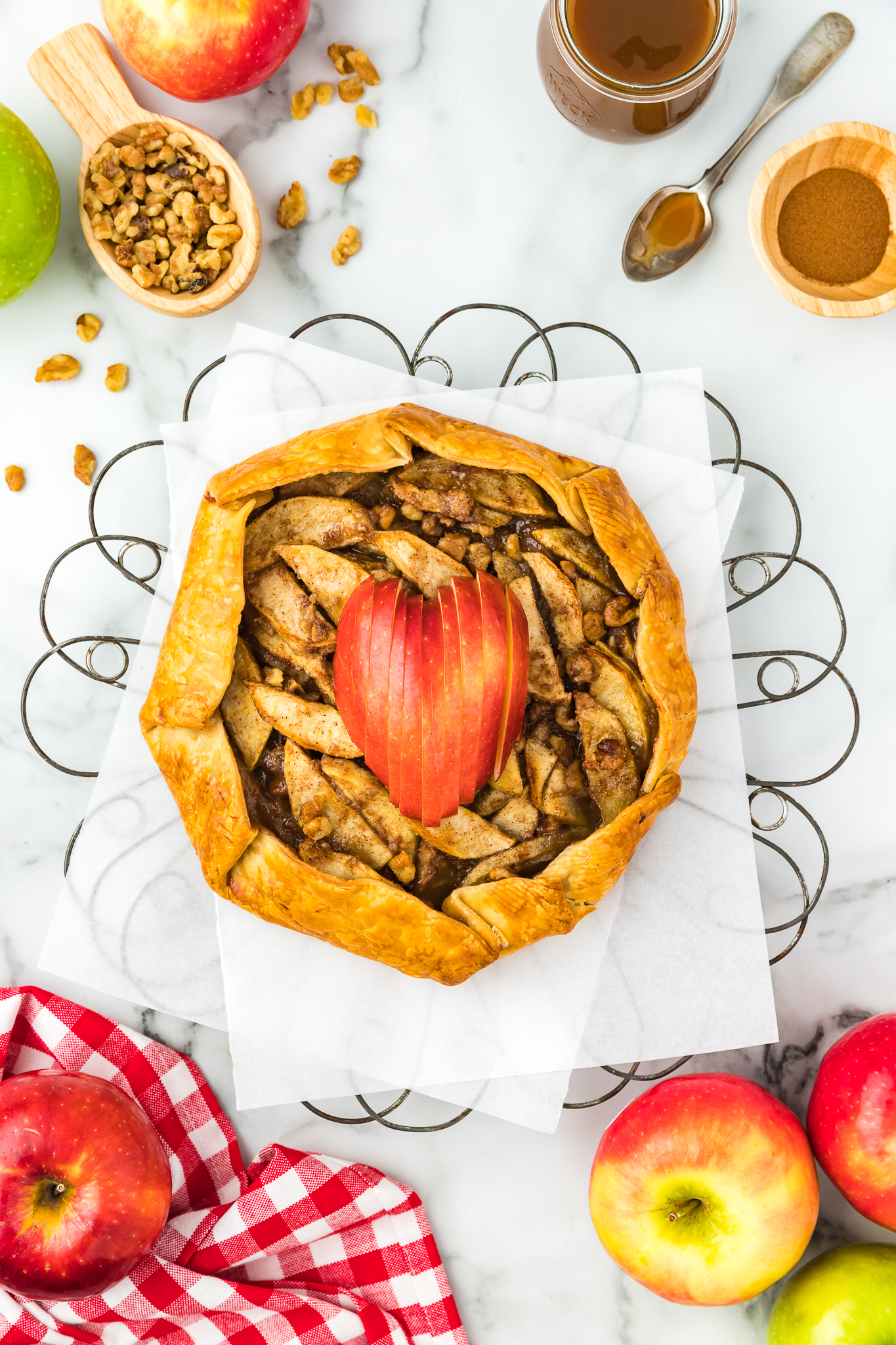 More Fall Desserts You'll Love
Apple Crostata
An easy free form pie with apples, cinnamon and topped with crunchy toasted pecans that is a cinch to make!
Print
Pin
Rate
Ingredients
For the pie crust
1 1/4

cups

(150 g) all purpose flour

2

tablespoons

sugar

1/2

teaspoon

salt

1/2

cup

(1 stick, 113 g) cold unsalted butter

, cut into 1/2-inch cubes

3 to 4

tablespoons

ice water
For the filling
1 1/2

pounds

(about 3 large) sweet tart apples

peeled, cored and sliced into 1/8-inch slices

1/4

cup

(50 g) granulated sugar

plus more for sprinkling on top of crust before baking

1/4

cup

50 g) packed light brown sugar

3

tablespoons

all purpose flour

1/2

teaspoon

cinnamon

1/8

teaspoon

nutmeg

1/8

teaspoon

allspice

1/8

teaspoon

ground cloves

1/8

teaspoon

salt

1/4

cup

(31 g) toasted pecans,

chopped

1

large egg

beaten

2

tablespoons

unsalted butter

cut into small pieces
Instructions
For the pie crust
Place flour, sugar and salt int the bowl of a food processor or large mixing bowl. By pulsing or using a pastry blender, cut the butter into the flour until the butter is the size of of small peas.

Sprinkle ice water, a tablespoon at a time, over the flour mixture. Pulse or stir the mixture until large clumps form. When enough water has been added to allow the dough to hold together, transfer to a lightly floured work surface. Gather the dough together to form a ball. Flatten the dough into a disk about 6 inches wide, cover in plastic wrap and refrigerate for at least 30 minutes before using.
To Make The Crostata
Preheat the oven to 400 F and place a rack in the lower third. Line a rimmed baking sheet with parchment paper or a silicone baking mat.

Generously flour a work surface and place the chilled dough disk on the floor. Dust the top of the dough with flour. Using a rolling pin, roll chilled dough into a circle, turning and flipping the dough as needed with a bench scraper to prevent sticking until the circle measures 14 inches wide and 1/8-inch thick. Starting at one edge, roll the dough around the rolling pin and transfer to baking sheet. Chill crust while preparing the rest of the ingredients.

Peel, core, and slice apples in 1/8-inch thick pieces. Transfer apples to a large bowl, and add 1/4 cup sugar, brown sugar, flour, spices, pecans and salt. Toss evenly to coat.

Remove the crust from the fridge.

Mound the apple filling in the center of the chilled pastry crust, leaving a 3-inch border, and dot filling with the butter. Fold the border up and around the fruit. Working around the border, pinch the dough together to make an attractive pleat. Brush the top of the pleated dough, with the beaten egg and sprinkle with additional sugar.

Bake crostata until is golden brown and bubbly, 40 to 45 minutes. Use a metal spatula to lift the crostata slightly and check the underside of the crust, which should be golden brown like the top. Transfer the crostata to a rack to cool for 15 minutes. Slice and serve warm topped with vanilla icecream and caramel sauce.
Notes
Making ahead: You can make the both the pie crust and filling up to 3 days ahead of time. Simply keep separate and then assemble and bake as directed. 
Freezing: Freeze for up to 3 months. Just place this dessert on a cookie sheet on parchment paper, then freeze until solid. You can then wrap in plastic wrap and  place in a zip-loc bag. If baking from frozen, no need to thaw. Just bake frozen and add a few extra minutes of baking time.
Apples: I love using Granny Smith, Honeycrisp, and Cortland, but any variety will work. 
Nutrition
Calories:
344
kcal
|
Carbohydrates:
45
g
|
Protein:
4
g
|
Fat:
17
g
|
Saturated Fat:
9
g
|
Trans Fat:
1
g
|
Cholesterol:
58
mg
|
Sodium:
195
mg
|
Potassium:
150
mg
|
Fiber:
3
g
|
Sugar:
25
g
|
Vitamin A:
518
IU
|
Vitamin C:
4
mg
|
Calcium:
26
mg
|
Iron:
1
mg