Egg wash makes our baked goods look delicious and fresh. This article is about everything you need to know about simple egg wash facts and techniques.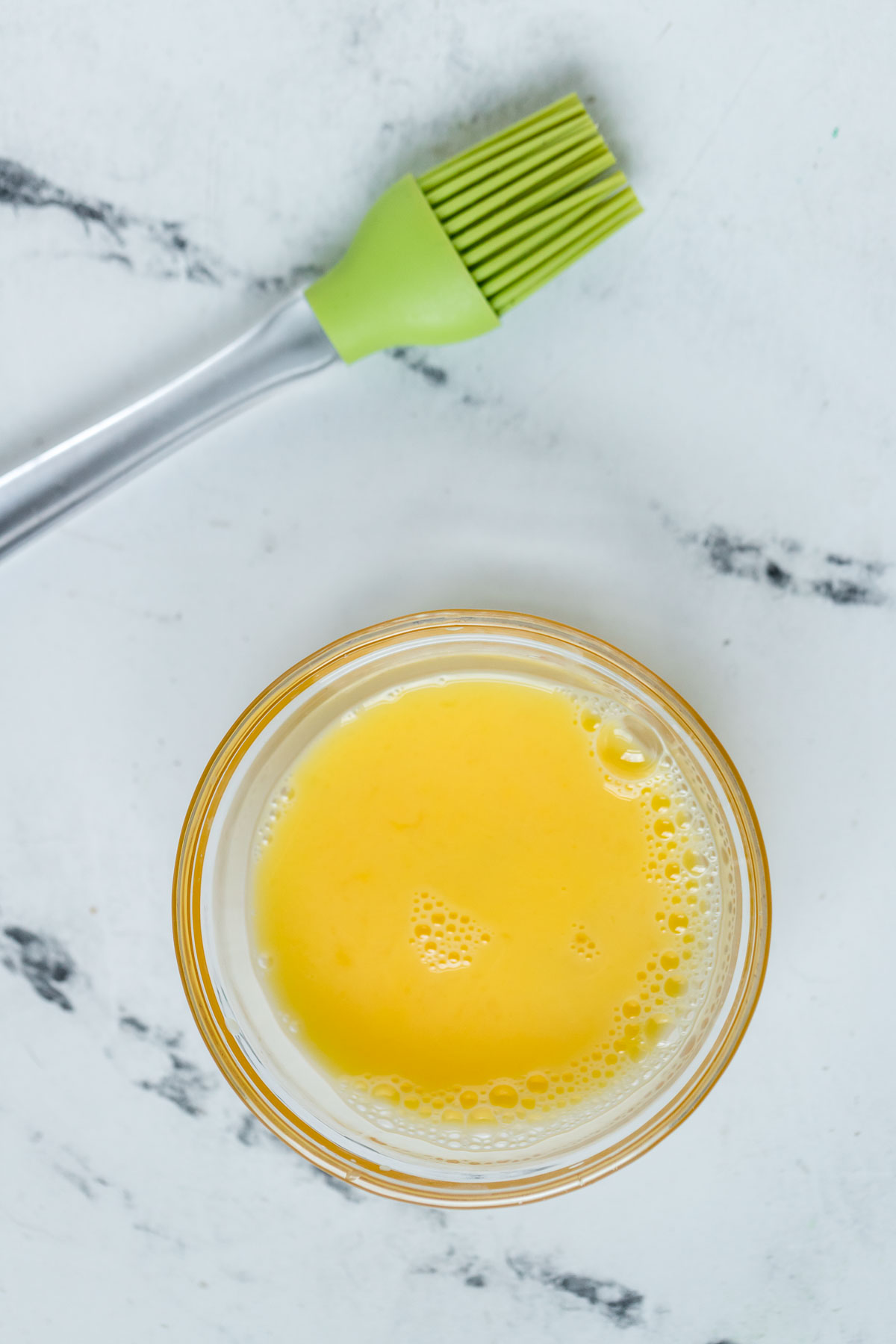 Have you ever seen a sumptuous row of eye-catching and beautifully baked goods? I love savory baked goods -sweet or savory – whether homemade or store-bought. Seriously, just try and get me to pass up on a hot, homemade pretzel or maybe a pot pie with a golden brown crust. One secret to making bread that has amazing golden brown color that always has me drooling over it before I've dug in is simply applying an egg wash. Egg washes make any baked good from slightly shiny to having that golden hue that make them say Eat me!!
Although you can get away with skipping an egg wash, it can really make your baked goods shine and give them a golden brown appearance that can't be beat! Just look at the two pastries below – the one on the right was brushed with an egg wash and the one on the left wasn't. Now which one do you want to eat? The right one? Me too.
The pastry with the egg wash turned out beautifully shiny and golden brown in color!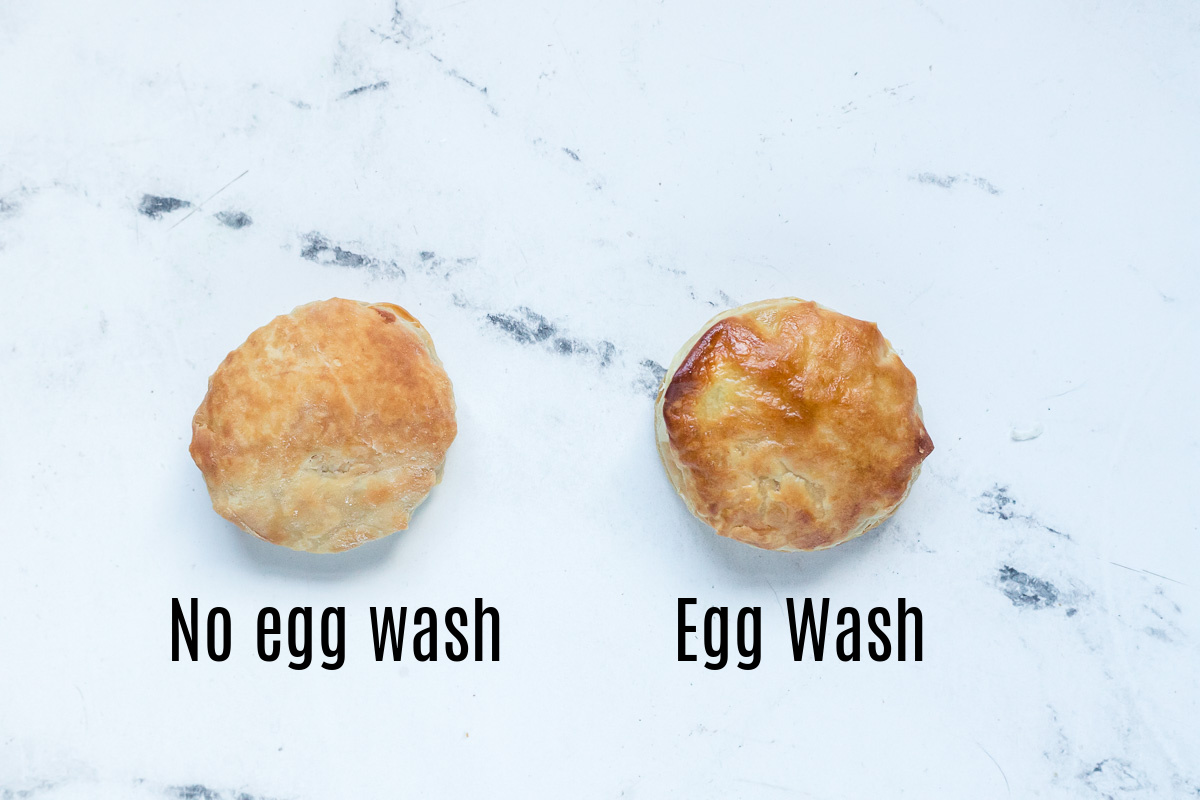 Egg wash : What you need to know
There are various ways to use egg wash. A basic egg wash may contain the whole egg, just the egg yolk or just the egg white, or it can have water, milk, or cream.
Traditional egg wash just contains a whole egg and water, which is also used mostly in bakeries to give baked goods more of a professional appearance and finish.
An egg wash is typically brushed on pastries, like puff pastry baked goods such as turnovers and danishes, pie crust, and homemade breads.
Types of egg wash
There are different types of egg wash that also give different results. I tested puff pastry with different egg washes to see what would result.
And as you can see below, when a whole egg is used, a rich golden color can be achieved. On the other hand, when only egg yolk is used, the pastry will have a much deeper yellow-colored shine. Lastly, when only egg whites are used, it will result in a pale-colored shiny pastry.
And by using a different liquid, you can also achieve different results as well, as you can see by the photo below. Using water, yielded the lightest in colors for each of the puff pastry regardless if it was the whole egg, yolk, or white only. But when milk or cream was used, the extra fat and proteins in the dairy helped to darken the pastry's appearance in the end. And by using milk or cream, your crust will be slightly softer in texture as well compared to using only water which results in a crispier crust.
Whole egg mixed with water
Whole egg mixed with milk
Whole egg mixed with cream
Egg yolk mixed with water
Egg yolk mixed with milk
Egg yolk mixed with cream
Egg white mixed with water
Egg white mixed with milk
Egg white mixed with cream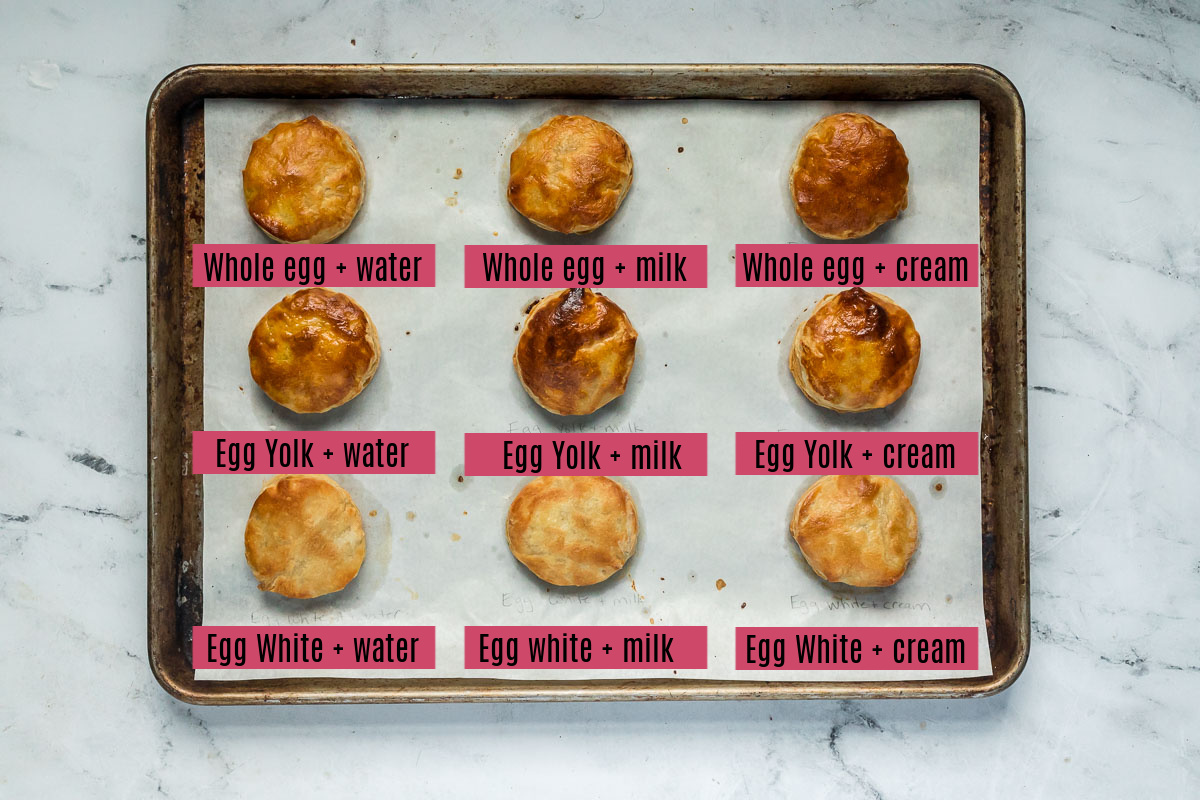 When should you use an egg wash?
Before baking a recipe that called for an egg wash, make sure that the pastry is already brushed with egg wash before it goes into the oven. Usually, an egg beaten for egg wash is used to add shine and seal edges, such as what we do with a pie crust.
How to Make an Egg Wash
Different recipes for an egg wash vary and will also give various results. Simple egg whites can make bread shine with a pale yellow color and egg yolks can turn the bread to golden brown color.
Tools and Utensils
Pastry brush (A silicone pastry brush is also perfect!)
Mixing tool (Whisk or fork)
Small bowl
Traditional Egg Wash Ingredients
1 Large whole egg
1 tablespoon of liquid (Water, milk, or cream)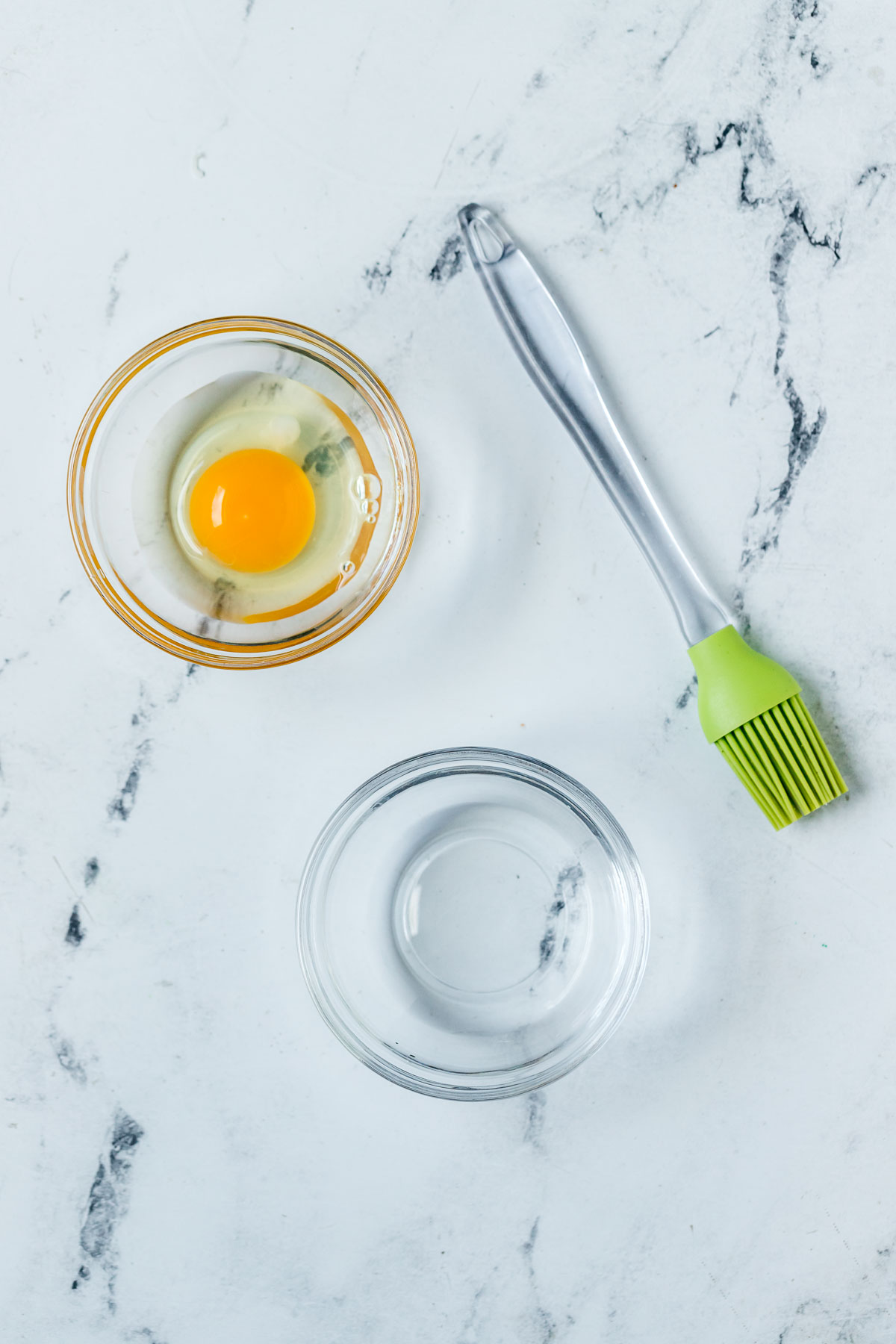 Egg wash recipe
Making egg wash is easy. It is just like beating the egg and about a tablespoon of water to make essentially scrambled eggs! But make sure the yolk and white are whisked together thoroughly or you may end up with a blotchy appearance.
Although I gave you a recipe, most bakers won't measure ( I know I don't!) but I simply eyeball what appears to be about a tablespoon of liquid. But we do have to whisk vigorously to make sure it is well-combined.
The egg and water mixture will serve as our egg wash pool. Then, simply brush the top of the pastry with the whole egg or egg yolk (or egg white) mixed with the liquid using a pastry brush. Make sure to lightly brush the pastry so you don't end up with a thick film of egg – you want just a light coating.
Just follow this simple technique to have a beautifully made finished product.
How to store egg wash
When you have made too much egg wash mixture for a small baking recipe, you can store it for a few days in the refrigerator. Place the leftover egg wash in an airtight container, and it could last for 3 to 5 days. If the egg wash contains milk, discard it after 3 days. But if it just has water, you can store it for five days.
Substitute for Egg Wash
If you can not have a beaten egg for your egg washes for some reason, you can always have these as substitutes. But remember, you may have a different result with these.
I tested the following egg wash substitutes below. As you can see even without an egg wash, your pastry will still brown up but not be quite as shiny or achieve that same golden color. And if you don't want to waste an egg (they are crazy expensive right now!) then you can achieve the same results with these alternatives instead. Most of the egg wash substitutes achieved a similar golden brown color and shiny appearance, with honey and yogurt resulting in the darkest of appearances.
heavy cream only
butter wash (melted – you can use regular butter or vegan butter)
milk only (you can use regular milk or a non-dairy milk like almond milk)
oil (vegetable or olive oil)
honey (or maple syrup)
yogurt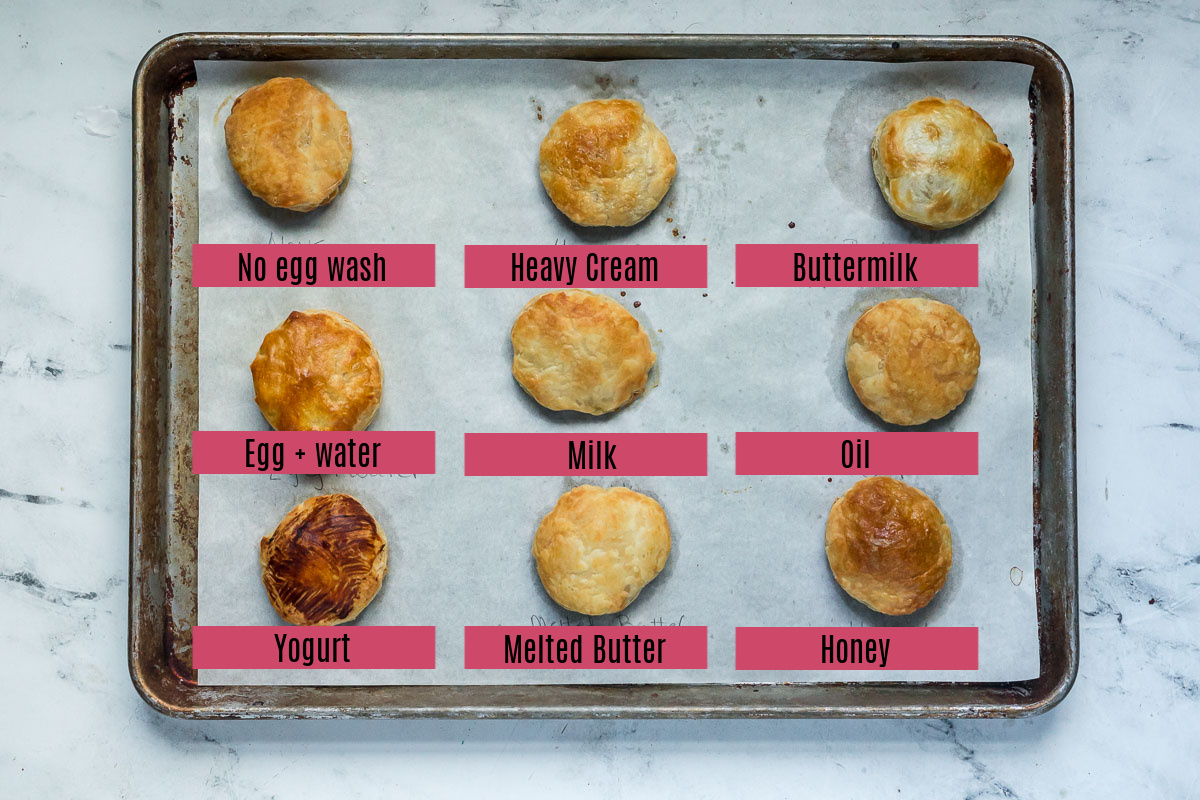 Recipes: baked goods with egg wash
Egg washes work great on pie crusts and hand pies as it gives the pastry dough a beautiful golden color. Again, egg wash must be done to baked goods prior to baking. So make sure to include that in your prep time.
Final Thoughts
Egg wash is an incredible way to make different pastries look tasty! There may be a lot of recipes but all of them will make excellent bread look delicious. It is a simple task that gives an amazing result to a simple baked good recipe.
Egg Wash Recipe
Easy 2 ingredient recipe for egg wash to improve the appearance of your baked goods!
Print
Pin
Rate
Ingredients
1

large egg

1

Tablespoon

water

(or milk or cream)
Instructions
In a small bowl, whisk together the egg and water until thoroughly combined. Using a pastry brush, brush on top of your pastries before baking.
Notes
You can store it for a few days in the refrigerator. Place the leftover egg wash in an airtight container, and it could last for 3 to 5 days. If the egg wash contains milk, discard it after 3 days. But if it just has water, you can store it for five days.