Learn how to make the perfect cinnamon sugar ratio to use in all your baked goods! I'll teach you the best ratio to bake with, different types of cinnamon you can use, and best ways to store it in this post!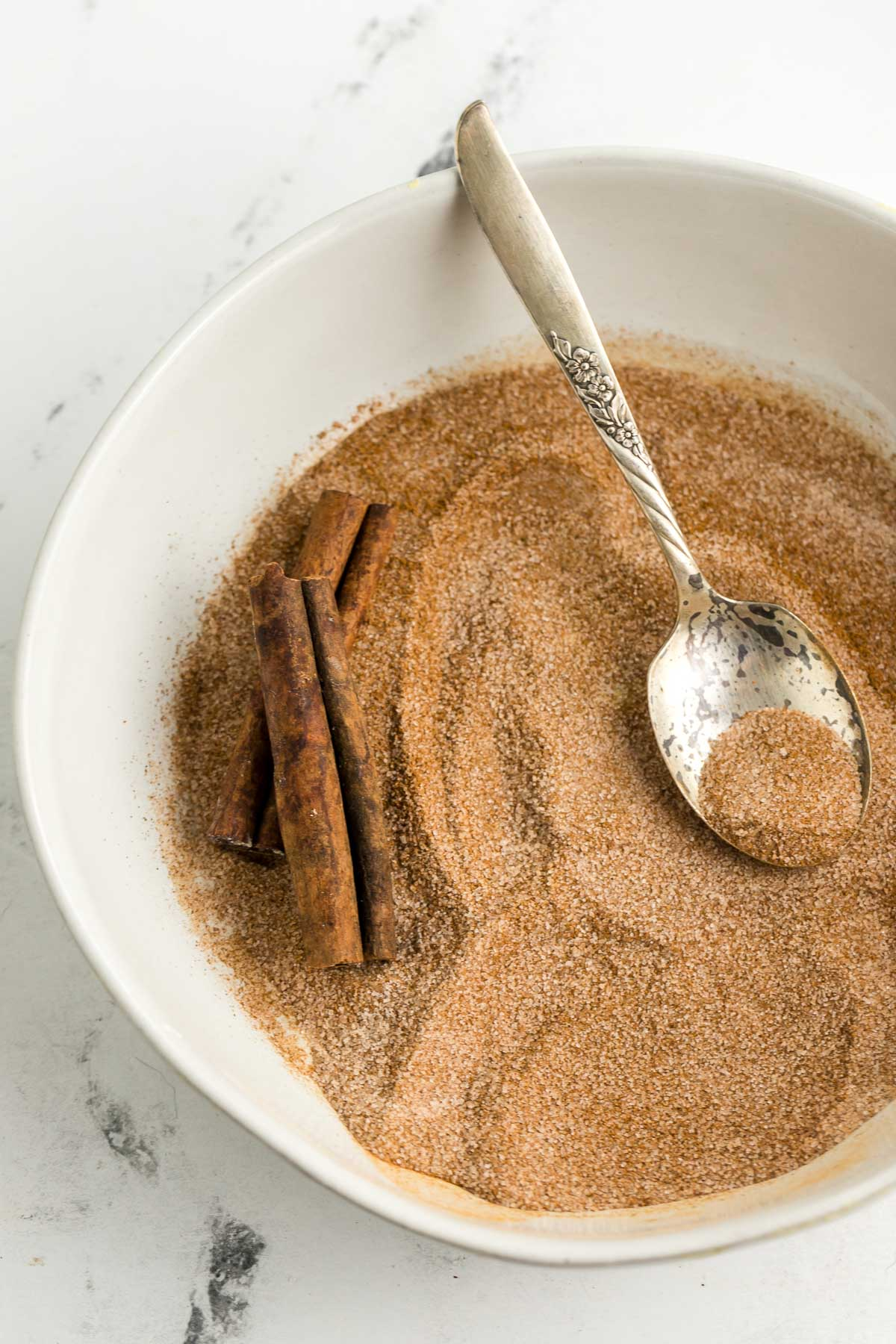 I don't know about you but me and cinnamon sugar have a love relationship that go way back. I mean a slice of buttered toast with cinnamon sugar sprinkled on in the morning as a kid? Was there anything better that cinnamon sugar toast? I think not. Pretty much my favorite breakfast as a child.
And now as an avid home baker, I love sprinkling cinnamon sugar on top of a slice of warm banana bread, pie crust, or tall, fluffy tender blueberry muffin. Or my most favorite use is to roll some snickerdoodle cookies or mini pumpkin muffins in the cinnamon sugar before baking for the ultimate holiday cookie.
But when it comes to making cinnamon sugar, it sounds simple but for the best cinnamon sugar I think it comes to the right cinnamon sugar ratio. So today I'm going to show the best ratio to use on whatever you want. Toast, pie, muffins, cinnamon rolls, you name it.
What's the best cinnamon sugar ratio?
When it comes to making the best cinnamon sugar ratio I think it's a 1:4 ratio of cinnamon to sugar. That means one part cinnamon to four parts white sugar.
So for example if you have a 1/2 cup of granulated sugar, then you should mix with 2 Tablespoons of cinnamon.
Here are some amounts and common ratios to use for the perfect cinnamon sugar ratio:
1 cup granulated sugar + 1/4 cup ground cinnamon
1/2 cup of granulated sugar + 2 Tablespoons cinnamon
1/4 cup of granulated sugar + 1 Tablespoon cinnamon
2 Tablespoons granulated sugar + 1 1/2 teaspoons ground cinnamon
See Also: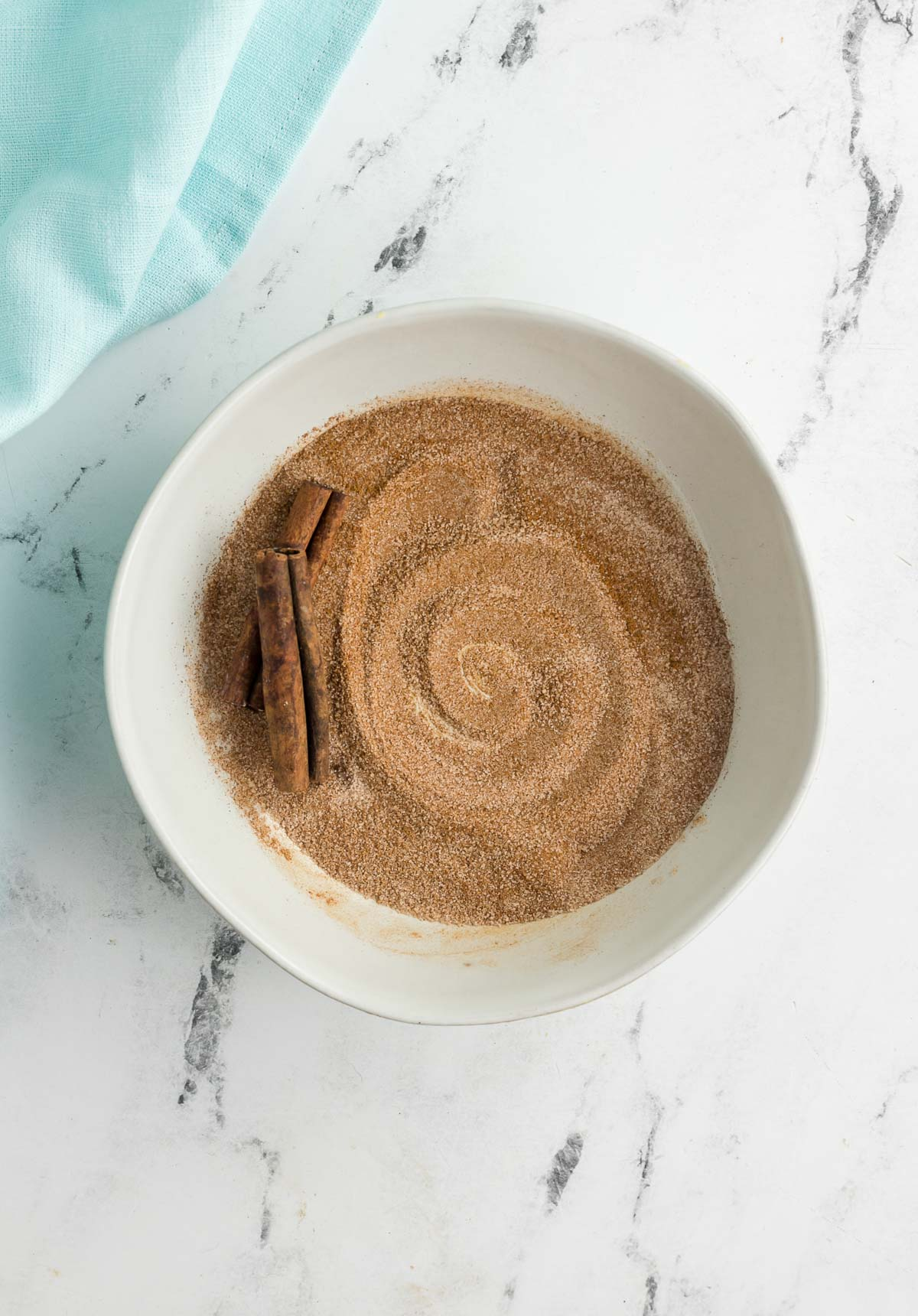 Different types of cinnamon
First let's talk about what cinnamon is. Cinnamon is made from the inner bark of the Cinnamomum tree. And cinnamon can be divided into two major categories: cassia cinnamon and ceylon cinnamon. These two types differ in what tree they come from, how they are harvested, smell and taste.
Cassia cinnamon is the most commonly available cinnamon that you're probably the one you're use to seeing and grabbing in the grocery store. It has that red brown color and an intense flavor profile making it perfect for the home cook. Cassia cinnamon can be broken down into other types of cinnamon: Saigon cinnamon or Vietnamese cinnamon, cassia cinnamon, or Indonesian cinnamon (Korintje).
Ceylon cinnamon, known as the "true cinnamon" is a more desirable cinnamon. It's a higher quality cinnamon and can be a pricier and harder to find.
Why Make Homemade Cinnamon Sugar Mix
Easy to mix up yourself – You can buy a container of pre-made cinnamon sugar, but it's so easy to make homemade cinnamon sugar in just a couple minutes.
Cheaper to make at home – Yes they do make jars of cinnamon sugar, but making it yourself is just so much cheaper. So save yourself a few pennies and mix it up at home.
Can use quality ingredients – By making cinnamon sugar mix yourself, you can choose what sugar you use and what type of cinnamon to mix together.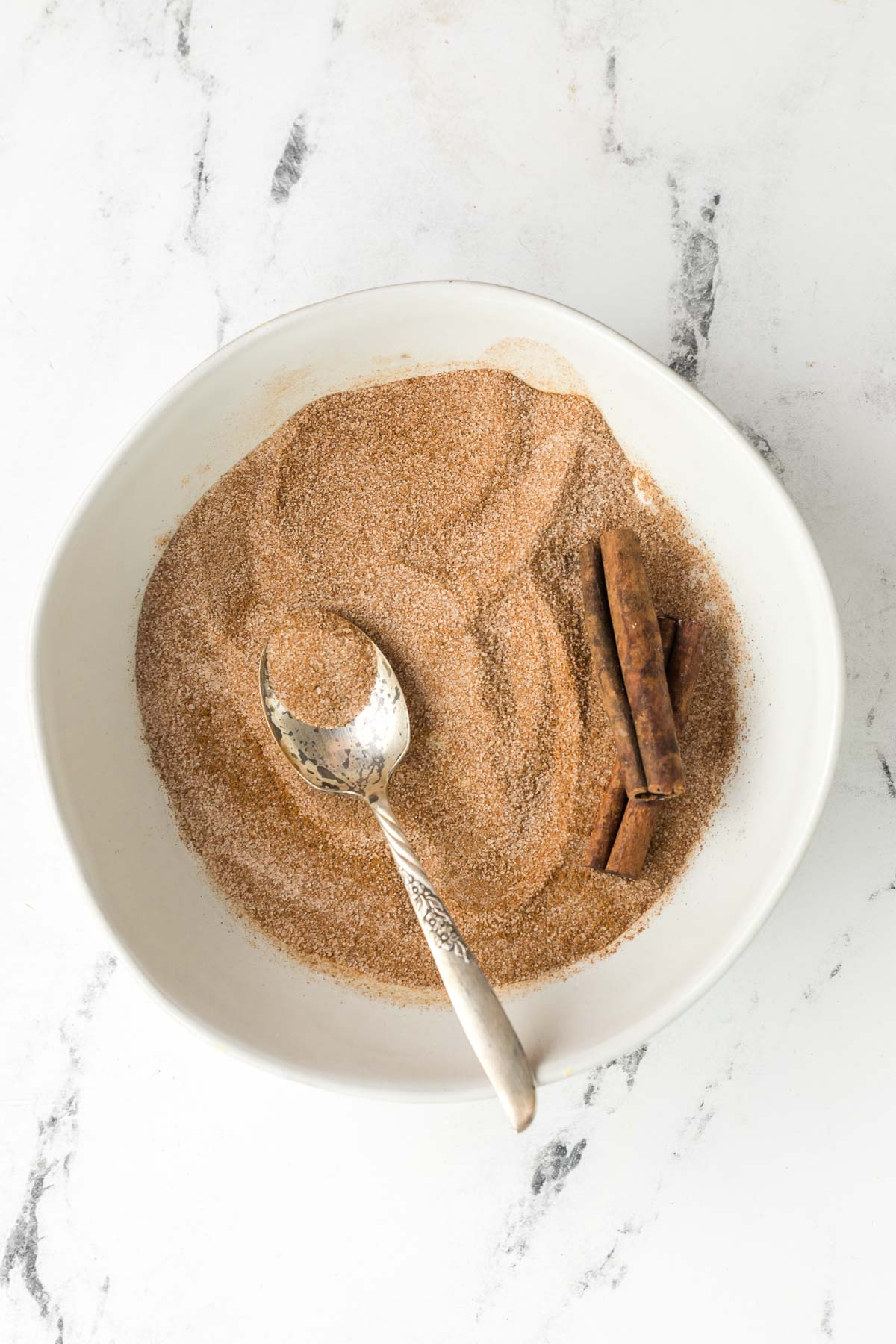 Cinnamon sugar ingredients
Granulated Sugar – You can use regular granulated sugar, or cane sugar
Ground Cinnamon – You can use any ground cinnamon you like. Cassia cinnamon is the most typical cinnamon found, but for a higher quality splurge use a ceylon cinnamon. Make sure it's fresh for the best flavor!
How to make this cinnamon sugar recipe
You can easily double or half the recipe depending on the amount you need.
In a small bowl, measure out 1/2 cup granulated sugar.
Stir in 2 Tablespoons ground cinnamon. Stir until evenly combined.
Store or use right away!
Recipe Variations
Stir in other spices – You could make a spiced sugar, and stir in ground nutmeg, ginger, cloves, allspice, or cardamom!
Use a different sugar – Granulated sugar is the most common, but feel free to mix up the sugar. Try coconut sugar or brown sugar.
Ways To Use This Cinnamon Sugar Recipe
Cinnamon toast – Of course cinnamon toast might be my favorite. I like stir the some into my butter and then spread onto my toast.
Sprinkle on French toast – Top some homemade French toast with a sprinkle of cinnamon sugar and some homemade whipped cream for the best breakfast ever!
Roll cookie dough in before baking – You can bake up some homemade cookies then roll the cookie dough balls in cinnamon sugar before baking. Or try my snickerdoodle cookie recipe!
Cinnamon rolls – I usually use brown sugar in my cinnamon roll filling but you could easily sprinkle on cinnamon sugar onto the dough for a fun, easy twist!
Hot Chocolate – You could make a cup of homemade hot cocoa, top with whipped cream, and then sprinkle on some of your homemade cinnamon sugar!
Top a fruit cobbler – Sprinkle some on a cobbler topping, like this peach cobbler, before baking.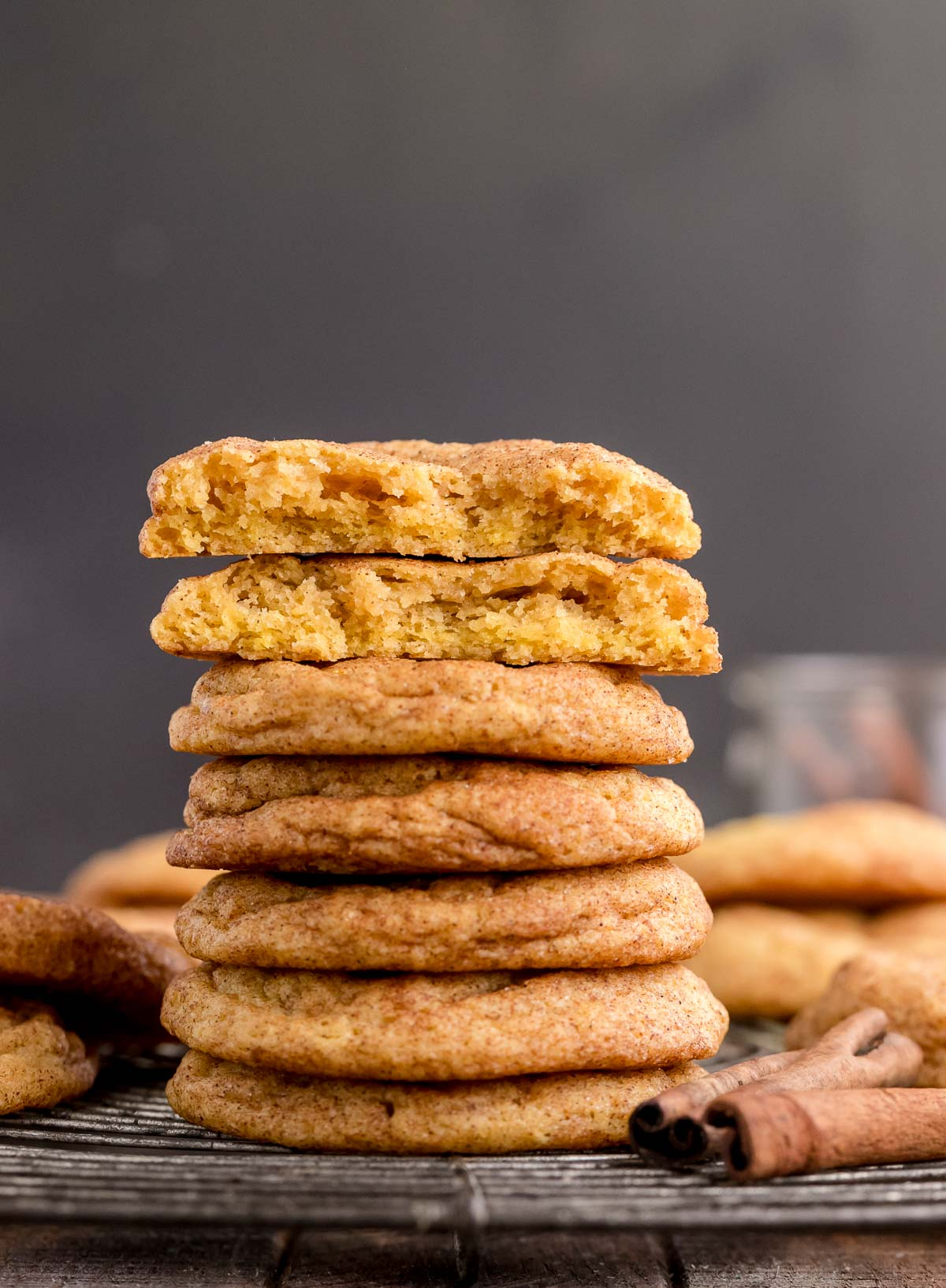 Recipe FAQs
How do I store cinnamon sugar?
Store homemade cinnamon sugar in an airtight container – try using a glass jar, plastic container, or a shaker bottle for easy use in a cool, dry place.
Can I use a different kind of sugar?
You could try using a different sugar, like cane sugar, brown sugar, or coconut sugar!
Can you Store Cinnamon Sugar in the Freezer?
Yes you can store in the freezer in an airtight container and freeze for up to 6 months.
How Long Does Cinnamon Sugar Last?
How long it lasts will not be as long depending on how fresh your cinnamon was. However if stored properly this cinnamon sugar can last up to several months in a cool, dry place.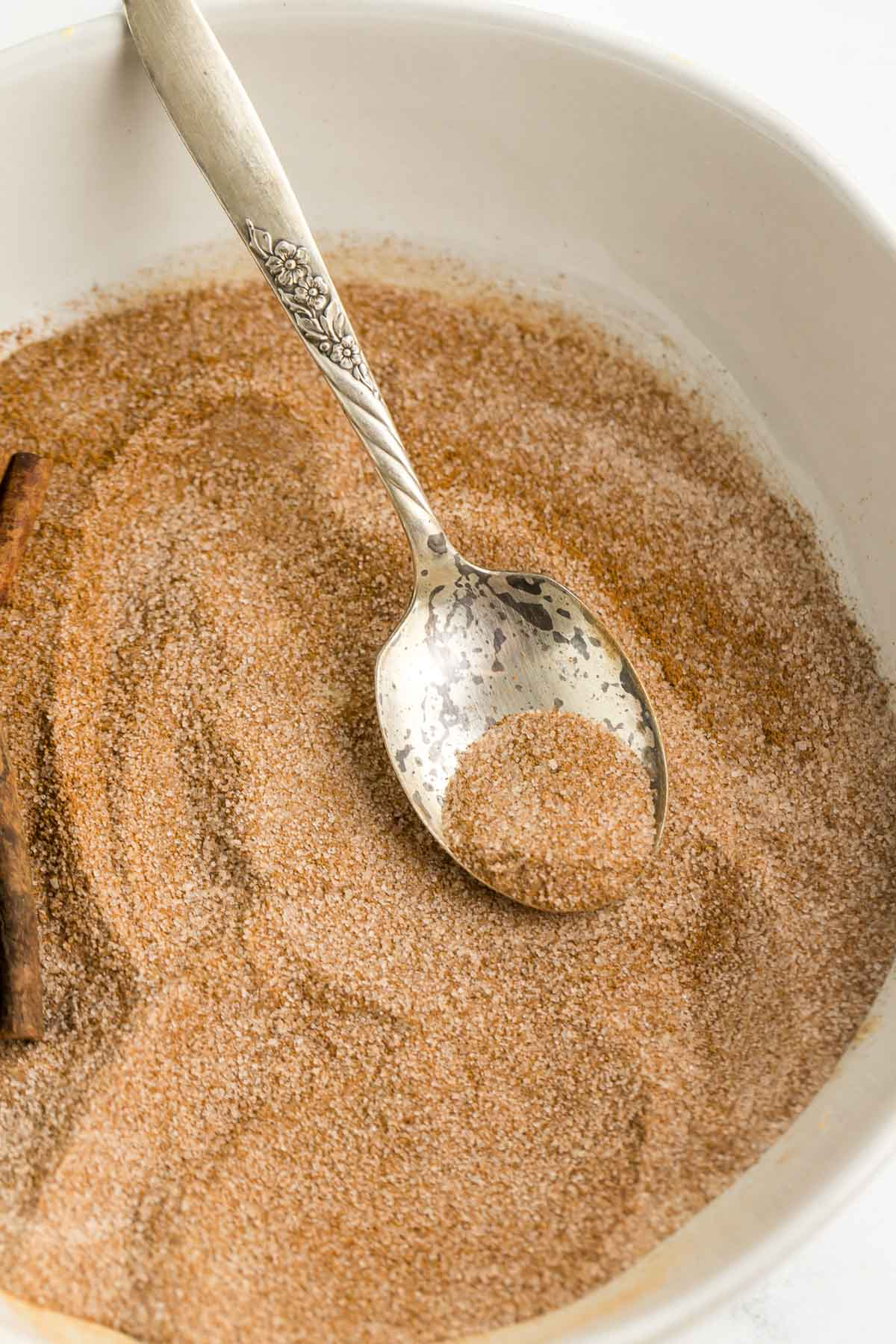 Recipes that Use Cinnamon Sugar
There are a million different ways to use cinnamon sugar beyond cinnamon sugar toast but here are my favorites!
Homemade Cinnamon Sugar
Learn how to make the perfect cinnamon sugar ratio to use in all your baked goods! I'll teach you the best ratio to bake with, different types of cinnamon you can use, and best ways to store.
Print
Pin
Rate
Ingredients
1/2

cup

(100 g) granulated sugar

2

Tablespoons

ground cinnamon
Instructions
Combine sugar and cinnamon. Whisk until evenly combined. Store or use right away!
Notes
Storage: Store homemade cinnamon sugar in an airtight container – try using a glass jar, plastic container, or a shaker bottle for easy use in a cool, dry place. How long it lasts will not be as long depending on how fresh your cinnamon was. However if stored properly this cinnamon sugar can last up to several months in a cool, dry place.Store in the freezer in an airtight container and freeze for up to 6 months.
Types of sugar: You could try using a different sugar, like cane sugar, brown sugar, or coconut sugar!
Common Ratios: 

1 cup granulated sugar + 1/4 cup ground cinnamon
1/2 cup of granulated sugar + 2 Tablespoons cinnamon
1/4 cup of granulated sugar + 1 Tablespoon cinnamon
2 Tablespoons granulated sugar + 1 1/2 teaspoons ground cinnamon