If you have had issues with your chocolate chip cookies in the past and not sure why, then this cookie troubleshooting guide is for you! Learn how to fix all your cookie problems!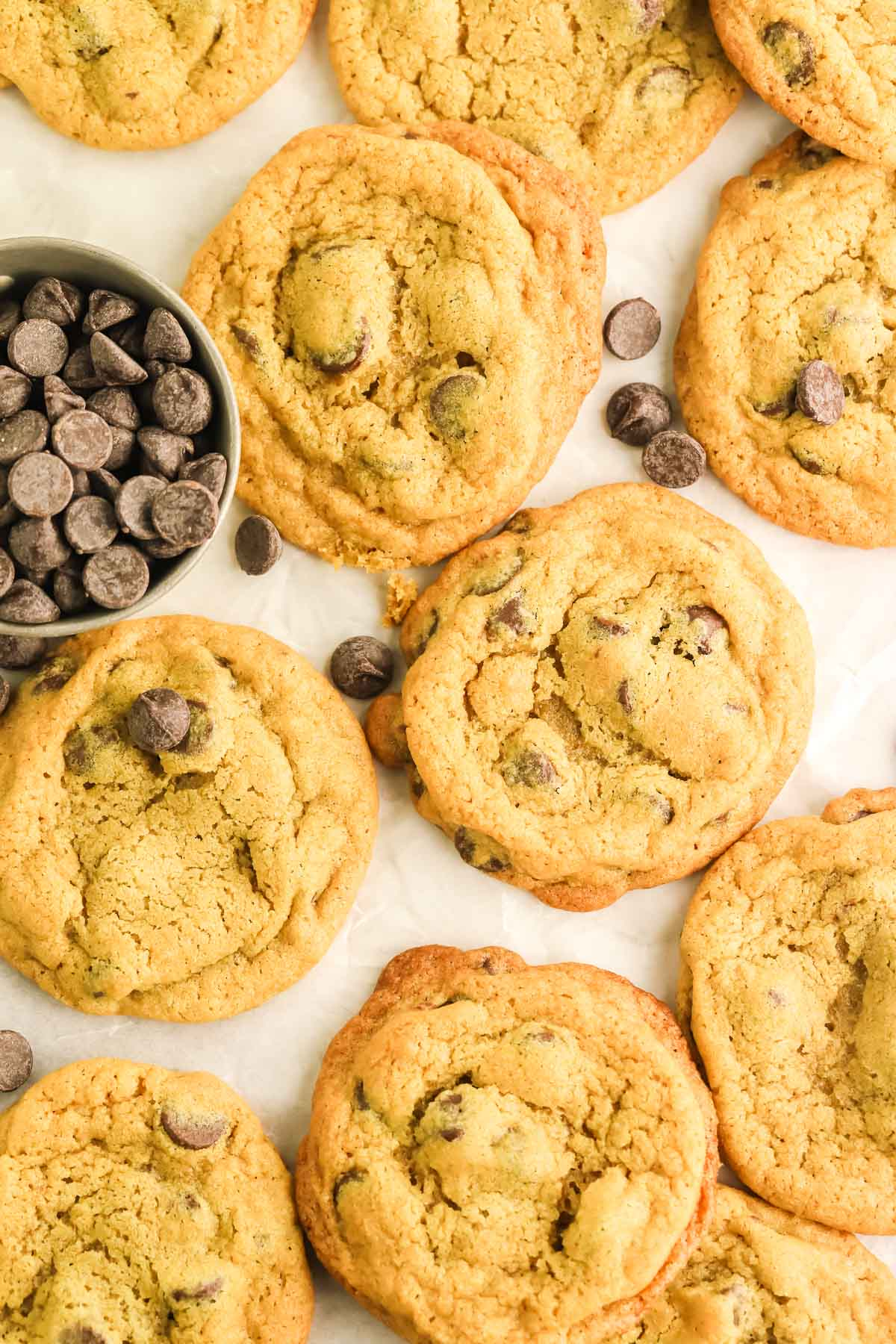 From flat chocolate chip cookies, to cookies that crumble, or stick together. It seems like a million things can go wrong when baking cookies.
And making chocolate chip cookies is supposed to be simple right? It can be! But there is also many things that can go wrong from one batch to the next with cookie baking.
So I created this cookie troubleshooting guide for you to fix 12 common cookie problems you may come across so your next batch of cookies come out perfectly!
See Also:
My favorite cookie baking tools
Cookie Ingredients 101
Although some recipes may call for different ingredients, these are the basic ingredients you will come across when making chocolate chip cookies or other drop cookies.
Flour – Different flours will have different protein levels which can affect the cookie texture in the end. I usually use unbleached all-purpose flour (or plain flour as it's also called). Bleached flour will result in a softer cookie with less crispy edges. Cake flour has less protein and give you a softer cookie. Bread flour will result in a chewier cookie because it has a higher protein content.

Butter – I like to bake with unsalted butter vs. salted butter. It is fresher and easier to control the amount of salt in the recipe. Not all brands of salted butter will use the same amount of salt. If you do use salted butter in a recipe that calls for unsalted butter, then I would recommend reducing the added salt called for.

Eggs – When baking cookies, unless otherwise specified, use large eggs. Be sure they are at room temperature before using. If they are cold going into the dough they will cause the butter to seize up. I place my eggs in a bowl of warm water for 10 minutes before using. And beat them in one a time so they can be fully incorporated before adding the next one.

Salt – I have used all three types of salt in my cookies – from table salt, kosher salt, and sea salt. All will work, however my preference is sea salt. I like the fine texture and the pure salt taste.

Sugars – Most recipes will call for a combination of granulated sugar and brown sugar. For cookies with more granulated sugar than brown sugar will result in a crispier cookie. More brown sugar will result in a chewier cookie.

Leavening agents – Most cookie recipes will call for either baking soda, baking powder or a combination of both. Baking soda will develop flavor and browning, and help the cookies rise. If a cookie uses baking powder, it will create a lighter taller cookie. Make sure both are fresh, and not expired before using. For more help, read baking powder vs. baking soda.

Vanilla extract – You can use pure vanilla extract for best flavor, but you can also use imitation vanilla extract for good results!

Chocolate chips and other mix-ins – Adding chocolate chips and mix-ins isn't just for flavor but also helps add structure to the dough so the cookies don't spread as much. You can use chocolate chips, chocolate bars chopped up, or chocolate discs. I like using bittersweet or semi-sweet chocolate chips but milk chocolate chips or white chocolate chips also work. Quality chocolate is recommended since you will definitely taste these! And you can stir in other mix-ins such as toasted nuts, coconut, toffee bits, or dried fruit like cranberries.
Why are my cookies flat?
What went wrong: Flat cookies is usually due to butter that was too warm going into your cookie dough during the creaming process. You may have also over creamed the butter and sugar. You may have also put them on a hot cookie sheet. Or you didn't add enough chocolate chips. Or you added too little flour.
As you can see, there are lots of reasons why! That's why I wrote an entire post, on why are my cookies flat, that will give you 10 reasons why and how to fix them that you can read!
How to fix: Use room temperature butter that is between 65-70oF. You don't want butter that is so soft you can push your finger straight through the stick of butter. And you should not see any melted spots.
Be sure to bake on a cool baking sheet, so the butter in the dough doesn't melt as soon as it hits the pan. Make sure to not cream butter and sugar for too long which will add too much air to the dough causing them to spread more. You can read more here about what butter does in your cookies.
And use more chocolate chips and more flour, which will help add more structure to the dough.
Try chilling your cookie dough to firm up the butter. Chill for an hour and then bake again. For best results, I recommend chilling the dough overnight.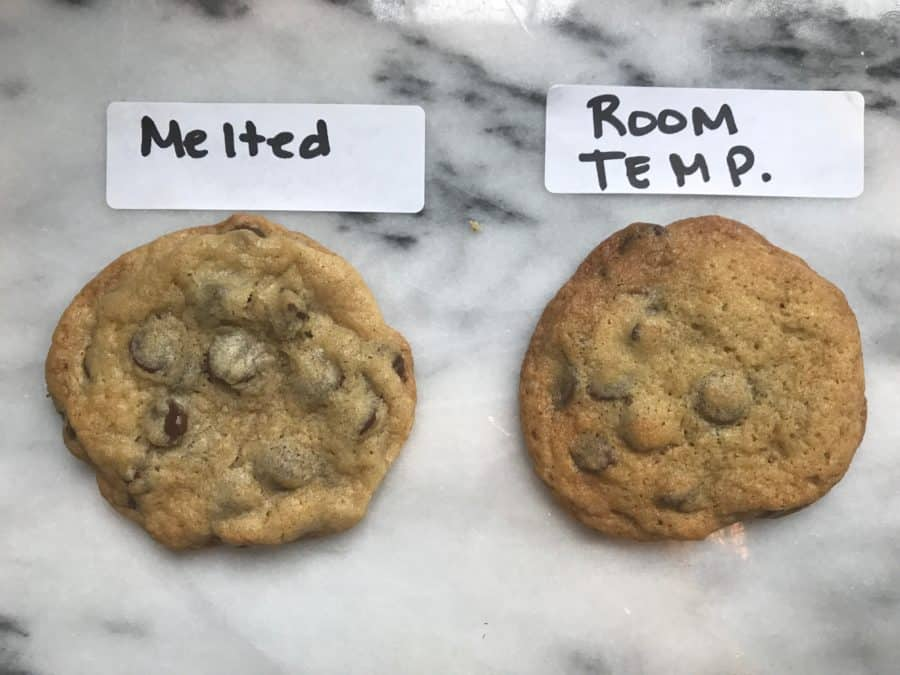 Why did my cookies stick to the pan?
What went wrong: You let them cool completely on the baking sheet or you didn't line the cookie sheet.
How to fix: I recommend baking on parchment paper or a silicone baking mat to avoid your cookies sticking. If you bake directly on the baking sheet, be sure to let the cookies only cool for 5 minutes at the most, before transferring to a wire rack. I don't recommend greasing your baking sheet with cooking spray as it could make your cookies spread more but can help with your cookies sticking.
For cookies that are stuck, you can pop the cookies back in the oven for 1-2 minutes to soften again in order to remove from the cookie sheet.
Why did my cookies bake unevenly?
What went wrong: Some of your cookies are darker in color than others and overbaked compared to others. This might be due to two things. First it may be due to hot spots in your oven, which means parts of your oven heat more than other spots. The other reason your cookies were different sizes. Different sizes will bake unevenly.
How to fix: Rotate your cookie sheet halfway through baking to ensure they all bake evenly. And make sure you use a cookie scoop to scoop your cookie dough balls to ensure all cookies are the same size and bake evenly.
If some are still underbaked, you can remove the baked ones and pop the underbaked cookies back in the oven, that way no cookies burn!
Why did my cookies burn?
What went wrong: They are most likely overbaked. But if your cookies are just burnt or dark on the tops or bottoms only then this means you baked them in the wrong spot in your oven. It could also mean your baking sheet is too dark.
How to fix: To ensure you don't overbake, set a timer. And take your cookies out while they still look soft in the middle Be
And always bake your cookies in the center of your oven. If you bake in the bottom third of your oven, then the bottom of the cookies may get too dark. If you bake in the top third, the tops may get too dark.
Also bake on a light colored baking sheet. A dark colored cookie sheet can cause the cookies to bake more quickly and burn.
Why are my cookies tough and chewy?
What went wrong: You likely over-mixed your cookie dough. Once you add the flour, you only want to mix the cookie dough until the last of the flour is mixed in. If you keep mixing, you will develop more gluten, which makes your cookies tough and chewy.
How to fix: Be sure to stop mixing once the the last of the flour has been mixed in. If using a stand mixer, I like to finish the last of the stirring by hand with a sturdy silicone spatula.
Why are my cookies hard and dry?
What went wrong: You most likely overbaked your cookies. I find for most cookies they take about 10-12 minutes in the oven to be perfect.
How to fix: Bake for less time so you get chewy cookies instead of hard, dry ones. You want edges that are set and golden brown, and the middles should be slightly puffy in the middle. The cookies will continue to bake as they cool.
Why are my cookies crumbly?
What went wrong: You used too much flour. Flour will dry out the cookies.
How to fix: Measure your flour correctly. I recommend measuring by weight, so there's no guessing. But if measuring by volume, I always use and recommend spooning the flour into your cup, and leveling off at the top do not pack it down. You could also try reducing the flour by 1/4 cup or adding more fat, to make the more moist and less crumbly.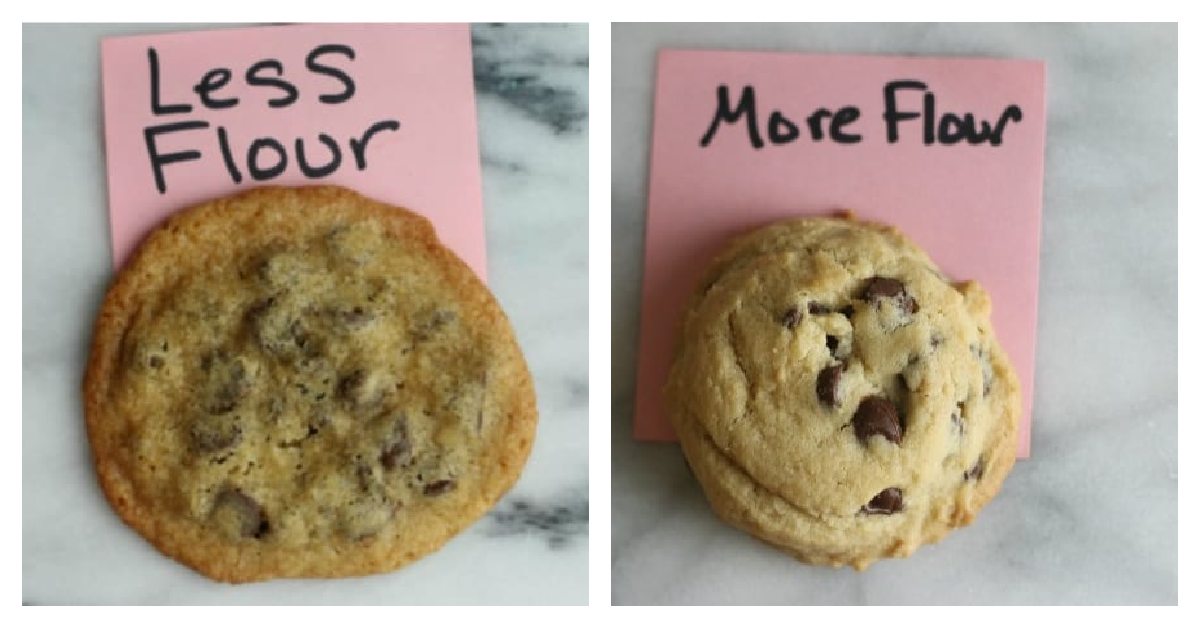 Why did my cookies bake together?
What went wrong: The cookies spread together into one giant puddle. Your cookies were too close together on the baking sheet.
How to fix: Be sure to space your chocolate chip cookies 2 inches apart onto your baking sheet to give them room to spread in the oven. But you can still enjoy these! Simply break them apart and enjoy!
Why did my cookies not spread at all?
What went wrong: There's a few things that might have gone wrong here. Although we want cookies to spread flat, we do want them to spread some. So if they don't spread at all, this could be because your oven temperature was too high, there was too much flour used, you did not use any baking soda, or you used margarine or shortening instead of butter.
How to fix: Try baking the cookies at a lower oven temperature. Reduce the temperature by 25 degrees. The lower temperature will allow the cookies to spread more before the edges are set.
And be careful on how you measure your flour. Measure by weight vs. volume for no guessing. Or be sure when measuring by volume to not pack the flour into the cup, which can result in too much flour in your cup. Too much flour will make for thick, cakey cookie that doesn't spread.
Baking soda will help your cookie spread a little bit more in the oven than if you use just baking powder. So you could try replacing some of the baking powder with baking soda to the cookie dough to help with spread.
If you used only margarine or shortening, because there's less water than butter, then they won't spread as much in the oven. So use all butter for proper spreading.
Why are my cookies crusty, crispy, or crunchy?
What went wrong: You may have overbaked your cookies. Your cookies have more granulated sugar than white sugar or you just used too much sugar in general.
How to fix: Try baking for less time next time. You want to take them out while the edges are set but the middles are soft. Remember use that timer, and be sure to be using that oven thermometer to ensure they aren't overbaked.
Also your recipe might use too much sugar or more granulated sugar than brown sugar will result in a crispier, crunchier cookie. Try using more brown sugar than white sugar. Brown sugar has molasses in it so it makes for a chewier cookie. You can use light brown sugar, or try dark brown sugar for a really chewy cookie! Or try reducing the sugar by a 1/4 cup to see if that helps with the texture.
Why are my cookies soft and pale in color?
What went wrong: They are most likely underbaked. Or your cookies use only baking powder or too much baking powder. You made the dough with cake flour or bleached flour instead of unbleached flour, which makes for a softer cookie.
How to fix: Try baking the cookies for a few extra minutes and that should do the trick. Check your oven temperature as well. If your oven is running on the cool side, this means you may need to bake longer than the recipe recommends. Use an oven thermometer to be sure your oven is calibrated correctly.
Try adding a little baking soda, which will help your cookies be darker in color.
Bake with either bread flour, or all purpose flour instead of cake flour. Cake flour will yield a softer cookie, because it has less protein.
If you used all purpose flour, check to see if it was bleached flour instead of unbleached flour. Bleached flour will result in a softer cookie with not quite as crispy edges then if you used unbleached flour. You can read more here about which flour is best for cookies.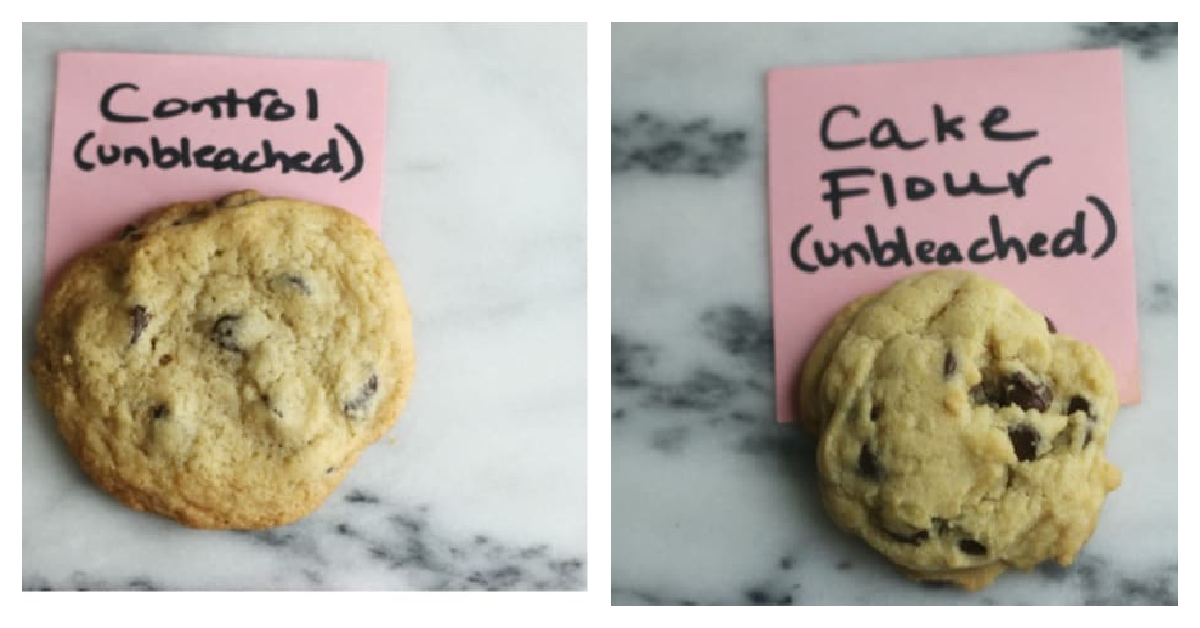 Why are my cookies cakey?
What went wrong: This usually means you used too much flour in your recipe.
How to fix: Be careful when measuring the flour. Measure by weight instead of volume. Or be sure to not pack the flour down into your measuring cup but instead spoon it in and level it at the top. Scooping directly from the bag, or pushing the flour into the cup can result in 25-30% more flour than intended, which will create a cakey cookie.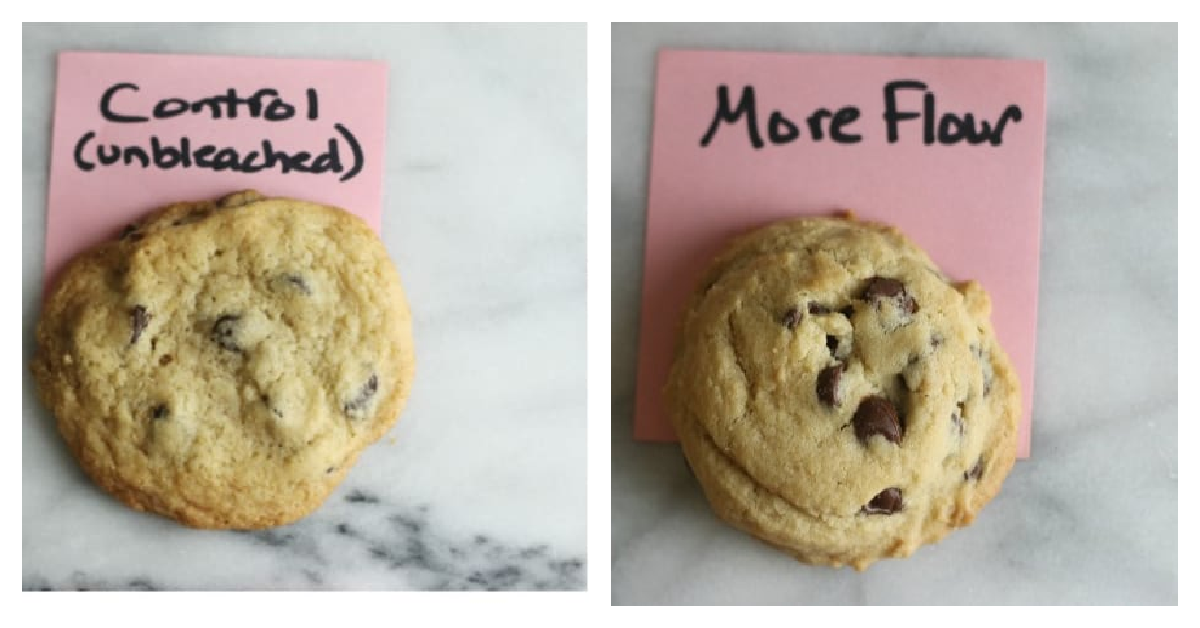 Storing your cookies
When it comes to perfect cookies, it's not just about the baking but also about cooling and storing the cookies properly. I recommend storing in an airtight container at room temperature, and not the fridge which could dry out the cookies.
Read this post for more help on how to store cookies. You can also freeze your cookies, baked or unbaked for longer storage. Read this post on how to how to freeze cookie dough!
For proper storage:
Cool Completely. Make sure the cookies have cooled completely. If you try to store cookies that have any residual heat left in them still they will become either broken or soggy. Cool them on a cooling rack for a 1-2 hours before attempting to store them properly.
Store cookies of different flavors and textures separately. Crispy cookies and soft cookies should not be stored in the same way. Soft cookies should be kept at room temperature in an airtight container. For crispy cookies, you want some air to be let in.
Layer to protect them. To protect cookies from breaking, store in layers with parchment or wax paper between.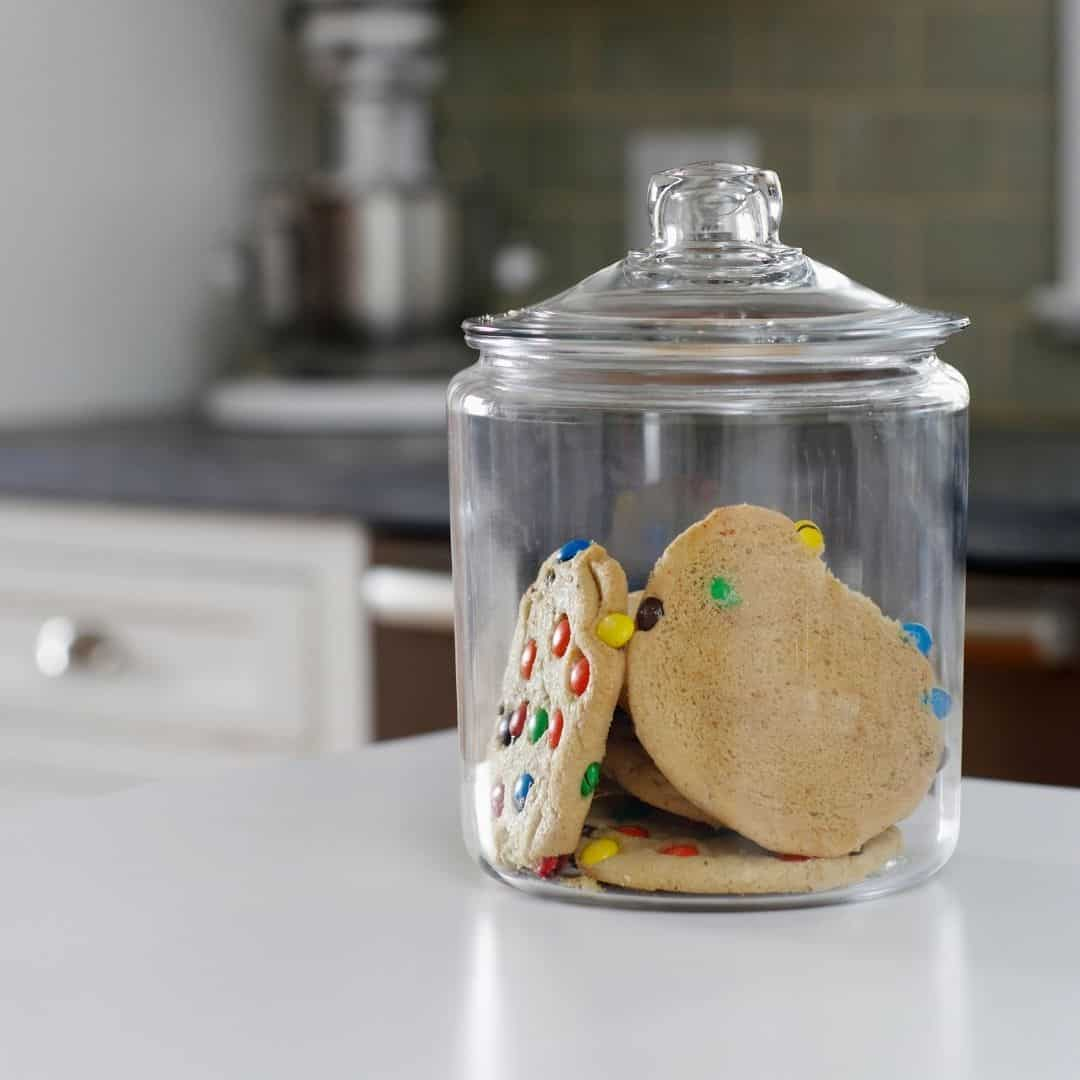 Cookie Recipes To Try
Let's Bake Together!
Subscribe to my newsletter to never miss a new recipe or baking challenge! And if you bake one of my recipes be sure to tag me on Instagram. You can also follow along with me on Facebook and You Tube.