A delicious but easy peanut butter quick bread recipe you can prepare in just 10 minutes! It only needs a few simple ingredients and your favorite nut butter. You will have moist, tasty, and slightly sweet peanut butter bread without adding butter!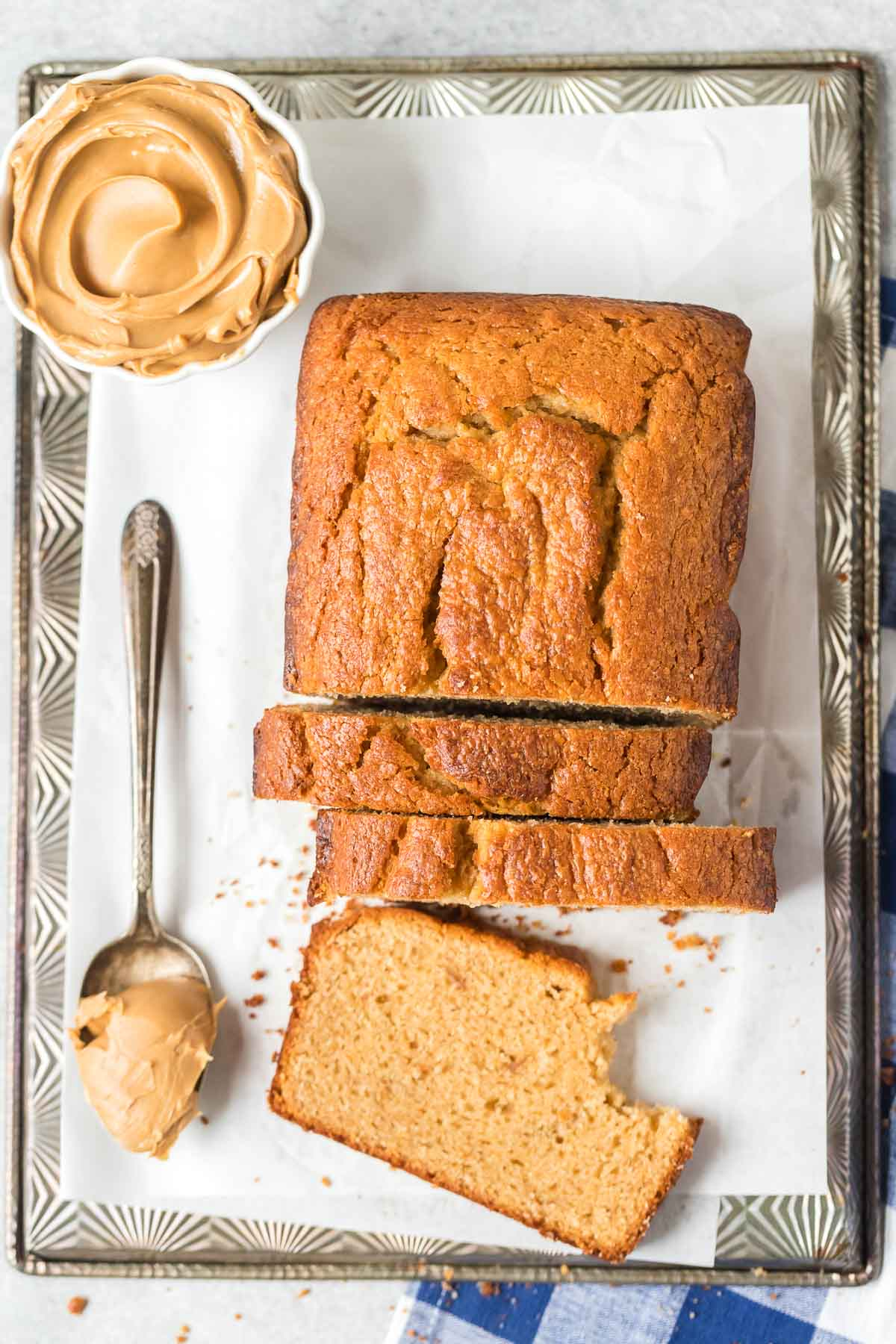 Peanut butter is a staple in our pantry. My family loves both creamy and chunky peanut butter. They are sweet, flavorful, and convenient.
I love peanut butter. When I crave something sweet and I don't have any cookies in my pantry, I will get a spoon and snack on it. It's delicious, sweet, and hits all the right spots.
I've used peanut butter to make cookies, fudge, scones, cupcakes, and pies. But not in quick breads. So, I thought, why not make peanut butter bread right now?!
This peanut butter loaf is easy and quick to make. I used simple ingredients to make sure you can make it at home. And there is no yeast involved in this recipe. That means there is no resting time and you can prepare delicious peanut butter bread in just 10 minutes.
You and your whole family will surely love the moist, soft, sweet, and peanut butter flavor of this bread! The best part about this recipe is it is versatile and can be served as is, with a glass of milk, or with jam or jelly. You can even add your own touch or use different types of nut butter. The choice is yours!
See Also: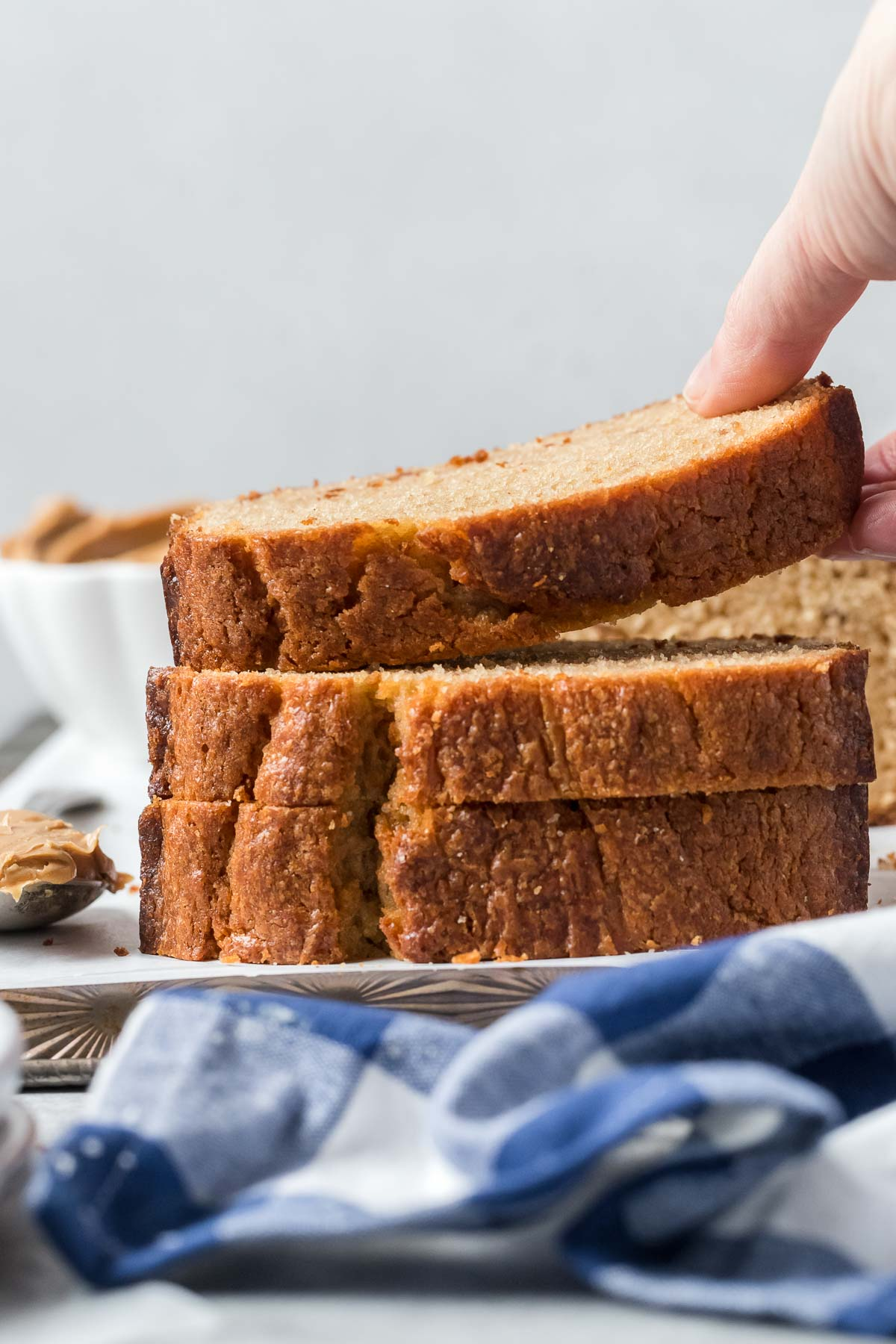 Why You Will Love This Peanut Butter Bread Recipe
Simple Ingredients – I know how difficult it is when I can't bake something because I don't have the right ingredients. That's why, for this peanut butter quick bread recipe, I only use simple ingredients you can find in your pantry.
Prepare In 1 Bowl – Most delicious quick bread recipes are prepared using many bowls and containers. It is such a hassle and inconvenient to wash the dishes after baking. I personally don't like washing the dishes. Who doesn't? That's why for this bread recipe, I made sure to use only 1 bowl for my and your convenience.
Quick To Whip Up – This peanut butter bread is easy to prepare. In 10 minutes, it is ready to bake in the oven.
No Butter Involved – Most peanut butter quick bread recipes contain either butter or oil. Not this recipe! Oil or butter makes most quick bread recipes moist and flavorful. But this bread is still moist and tasty even without adding fats. If you don't believe me, try it yourself!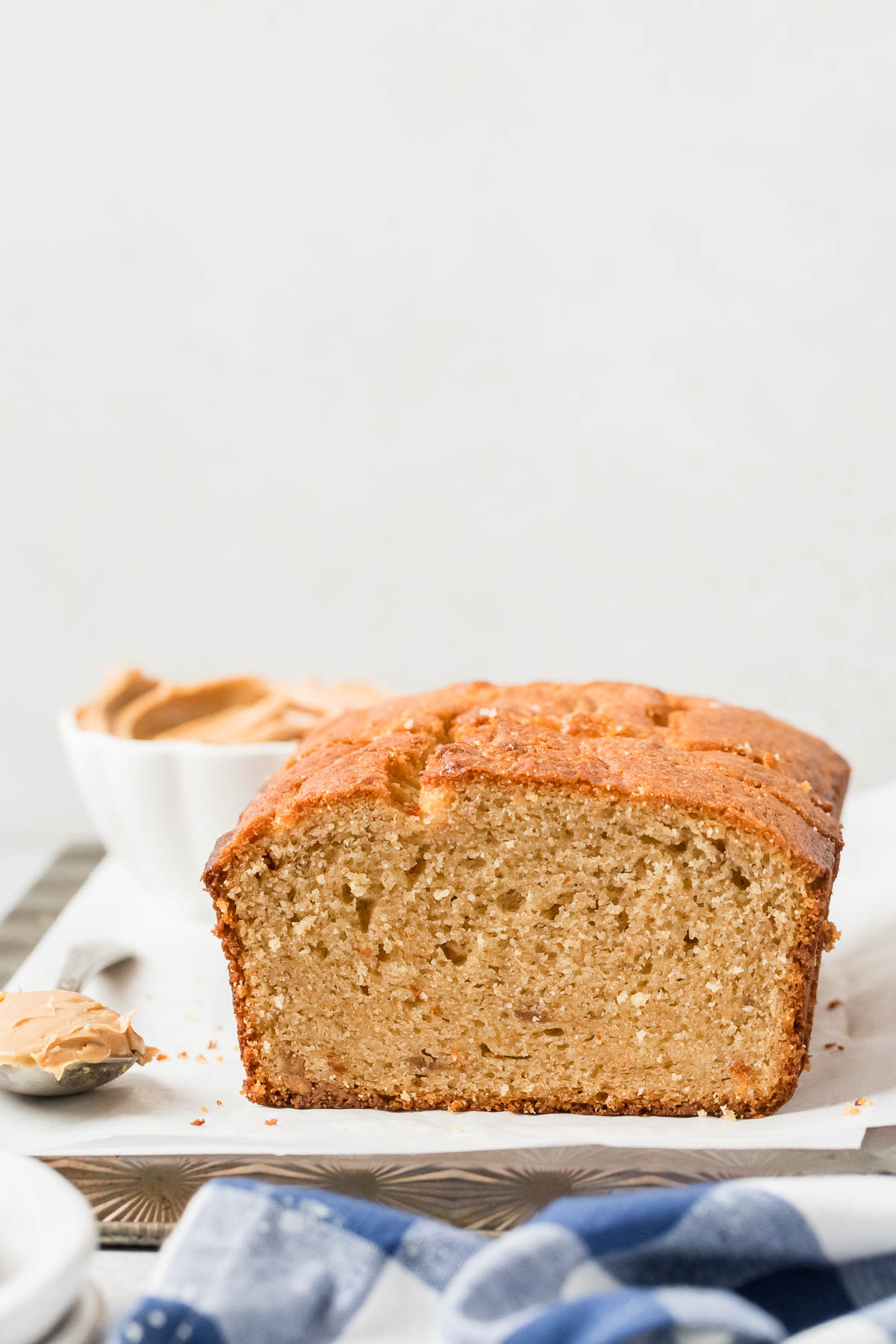 Ingredients Needed
Here are the ingredients you will need for this peanut butter bread recipe:
All-purpose flour – I used all-purpose flour for this recipe but you can also use gluten-free flour.
Peanut butter – I used creamy peanut butter for this quick bread recipe. Mix your creamy peanut butter to ensure the oil is not separated. Avoid using natural peanut butter.
Milk – Any type of milk will do. If you want to make peanut butter bread dairy-free, use dairy-free milk.
Baking powder – The baking powder will make your homemade peanut butter bread airy, soft, and delicious. Most quick bread recipes use either or both baking powder or baking soda. But for this recipe, only baking powder is used.
Egg – Your egg should be at room temperature.
Granulated sugar – You can also use light brown sugar.
Salt – This is necessary for baking any quick bread. Salt brings out the slightly sweet and tasty flavors of peanut butter bread.
How To Make Peanut Butter Bread
1. Preheat Oven
Before making your peanut butter batter, preheat the oven to 375°F/190°C.
Grease an 8 1/2 by 4 1/2 inch loaf pan with non-stick baking spray. You can also add parchment paper to your prepared pan and spray another layer of cooking spray for good measure.
I highly suggest greasing your loaf pan before you start measuring and preparing your peanut butter bread batter.
2. Combine Your Dry Ingredients
In a large bowl, combine all your dry ingredients. Whisk together your flour, sugar, baking powder, and salt.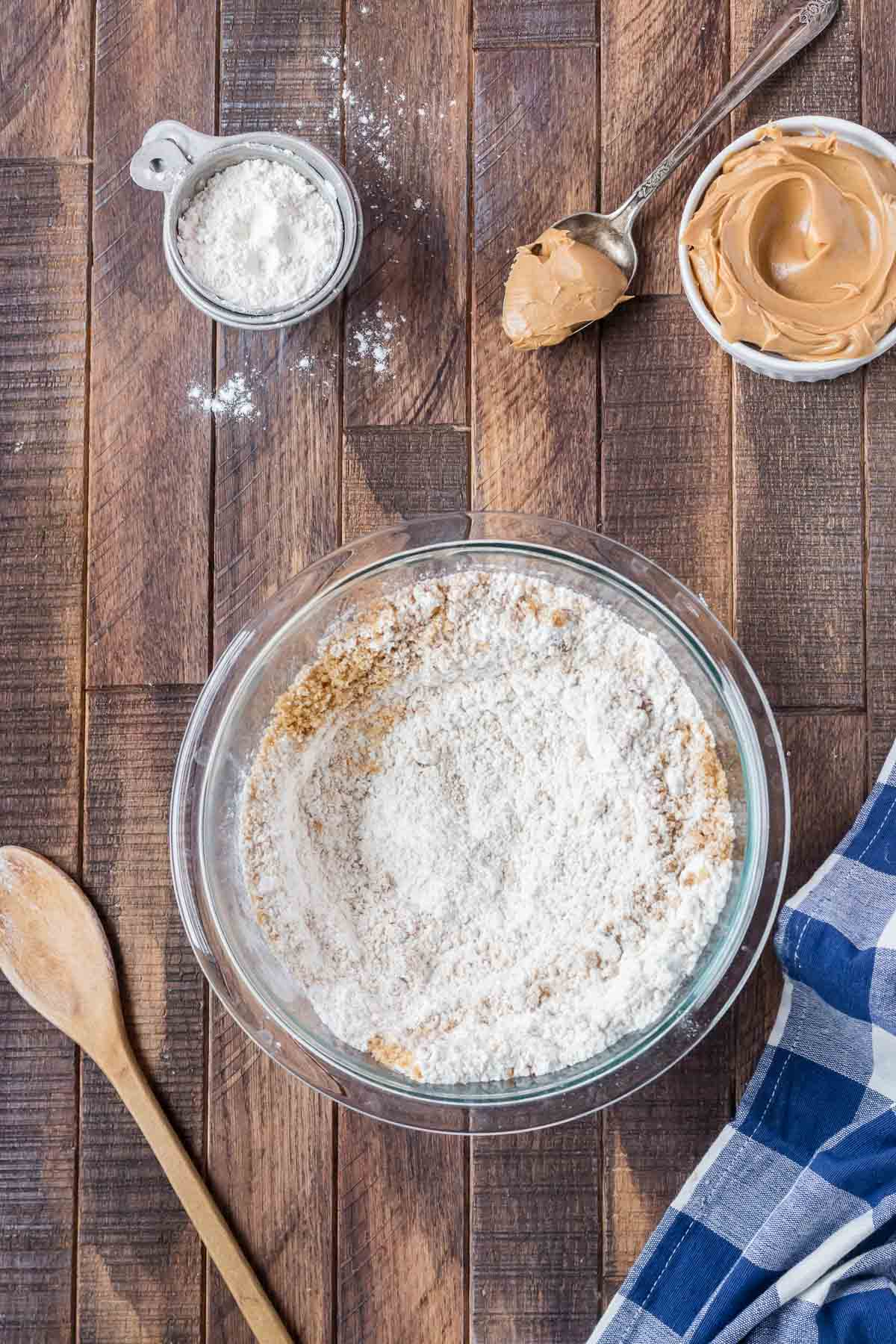 3. Combine Wet Ingredients
In a second large mixing bowl, mix your wet ingredients. Whisk together creamy peanut butter, oil, milk, vanilla and eggs into your wet ingredients.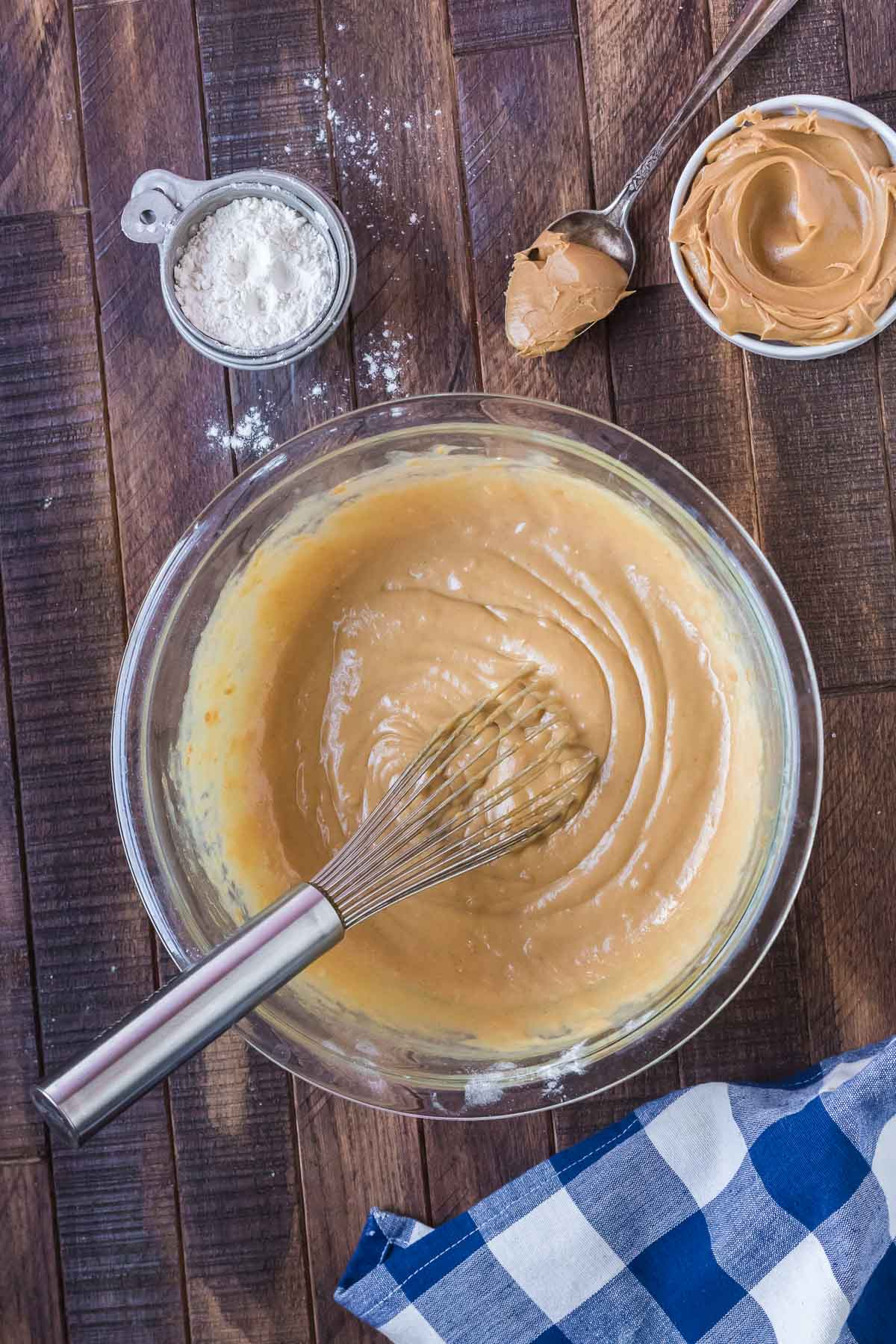 4. Combine wet and dry ingredients
Now pour the dry ingredients into the peanut butter mixture and stir to combine with a spatula or wooden spoon. A few lumps may remains and that's OK, because it's important to not overmix which can make a tough bread.
If you want to add chocolate chips, peanut butter chips, nuts, or other ingredients, now is the right time!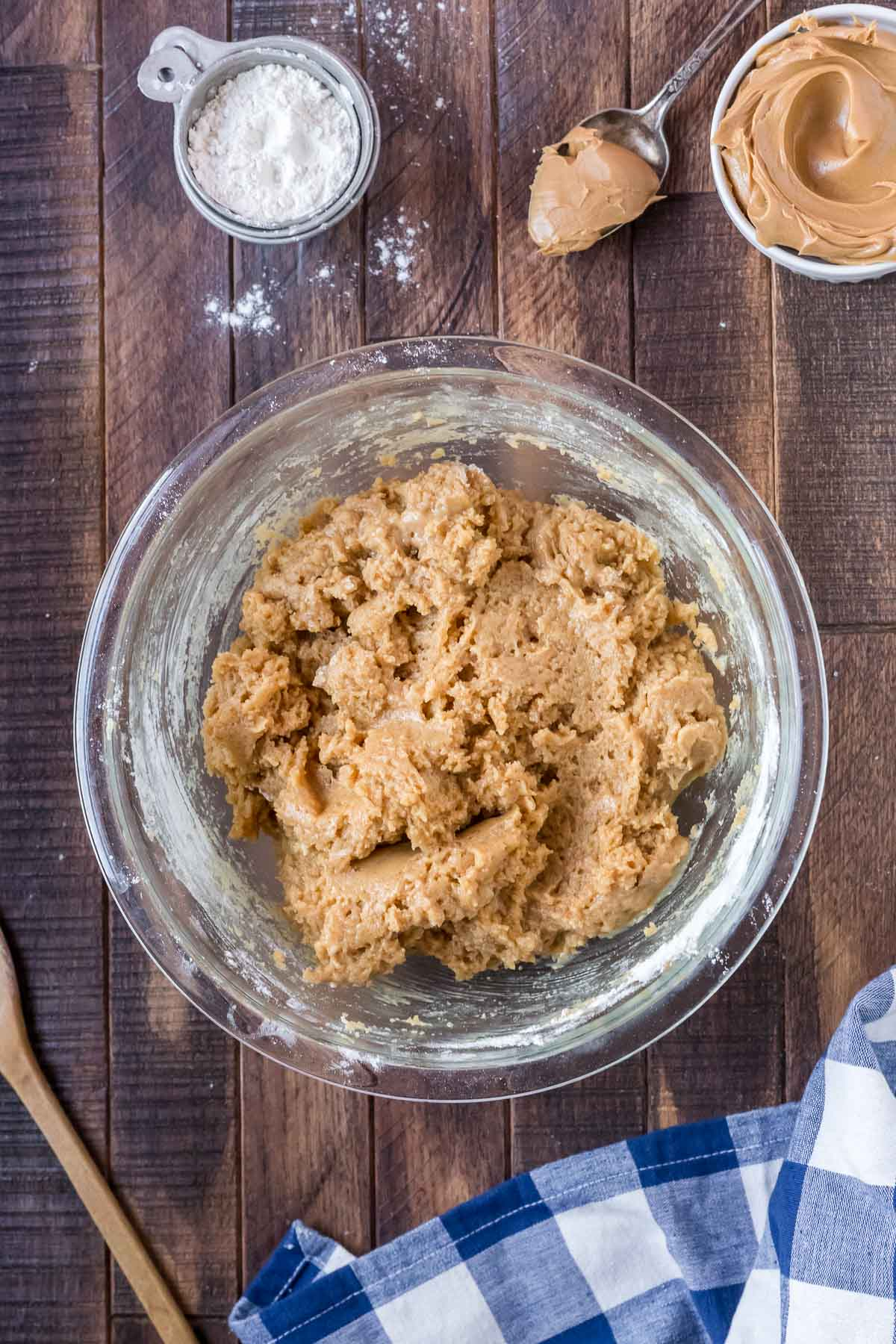 5. Scoop The Batter
Scoop the peanut butter mixture into the prepared loaf pan.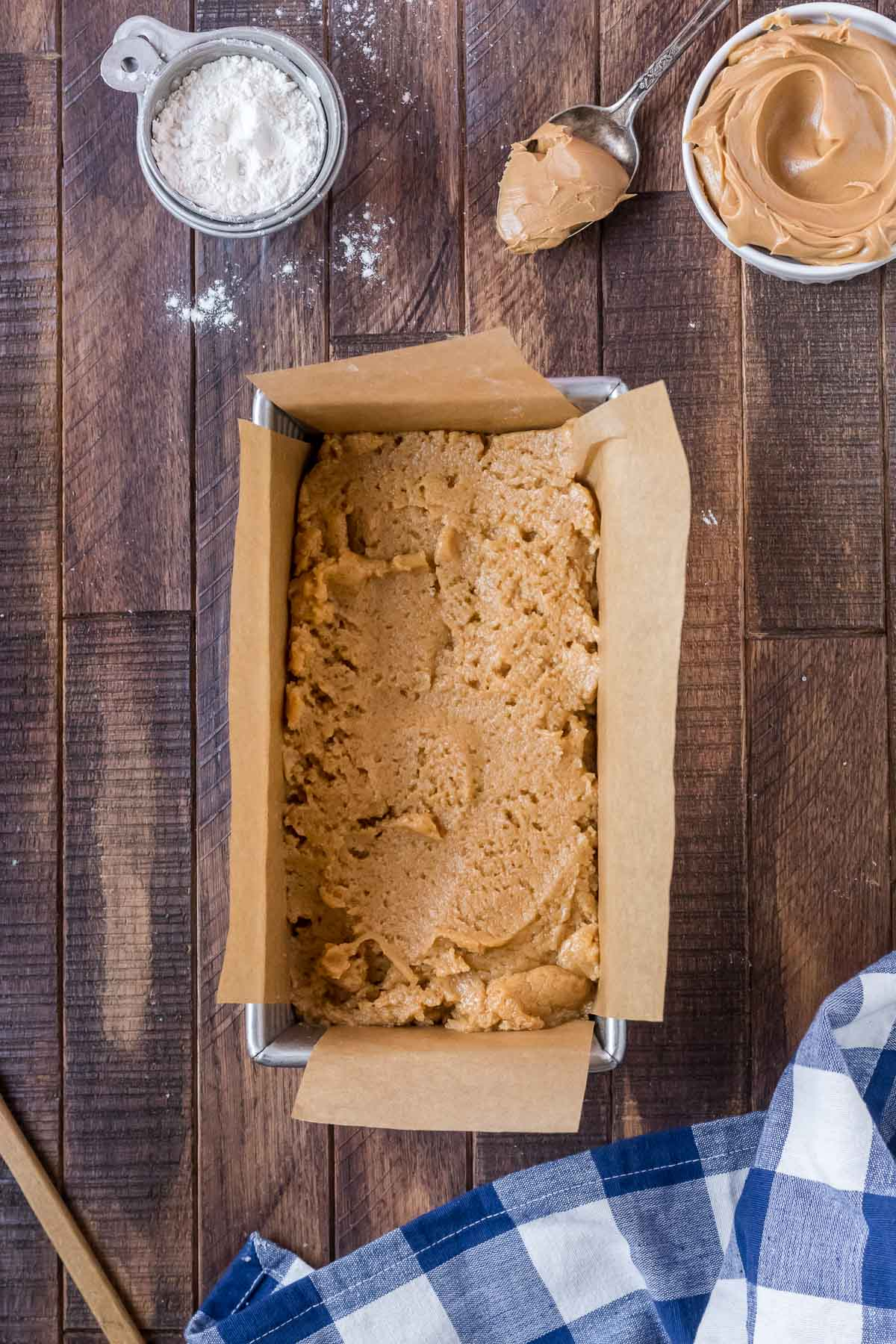 5. Bake
Bake your peanut butter mixture for 50 minutes or until a cake tester or toothpick inserted in the center of the peanut butter loaf comes out clean.
6. Serve
Don't remove the peanut butter bread from the loaf pan at once. Let it cool down for 10 minutes. Remove the peanut butter bread and place it on a cooling rack.
When it is cool completely, you can cut and enjoy or wrap it in plastic wrap and store peanut butter bread overnight.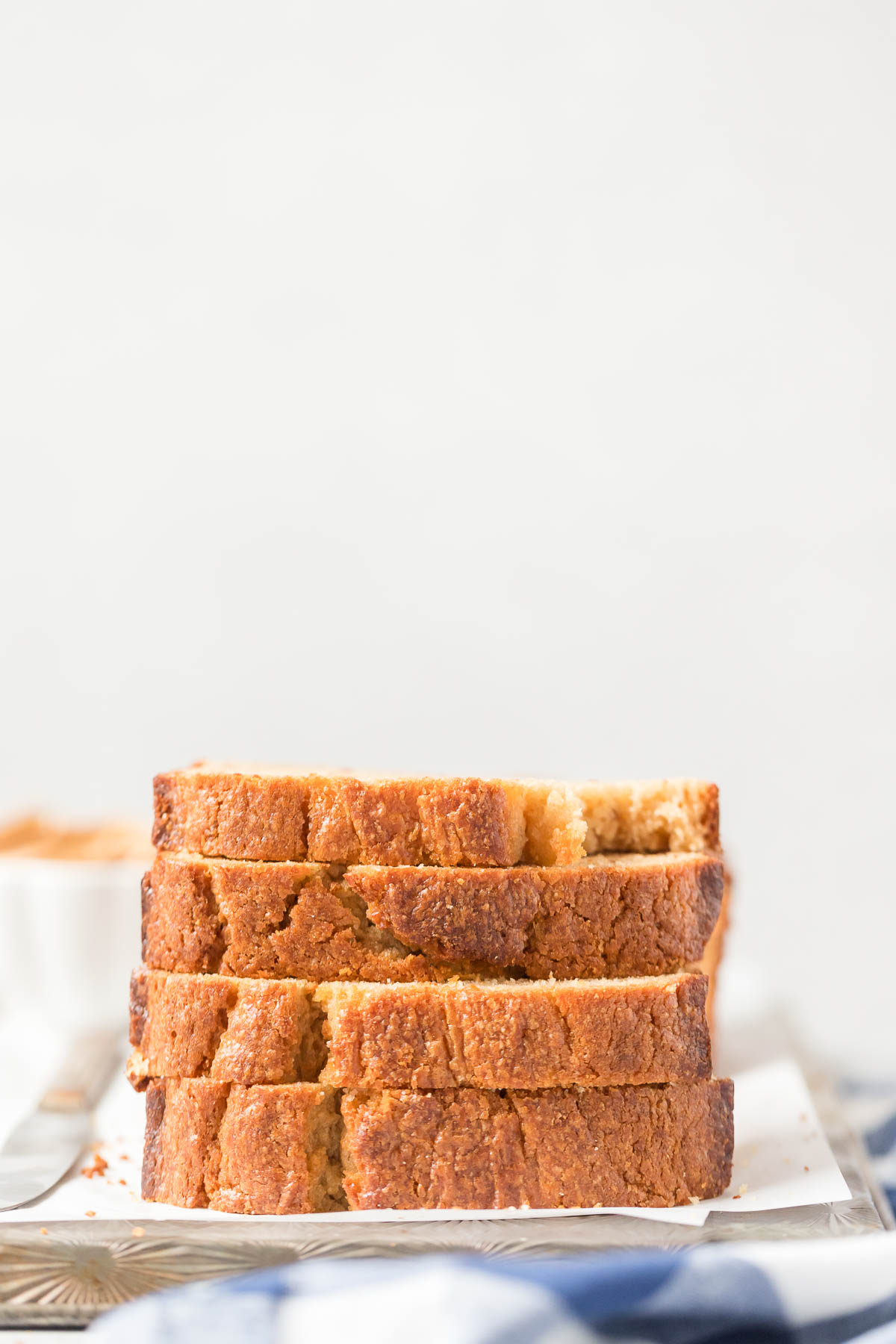 Recipe Variations
Other Nut Butters: Replace creamy peanut butter with crunchy peanut butter or other nut butter like almond butter, or cashew butter.
Different Milk: You can use almond milk. But if you run out of it, substitute almond milk with whole milk, soy milk, or other types of milk. The consistency of the milk can be thinner. Add milk slowly to prevent the peanut butter bread mixture from becoming too liquid.
Pureed Bananas: If you have overripe bananas in your fridge, you can add them to your peanut butter bread mixture and make a moist peanut butter and banana bread, instead! Topped with sliced bananas.
Sugar: Replace granulated sugar with brown sugar instead.
Streusel Topping: Add a delicious streusel topping to your peanut butter bread. In a medium bowl, combine 1/2 cup flour, 1/4 cup unsalted butter, 3 tablespoons of creamy peanut butter or almond butter, and 1/2 cup brown sugar. Add this mixture to your peanut butter bread batter before baking.
Glaze: Make a glaze of 1 cup powdered sugar, 2 Tablespoons milk, 1/2 teaspoon vanilla extract, and 2-3 Tablespoons of creamy peanut butter.
Add In Ideas
Before the transferring of peanut butter bread step, you can mix these ingredients:
Chocolate Chips: For chocolate lovers, add chocolate chips before baking for melty chocolate goodness.
Nuts: Fold in chopped peanuts or any nuts for an added crunchy texture and nutty taste.
Raisins: Raisins and peanut butter go well together. Add a bit of cinnamon to make it more flavorful.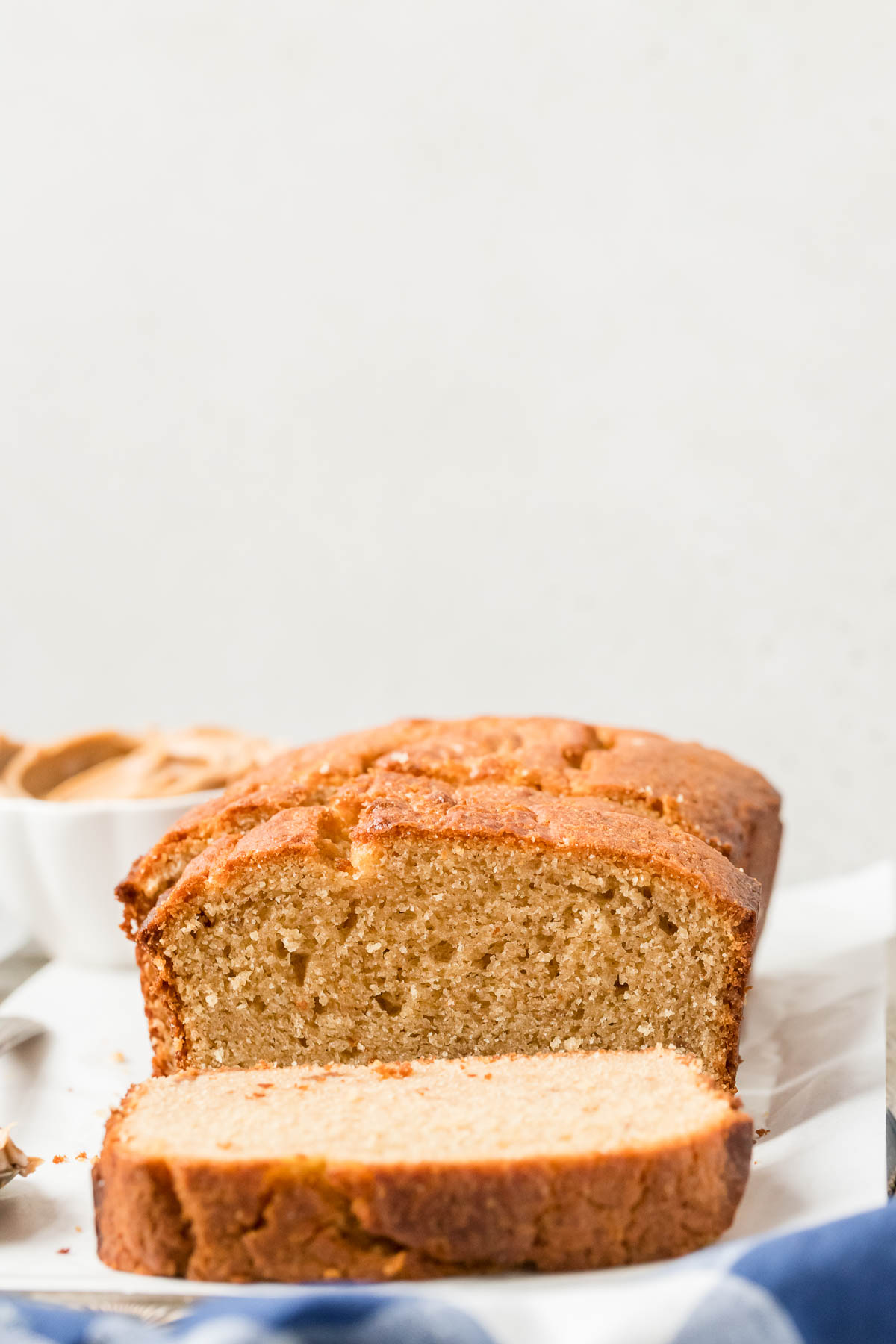 Recipe FAQ's
How long is this peanut butter bread good for?
When you store this quick bread in an airtight container at room temperature, it can last for 3 to 4 days. If stored in the fridge, it can last up to a week. And for long-term storage, you can freeze this bread for up to 3 months.
Can I use this peanut butter bread to make a peanut butter and jelly sandwich?
Yes, you can! Spread your jelly or jam on a slice of peanut butter loaf and enjoy.
Can I freeze peanut butter bread?
Yes, you can freeze this quick bread to extend its shelf life. Just make sure to place it in a freezer bag or airtight container to prevent freezer burn. Consume as soon as possible or within 3 months.
How to store peanut butter bread?
You can store this bread in your pantry, fridge, or freezer.
For pantry and fridge storage, place bread in an airtight container to prevent contamination. To freeze this bread, place each slice on a sheet tray to flash freeze for an hour. Then, place each slice into a ziplock bag and place it in your freezer. When you are ready to eat your frozen bread slices, thaw and reheat them using a microwave or toaster oven.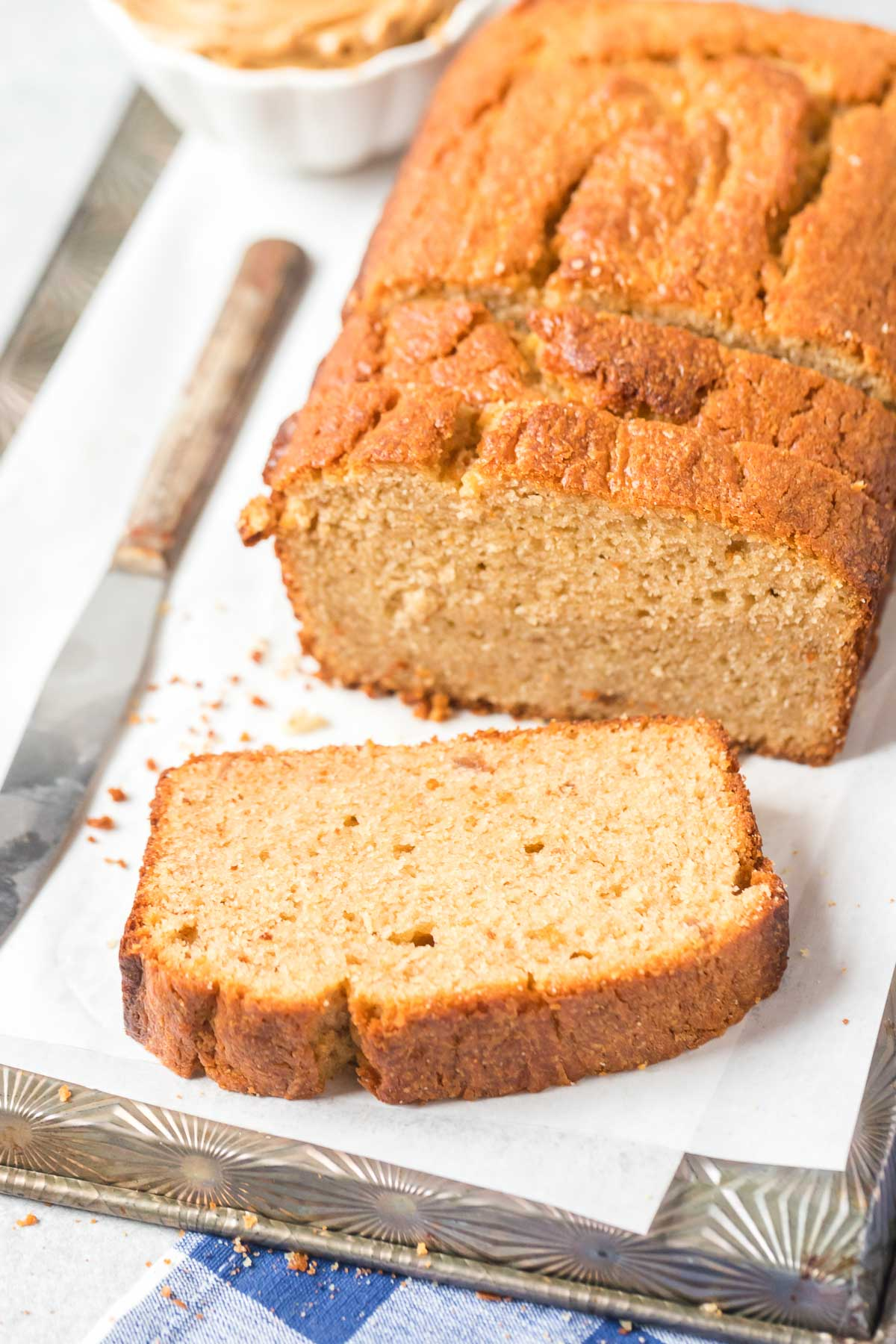 More Recipes To Try
A bread you can prepare in 10 minutes? YES PLEASE!
This delicious, moist, and flavorful peanut butter loaf bread can be made in just a few minutes with simple ingredients! No fuss. Easy, quick, and delicious.
Peanut Butter Quick Bread
Easy peanut butter quick bread recipe mixed together in about 15 minutes!
Print
Pin
Rate
Ingredients
2

cups

(240 g) all-purpose flour

*spooned and leveled

1

cup

(200 g) granulated sugar

1

tablespoon

baking powder

¼

teaspoon

salt

2

large eggs room temperature

1

cup

(240 ml) milk (whole, low-fat, or non-dairy)

¾

cup

(202 g) smooth peanut butter

2

teaspoons

vanilla extract

½

cup

(120 ml) neutral-flavored oil

(vegetable, canola, grapeseed, or safflower)
Instructions
Preheat and prepare pan. Position a rack in the center of your oven and preheat the oven to 350°F (177°C). Spray a 9"x5" loaf pan with cooking spray, or line with parchment paper and then spray with cooking spray.

Combine dry ingredients. In a mixing bowl, whisk together flour, sugar, baking powder, and salt. Set aside.

Combine wet ingredients. In a second mixing bowl, whisk together eggs, milk, peanut butter, vanilla extract, and oil until combined.

Combine wet and dry ingredients. Add the dry ingredients to the wet ingredients and mix together with a spatula or wooden spoon just until just combined. Do not overmix. Stir in chocolate chips

Bake. Spoon batter into prepared loaf pan. Bake in a preheated 350oF (177oC) oven for 50-60 minutes until a toothpick inserted into the middle of bread comes out clean or with a few moist crumbs clinging to it (no wet batter) and top springs back to the touch when lightly touched. Remove from the oven and cool completely in the pan on a wire cooling rack.
Notes
Storage: Once cooled, wrap tightly in tinfoil or plastic wrap and keep at room temperature for up to 3 days.
Freezing: Cool completely, then wrap in tinfoil or plastic wrap and freeze for up to 3 months. Thaw at room temperature before enjoying.
Oil – I use either vegetable or canola oil, but any neutral-tasting oil such as grapeseed or safflower will work. You could also swap with melted butter (this could make the bread a tad drier) or melted coconut oil (this may impart flavor depending on which coconut oil is used).
Milk – You can use any milk for this recipe. I prefer baking with whole milk for maximum richness, but you can always use a lower fat milk, or a non-dairy milk.
Chocolate chips – Try stirring in 1 cup chocolate chips once batter is mixed together.
Nutrition
Calories:
344
kcal
|
Carbohydrates:
38
g
|
Protein:
7
g
|
Fat:
19
g
|
Saturated Fat:
3
g
|
Polyunsaturated Fat:
5
g
|
Monounsaturated Fat:
10
g
|
Trans Fat:
0.04
g
|
Cholesterol:
30
mg
|
Sodium:
137
mg
|
Potassium:
256
mg
|
Fiber:
1
g
|
Sugar:
19
g
|
Vitamin A:
73
IU
|
Calcium:
84
mg
|
Iron:
1
mg