This easy food processor pie crust recipe comes together in minutes and creates the best homemade pie crust! Making pie crust in your food processor is a quick, efficient way to make pie crust. Use my tips to make this perfect pie crust in your food processor.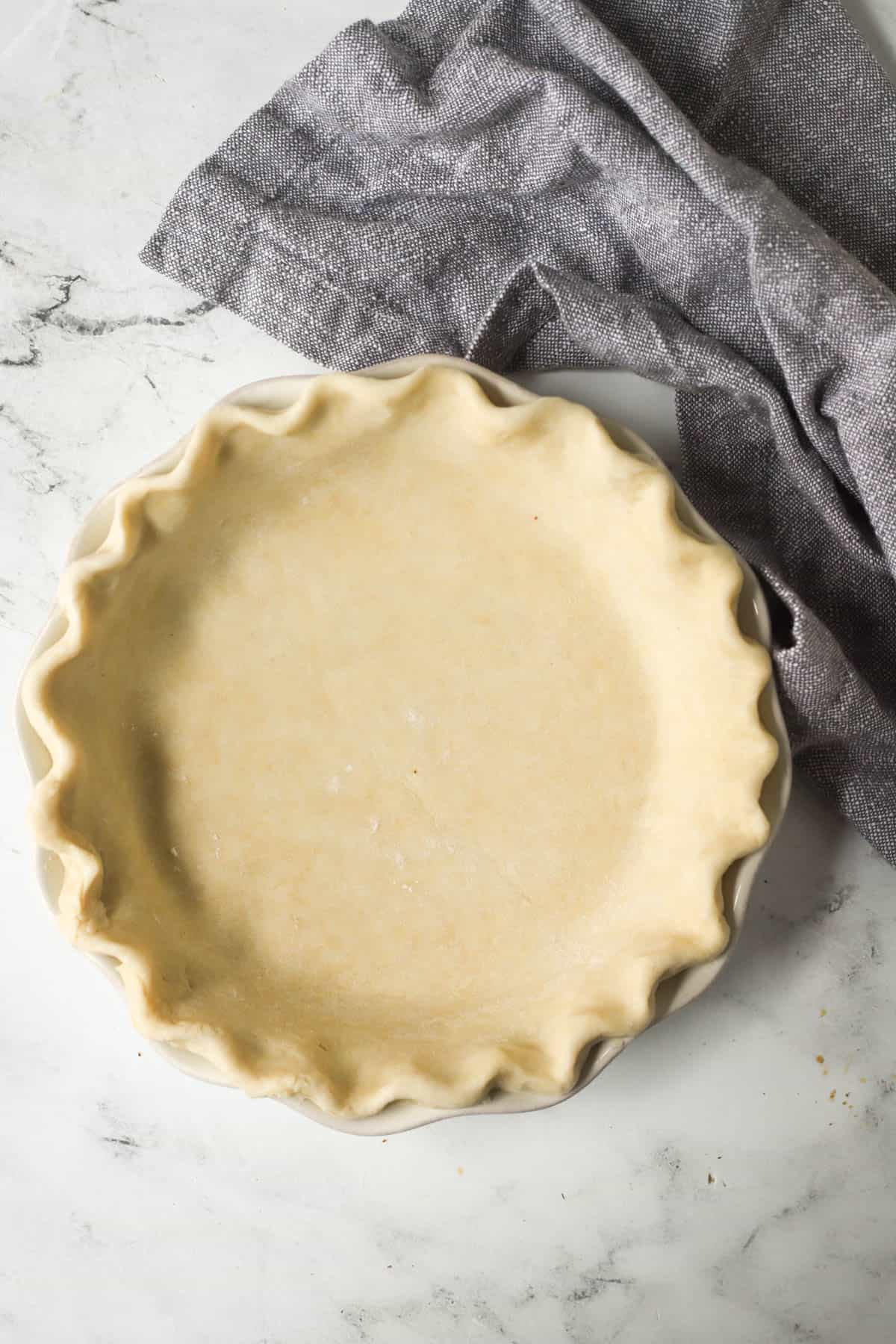 If you asked me years ago if I made my pie crust in the food processor I would have told you hands down, absolutely NOT. And I believed that making pie crust in your food processor didn't make a good of pie crust like making it in a bowl by hand. But I have seen the light. The food processor is 100% hands down your best friend when making pie crust.
Making your pie crust recipe in a food processor is cuts down on the prep time of making a homemade pie. But for beginners it's easy to add too much water and overwork your dough leaving you with a tough, chewy pie crust in the end. But I'm going to show all my tips and tricks today so that doesn't happen to your dough!
I love using this method for any of my pie crust recipes – my single crust pie recipe, all butter pie crust, or my double crust pie recipe. If you follow my tips and tricks for making pie crust using your food processor can 100% result in a just a good of pie dough than if you made it by hand. No one will know the difference trust me. And you've saved yourself a ton of time and effort making food processor pie crust.
Does a food processor make pastry?
Yes! And wonderfully so, in much less time than making pie crust by hand. Food processor pie crust is quick, and easy and makes a wonderfully flaky pie crust.
But you do have to be careful as this powerful appliance can also overwork your dough if you're not careful. Don't worry I'll show you how to not to do that, so you end up with flaky pie crust in the end.
Is it better to make pie crust in your food processor or by hand?
You can make your pie crust by hand, or in your food processor. Whether it's food processor pie crust or pie crust made by hand using a pastry cutter, both do a great job of making homemade pie crust.
I used to be very anti-food processor for my pie dough. Why? Did I think I was going against all grandmas everywhere? Sure there's a risk of overworking your dough making food processor pie crust. But if you use the pulse feature you should be all set and get a perfectly flaky pie crust.
If you're really nervous about overworking your dough in the food processor, then you can always transfer the flour mixture to a mixing bowl and stir your water in with a rubber spatula. But I love using my food processor for how fast it comes together. 
Is pie crust better with butter or Crisco?
For a flavorful flaky crust, I recommend using all butter, but you can also use a combination of butter and shortening. I do not like using all vegetable shortening (aka Crisco) because it doesn't have any flavor compared to using butter.
Using shortening, however, has it benefits. It contains no water so it can create a tender crust. Because of it's higher melting point, it tends to hold its shape better which makes its easier to work with making a lattice pie crust, or any fun, pretty pie crust designs. The edges and designs will keep their shape while baking. It's also perfect if you need to make a vegan pie crust for someone since it's made from vegetable oil. But shortening has zero flavor.
Butter, on the other hand, brings all the flavor. I mean butter makes it all better doesn't it? Butter contains water, which can result in the water turning to steam. That steam will push apart the flour layers, puffing up your crust and creating one lovely flaky crust. A nice light texture can be achieved with all butter. Butter is 80-85% fat, and 15-20% water. Whereas, shortening is 100% fat.
However, butter has a lower melting point than shortening or lard, and therefore can be tougher to work with. So if it gets too warm, it can become too soft to work with and tear easily. If you do choose butter, just make sure to chill your dough if it looks like it's becoming soft and tearing.
Ingredients Needed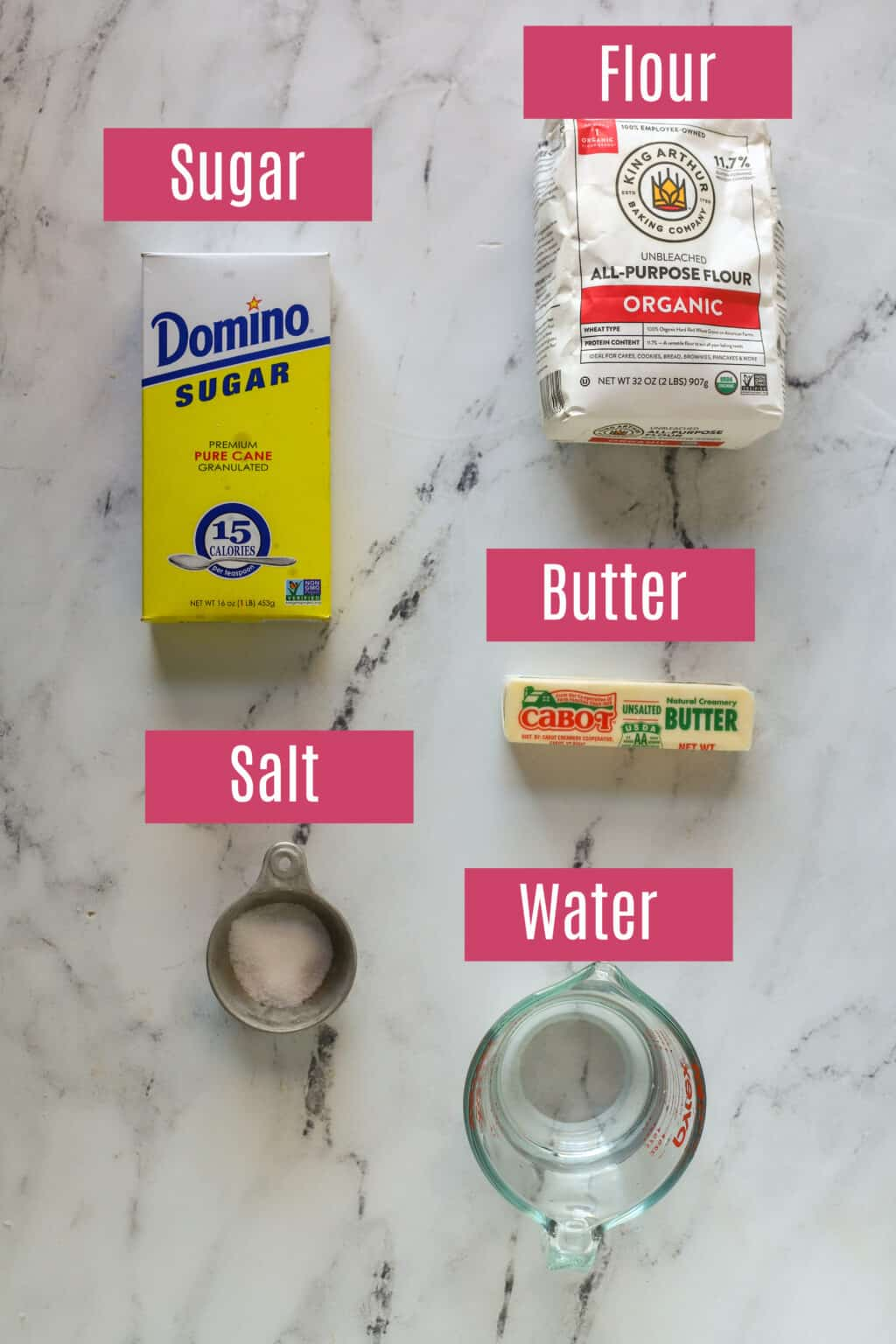 Tools Needed
How Do You Make Pie Crust In The Food Processor?
Combine the all purpose flour, salt, and sugar (if adding) into the bowl of a food processor. Pulse a few times to combine it.

Scatter the cold, cubed butter over the flour mixture.

Give it a few quick pulses until most of the butter pieces are pea-sized.  

Add your ice water a tablespoon at a time, pulsing in between. You can if you want transfer the dough mixture and stir the water in using a rubber spatula, but I prefer to make it all in my food processor.Most pie crust recipes call for a varying amount of cold water, and this is due to how well the fat was cut in. So it always vary. I start with the minimum called for.
I like to give it a "pinch test" to see if it holds together at this point. If it doesn't, then I add another tablespoon of cold water and repeat. It will still be crumbly at this point and we will bring the dough into a ball in a second, but you shouldn't see any large pockets of the flour mixture not mixed in.
5. Dump the contents of the dough onto either plastic wrap or a clean towel. I like to dump onto a clean towel and then twist up into a "beggar's purse" and it form a ball of dough. If it's a double crust, divide the dough in half and wrap up two pieces.

6. The dough should come together at this point. If it doesn't hold together you can also sprinkle on a little extra water (a spray bottle works great) and work in the extra water this way. Wrap and chill the pie dough. Refrigerate for at least 1 hour, or up to 2 days.
Heather's Baking Tips
Cold ingredients is key. Ice cold butter, ice cold shortening, cold ice water. The reason? Cold keeps the fat (aka the butter) from melting and becoming absorbed into the dough.  The butter needs to remain solid, and coated in flour. In the oven, the butter then will melt and the water in the butter will turn to steam pushing apart the layers of flour creating those flaky layers.

Chill Your Dough. Your dough needs to chill before you roll it out to help firm up the butter. It also gives a chance for the gluten in the dough to relax so it's easier to roll out. And if you find as you are rolling out your dough, that the dough is getting sticky and springing back on you, chill your dough in the refrigerator again for 15 minutes.

Do Not Overwork Your Dough. Once you start adding the water to the food processor pie crust, you want to add a little at a time and use the pulse feature to combine so you don't add too much water. And you want to just pulse it until it forms a crumbly mixture. Pinch the dough with your fingers and see if it holds together, so as not to add too much water. Then stop using the food processor. If you continue to pulse you will overwork your dough causing too much gluten to form and making for a tough, chewy pie crust in the end.
How To Roll And Crimp Your Pie Dough
Once your pie dough is chilled, you can roll out your dough. To properly roll your dough and place into your pie plate I recommend using a pastry mat. I love the non-stick surface and the measurements so I can ensure I've rolled enough.
Sprinkle your surface with a bit of flour. You just want to slightly flour your surface so you don't incorporate too much extra flour into your dough.

Roll out your dough onto your lightly floured work surface. If your dough is sticking you can always pop it back into the fridge. If your dough is breaking, it may be too dry. Add a few sprinkles of water to the dough.

To see if your dough has been rolled out large enough, turn your pie plate upside down. The pie dough should be larger than your pie plate.

Using your rolling pin, roll your pie dough over the pin so it's completely rolled around your rolling pin.

With your pie dough rolled around the pin, transfer dough to the pie pan.

Trim the overhang with a pair of kitchen shears, leaving about a 1 -inch overhang.

For a single crust: Fold the extra pie dough under creating an edge. For a double crust, repeat steps 1-6 and fold both top and bottom dough under to create an edge.

At this point, I like to pop my crust into the fridge to firm up the crust and butter. I do this for 30 minutes. At this point you can fill with parchment paper and blind your pie crust or proceed with the rest of your pie recipe.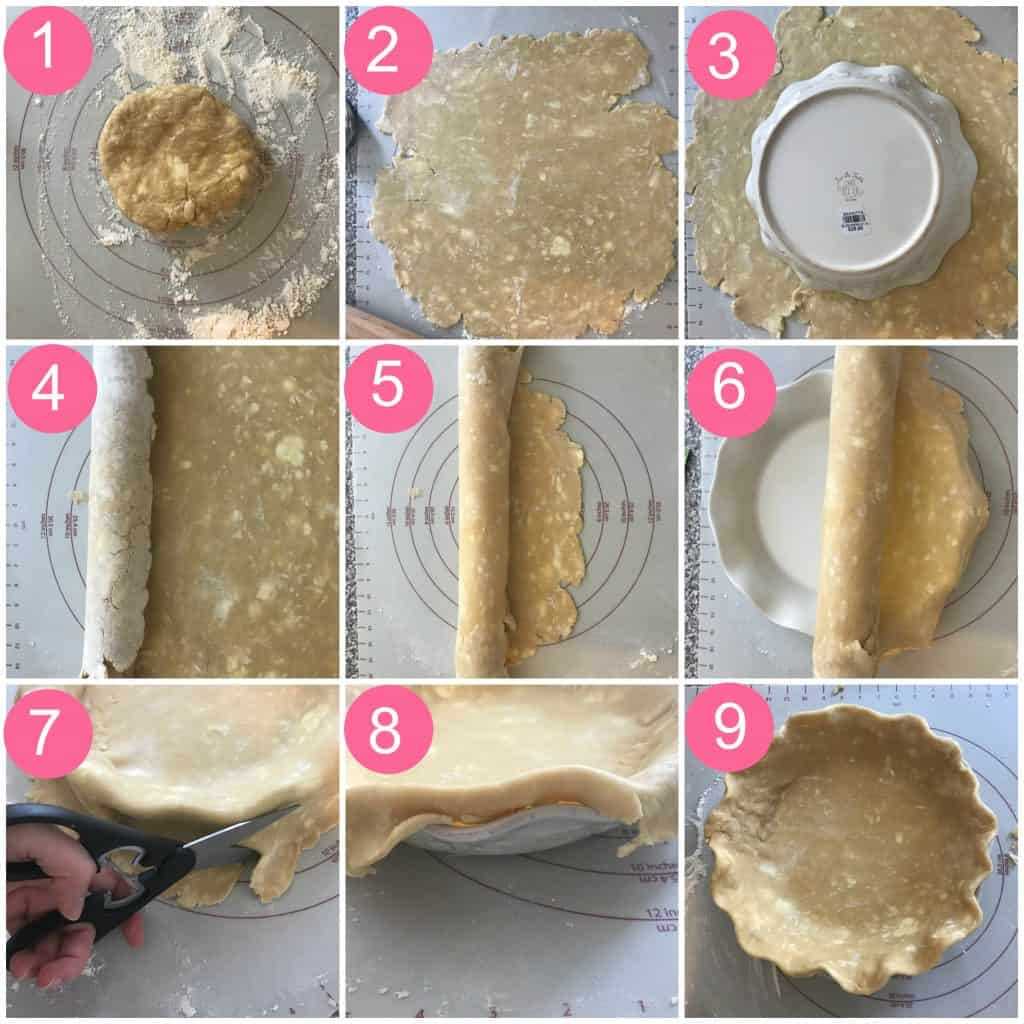 Pie Crust Troubleshooting
Recipe FAQs
What blade do I use to make pastry in a food processor?
I use the standard metal blade that comes with my food processor and my dough turns out great. If your food processor comes wit a dough blade, you can also try using that.
Is an 8 cup food processor big enough to make pie dough?
Yes a standard 8 cup food processor will be large enough to make a typical double crust pie.
Can I make pie crust ahead of time?
You can make pie crust the day before and refrigerate it for up to 2 days. When you go to use it, if it's been refrigerated for a day or longer you may need to let it sit at room temperature for several minutes to make it easy to roll out.
Why Do You Refrigerate The Dough Before Rolling It Out?
We need to refrigerate the pie dough after making it to relax the gluten strands. This will help make the pie crust tender and also easier to roll out. It will also help to cut down on any shrinking during the baking process because it will chill the butter again making for a flakier pie crust. 
Can I make pie crust ahead of time?
You can make pie crust the day before and refrigerate it for up to 2 days. When you go to use it, if it's been refrigerated for a day or longer you may need to let it sit at room temperature for several minute to make it easy to roll out.
Can I freeze pie crust?
You can also freeze your discs of pie dough for up to 3 months. Let them thaw overnight in the refrigerator before rolling out and using.
Pie Recipes And Pie Baking Tutorials To Check Out
Let's Bake Together!
Subscribe to my newsletter to never miss a new recipe or baking challenge! And if you bake one of my recipes be sure to tag me on Instagram. You can also follow along with me on Facebook and You Tube.
Food Processor Pie Crust
A flaky pie crust that is easily mixed up in your food processor in minutes!
Print
Pin
Rate
Servings:
2
9-inch pie crusts
Ingredients
2 1/2

cups

(300 g) all purpose flour

*spooned and leveled

2

Tablespoons

granulated sugar

*optional

1

teaspoon

salt

1

cup

(2 sticks, 226 g) unsalted butter

cold and cut into cubes

6-8

Tablespoons

water

*ice cold
Instructions
Process flour, sugar, and salt together in food processor until combined, about 5 seconds.

Scatter butter over top and process until mixture resembles coarse cornmeal, about 10 pulses. Butter pieces should be about "pea-sized".

Sprinkle 6 tablespoons of the ice water over the mixture. Pulse to combine. I like to pinch a piece of the mixture together at this point to see if it holds together, if it's still dry and crumbly side then add in remaining ice water 1 tablespoon at a time, pulsing to combine.

Dump the pie dough mixture out onto a clean towel (or you can do this onto a large piece of plastic wrap) and bring up the ends of the towel into a "beggar's purse" and twist the towel.

Divide dough into 2 even pieces. Wrap each portion of pie crust up in plastic wrap and flatten each into a 4-inch disk. Refrigerate for 1 hour.

Before rolling the dough out, let it sit on the counter to soften slightly, about 10 minutes. (If you are getting a jump on the holidays, you can refrigerate it for up to two days or freeze it for up to a month). If frozen, let the dough thaw overnight in the fridge and roll out the next day.