Understanding oven temperature is an important skill in baking! In this post, you will learn the importance of using an oven thermometer, common baking temperature ranges, and so much more!
Why is oven temperature important?
Oven temperature is important so that your baked goods bake correctly. If your oven temperature is not correct, it can result in cookies that spread too much and cakes that don't rise properly.
To make sure your oven temperature is correct, I recommend using an oven thermometer.
See Also:
Using an oven thermometer
I recommend using an oven thermometer to ensure your oven is calibrated correctly. Just because your oven says it's heated to 350oF, doesn't mean it actually is. To ensure your oven is running at the correct oven temperature, use an oven thermometer.
If you use an thermometer and it shows that your oven is slightly off, you can then adjust the temperature yourself. For example, if you set your oven to 350oF and the thermometer reads 325oF, then this means your oven is running 25 degrees cooler. You can then adjust your oven temperature and set it to a slightly higher temperature of 375oF.
Hang the thermometer in the center of a middle rack where most food cooks, to ensure a proper temperature reading.
Get more tips here on using your oven.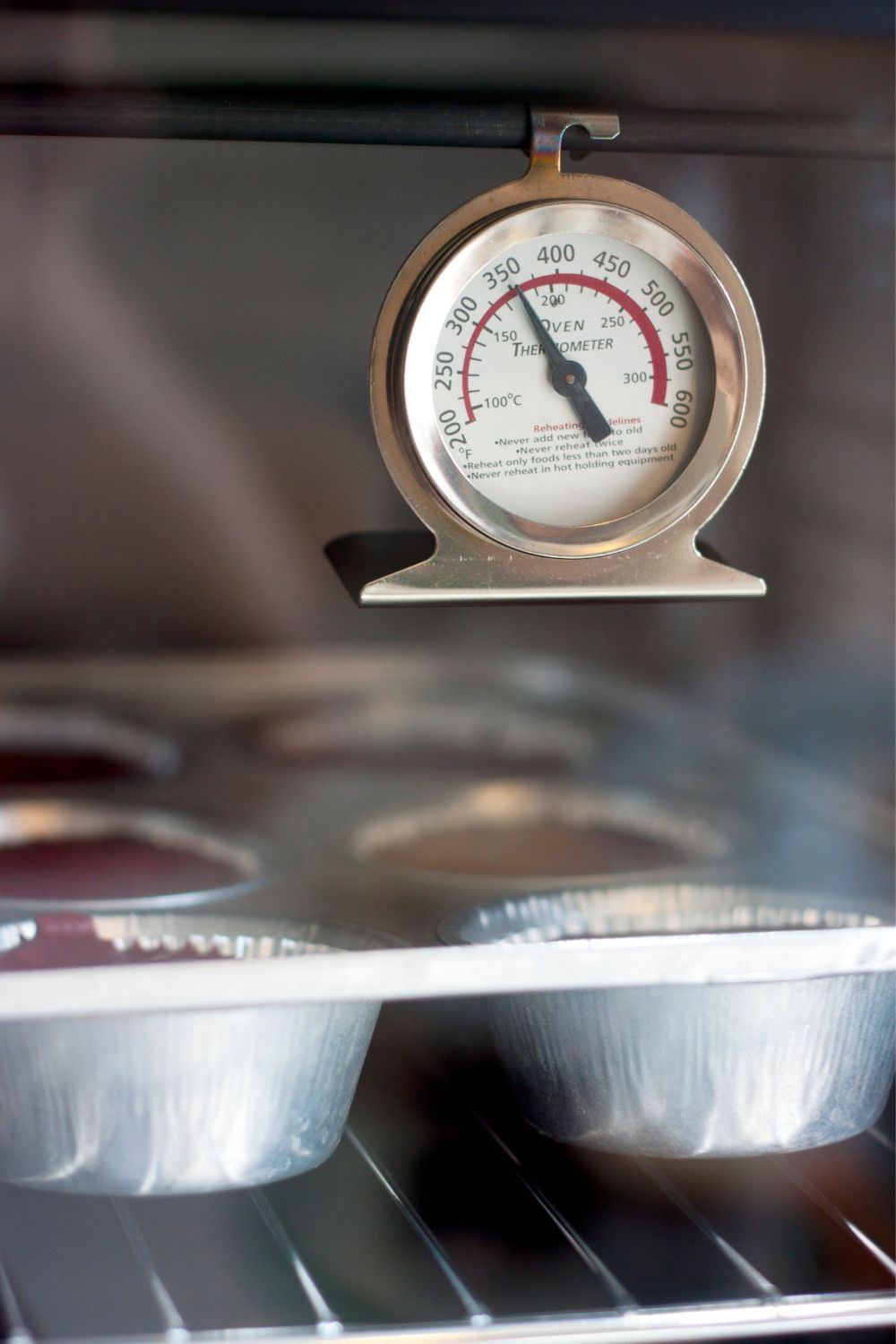 Converting Fahrenheit temperature to Celsius temperature
To convert Fahrenheit temperature to using the Celsius temperature when cooking then you need to do a little math.
To convert from Fahrenheit to Celsius:
(Fahrenheit temperature – 32) multiply by 5, then divide by 9
To convert Celsius to Fahrenheit:
Celsius temperature x 9, divide by 5, then add 32.
You can read more here on making temperature equivalents here.
Old oven temperatures
If you have a vintage recipe then you may come across oven temperatures that are no longer used. These temperatures was based on the use of a wood stove that used fire, and not a specific temperature. Read more here on deciphering old cooking terms.
Very slow oven: between 200oF (93oC) and 250oF (121oC)
Slow oven: (or cool oven) about 275oF (135oC)
Moderate oven: about 350oF (177oC)-400oF (204oC)
Quick oven: (Or a hot oven) – 400oF (204oC)
Very hot oven – Between 450oF (232oC) – 500oF (260oC)
Oven baking temperatures
There are common baking temperature ranges that you will use in your baking. However, it's always recommended to follow the recipe as directed. Here is an oven temperature guide to follow for common cooking and baking processes.
325-350oF: (moderate oven)
For cooking, this is a good temperature when something needs to cook a long time, like slow roasts.When it comes to baking, this is what I usually set my oven too. And there's a good reason why. Above 300oF is when your baked goods begin to experience caramelization. The sugar begins to caramelize and browning of the proteins occurs (something called the Maillard reaction).
Cakes and cupcakes: cakes and cupcakes are typically baked in this temperature range because of the high ratio of sugar. If you were to bake them at a higher temperature the cake would burn on the outside before the inside of the cake had a chance to cook through. More delicate cakes, like a chiffon cake or cheesecake, might be baked at a lower temperature so they are cooked slowly and develop a smooth crumb and texture.
375 – 400oF: (moderately hot oven)
A higher temperature is usually used for a shorter term baking. In cooking, this higher temperature for a shorter cook or when you want bubbling golden cheese!
Cookies: I like to bake my chocolate chip cookies usually at 375oF instead of 350F because then you get crisp edges on the cookies and they set faster, making for a cookie that doesn't spread as much with a nice golden color.
Pastries: You might also use this higher heat for certain pastries that need a burst of high heat to help the rise – like muffins and scones.
Pies: I use a higher temperature like this at the start of making my pies, so the crust can have that burst of heat to develop flaky layers and browning, but then will reduce the temperature to allow the pie to cook fully through without burning.
425 – 450oF: (hot oven)
In cooking, this oven temperature is a perfect roasting temperature for vegetables. This higher heat is ideal for certain pastries where the temperature will help for steam to release and puff up the dough.
Choux pastry: This temperature is great for baking choux pastry like cream puffs (or profiteroles), eclairs
Laminated doughs: It's also good for laminated doughs like puff pastry like in these apple turnovers. I also like to bake my biscuits at this high of temperature to ensure a fluffy biscuit that rises tall. The high heat will push apart the layers of the flour creating a flaky biscuit.
475 – 500 F: (extremely hot oven)
This high heat is good for bread doughs where you want the dough to rise quickly and bake, before the gluten has a chance to set.
Breads and pizza dough: I usually cook my pizza dough at this high temperature to get that good rise and deep crust!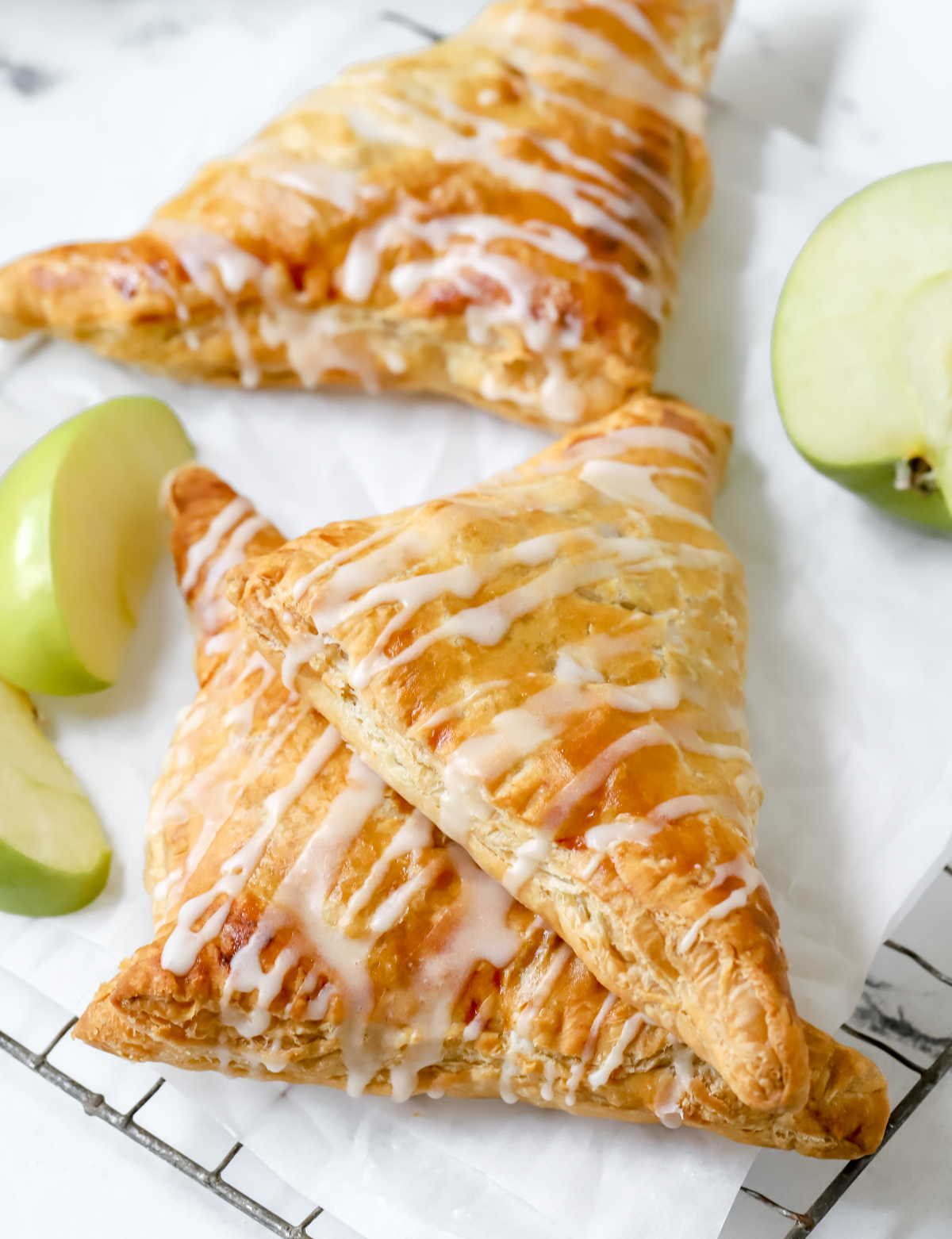 Let's Bake Together!
Subscribe to my newsletter to never miss a new recipe or baking challenge! And if you bake one of my recipes be sure to tag me on Instagram. You can also follow along with me on Facebook and You Tube.